This week we are continuing with the pasta trend! I originally saw this recipe on BlogHer.com. The phrase "20 minute recipe" and I was all in!

As I have mentioned before, I am not a pasta person–but this recipe may change that. I am also trying to build up my library of quick recipes for after work as my current method of cooking all day on Sundays is just draining!

This recipe is crazy simple. The only real "prep" you are doing is cutting up the onions and garlic everything else you just place in the pot and let it cook together to yummy perfection. Weeknights can be so busy especially when it comes to having a million after school activities! Not to mention there are days when I want to go to PTA Meetings, or events. These days having a baby makes it hard to cook for long periods of time, so this pasta recipe is simple and perfect. Not to mention is super tasty too!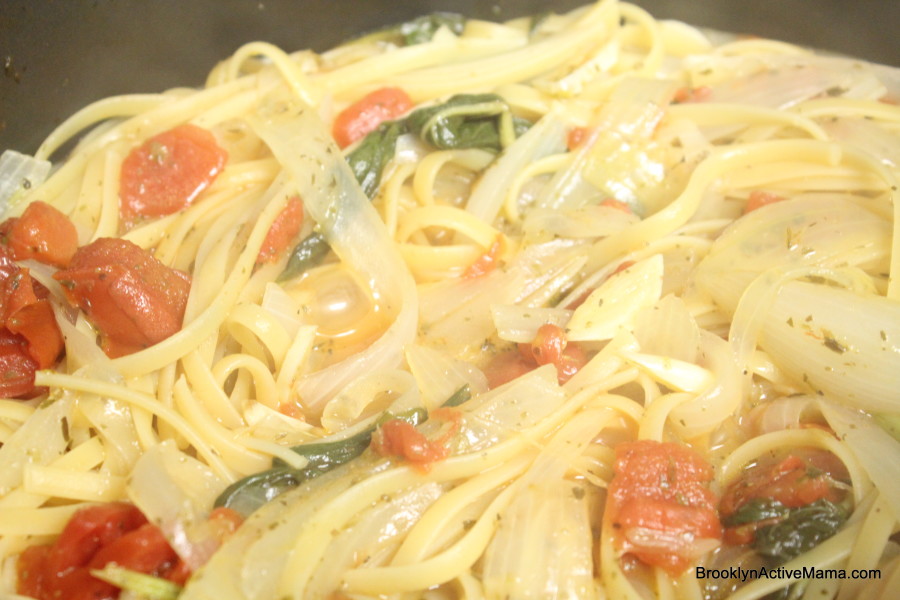 The cool part is that the pasta is cooked perfectly, I was astonished because I am so used to cooking pasta and draining all the water. With this recipe there is no draining, it's really very hands off. When I make it again I will certainly add more basil because it was easily my favorite part of the dish.


So I hope you enjoy this easy 20 minute meal that actually takes 20 minutes! Keep in mind that you can absolutely substitute whole wheat linguine for the regular.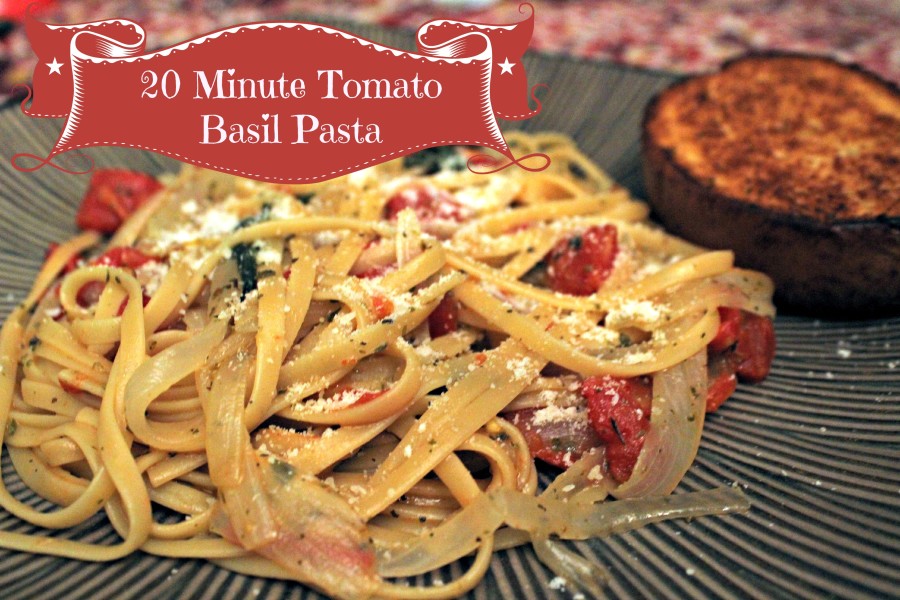 Recipe adapted from Apron Strings (no changes!):
ONE POT WONDER TOMATO BASIL PASTA
Serves 4 to 6 as an entree
12 ounces linguine pasta
1 can (15 ounces) diced tomatoes with liquid ( I used zesty red pepper flavor style)
1 medium sweet onion, cut in 1/4 inch julienne strips (use an onion such as Vidalia or Walla Walla)
4 cloves garlic, very thinly sliced
1/4 teaspoon red pepper flakes
2 teaspoons dried oregano leaves
4 1/2 cups vegetable broth (use regular broth and NOT low sodium)
2 tablespoons extra virgin olive oil
1 bunch (about 10 to 12 leaves) basil, diced
Parmesan cheese for garnish
Place pasta, tomatoes, onion, and garlic in a large stock pot. Pour in vegetable broth. Sprinkle on top the pepper flakes and oregano. Drizzle top with oil.
Cover pot and bring to a boil. Reduce to a low simmer and keep covered and cook for about 10 minutes, stirring every 2 minutes or so. Cook until almost all liquid has evaporated – I left about an inch of liquid in the bottom of the pot – but you can reduce as desired .
Season to taste with salt and pepper. Add basil leaves and stir pasta several times to distribute the liquid in the bottom of the pot evenly throughout the pasta as you are serving. Serve garnished with Parmesan cheese.
What is your most favorite quick dish? Have you ever had homemade tasty tomato basil pasta?