Create a unique salad that you can eat by itself or as a topping on tacos and other tasty foods. The Key Lime Black Bean Salad is refreshing, flavorful, and easy to put together with fresh ingredients.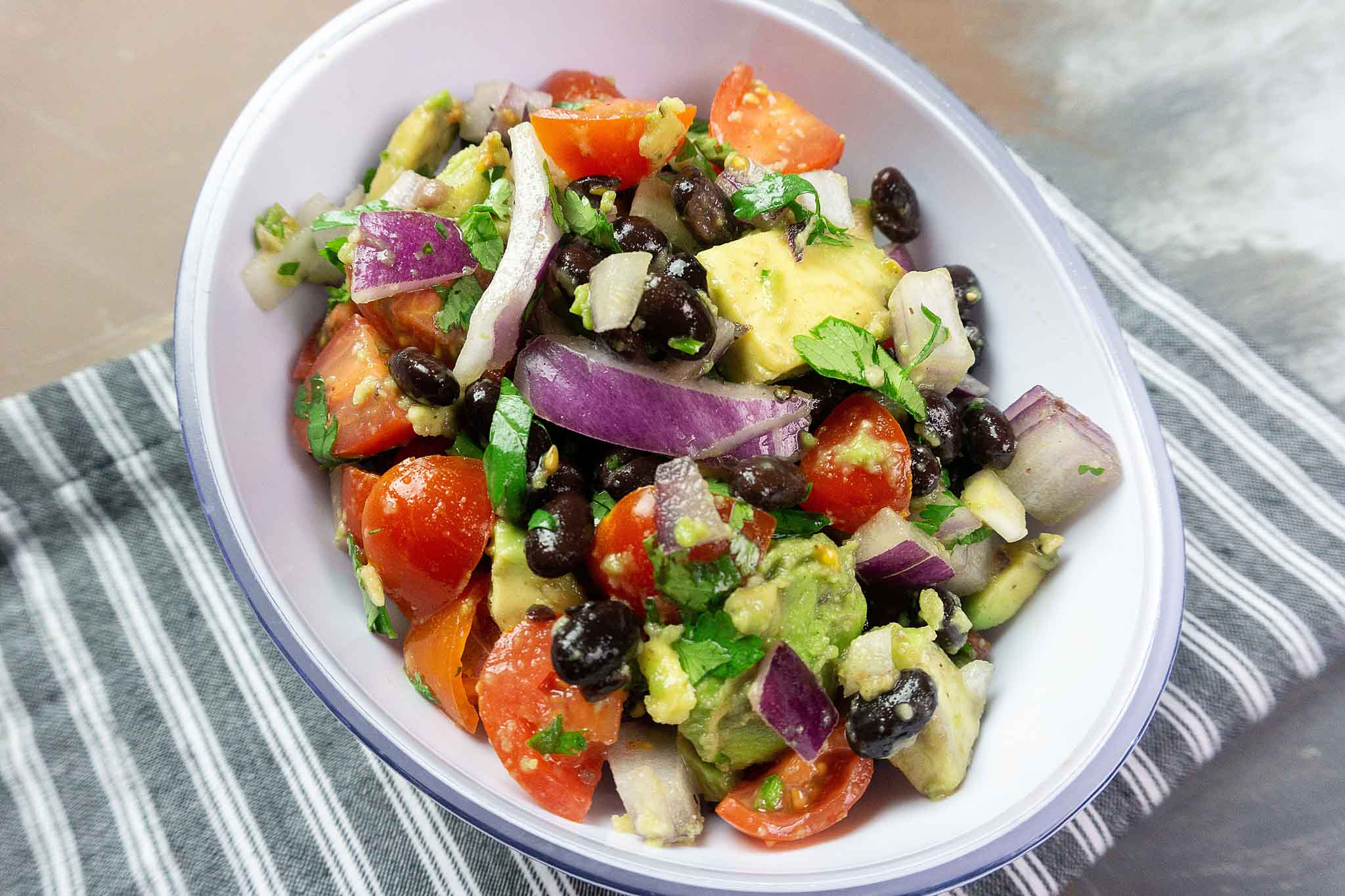 Do you ever find yourself in the mood for a refreshing salad without meat and pasta? If you crave something made with fresh ingredients, you'll love this recipe for Key Lime Black Bean Salad.
It has a slightly citrusy taste from the key lime that blends in perfectly with the black beans, avocados, red onion, and tomatoes.
It is light and refreshing, making it great to eat on its own or with other foods. You can make this simple salad in minutes, give it time to chill, and then serve it while it's cold because that is when it tastes its best.
What to Do With Key Lime Black Bean Salad
The Key Lime Black Bean Salad tastes great over white or brown rice. You can make a healthy, fulfilling meal by preparing your rice in a pot on the stove or in a rice cooker, pouring it into a bowl, and then placing spoonfuls of this salad on top. You can mix the ingredients into the rice to give it an irresistibly good taste.
While it tastes great with rice, it's also the perfect topping to add to your favorite burritos and tacos.
Instead of sticking with traditional toppings, such as shredded lettuce and tomatoes, consider putting this salad over your chicken, pork, or beef tacos. You'll love the texture and flavor it adds!
Frozen or Fresh Avocados?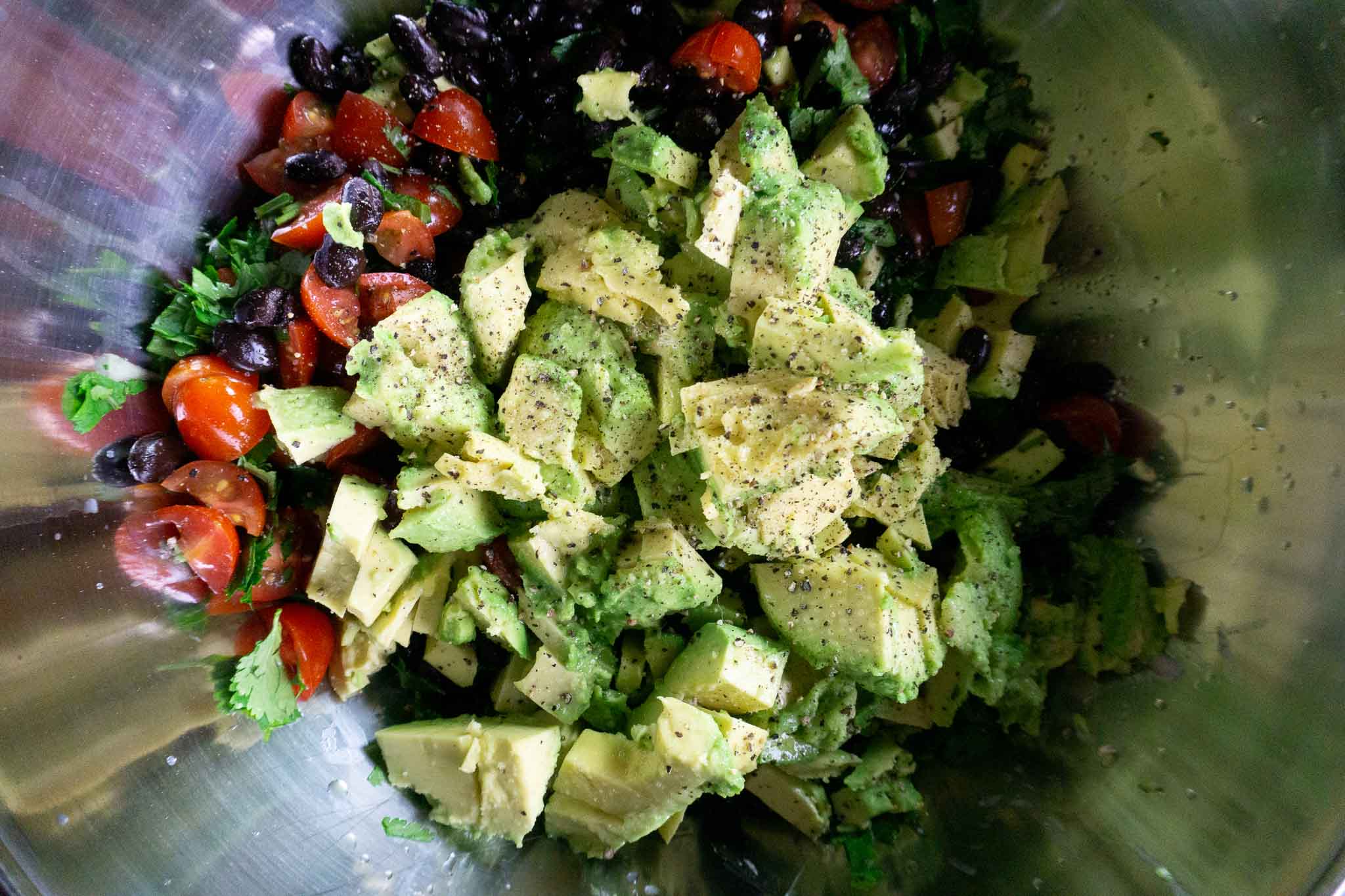 You're probably wanting to know if you should use frozen avocado slices or fresh avocado for the Key Lime Bean Salad. If you want it to taste as fresh as possible, it's best to use two large Hass avocados.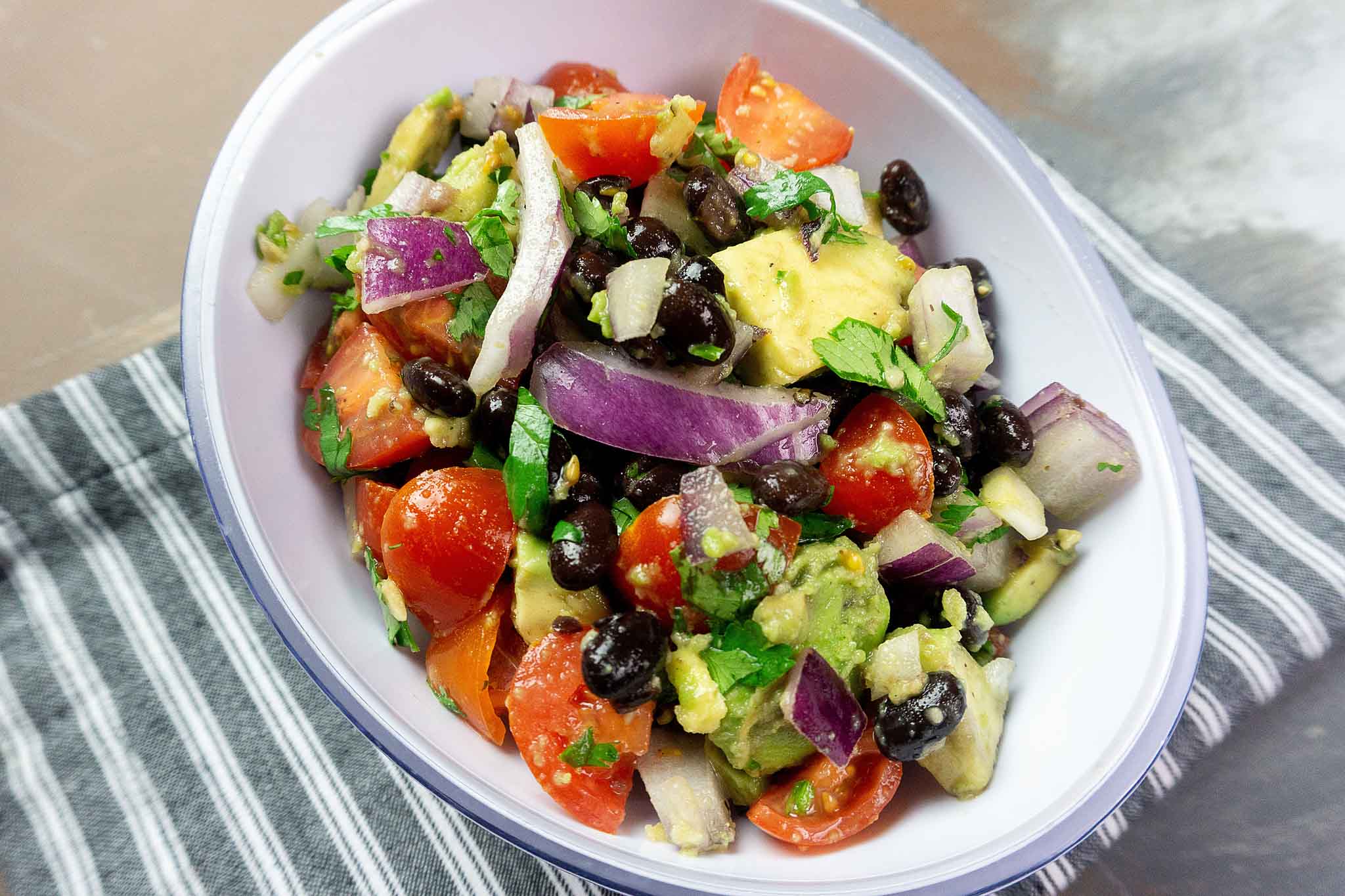 Just make sure they're ripe before you buy them. As long as you choose ripe avocados, slicing into them and dicing them into pieces before adding them to the salad should be easy.
Yield:

6-8 servings
Key Lime Black Bean Salad
This delish cold Key Lime Black Bean Salad is made with tomatoes, avocados, black beans and a splash of key limes juice to bring it all together.
Ingredients
2 - 15 oz cans black beans
1 red onion; diced
2 large hass avocados; diced
1 container cherry tomatoes; quartered
1 bundle cilantro; chopped
4 tablespoons key lime juice
1/2 teaspoon salt
1/2 teaspoon pepper
Instructions
Pour black beans into a strainer and wash. Add to large bowl. Add in diced onion, tomatoes, and cilantro. Toss well.

Place avocados into the bowl and add in key lime juice. Toss lightly. Add in salt and pepper. Toss lightly.

Serve cold!
If you like this Key Lime Salad be sure to check out these yummy recipes:
The Best Homemade Salad Dressings To Make Tonight
Easy and Amazing BLT Pasta Salad
Healthy and Tasty Chickpea Salad
Easy Brussels Sprouts Salad: Yummy and Healthy Sides
Avocado Kale Salad Recipe – Clean Eating Made Easy