Jello legos are so fun and easy to make! You can choose your own colors and flavors and have them for a fun snack or a themed lego party.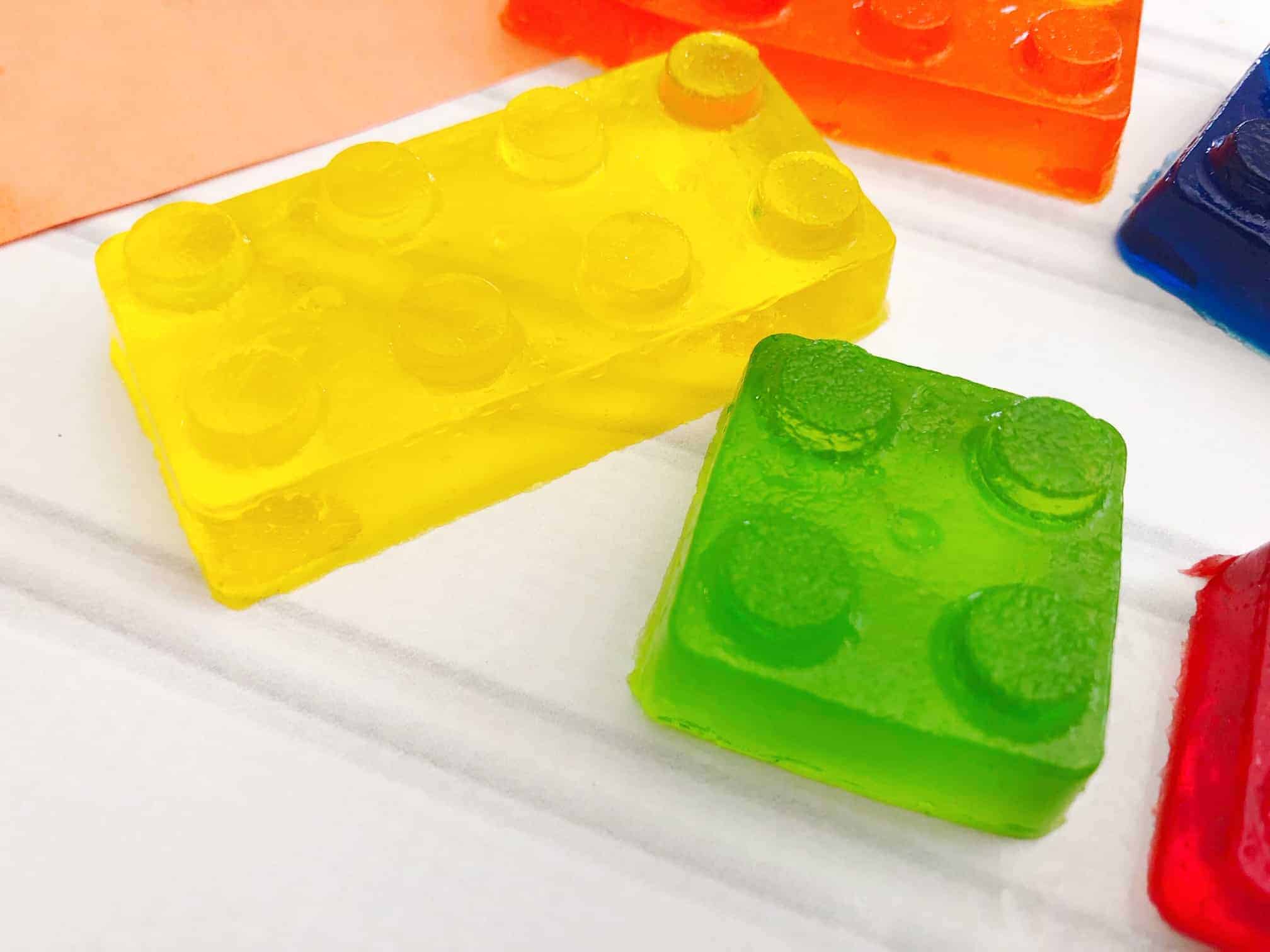 What are jello legos?
They are a fun snack that you can make at home with just a few simple ingredients. Jello, water, and food coloring are all you need to get started.
How do jello legos get their shape and stay that way?
The jello legos get their shape from being poured into a mold. You can use any type of mold you want, but I like to use silicone baking cups because they are easy to pop out after the jello has set.
What flavors and colors can I use for my jello legos?
You can use any flavor and colors you like! You can go for a spring theme, or even let the kids choose their own.
I like to mix different colors together to create new shades, and I also like to use different flavors for variety.
How many jello legos can I make at once?
You can make as many or as few as you want. I usually make around 12-16 at a time.
What do I need to store my jello legos? What can I put leftovers in?
I usually store my jello legos in the fridge, and I put leftovers in a sealed container or bag. They will last for a few days that way.
Where can I get these jello logo molds?
I found my jello lego molds on Amazon, but you can find them at many different stores.
Now that we've covered the basics, it's time to get started on your own jello legos! I suggest mixing different colors together to create new shades, and using different flavors for variety.
Related: Easy Spiderman Bookmark Craft For Kids
Types of Jell-o Molds available
Jello Legos Recipe
These are so much fun to make! To get started you will need to get a mold for the jello legos. The best part is that each mold is under $5 shipped on Amazon Prime! There are some great varieties for the kids to choose from:
Types Of Jello Legos trays
The best part is that it's super simple to create lots of fun with these molds, and keep the kids busy–even when it's nice outside! 🙂
Here are the full instructions for the Jello Legos (or whichever tray you choose!). Enjoy and have fun making these with the kids!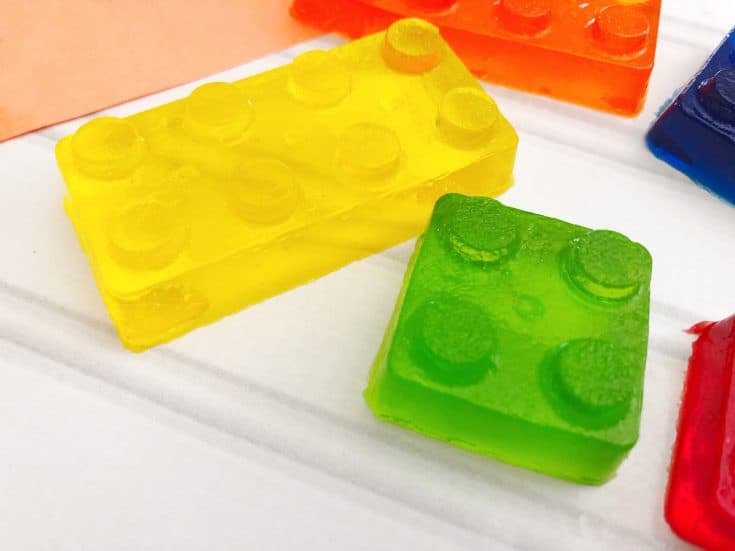 Super Easy and Fun Jello Legos Recipe
A super easy recipe that makes lego shaped jello bites!
Ingredients
Jell-O Play Jungle Build Mold, washed if new
Red, yellow, orange and blue Jell-O
Water
Pot to boil water
4 glass measuring cups
Spoons
Instructions
1. Bring 3 cups of water to a boil on high heat.
2. Empty the 3oz packets into each measuring cup and mix in 1/2 cup of boiling water.
3. Keep mixing each cup until the Jell-O is dissolved.
4. Lightly spray the molds with cooking spray.
5. Carefully pour the Jell-O into the LEGO molds.
6. You can mix colors to make other colors like green by mixing a little blue with yellow.
7. Set in fridge for 4-6 hours, carefully remove the Jell-O LEGOS from the molds and enjoy!
Pin it for later!
If you enjoyed this recipe be sure to check out these fun kid friendly recipes:
Rainbow Rice Krispy Treats – Yummy Kids Snacks
Brownie Batter Dip – Easy Fun Treat For Kids
Cute Dr. Seuss Lorax Truffula Trees Snack For Kids
One Fish Two Fish Dr. Seuss Rice Krispy Treats
Fun Frozen Themed Rice Krispie Treats
Hi! I'm Nellie. I am a busy mama of three, wife to my high school sweetheart who loves to cook, workout and stay organized! I love to share helpful printables, the best recipes and fitness tips for the modern mom. I strongly believe that every mom can feed their family well, take proper care of themselves and have fun along the way! Read my story.
Get comfortable and be sure to come hang out with me on social. Don't grab your free fitness journal before you go!