Do you have a recipe requiring Sanding Sugar? Today I am sharing two easy methods to make your own Sanding Sugar that will step up your baking to another level!
You all know I love to bake. It's one of the main things keeping me sane these days. More than the tasty treats, I love the science behind baking.
It can often be so therapeutic to grab the precise amounts of the particular ingredients needed and blend them together to perfection.
One wrong move or missing ingredients and you can have a terrible dish altogether!
I think it's the challenge of baking that draws me back to it every single time. When I started a cupcake business many moons ago I remember studying the great information source (youtube and pinterest) for all of the latest and greatest on techniques and recipes.
I'm excited to share with you today how to make the gorgeous Sugar from scratch because it is SO versatile and you can use it for SO many recipes! From Christmas Cookies to everyday cakes, you can make the exact color you need! Plus one of the best things is that you can store this sugar in an airtight container for future use!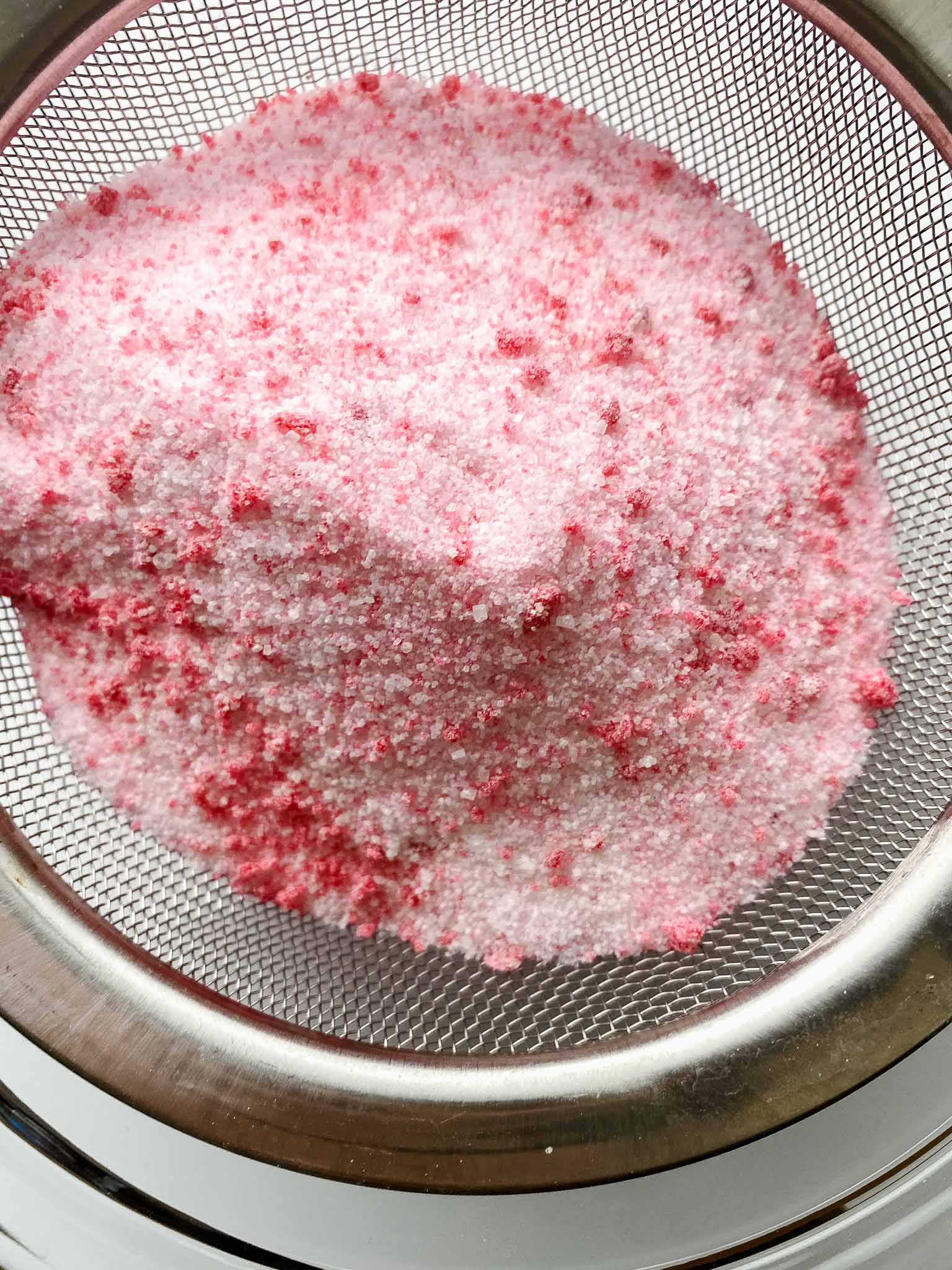 What exactly is Sanding Sugar?
Sanding sugar is a large crystal sugar that's great for decorating you favorite treats. This type of sugar creates a sparkle effect because of the large size of the crystals that reflect light.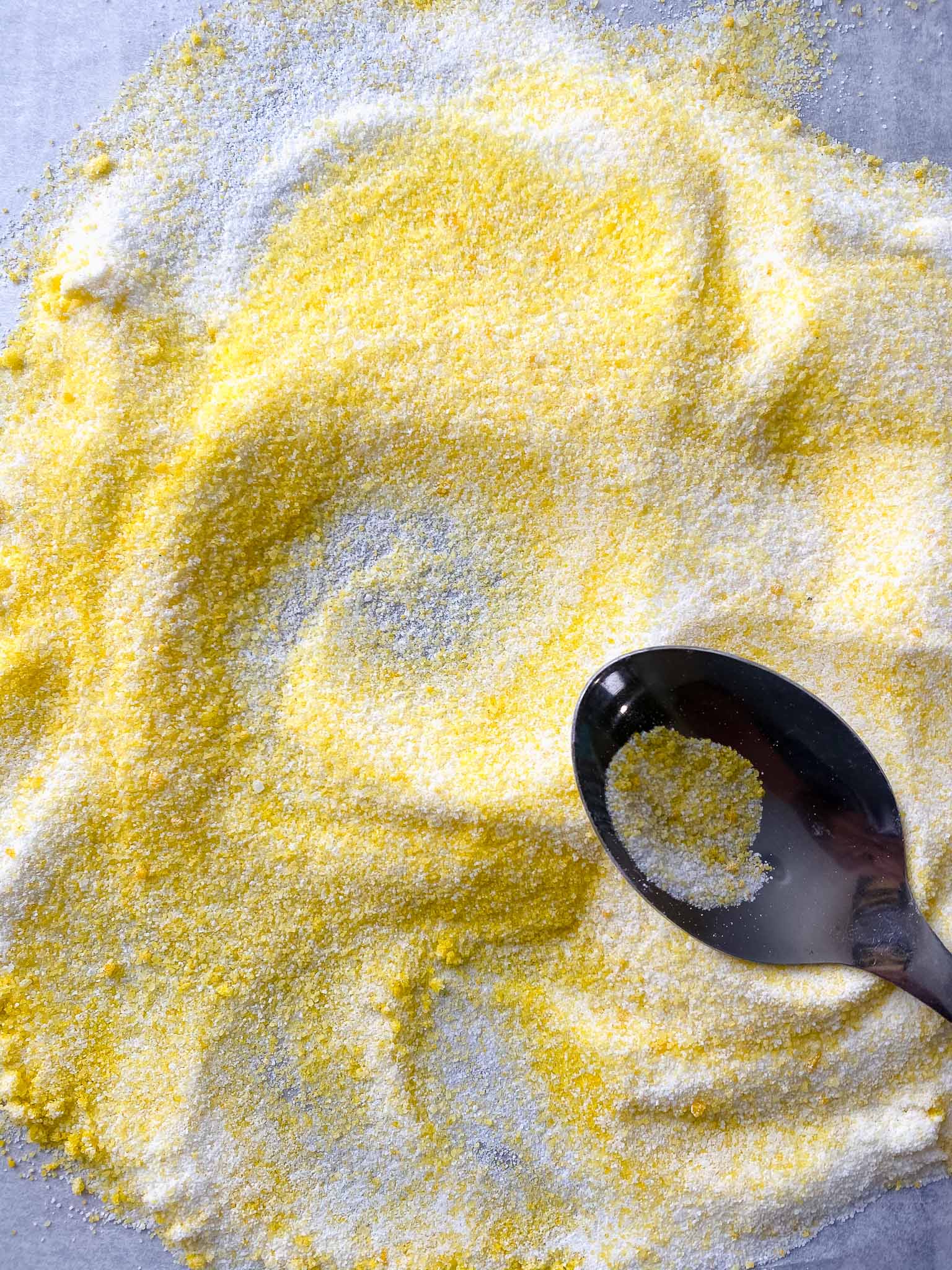 You can decorate your favorite treats like cookies, cakes, scones, muffins, and even candies. This coarse and often sparkling sugar helps to add a special crunch and extra flair to even the simplest of offerings.
This about sanding sugar that is sugar crystals that look like edible glitter. It's coarse sugar that can be made in a rainbow of colors. It's made of large crystals and has a stronger flavor than regular sugar.
There are lots of different types of sugar but this one gives a brilliant sparkle in a variety of colors. This decorating sugar is a great addition to your baking skillset and it goes a long way when it comes to decorating your favorite treats!
You might be able to buy these at Michaels stores or local grocery stores but there is super easy way to make these fine crystals with just a drop of gel food coloring and a ziplock bag.
Use this sanding sugar to really step your baking game up! Everyone will be so impressed with your baking presentations.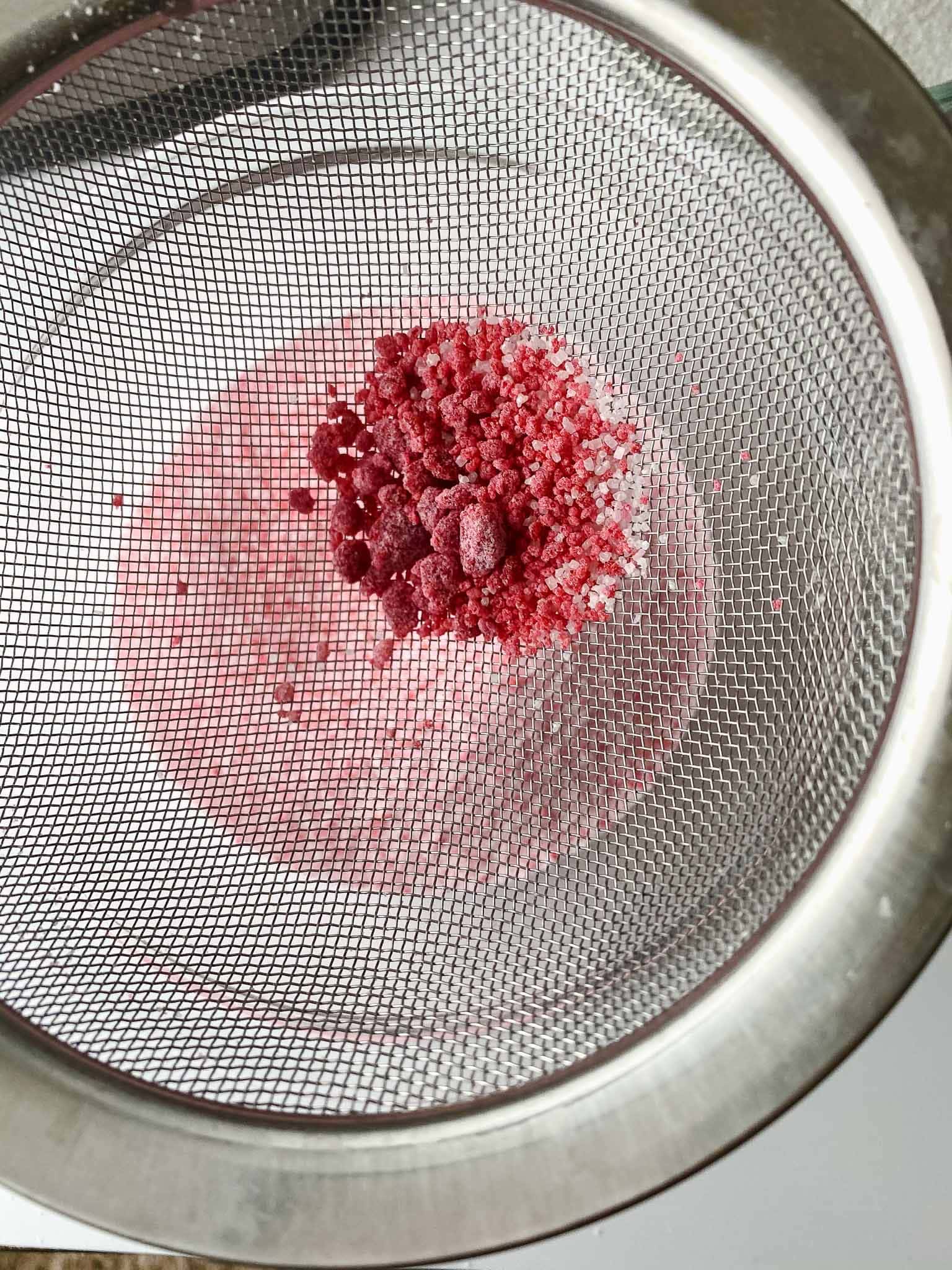 What do you need to make this special baking Sugar?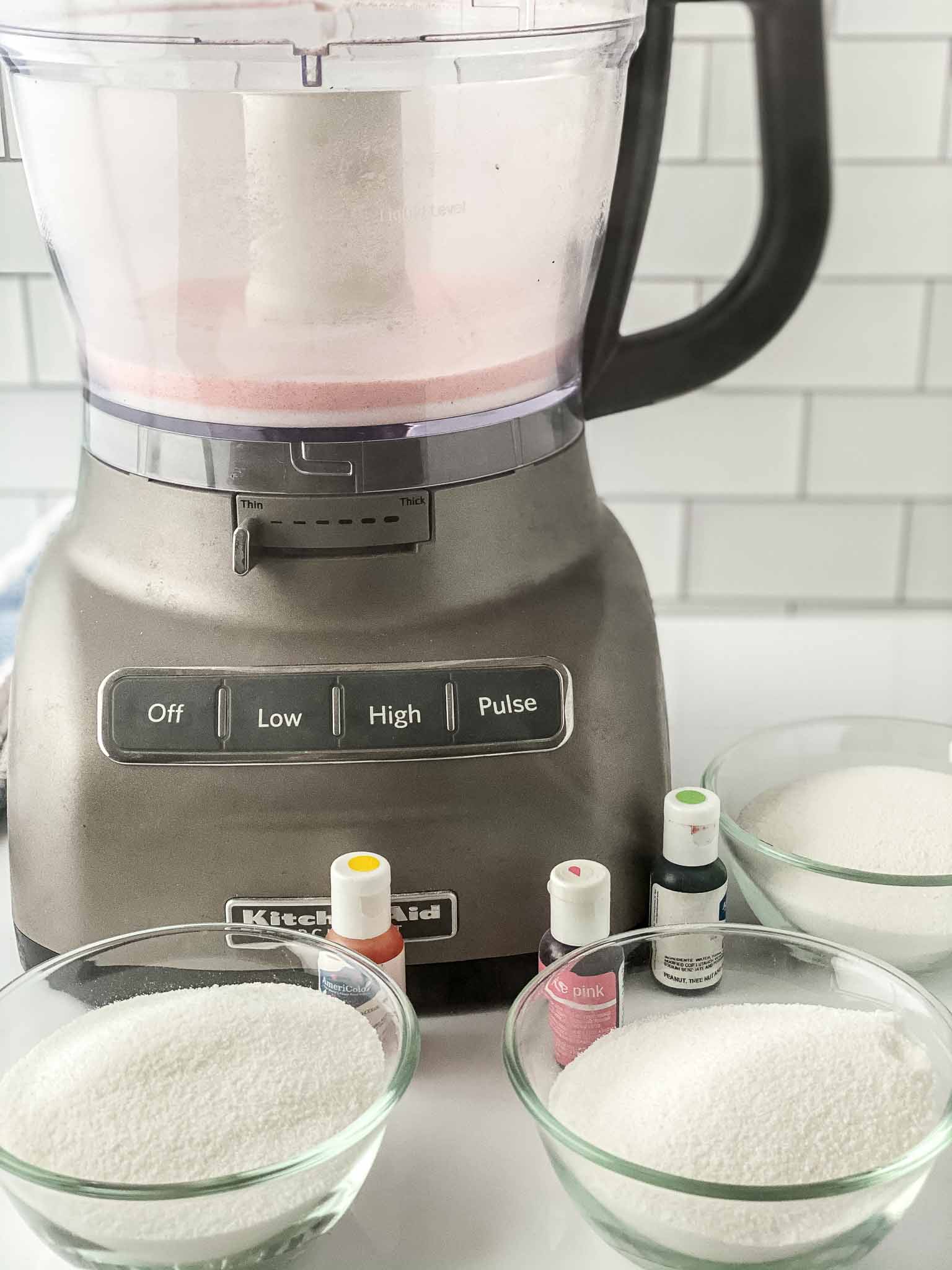 Food Processor
Gel Food Colors
Parchment Paper Baking Sheet
Sifter
Bowls Container
The options of that you can make really depend on which of the different colors of food coloring you have, you can make blue sanding sugar, pink sanding sugar, silver sanding sugar or even black sanding sugar for fun Halloween treats! I used a little bit of Yellow Sanding Sugar for these Easter Peeps!
Whichever color theme you use, the larger crystals and coarser grain will make your treats stand out!
What ingredients do you need to make Sanding (Sparkling) Sugar?
Gel Food Colors
1 cup granulated sugar
How do I make sanding sugar?
In the below methods, I am going to show you how to make sanding (sparkling) sugar relatively easily with a food processor and without.
Enjoy! Let me know how you use it!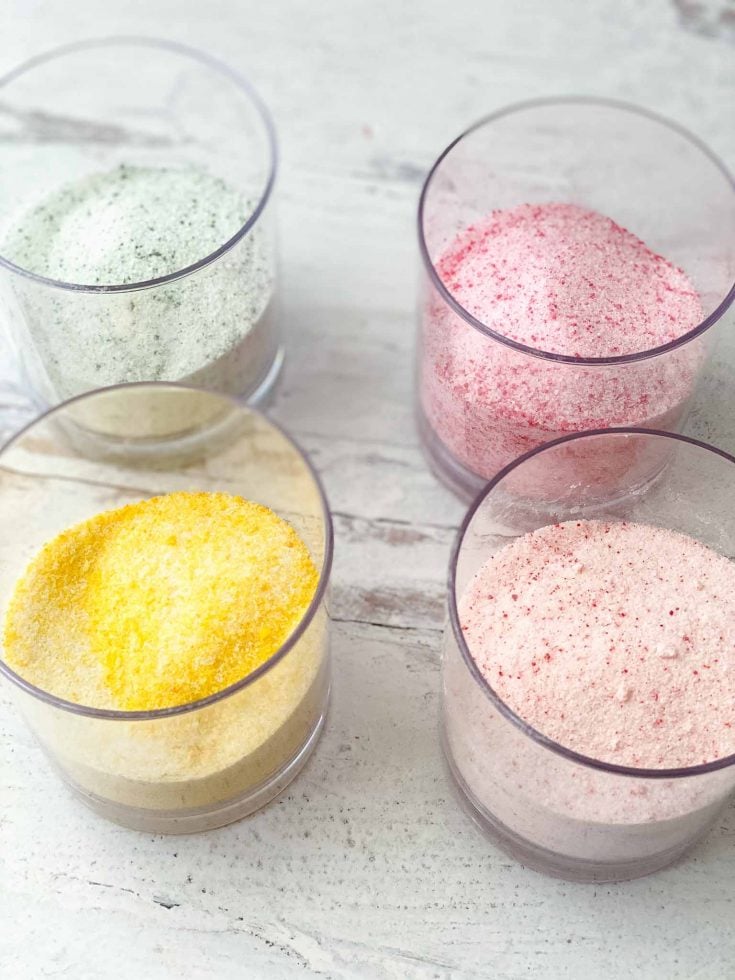 Yield: 4 cups
How To Make Sanding Sugar - 2 Easy Methods
Prep Time: 15 minutes

Total Time: 15 minutes

Ever wondered how to make sanding sugar for your favorite treats? Here are 2 easy methods!
Ingredients
Gel Food Colors
1 cup granulated sugar
Instructions
Instructions with food processor
Preheat oven to 250 degrees
Add sugar to food processor
Add one drop gel coloring
Mix on high for 30-45 seconds
Pour out onto parchment lined baking sheet Spread out sugar, bake for 10 mins.
Allow to cool for 15 min before using
Instructions without food processor
Add sugar to ziplock bag.
Squeeze in one drop of gel food coloring.
Seal the bag and squish around the gel until all of the sugar is coated.
Place a sifter over a medium-large bowl and empty out the contents of the ziplock bag Shake out the sugar, discard of any large clumps
Pour out onto parchment lined baking sheet Spread out sugar, bake for 10 mins.
Nutrition Information
Yield
10
Serving Size
1
Amount Per Serving Calories 77Total Fat 0gSaturated Fat 0gTrans Fat 0gUnsaturated Fat 0gCholesterol 0mgSodium 0mgCarbohydrates 20gFiber 0gSugar 20gProtein 0g
If you enjoyed learning how to make Sparkling sugar be sure to check out this 8 Must Have Holiday Baking Hacks!
Hi! I'm Nellie. I am a busy mama of three, wife to my high school sweetheart who loves to cook, workout and stay organized! I love to share helpful printables, the best recipes and fitness tips for the modern mom. I strongly believe that every mom can feed their family well, take proper care of themselves and have fun along the way! Read my story.
Get comfortable and be sure to come hang out with me on social. Don't grab your free fitness journal before you go!