When you're between meals and need something small and sweet to tide you over, be sure to have some Healthy Coconut Balls on-hand! Using six ingredients, Healthy Coconut Balls are just as easy to make as they are delicious.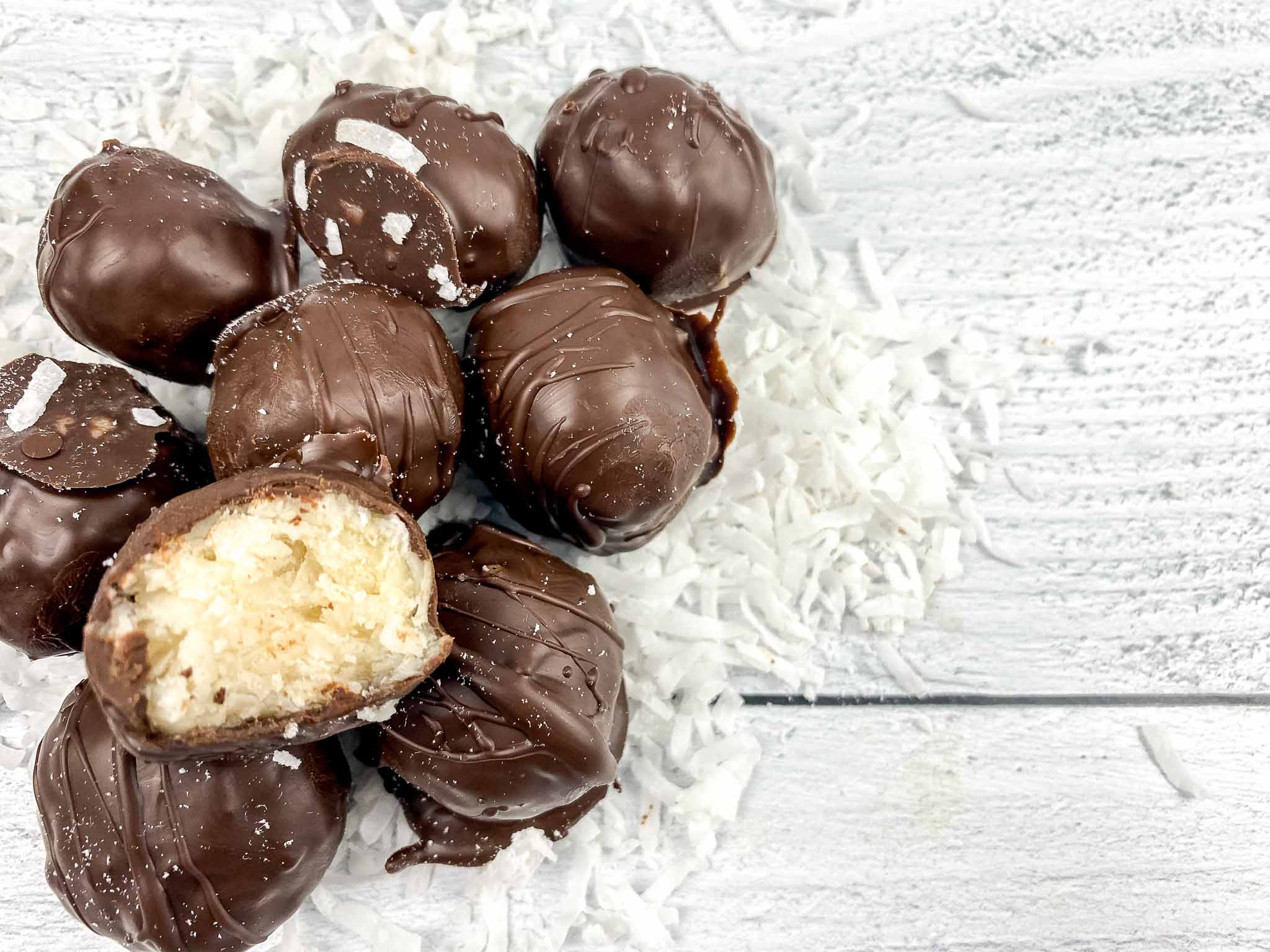 Healthy Coconut Balls
I don't know about you, but there's something about having a healthy snack ready to go when a craving strikes. Even better is when that snack happens to be sweet.
Don't get me wrong, raw veggies have their place, but when I can grab a few Coconut Balls instead, my day is made.
This is the perfect combo of cocoa and coconut with these Healthy Chocolate Coconut Balls. Made with just a handful of wholesome ingredients like unsweetened cocoa powder, coconut flakes, nuts, and sweetened with a touch of honey or maple syrup, these little orbs of delight are not only a guilt-free treat but are packed with nutrients too. Perfect for when you need an energy boost or satisfy that sweet tooth without the extra calories!
Only requiring six ingredients and no baking time, Healthy Coconut Balls won't break the bank. Plus, you can freeze them, so portion control is easy!
They will keep in the fridge for up to 4 days, so freeze the rest for up to 30 days and thaw them out as needed.
FAQs For These Healthy Snacks:
1. Are these chocolate coconut balls gluten-free?
Yes, this recipe is gluten-free. However, it's always good to check the labels of the ingredients to make sure none contain gluten.
2. Can I use sweetened coconut flakes?
Yes, you can use sweetened coconut flakes but reduce the amount of honey or maple syrup accordingly to avoid making the balls too sweet.
3. What type of nuts can be used in this recipe?
Almonds, walnuts, cashews, or pecans work great. You can use a combination of nuts or just one type.
Why Make Healthy Easy Coconut Balls?
To make Healthy Coconut Balls even easier to make, a few pieces of equipment will help. A food processor or blender to blend the ingredients together, parchment or wax paper to line a baking sheet, and a small cookie scoop will help create uniform balls.
Tips and Tricks:
When shaping the balls, dampen your hands with a little water to prevent sticking.
For a more intense chocolate flavor, you can add a pinch of espresso powder.
You can add a tablespoon of chia seeds or flaxseeds for an extra nutrition boost.
Variations:
Nut Butter Twist: Add 2 tablespoons of almond or peanut butter for a creamy texture and nutty flavor.
Fruity Delight: Mix in some dried fruits like cranberries or raisins.
Protein Packed: Add a scoop of your favorite protein powder to make them protein-rich.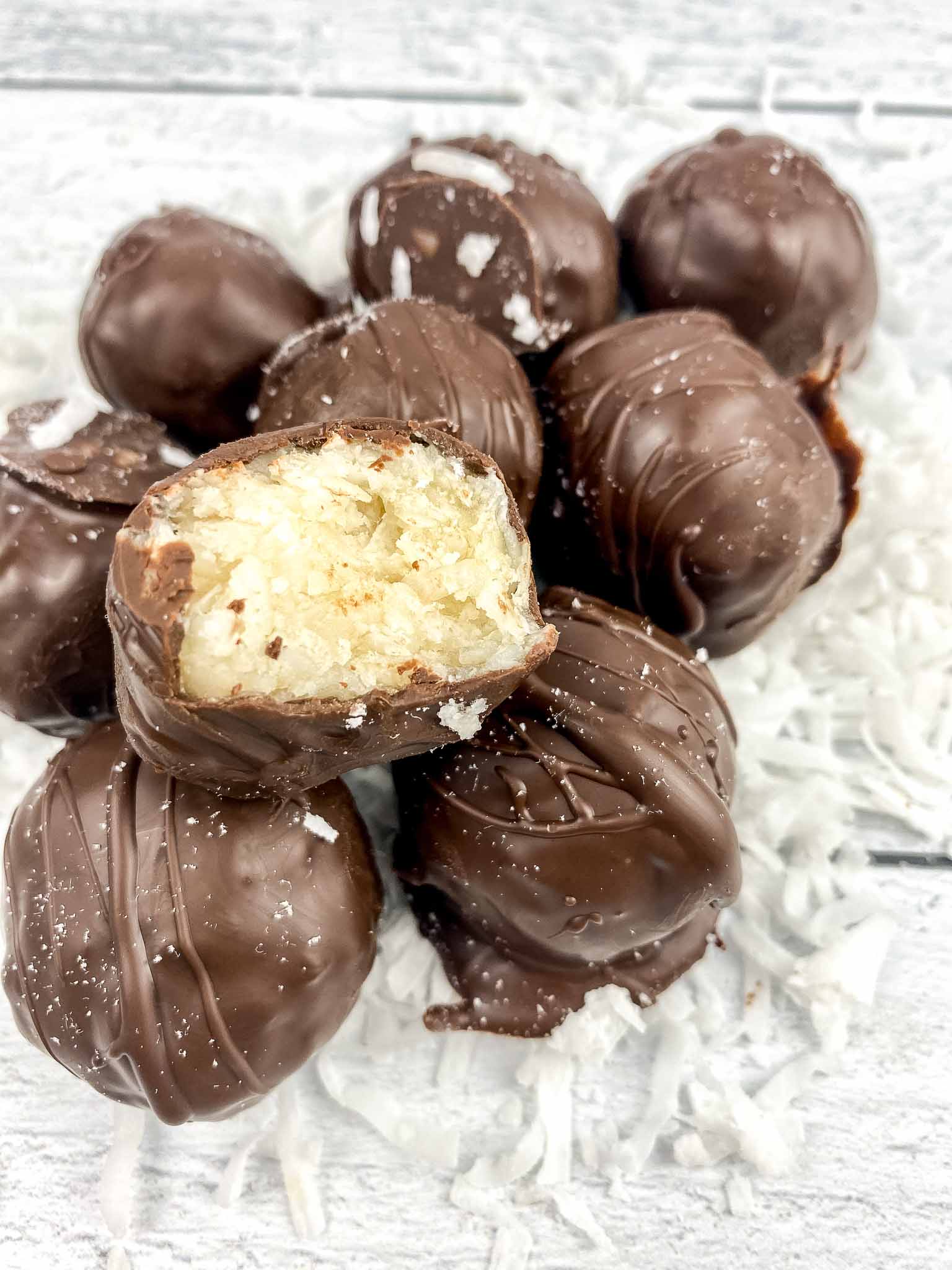 I love a no-bake snack! Once the ingredients for these Coconut Balls are blended together, you'll just scoop them into individual balls and freeze them for an hour on the prepared baking sheet.
After the hour is up, you'll melt the chocolate and dip the balls, letting them sit at room temperature. So simple!
Where to Serve:
These Chocolate Coconut Balls are versatile and can be served at:
Breakfast: As a part of a balanced breakfast plate.
Snack Time: Perfect with a cup of tea or coffee.
Dessert: Serve after a meal for a light and healthy dessert.
Fitness Fuel: A great pre or post-workout snack.
Party Favours: Present them in decorative boxes as gifts or party favors.
Storage:
Store the chocolate coconut balls in an airtight container in the refrigerator for up to two weeks or in the freezer for up to three months.
Ingredients for Coconut Balls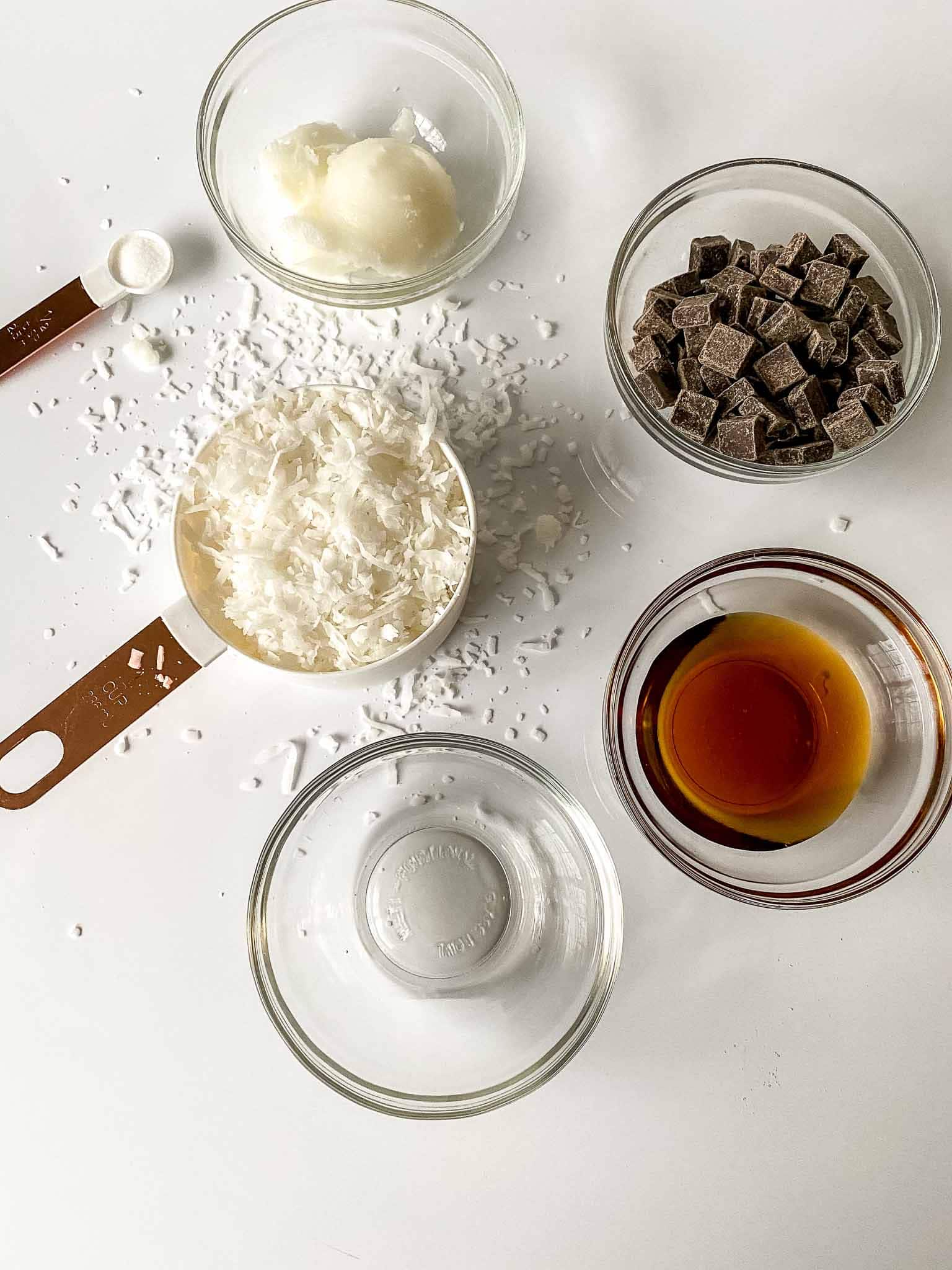 You probably have most of these ingredients already, but even if you don't, it's only six things:
Unsweetened Shredded Coconut – If you've never tried this with a recipe, it's worth giving it a try!
Maple Syrup – I love using Maple Syrup in these healthy coconut balls.
Coconut Oil – One of the best types of oil out there is coconut oil. It's so good in recipes (and so many other things!).
Pure Vanilla Extract – Vanilla extract always comes to the rescue.
Salt – You just need a little bit of salt.
Dark or Semisweet Chocolate – Chocolate is always something yummy to add!
Topping Options:
Roll them in additional coconut flakes.
Drizzle with melted dark chocolate.
Roll them in crushed nuts.
Sprinkle with sea salt flakes for a salty twist.
Why This Recipe Works:
This recipe is a perfect blend of delicious and nutritious. The cocoa powder provides antioxidants, while the coconut is rich in fiber and healthy fats. Nuts contribute protein and essential vitamins and minerals. The natural sweeteners, honey or maple syrup, give the perfect amount of sweetness without the refined sugars. Easy to make and store, they're a convenient and healthy option for any time of the day.
For complete instructions for Healthy Delicious Coconut Balls, check out the recipe card below. Be sure to come back and drop a comment!
If you are looking for more amazing dessert recipes, be sure to check out this comprehensive list!

50+ Fun and Easy Dessert Recipes For Kids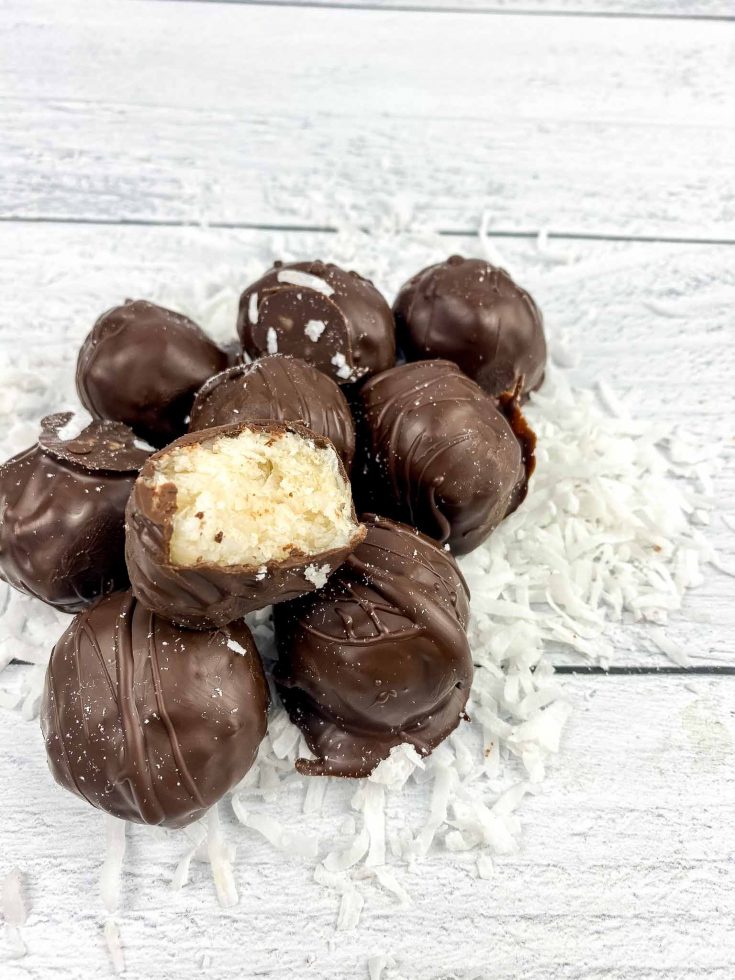 Yield:

8-10 Balls
Easy and Healthy Coconut Balls
These delicious and healthy coconut balls are a treat that everyone will love!
Ingredients
1 cup unsweetened shredded coconut 3 tablespoons maple syrup
2 tablespoons coconut oil
1⁄4 tsp pure vanilla extract
1⁄8 tsp salt
1 cup dark or semi sweet chocolate + 1 teaspoon coconut oil
Instructions
Blend coconut, maple syrup, 2 tbsp of coconut oil, vanilla and salt in a blender or food processor.
Once combined, roll into balls. To ensure even portion sizes, use a small cookie scoop.
Place balls on parchment or wax paper lined baking sheet

Freeze for one hour.

After one hour, melt the dark chocolate (or semi sweet chocolate) and
1 tsp coconut oil on high for 1 minute.
Stir together. If chocolate is not fully melted, heat again for 30 seconds.
Remove balls from the freezer.
Using a fork, dip each ball in chocolate, scrape off the fork against the side of the bowl before placing coconut balls onto the prepared tray.
Let set at room temperature.

Notes
Balls can be placed in the fridge for 4 days or freezer up to 30 days after being made for an easy snack.

Substitutions: 2 tablespoon water plus stevia (to taste) instead of maple syrup. Substitutions: Agave nectar or honey vs maple syrup
Using a fork vs a spoon to dip into chocolate helps the excess chocolate drip off without leaving the coconut balls in a pool of chocolate.

Pin it for later!
If you enjoyed this recipe be sure to check out my Instagram Page for the latest posts!
Before you go, check out these great posts!
Delicious Coconut Flour Cookie Recipes
Homemade Pineapple Coconut Ice Cream
The Best Homemade Coconut Cream Pie Recipe
Easy Chocolate Chip Overnight Oats Recipe
Hi! I'm Nellie. I am a busy mama of three, wife to my high school sweetheart who loves to cook, workout and stay organized! I love to share helpful printables, the best recipes and fitness tips for the modern mom. I strongly believe that every mom can feed their family well, take proper care of themselves and have fun along the way! Read my story.
Get comfortable and be sure to come hang out with me on social. Don't grab your free fitness journal before you go!