Here is an easy and fun recipe so that you can make homemade marshmallow peeps at home yourself! These treats are sure to please!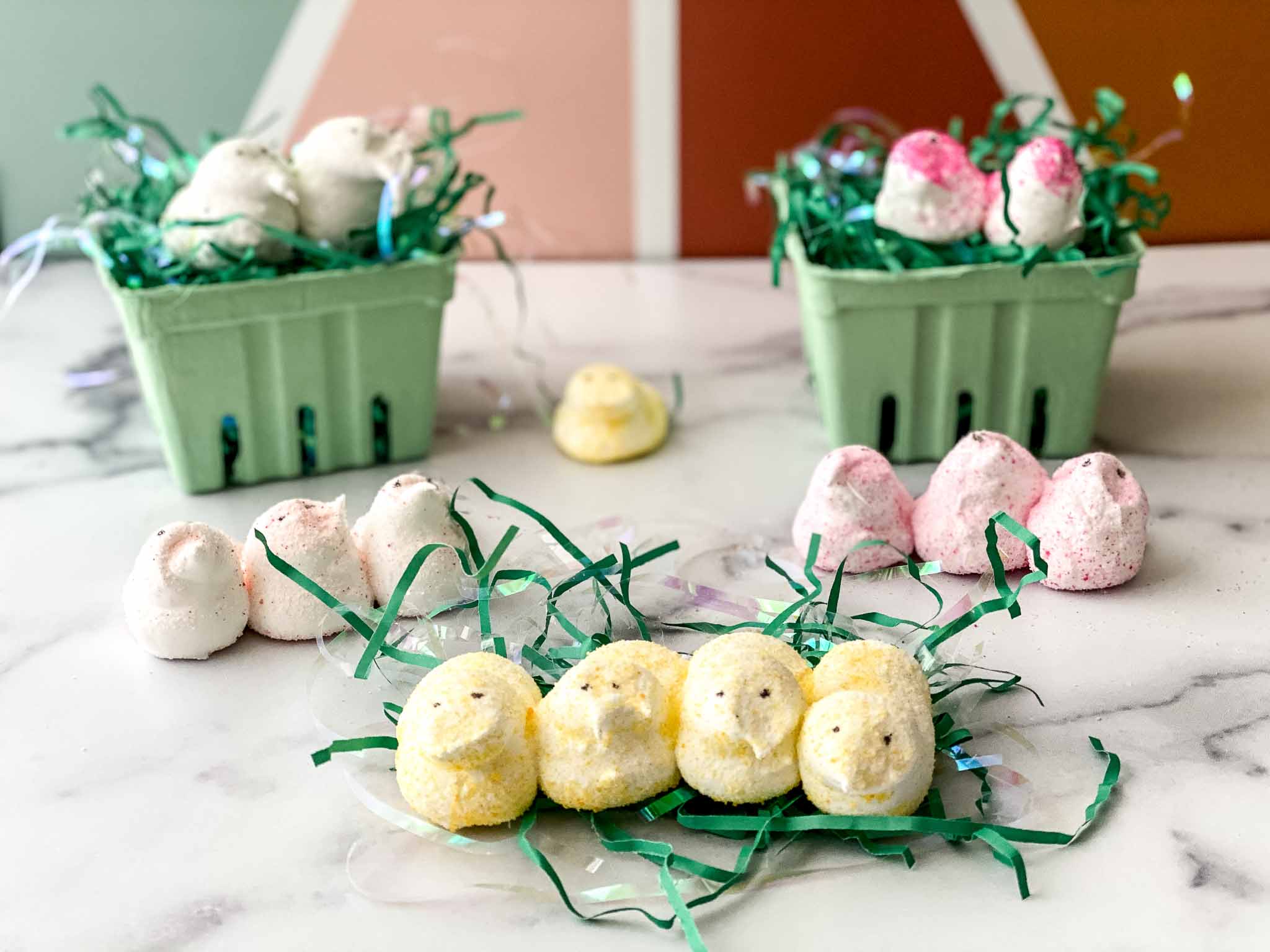 The jury is still out in my house to how they feel about the classic Easter fun treat of peeps! My kids and my husband LOVE them, me? not so much.
I personally love the Easter season because I share all of the funny anti peeps memes while my children and husband are so excited that they can finally buy them in stores again.
So what did I decide to do? Meet them in the middle of course! I can make them right at home with ingredients that I know and they don't have to worry about going out to the store to get them!
What ingredients do I need to make Homemade Marshmallow Peeps?
1 Package (2 tsp) unflavored gelatin
1/3 cup water
1 cup granulated sugar 1⁄2 cup water
1 tsp vanilla
Colored Sanding Sugar
What equipment do I need to make these peeps treats?
Heavy bottom saucepan
Glass measuring cup
Electric Mixer with whisk attachment
Rubber Spatula
Parchment lined baking sheets (1 per color)
Candy thermometer (optional)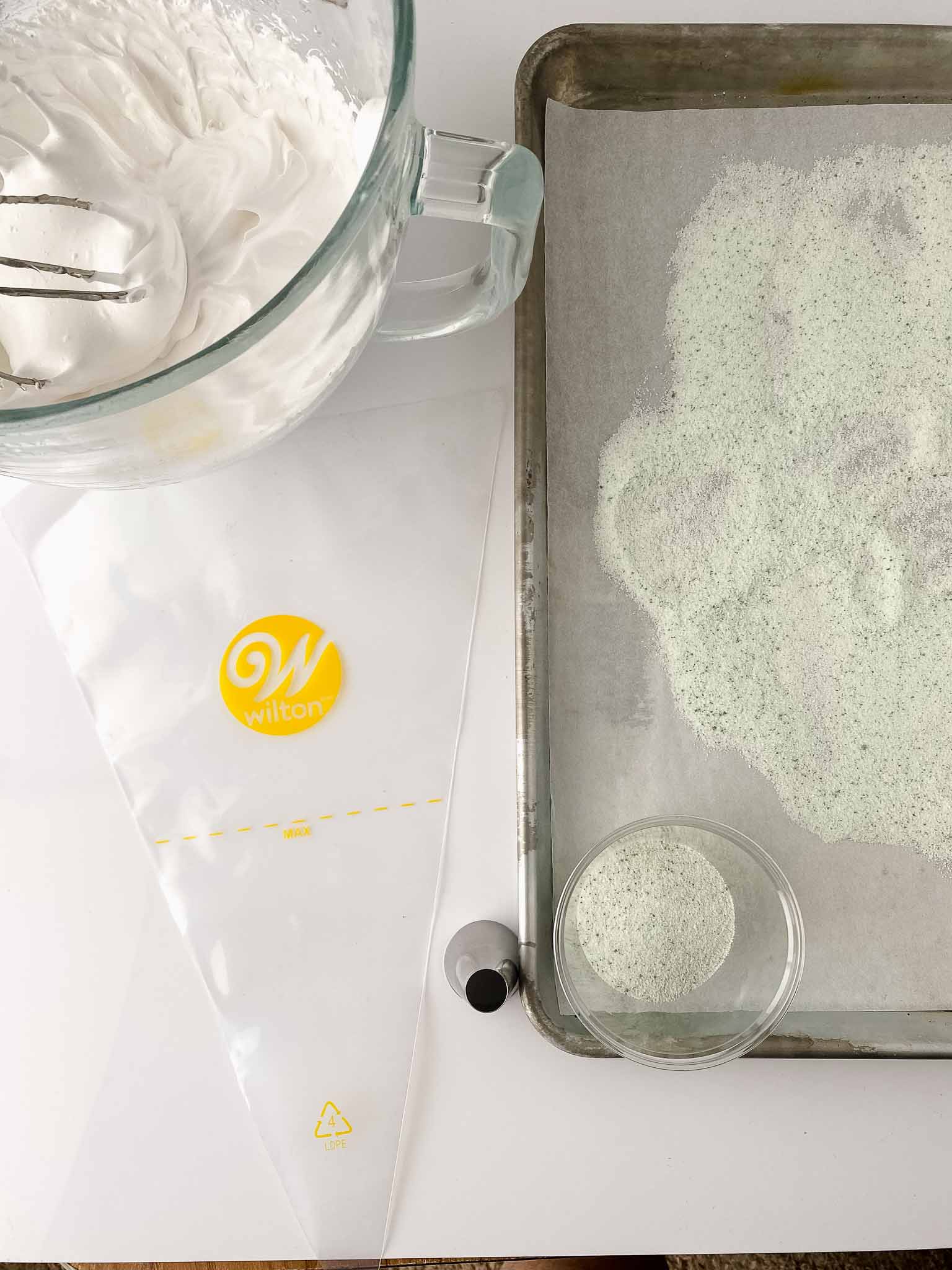 Is it hard to make these homemade Marshmallow peeps?
Not really. You will need a bit of finesse with the piping bag and you will need to pay attention to some key points of the recipe but you can totally do this! If not, you will totally have a blast trying!
Sanding Sugar Tutorial
This recipe calls for sanding sugar, but it's super easy to make! Be sure to check out this easy tutorial for making sanding sugar with or without a food processor!
When should I make these awesome Homemade Marshmallow Bunny Peeps?
Easter is a fantastic time! The weeks leading up is a fun activity. You can make them before or after a fun easter egg hunt! It's a great recipe for kids and adults alike.
Enjoy and let me know how it goes!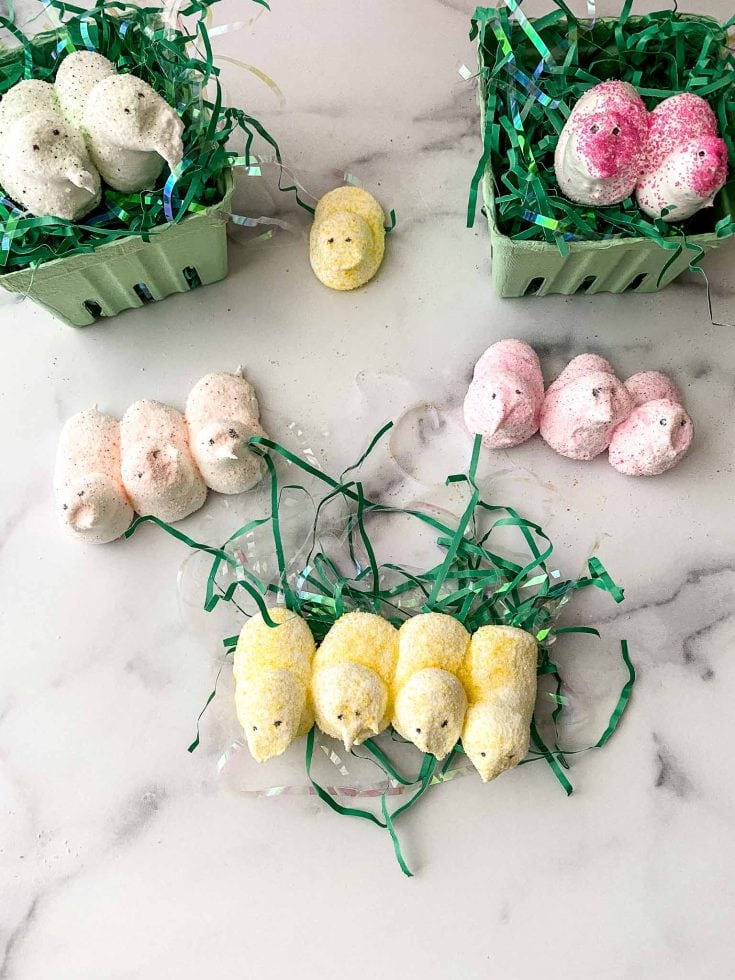 Yield:

10-12 peeps
Homemade Marshmallow Peeps For Easter
These fun homemade marshmallow peeps are perfect for Easter Baskets and so much more!
Ingredients
1 Package (2 tsp) unflavored gelatin
1/3 cup water

1 cup granulated sugar
1⁄2 cup water

1 tsp vanilla

Colored Sanding Sugar
Instructions
Sprinkle 2 tsp unflavored gelatin in 1/3 cup water and let sit to dissolve in mixing bowl. *Do not dump all the gelatin in one space, sprinkle it across the top of the water.
Place one cup of sugar in a heavy bottom pot.
Pour 1⁄2 cup water over the sugar, making sure its all saturated.
Heat the sugar to 230 degrees:
Place on Medium high heat, do not swirl the sugar around in the pan. As the sugar's temperature raises it will begin to form bubbles. The bubbles will pop very quickly as the temperature rises. To help the edges from caramelizing use a pastry brush to brush water around the inside of the pan. Once the bubbles begin to slow down they will look like slow popping bubbles. Place the silicon pastry brush in the center of the pot and immediately into a bowl of ice water. When it reaches what is considered "soft ball" stage (a literal ball of sugar will appear when its placed in the ice water) it's ready to be added to the mixing bowl.
Using a whisk attachment on your stand mixer turn it on low breaking up the gelatin. Slowly pour the heated sugar into the bowl while it's mixing. Once it's all inside, increase the speed to medium and let mix for 4-5 mins. The mixture will turn white and begin to look like icing.
Add vanilla.
Turn the mixer on high and let it whip for another 8-10 mins. The marshmallows with triple in size and hold a stiff peak. If it does not hold a peak, let it continue to mix until it does. This step is critical.
Prepare your icing bag, and sugar station.
To set up the sugar station, line a baking sheet with parchment paper. Pour sanding sugar on the bottom so the marshmallows do not stick.
Add large round tip to piping bag and cut off the tip of the bag, fitting the tip snugly inside of the plastic piping bag. Add Marshmallows to piping bag
*Chef's Note: Use a tall cup and open the top over the side, spoon in marshmallow mixture and pull the sides straight up*
Pipe a thick line of marshmallow fluff in a line towards you. Slightly raise it and go back the opposite direction half way down the line. Bring it forward pull off to complete the neck and head.
*If your marshmallows are sticking to the nozzle of the piping bag, run your fingers through the sanding sugar and use the coated fingers to help release the marshmallows.
Pipe the peeps next to one another. Cover with sanding sugar and allow time to set.
Use melted chocolate or black candy sprinkles to add the eyes. If using chocolate wait until you are ready to serve before adding the eyes or it else it may run and spread.
Hi! I'm Nellie. I am a busy mama of three, wife to my high school sweetheart who loves to cook, workout and stay organized! I love to share helpful printables, the best recipes and fitness tips for the modern mom. I strongly believe that every mom can feed their family well, take proper care of themselves and have fun along the way! Read my story.
Get comfortable and be sure to come hang out with me on social. Don't grab your free fitness journal before you go!