This homemade Polar Express Hot Chocolate Recipe is so fun and easy to make! Great flavors and easy to make for movie night!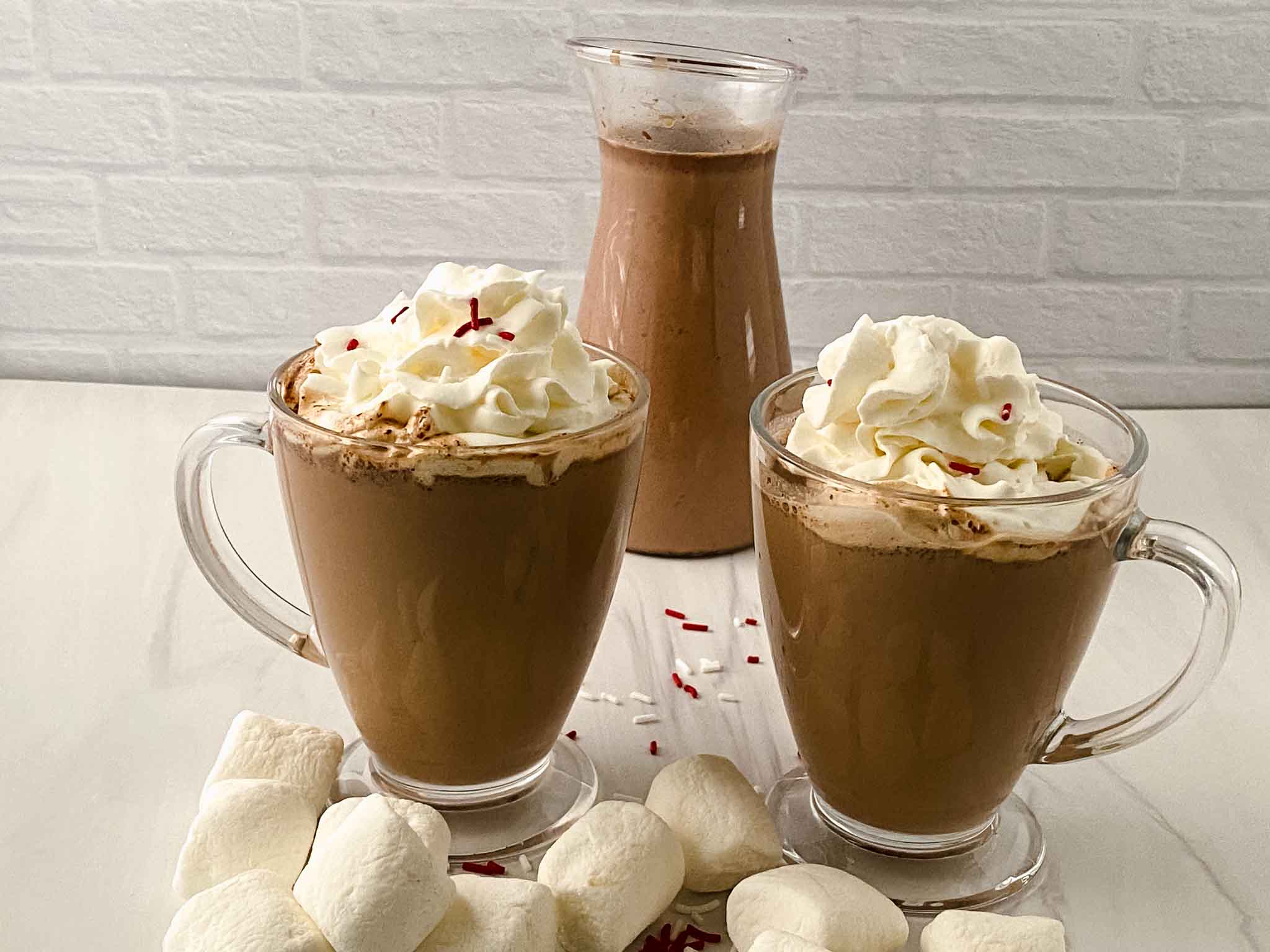 Who doesn't love the movie Polar Express? A story of a young boy who gets to take a train ride with Santa Claus is an exciting festive treat for the whole family. It's a Christmas classic that my family can't get enough of!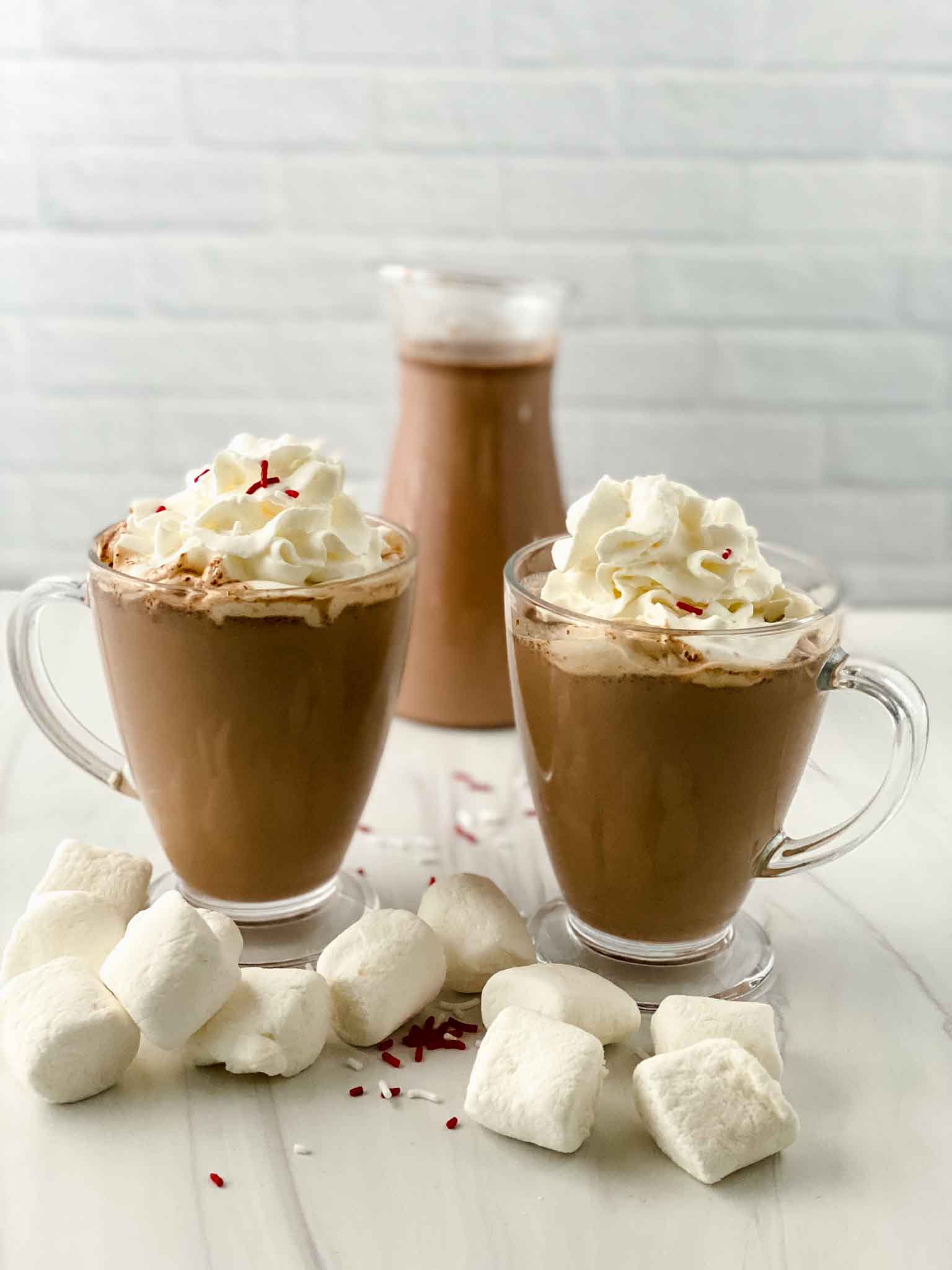 That longing to experience the Polar Express in real life is one that I've carried for many years, and each year my wish looks like it might come true. Today we are recreating the amazing hot chocolate that you can make for movie night! So what are you waiting for?
Do you make hot chocolate from scratch or do you use the packets?
I personally think that the hot chocolate from scratch is better, because it's more chocolaty and rich! You definitely get to enjoy the ingredients on a deeper level. Plus you can customize homemade recipes a lot more!
Polar Express Hot Chocolate Easy Variations
Peppermint Hot Chocolate: Add a few drops of peppermint extract for a festive twist.
Nutty Delight: Add a tablespoon of almond or hazelnut butter to the mixture.
Spiced Cocoa: Include a pinch of cinnamon or nutmeg for added warmth.
Storage
Let the hot chocolate cool down before transferring it to an airtight container. Store in the refrigerator for up to 3 days. Reheat on the stovetop over low heat, stirring constantly.
Common Problems and How to Avoid Them
Lumpy Texture: This often happens if the mixture is heated too quickly. Ensure a low to medium heat and constant stirring.
Too Thick or Thin: If your hot chocolate turns out too thick, add a bit of milk to thin it out. If it's too thin, let it simmer a bit longer, but be careful not to let it boil.
Tips for Making This Recipe with Kids
Supervise Stovetop Activity: The stove will be hot, so make sure you're handling that part when cooking with kids.
Measuring Fun: Let the children help with measuring the ingredients. It's a great way for them to learn and participate.
Stirring Duty: Give them the important job of stirring the mixture. Make sure they know to stir constantly to avoid any lumps or sticking.
Imagine curling up on a cold winter's night with a cup of creamy, rich hot chocolate that captures the magic of the Polar Express. This hot chocolate is not your ordinary cocoa. Made with a blend of semi-sweet and milk chocolate chips, sweetened condensed milk, heavy cream, whole milk, and a hint of vanilla, this is a drink that will warm your soul. Whether you're reliving the enchantment of the classic holiday story or making new memories, this Polar Express hot chocolate is a must-try recipe!
FAQs
What type of chocolate should I use?
For the best results, use a combination of semi-sweet and milk chocolate chips. The semi-sweet chocolate chips bring a deep, rich flavor, while the milk chocolate chips add creaminess and sweetness.
Can I use low-fat milk?
You could, but the hot chocolate won't be as creamy. The recipe calls for whole milk and heavy cream for a reason: to make it incredibly rich and luxurious.
Is vanilla essential?
Vanilla enhances the chocolate flavor and adds an aromatic note. Don't skip it!
Tips and Tricks
Quality Ingredients: Use high-quality chocolate chips for the best flavor.
Temperature Control: Don't let the mixture come to a boil; it could cause the chocolate to seize.
Stir Constantly: This ensures that the chocolate and milk are well-combined and prevents the mixture from sticking to the bottom of the pan.
Do you have a favorite hot chocolate recipe?
My family's hot chocolate recipe is amazing! Our secret ingredient for this deliciousness is cinnamon. I mean, doesn't that sound interesting? It certainly makes the flavor stand out more than anything else I've ever tried. I'm not sure what it is about cinnamon, but it really enhances the hot chocolate so much.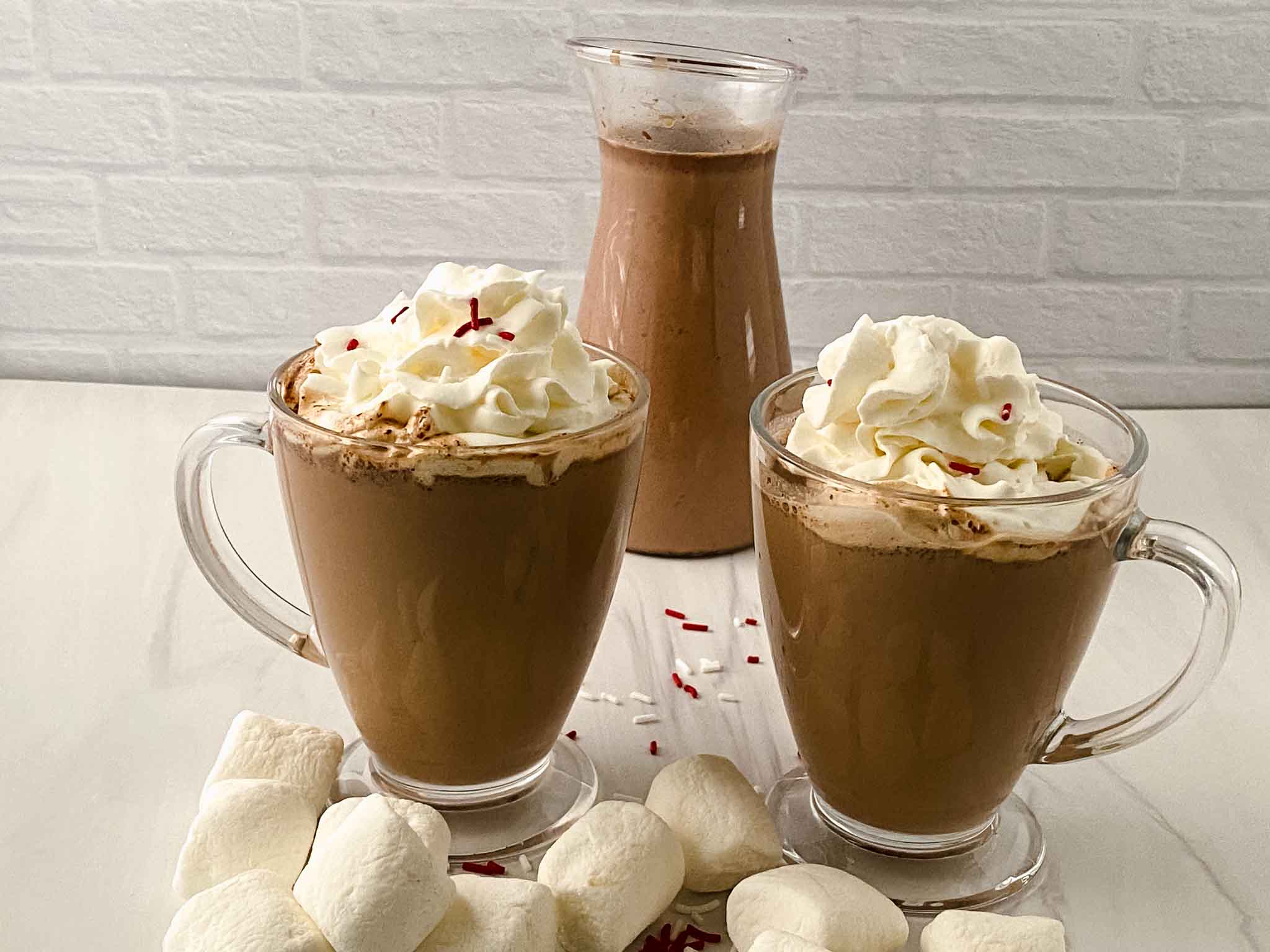 Where to serve this polar express hot chocolate?
Normally I make it in a mug, but you could really serve it anywhere. It's great for making at home, or bringing somewhere else! To make the drink extra special, you can bring some whipped cream over. That way people can sweeten their own drinks to whatever taste they prefer.
What ingredients do you need for this Polar Express Hot Chocolate?
sweetened condensed milk
semi-sweet chocolate chips
milk chocolate chips
heavy cream
whole milk
vanilla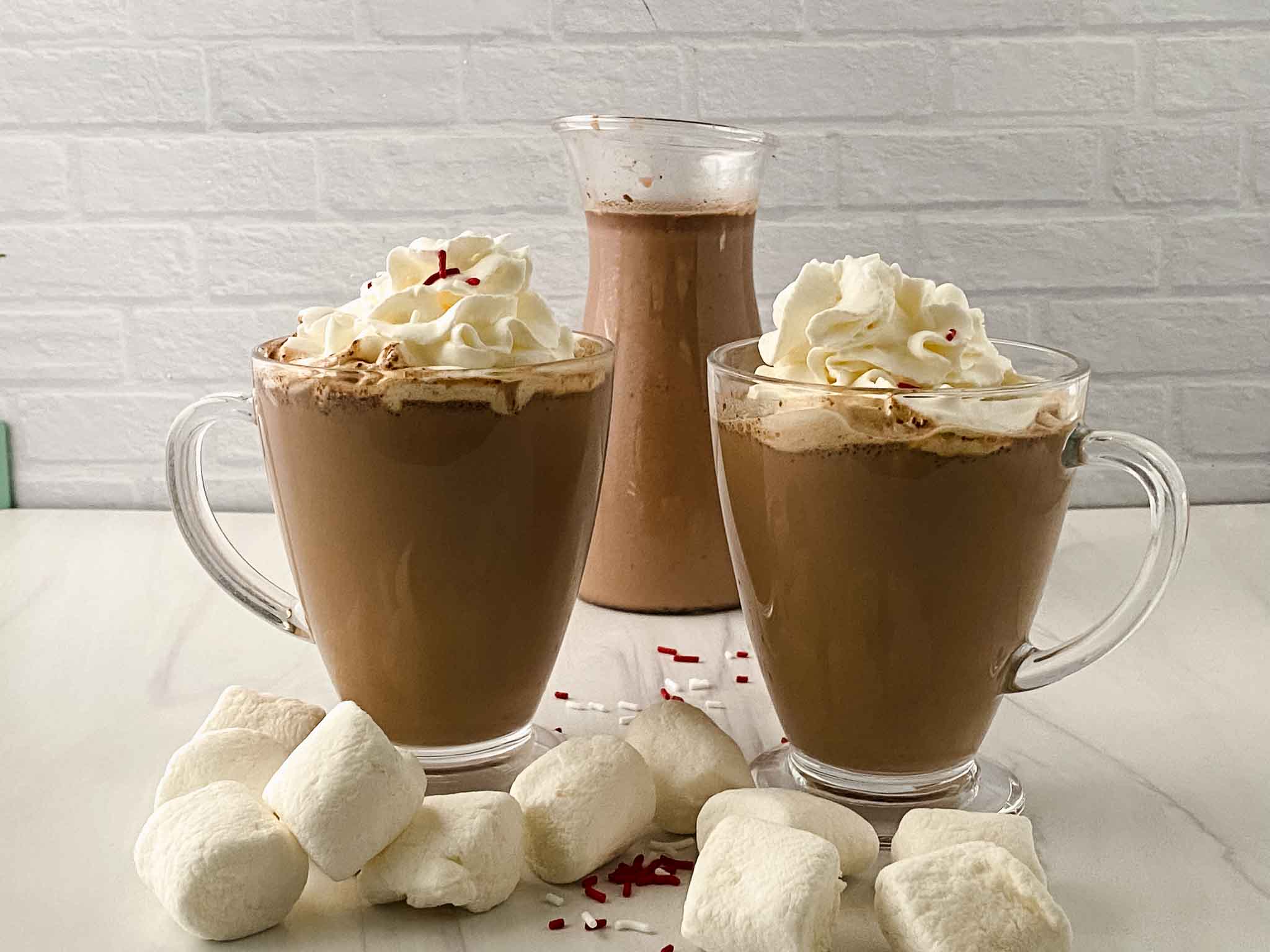 Topping Options
Whipped Cream: A classic choice that adds extra creaminess.
Marshmallows: A fun and fluffy option for kids and adults alike.
Cocoa Powder: A light dusting adds a sophisticated touch.
Chocolate Shavings: For the true chocolate lover, this adds both flavor and aesthetics.
Why This Recipe Works
Two Types of Chocolate: The combination of semi-sweet and milk chocolate chips creates a complex, yet balanced flavor.
Sweetened Condensed Milk: This provides sweetness and a velvety texture that's unmatched.
Whole Milk and Heavy Cream: These bring a richness and creaminess that make this hot chocolate truly luxurious.
Vanilla: This subtle addition amplifies the chocolate flavors, making the hot chocolate more dynamic and engaging.
So yummy and fun to make with kids. Enjoy! Let me know how much you love it.
Want some more delicious hot chocolate recipes? Check these out!
Yield:

10 cups
Homemade Polar Express Hot Chocolate For Movie Night
This amazing polar express hot chocolate is great for the holidays and marathon Hallmark movie nights!
Ingredients
1 14 oz can sweetened condensed milk
1 cup semi-sweet chocolate chips
1 cup milk chocolate chips
1.5 cups heavy cream
6 cups whole milk
1 tbsp vanilla
Instructions
In a Dutch oven (or heavy bottom saucepan) combine sweetened
condensed milk and chocolate chips over medium high heat.
Stir constantly until chocolate is completely
smooth.
Add heavy cream, milk, and vanilla.
Whisk until fully combined.
Serve warm with added marshmallows or whip cream. Enjoy!


Notes
This can be done in a crock pot. Add all ingredients to crock pot and cook on
low 3-4 hours or high 1-2 hours before serving.
Be sure to stir every hour.
Nutrition Information
Yield
10
Serving Size
1
Amount Per Serving
Calories

560
Total Fat

33g
Saturated Fat

20g
Trans Fat

0g
Unsaturated Fat

10g
Cholesterol

77mg
Sodium

156mg
Carbohydrates

58g
Fiber

2g
Sugar

56g
Protein

12g
Pin it for later!
If you liked this recipe be sure to check follow us on Instagram for more!
Before you go check out these amazing recipes!
Easy DIY Dollar Tree Hot Chocolate Mug Gift – Instructions and Printable!
No Bake Chocolate Peppermint Pie For The Holidays
Winter Themed Hot Chocolate Bombs
Hi! I'm Nellie. I am a busy mama of three, wife to my high school sweetheart who loves to cook, workout and stay organized! I love to share helpful printables, the best recipes and fitness tips for the modern mom. I strongly believe that every mom can feed their family well, take proper care of themselves and have fun along the way! Read my story.
Get comfortable and be sure to come hang out with me on social. Don't grab your free fitness journal before you go!