If you're tired of enjoying the same old hot chocolate recipe over and over again, then you need this Chai Spiced Hot Chocolate in your life. Come along as I show you how to make a new type of hot chocolate. This recipe will be perfect for fall and winter, and any time of the year.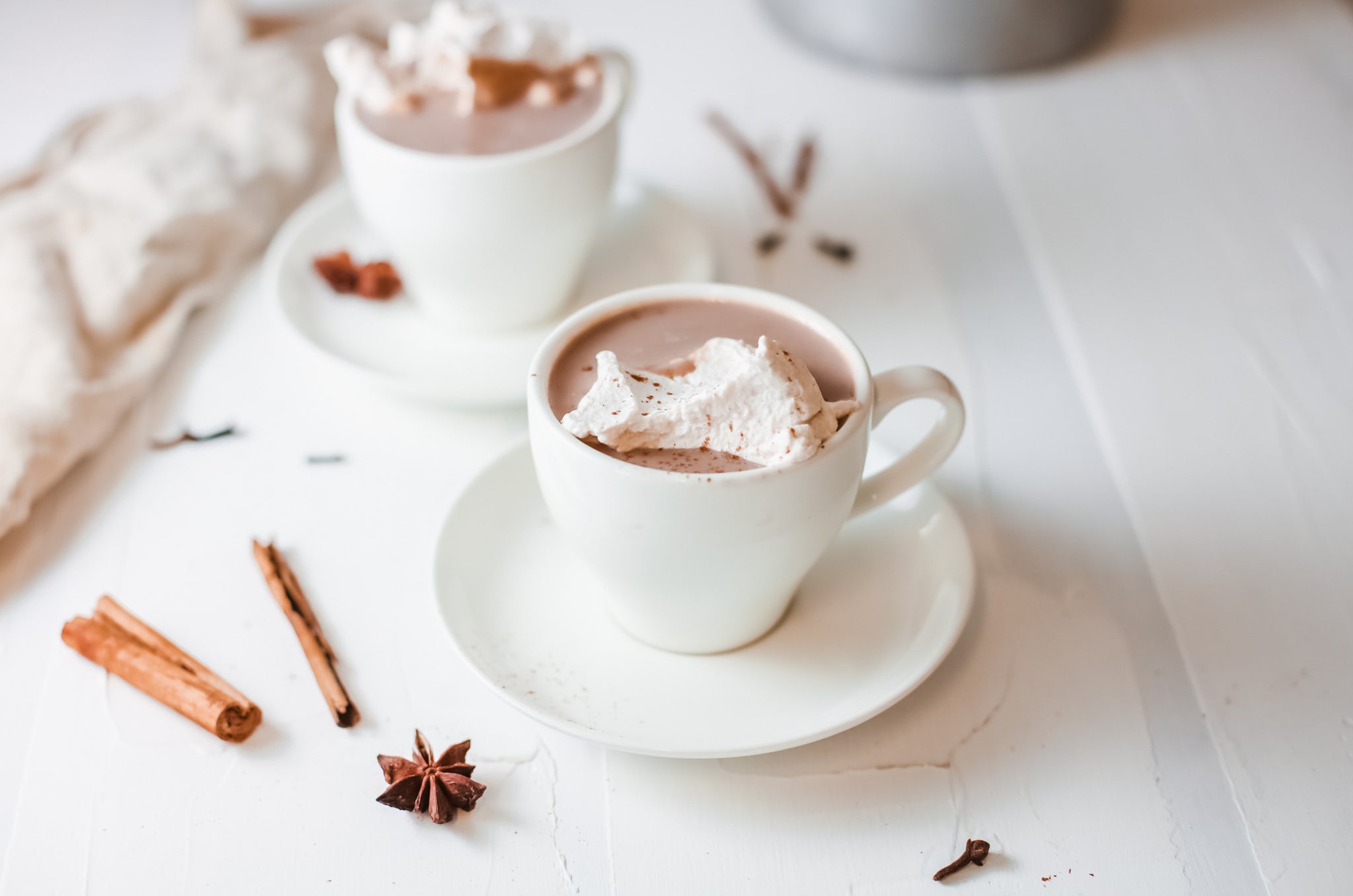 Chai Flavored Hot Chocolate
If you've ever gone to Starbucks and ordered a chai tea latte, then you may know what this tastes like. EXCEPT, you are adding a touch of hot chocolate to it. Don't be turned off by how many ingredients are in this recipe.
All of them are important to making it super delicious. I like to make a big batch of this chai chocolate for the weekend and then I just warm it up as I can.
Chai Hot Chocolate Recipe
As the winter months set in, there's no drink that warms the soul quite like the union of chai spices and creamy hot chocolate. This vanilla chai hot chocolate recipe is a perfect fusion of masala chai's warm spices with the rich, comforting notes of classic hot chocolate. Every sip reminds you why chai and chocolate are two of the world's favorite drinks, especially during this time of year.
Keep in mind that you can use only milk instead of the milk and heavy cream combo if you are looking for a healthier alternative. If you are trying to make it a little healthier, then you can also sub the milk for plant-based milk to make it vegan or vegetarian.
I love experimenting with different types of milk because you never know what will taste the most delicious. If you have a milk allergy, give something like cashew milk a try.
FAQs:
1. Can I use maple syrup instead of sugar?
Absolutely. Adjust to taste, as maple syrup can add a rich, different sweetness.
2. I see "chai tea bag" in many grocery stores. Can I use that?
Yes, a chai tea bag can be steeped in warm milk to intensify the chai flavors, though our recipe ensures a more homemade touch with the chai spice blend.
3. Can I substitute cocoa powder with cacao powder?
While cacao powder boasts health benefits, it has a stronger flavor. If you use it, start with a smaller amount and adjust according to personal preferences.
Tips and Tricks:
For a silkier texture, whisk your cocoa and spices in a small bowl with a splash of milk to create a paste before adding to the saucepan.
Keep the mixture on medium heat to avoid burning, and whisk continuously.
Test out the amount of milk based on your mug size; a big mug might require a little more!
Variations:
Dairy-Free Delight: Swap whole milk for almond milk, oat milk, coconut milk, or soy milk.
Decadent Chai: Add in a few chunks of dark chocolate for extra richness.
White Hot Chocolate: Substitute unsweetened cocoa powder with white hot chocolate mix and add extra spices for a flavorful twist.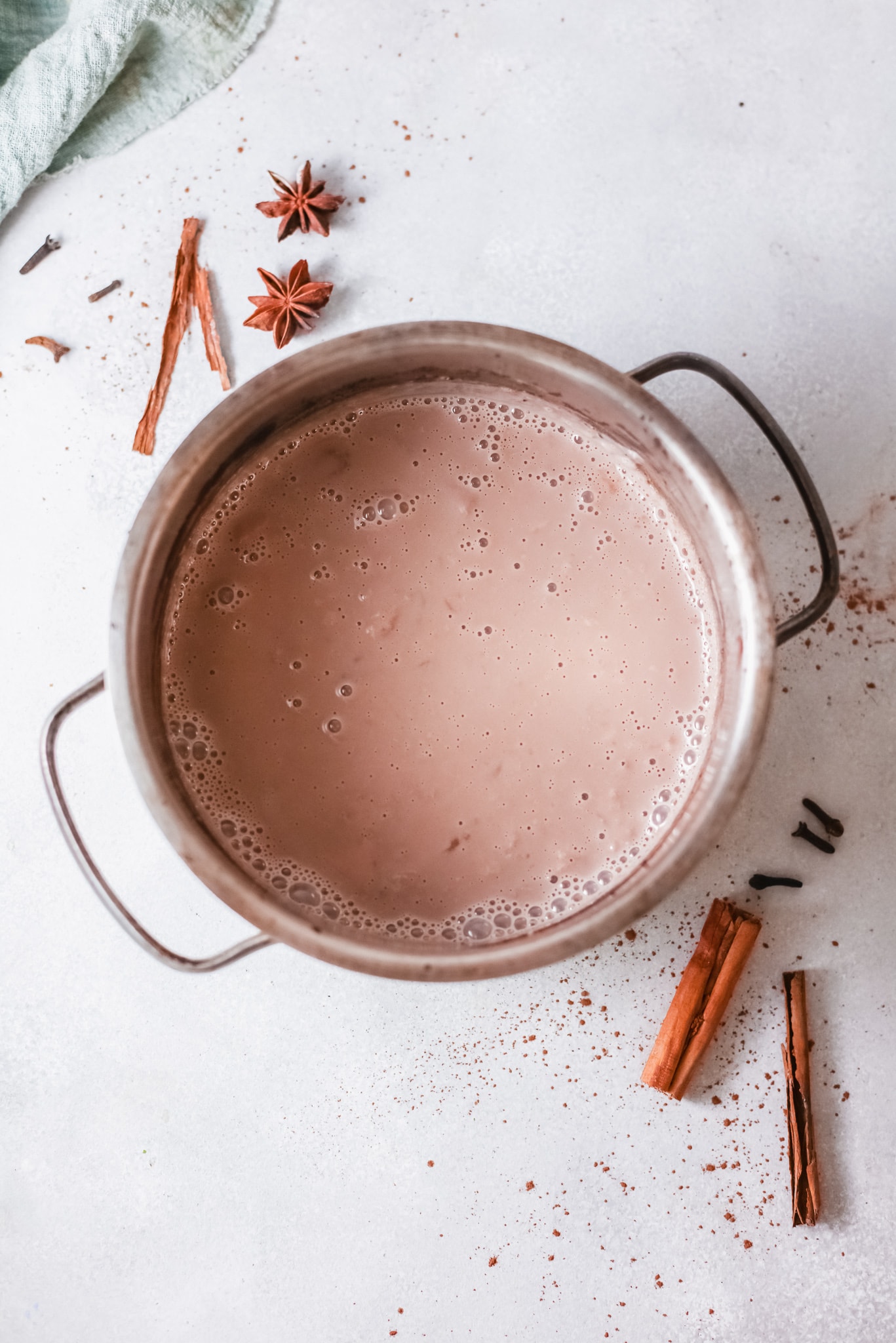 How to Store Chai Spiced Hot Chocolate
What if you made too much of this drink? How do you store it? If you have a pitcher with a lid, this is the perfect place to store it. You can pull it out of the fridge and warm it up as you see fit. A big batch means you save time, but you can enjoy it as much as you'd like. Kids also love this recipe! Best enjoyed immediately. If you do have leftovers, store in the refrigerator and gently reheat on low heat.
Where to Serve:
Perfect during the holiday season with friends or family.
On a cold day, snuggle up with a book and a mug of hot cocoa.
As an alternative to coffee shop lattes, this homemade hot chocolate can become your new obsession.
Common Problems and How to Avoid Them:
Lumps in the Mix: To prevent this, use a food processor or a fine-mesh sieve.
Too Spicy: Remember, chai spices like black peppercorns, whole cloves, and cardamom pods can be strong. Start with a pinch and adjust according to taste.
Making This Recipe with Kids:
Let them measure out the spices. Teach them about the origins of masala chai, explaining how "chai" is the Hindi word for "tea".
They can help whisk the mixture on medium heat (with supervision).
Topping with whipped cream is a fun task kids will definitely enjoy.
Topping Options:
A generous dollop of whipped cream sprinkled with ground cinnamon.
Grated dark chocolate or a cinnamon stick for an added touch.
A drizzle of maple syrup for those with a sweet tooth.
Why This Recipe Works:
The rich, full-bodied flavor of whole milk coupled with a curated blend of chai spices brings forth a drink that's both indulgent and invigorating. The addition of vanilla extract rounds off the flavors beautifully, making every mug of chai hot cocoa the embodiment of winter in a drink. The health benefits of spices like ginger, known for its anti-inflammatory effects, also make this a drink that's as good for your body as it is for your soul.
If you loved this recipe, make sure to drop your email address below for more such delightful recipes. Some affiliate links may be included in this post for tools and ingredients, but all opinions are my own.
Enjoy a big mug of chai chocolate and may every sip warm your heart!
Save money and make your own hot chocolate at home.
What are some other yummy hot chocolates to try?
Yield: 3 cups
Yummy Chai Hot Chocolate Recipe
Prep Time: 10 minutes

Cook Time: 10 minutes

Total Time: 20 minutes

This yummy chai spiced hot chocolate is perfect for cold weather evenings or any time! You likely already have all of the ingredients in your pantry!
Ingredients
2 Cups milk
2 Tbsp flour
⅓ Cup heavy cream
⅓ Cup cocoa powder
⅓ Cup sugar
½ Tsp ground cinnamon
½ Tsp ground ginger
¼ Tsp ground allspice
¼ Tsp ground nutmeg
Pinch of cardamom
Pinch of ground cloves
1 Tsp vanilla extract
Whipped cream + cinnamon as a topping
Instructions
In a small saucepan over medium heat add the milk, heavy cream and flour and whisk vigorously.
Add the rest of the ingredients and stir to combine. Cook for 7 minutes or until the hot chocolate has thickened and the spices have bloomed.
Serve and top with whipped cream and a cinnamon sprinkle.
Notes
You can use only milk instead of the milk and heavy cream combo if you are looking for a healthier alternative.
You can also sub the milk for a plant based milk to make it vegan or vegetarian. I have tried it with cashew milk and the result was extremely good too!
Nutrition Information
Yield
3
Serving Size
1
Amount Per Serving Calories 328Total Fat 14gSaturated Fat 8gTrans Fat 0gUnsaturated Fat 4gCholesterol 44mgSodium 93mgCarbohydrates 42gFiber 3gSugar 23gProtein 9g
Hi! I'm Nellie. I am a busy mama of three, wife to my high school sweetheart who loves to cook, workout and stay organized! I love to share helpful printables, the best recipes and fitness tips for the modern mom. I strongly believe that every mom can feed their family well, take proper care of themselves and have fun along the way! Read my story.
Get comfortable and be sure to come hang out with me on social. Don't grab your free fitness journal before you go!