There are so many amazing museums, places to eat, and things to do in Washington DC! Here's how you can stay active and get over 12k steps!
I first fell in love with Washington, DC when my boyfriend, now husband and I used to take Amtrak pretty much everywhere. We were young and child-free and would spend our weekends exploring cities that were not too far from NYC. On our first visit we checked out so many museums and restaurants and we fell in love immediately!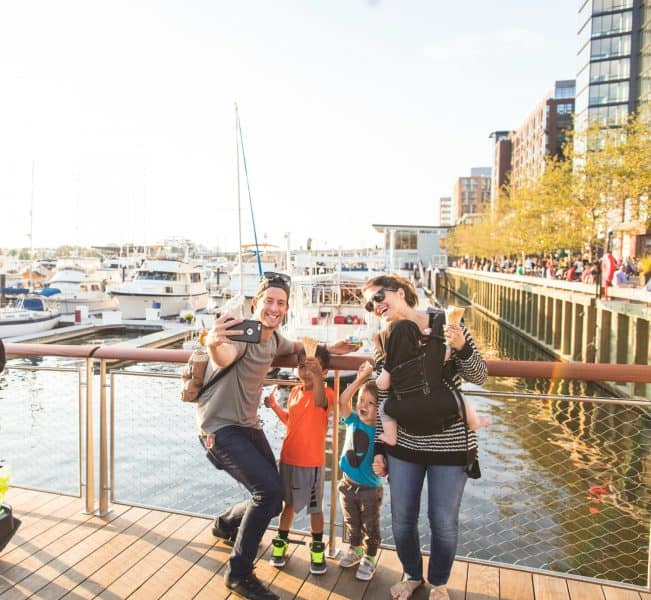 You can still squeeze in a lot of fun in one day in DC. Especially considering there have been SO many new additions to the Washington, DC area, in addition to the mainstays people always come back for. You may remember that one time I ran a half marathon in DC. The weather didn't cooperate but it was still one of the most awesome ways to get intimate with DC. We ran past so many monuments and museums—the awesome architecture was a great distraction for running 13.1 miles!
Today I am providing you with an action-packed itinerary for how to spend a day on your feet in DC. It not only includes lots of walkable (wear your sneakers!) and moderately active things to do, but also a few yummy places to eat.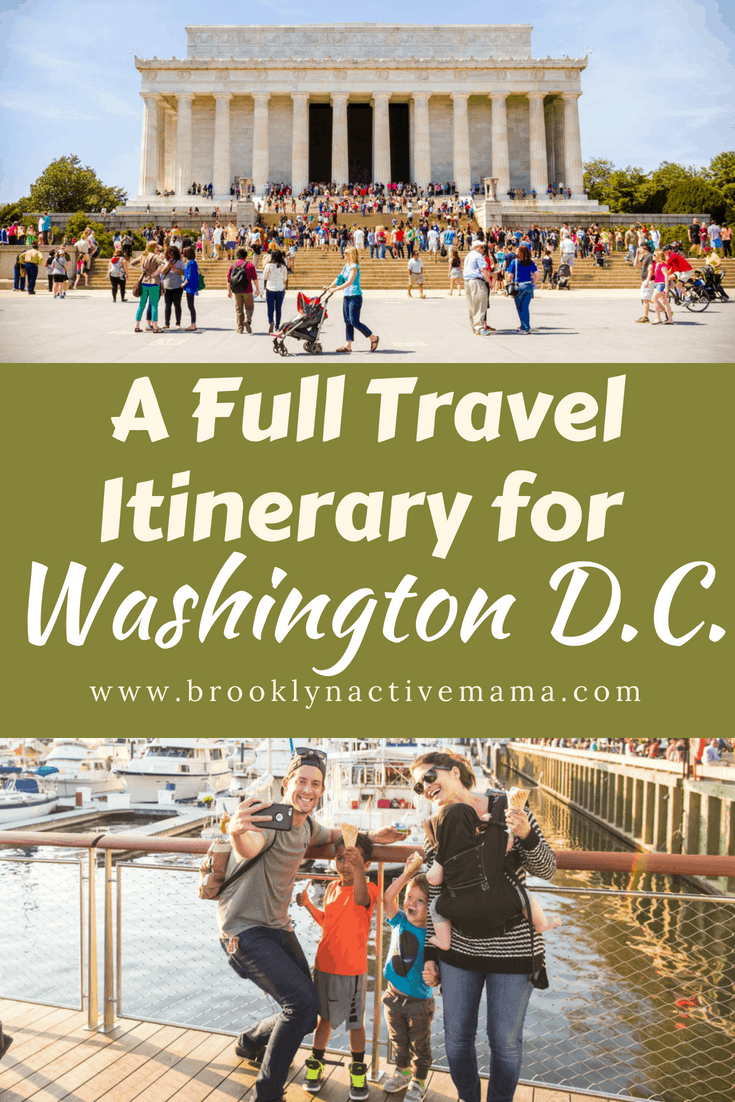 Start with breakfast at Ben's Chili Bowl. This casual diner is truly DC's soul. It's an African-American family-owned business celebrating 60 years this year. The business started as a hot dog stand and still feeds its legendary chili half-smoke to legions of late- night clubbers, but it also serves breakfast. That's the meal when I feel like Ben's is at its most relaxed, full of old timers and the best time to chat with Mrs. Virginia Ali, Ben's widow, about hosting notables from Civil Rights leaders and student organizers to Barack Obama. Breakfast is sweetly priced, too: order two eggs, grits or stewed apples, toast or a biscuit and get change from a five-dollar bill. (Yes! Please!) On the side of the building, you'll note one of the many street murals that decorate the alleyways and offshoots of the city – and this one features African-American icons ranging from Barack Obama and Dick Gregory to DC locals such as Dave Chappelle and the "Godfather of Go-Go" Chuck Brown. (Plus it will be kinda amazing for Instagram–just saying. Local tip: check out #MyDCcool for a collection of the best DC Instas.)
Walk three blocks to the U Street Metro and visit the African American Civil War Memorial and museum, celebrating its 20th anniversary this summer. The memorial commemorates the contributions of African-American soldiers during the Civil War. Hop on the Metro (yellow and green lines) to the National Archives Metro stop. Get off the Metro and head on over to the National Archives to see the Declaration of Independence, the Bill of Rights and U.S. Constitution (admission is free).
Cross the street and stroll passed the cool fountain inside the National Gallery of Art's Sculpture Garden (it's an ice rink in the winter) and head inside the NGA's West Building. Discover the only Leonardo da Vinci portrait in the Western Hemisphere (read: exclusive); travel on the moving walkway and light sculpture "Multiverse" and head to the top floor of the East Building to take your picture with the blue rooster sculpture. The visitors desk at the National Gallery has a free children's activity guide and admission is always free. Note: NGA also has some of the best public bathrooms in town! (I am a sucker for a fantastic public bathroom, I personally think they should all be super fancy but I digress)
Exit the gallery and walk down the National Mall to the National Museum of African American History and Culture (admission is free, but you need a timed ticket in advance on most days). Stop for a snack or lunch at Sweet Home Café, like the popular Hoppin' John and pan roasted rainbow trout with cornbread stuffing. Chef Carla Hall (one of my favorite chefs ever!! I've met her a few times and loved her even more each time!) designed the cafeteria's menu – thoughtfully, with families in mind, there are meals designed to feed groups available. Once you've filled up, you can wander through the exceptional museum and seek out their new special exhibition, "Watching Oprah."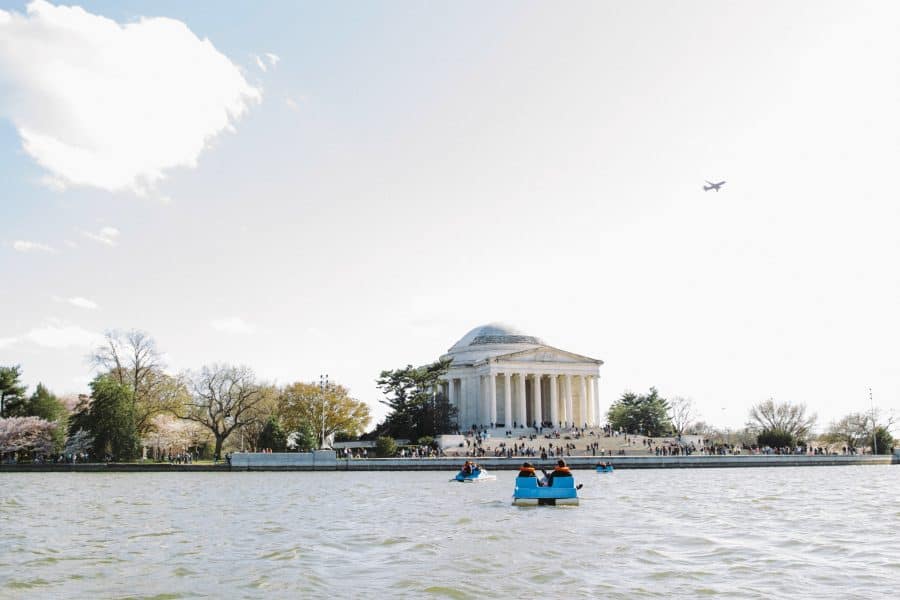 Leave NMAAHC and walk across the National Mall to the Hirshhorn Museum, the Smithsonian's museum of post-war and contemporary art. Besides finding works from Auguste Rodin and Willem de Kooning there, you'll also discover a permanent Dolcezza café inside that serves coffee and pastries. Better yet, outside you'll find a pop-up Dolcezza that serves some of the best gelato in town. (The sour orange flavor is the bees knees!) The building looks like a giant concrete doughnut and beneath its curve, in the shade, the local ice cream company scoops gelato from a vibrantly decorated metal shipping container.
(Insider tip: if your thirst for museums still isn't quenched, check out the full list of free museums in Washington, DC.) I'm all about saving you some money here folks!
Take your scoops and hop on the free Southwest Shuttle to The Wharf, one of DC's hot waterfront destinations. The Wharf opened in October 2017 and is now home to three hotels, three live music venues, the oldest continuingly operational fish and seafood market in the US, specialty shops and restaurants galore. It's also home to DC's petite marina and where the tour boats and water taxis doc. The Wharf offers fun for the whole family – relax in the swings on Recreation Pier or play oversize Scrabble or Battleship on Transit Pier or catch a free concert on District Pier. Planning Tip: With so many awesome things to do, you will likely be spending a good chunk of time here!
Head to the end of Recreation Pier and catch the free Wharf Jitney, a 10-person electric boat that ferries people from The Wharf to East Potomac Park, the park operated by the National Park Service that connects to the National Mall to the Tidal Basin. The trip takes about two minutes and the boat can accommodate bikes, scooters and strollers.
Walk toward the Tidal Basin and in less than seven minutes you'll arrive at the Jefferson Memorial. Walk around three-quarters of the Tidal Basin (clockwise from the Jefferson Memorial) – these green leafed trees are the same famous cherry trees that bloom in pink clouds in late March/early April. The whole Tidal Basin loop is 2.1 miles. Explore the FDR Memorial (find the sculpture of his dog Fala) and the MLK Memorial. Carefully cross the street and climb the steps of the Lincoln Memorial. Find the plaque marking the spot where Dr. King delivered his "I Have a Dream" speech. Walk along the shady side of the Mall passed the ever-stirring Vietnam Veterans Memorial. These memorials are open day and night and are staffed by National Park Service Rangers who can answer questions. Walk to the WWII Memorial and cross the street to stand at the foot of the Washington Monument. This walk can take as little as an hour or as long as you wish.
Finally you can hop on the Circulator, DC's $1 bus that runs in several popular travel loops across the city. There are wide double doors in the back that are wide enough to accommodate a double stroller. It's easy to treat the Circulator's National Mall loop like a sightseeing bus (without the narration). It will roll by the Smithsonian museums, the US Capitol and to Union Station, DC's busiest transit hub (Amtrak, commuter trains, Metro and bus depot). This makes it easy to hop on a train or bus back home!
Here are some more fun travel posts to check out before you go!
What do you think? Are you up for the challenge?? What are YOUR favorite spots in Washington DC? Check out

washington.org

for hot DC travel tips, dining guides and things to do for every season.
Hi! I'm Nellie. I am a busy mama of three, wife to my high school sweetheart who loves to cook, workout and stay organized! I love to share helpful printables, the best recipes and fitness tips for the modern mom. I strongly believe that every mom can feed their family well, take proper care of themselves and have fun along the way! Read my story.
Get comfortable and be sure to come hang out with me on social. Don't grab your free fitness journal before you go!