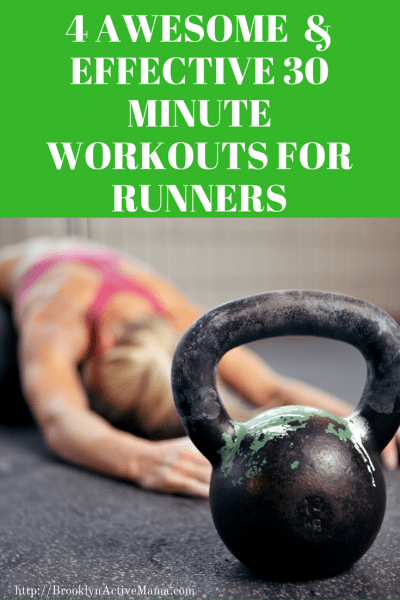 When I worked my last corporate job (almost 18 months ago…omg!) I had the hardest time fitting in workouts. I had gone from a job of nine years where I could go in early and workout at lunch for as long as I needed–to a very very strict work environment that guarded my time and got on my case if I even came in a minute late. I realized pretty quickly that I had to learn how to adjust to this hour time frame and that meant getting the absolute most out of my hour lunch. 10 minutes travel each way/10 minute shower and change and 30 precious minutes to workout.
As a busy mom it can be hard to even get those precious 30 minutes in. Today I'm sharing my favorite 30 minute workout that will not only challenge you but it will give you the endorphins you need.
My general formula for short workouts is 33% cardio 33% strength training and 33% body weight exercises. This can be done in any order but I generally like to start off with the cardio to get a good sweat started. For example a full workout could include:
10 minutes: 1/1 speed intervals on the treadmill
10 minutes: Jump Rope
10 minutes: squats with weights/lunges with weights
In order to get the most out of this workout, it's important to pay close attention to time. This is not the time to check email, or reply to texts. 30 minutes goes really fast when you are working hard! Here are some options for you to mix and match your 30 minutes.
Cardio:
One mile on the treadmill
10 minutes on the elliptical (high resistance)
10 minutes on the stair climber
10 minutes brisk walking
10 minutes on the rowing machine
Body weight:
Pushups
Squats
Caterpillar
Box Jumps
Strength Training:
Shoulder Press
Walking Lunges with Weights
Tricep Extensions
Deadlifts
Today I am partnering with my favorite running bloggers to showcase how YOU can get the most out of 30 minutes of exercise!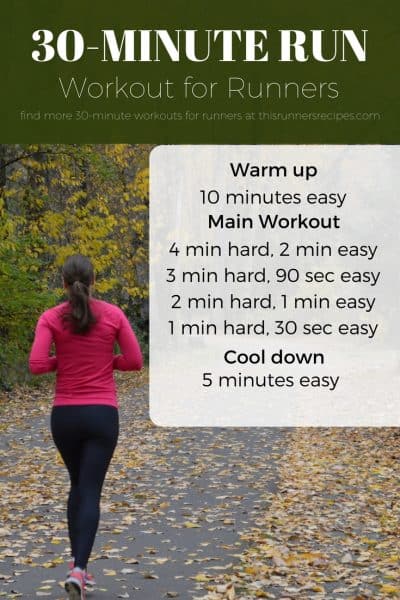 Only have 30 Minutes? Try these 4 #workouts from @CarlyPizanni @ThisRunRecipes & @HappyFitMama Click to Tweet
What would you if you only had 30 minutes to exercise?
Hi! I'm Nellie. I am a busy mama of three, wife to my high school sweetheart who loves to cook, workout and stay organized! I love to share helpful printables, the best recipes and fitness tips for the modern mom. I strongly believe that every mom can feed their family well, take proper care of themselves and have fun along the way! Read my story.
Get comfortable and be sure to come hang out with me on social. Don't grab your free fitness journal before you go!