Looking for an easy tasty treat for school lunch or meal prep? Check out this awesome turkey pinwheels recipe! Made with your favorite cheese, turkey and seasonings.
Can you believe that back to school is upon us? It's time to get all the supplies and of course, make a plan for brown bag lunches. A great option to send with the kids are this turkey pinwheels. It's a great recipe that the family will love.
Elevate your snack game with these scrumptious Turkey Pinwheels! Layered with rich cream cheese, fresh lettuce, slices of turkey, and a hint of garlic, these bites promise flavor in every turn. Perfect for picnics, parties, or an elegant lunchbox addition, these pinwheels are the rolled treasures you never knew you needed.
Why This Recipe Works
The synergy of creamy texture from the cream cheese and sour cream, combined with the crispiness of lettuce and the savory notes from turkey slices, creates a delightful bite. Plus, the garlic powder and optional dill enhance the flavors to achieve a gourmet taste in this simple dish.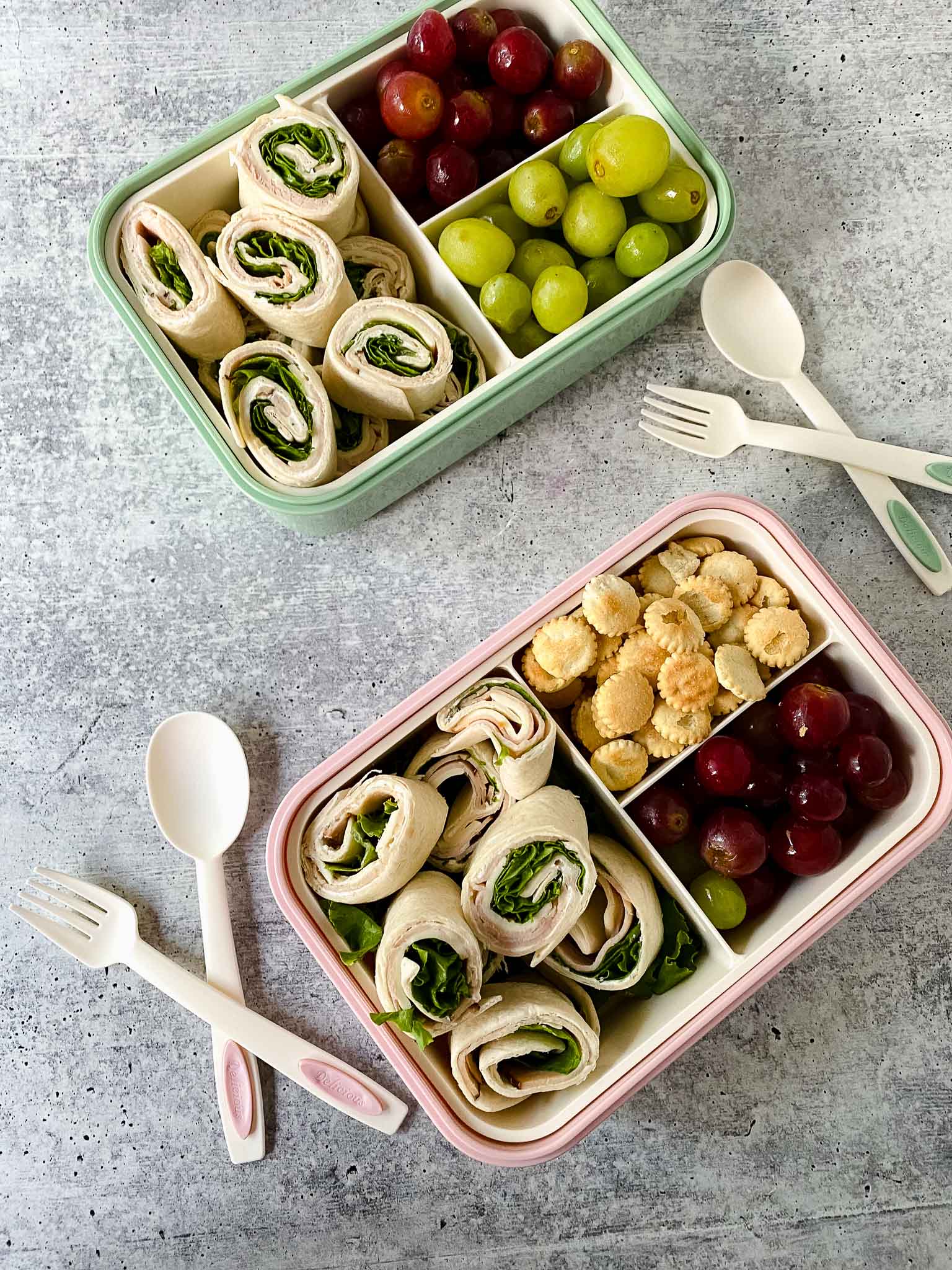 These pinwheels are made with flour tortillas, turkey slices and your favorite kind of cheese. These are both great for school lunches and meal prep! These tortilla pinwheels are a great lunch for big kids with a few of their favorite sides.
Turkey pinwheel sandwiches also made for an easy appetizer option. You can even add cranberry sauce to these and make some delicious turkey cranberry pinwheels. These easy turkey pinwheels are super versatile.
FAQs
Can I use any other type of meat?
Yes, you can substitute turkey with ham or roast beef, depending on your preference.
Can I use flavored cream cheese?
Absolutely! A herb-infused or peppered cream cheese can add an extra punch of flavor.
Tips and Tricks
Even Spread: Ensure that the cream cheese mixture is spread evenly across the tortilla to ensure consistent flavor in each bite.
Rolling Tightly: When rolling your pinwheels, make sure to keep them tight. This will help hold the shape and keep the fillings intact.
Variations
Spice it up: Consider adding some sliced jalapeños or a splash of hot sauce for a spicy kick.
Veggie Boost: Thin slices of bell pepper or cucumber can add a fresh crunch.
What ingredients are needed for this turkey pinwheels recipe?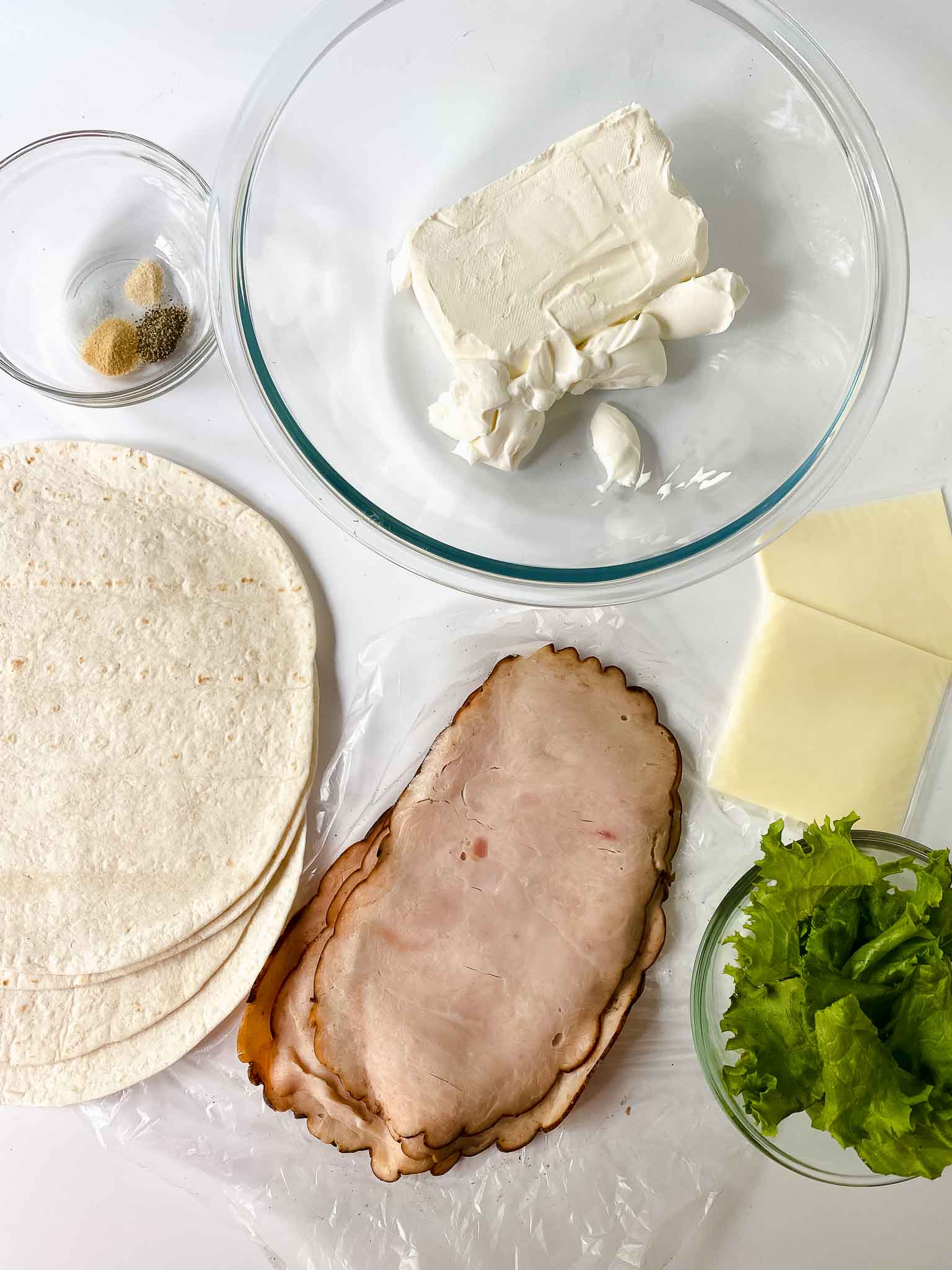 4 tortillas
6-8 slices of Turkey meat
4 leaf romaine lettuce
2 slices American, Cheddar cheese or Swiss cheese
2 tbsp sour cream
4 oz cream cheese
1/4 tsp garlic powder
1/4 tsp pepper
1/8 tsp salt (pinch)
1/4 tsp dried dill, optional
Where to Serve
Picnics: Pack these in your basket for a refreshing outdoor treat.
Parties: Present them as appetizers or alongside other finger foods.
Lunchbox: A perfect school or work lunchbox addition.
Storage
Store any leftover pinwheels in an airtight container in the refrigerator for up to two days. For best taste, consume them fresh or within 24 hours.
Common Problems and How to Avoid Them
Soggy Pinwheels: To prevent sogginess, ensure that your lettuce is dry and avoid storing in a humid environment.
Falling Apart: If your pinwheels aren't holding together, you might not be rolling them tightly enough. Use a bit of extra cream cheese at the edge of the tortilla as "glue."
Tips for Making This Recipe with Kids
Safe Spread: Let the kids spread the cream cheese mixture. It's fun and doesn't involve sharp tools.
Decorate: Encourage them to place the turkey and lettuce. It's like decorating a pizza!
Roll it Up: Kids will enjoy rolling the tortillas. Just guide them to ensure it's tight.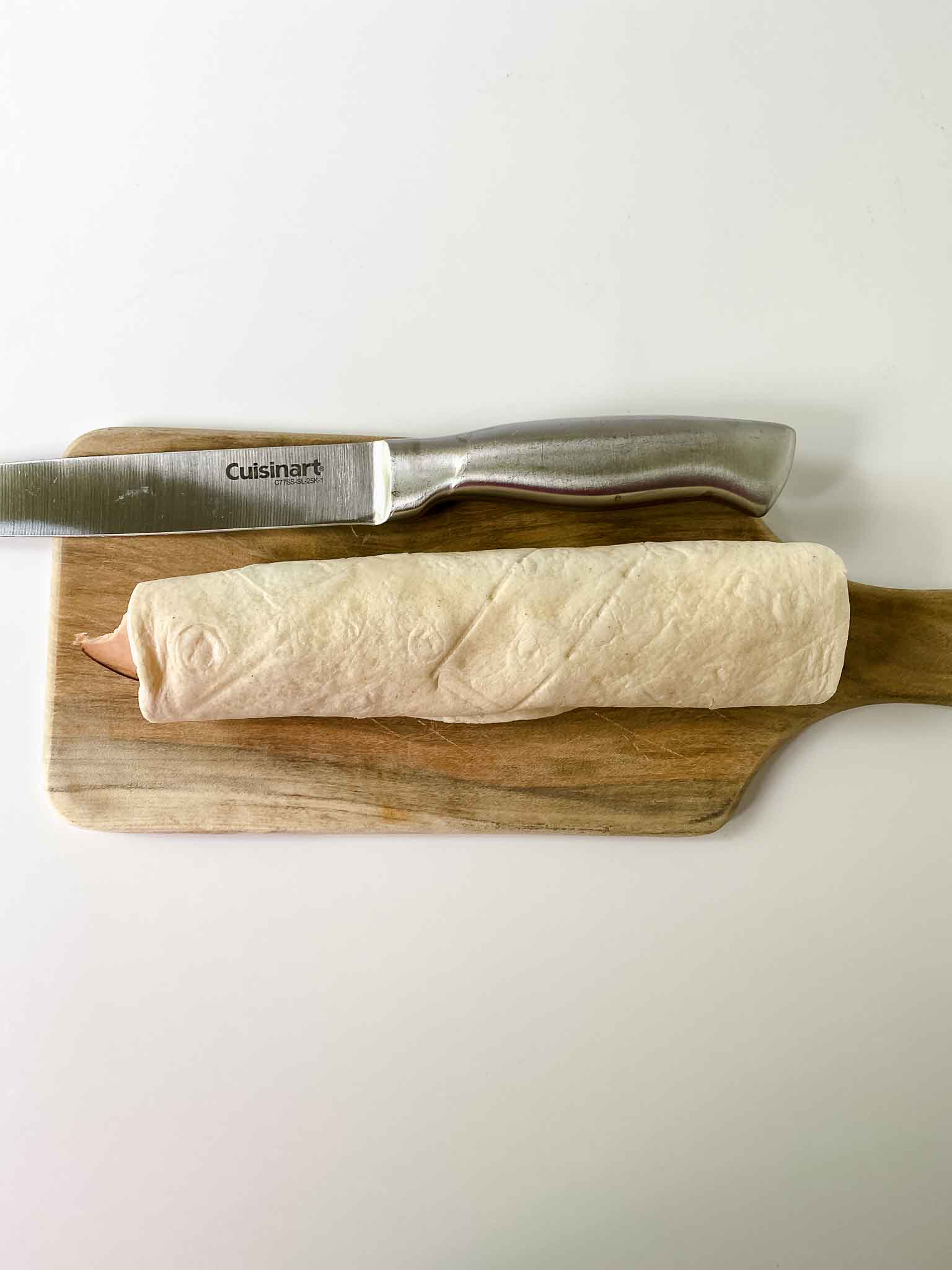 This turkey roll ups recipe calls for regular cream cheese and you can add a little but of dill if you like. You can also replace the romaine lettuce for baby spinach if you need to.
Pinwheel recipes are so great for school lunches because they are easy to travel with. You can put them in the lunch box or even use them as the perfect low carb appetizer for game days.
Topping Options
Herbs: Sprinkle with chives or parsley for color and added flavor.
Drizzle: A light drizzle of olive oil and vinegar can elevate the taste.
Seeds: For added texture, consider sprinkling some sesame or poppy seeds.
Enjoy these elegant Turkey Pinwheels and let the flavors dance in your mouth! Perfect for any occasion, they're sure to be a hit wherever you serve them. Happy snacking!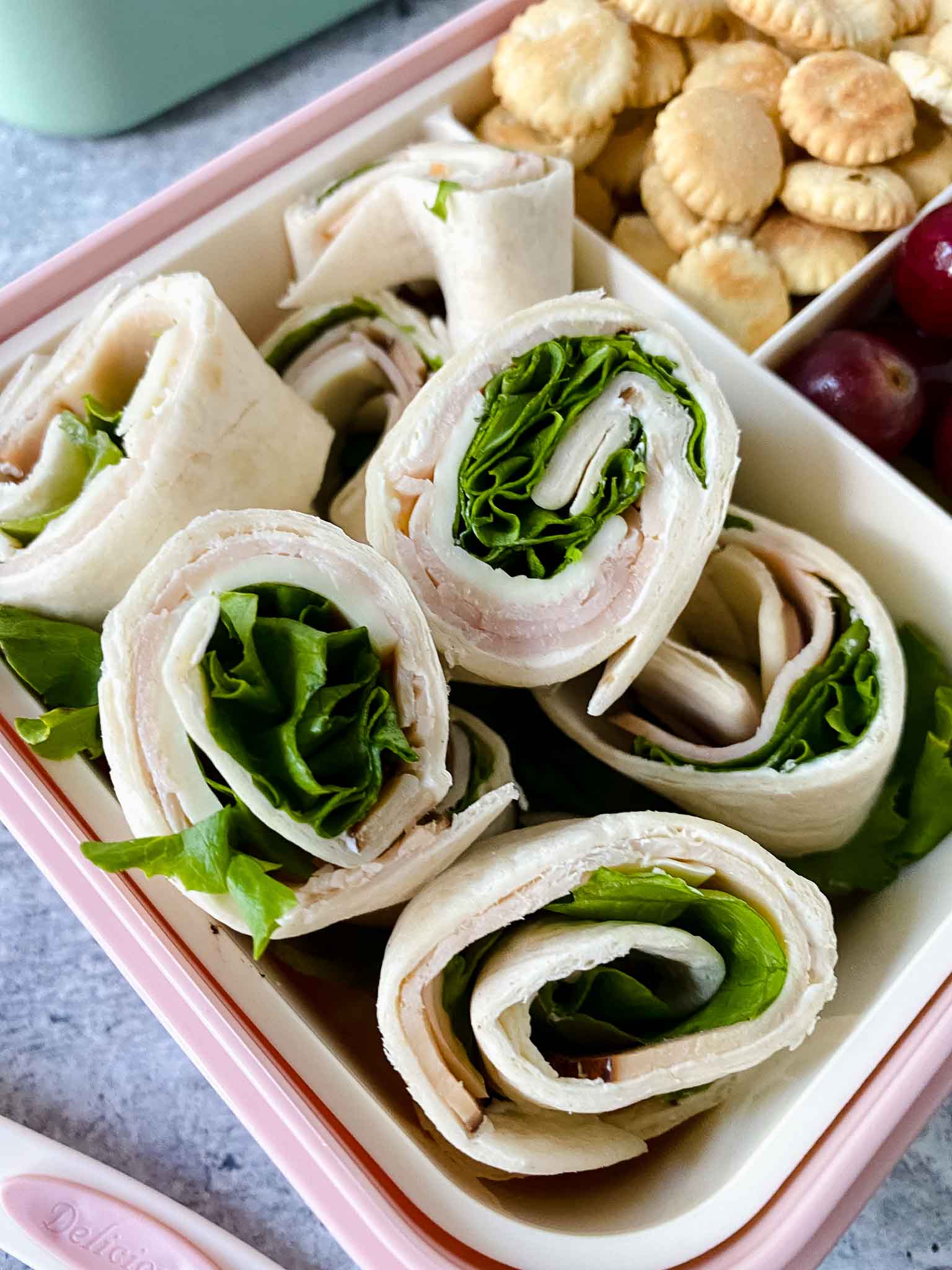 They even work great for a birthday party! The best part about this recipe is that you can easily customize it with whatever you have available.
Only have whole wheat tortillas available? Use that. Feeling for roast beef instead? Try that! Deli Turkey is not your only option here. Simple ingredients is what makes this turkey pinwheel recipe so great!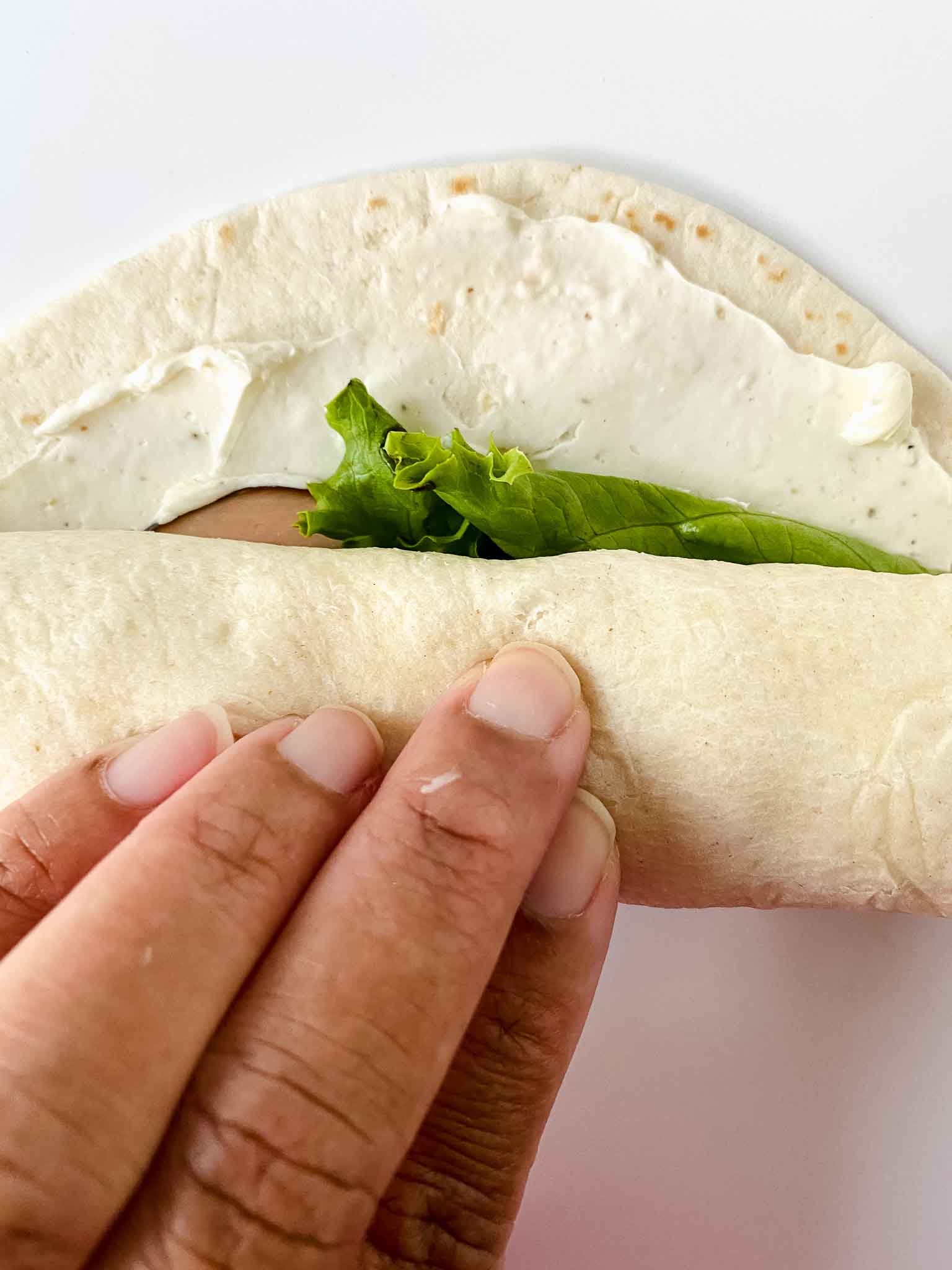 If you have leftovers you can store them in an airtight container covered with plastic wrap. Enjoy these delicious pinwheels and be sure to let me know when you share it on social media!
What are some other great lunch options to try?
If you are looking for more amazing delicious lunch recipes be sure to check out this comprehensive list –> The Best Quick and Easy Lunch Recipes!
Yield:

8 servings
Easy Turkey Pinwheels - Great For School Lunch and Meal Prep
These easy and delicious turkey pinwheels are so good and easy to make. Great for meal prep and school lunches!
Ingredients
4 tortillas
6-8 slices deli Turkey meat
4 leaf romaine lettuce
2 slices American, Cheddar or Swiss cheese 2 tbsp sour cream
4 oz cream cheese
1/4 tsp garlic powder
1/4 tsp pepper
1/8 tsp salt (pinch)
1/4 tsp dried dill, optional
Instructions
Mix cream cheese and sour cream

Add seasonings and mix well

Taste mixture and make any adjustments flavor profile wise if necessary.
The addition of dried dill will give the mix a slight ranch dressing flavor Add the spread to the tortillas

Add meat, lettuce side by side

Roll tight and place in fridge for 15-20 mins to firm up.

Slice pinwheels with sharp knife and serve
Nutrition Information
Yield
8
Serving Size
1
Amount Per Serving
Calories

254
Total Fat

15g
Saturated Fat

7g
Trans Fat

0g
Unsaturated Fat

5g
Cholesterol

53mg
Sodium

647mg
Carbohydrates

18g
Fiber

1g
Sugar

2g
Protein

13g
If you liked this recipe, be sure to check these out too!
7 Back To School Traditions To Start With Kids
Easy Lunch: Mini Deep Dish Pizzas
Easy Pizza Egg Rolls – Amazing Family Lunch Ideas
Hi! I'm Nellie. I am a busy mama of three, wife to my high school sweetheart who loves to cook, workout and stay organized! I love to share helpful printables, the best recipes and fitness tips for the modern mom. I strongly believe that every mom can feed their family well, take proper care of themselves and have fun along the way! Read my story.
Get comfortable and be sure to come hang out with me on social. Don't grab your free fitness journal before you go!