This Cinnamon Baked Apples Recipe is Your Perfect Fall Dessert. Serve with a dollop of ice cream and caramel sauce!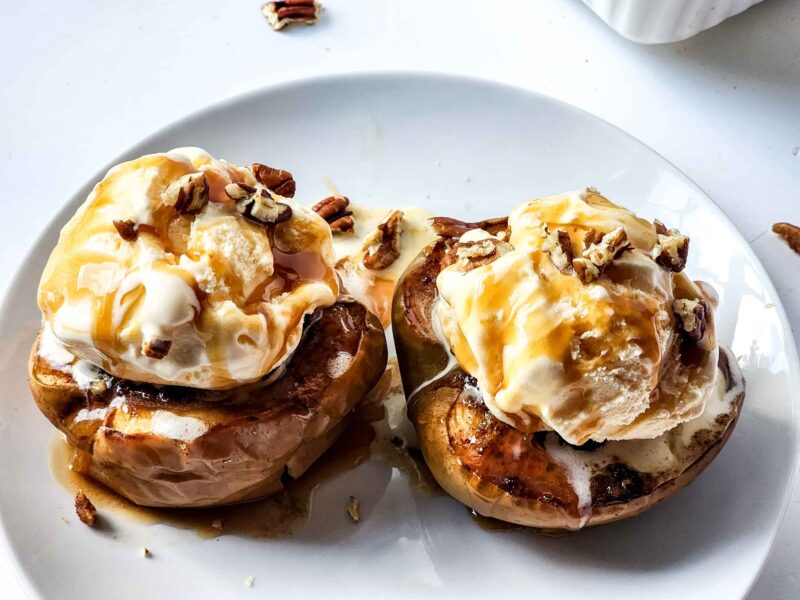 Say hello to apple season with this incredibly delicious Cinnamon Baked Apples recipe! Stuffed with a brown butter pecan topping and drizzled with caramel sauce, this easy dessert is the epitome of fall flavors. Finish it off with a scoop of vanilla ice cream and you have the perfect treat to warm up your autumn nights.
What ingredients do you need for these apple pie bombs?
When it comes to creating the perfect cinnamon baked apple recipe, each ingredient plays a crucial role in the outcome. Here's a breakdown of why each ingredient is essential to the recipe.
Brown Butter Topping
Butter: The butter serves as a base for the brown butter topping, providing a rich, creamy texture and mouthfeel. When browned, it gives off a nutty aroma that pairs wonderfully with the apples.
Vanilla Extract: This ingredient adds a subtle sweetness and flavor complexity to the brown butter topping, enhancing its overall richness.
Dark Brown Sugar: The molasses in dark brown sugar blends well with the tartness of the apples, balancing their natural sweetness. It also contributes to a soft and moist topping.
All-Purpose Flour: Flour is necessary for binding all the topping ingredients together, making sure you get that delightful crumble texture.
Pecans: These add a crunchy texture to the topping, providing a nice contrast to the soft baked apples. Pecans also contribute nutty flavors that complement the brown butter.
Cinnamon and Nutmeg: These spices offer warmth and depth, adding to the autumnal flavors of this delicious dessert.
Salt: Just a pinch elevates all the flavors, making each bite more satisfying.
Apples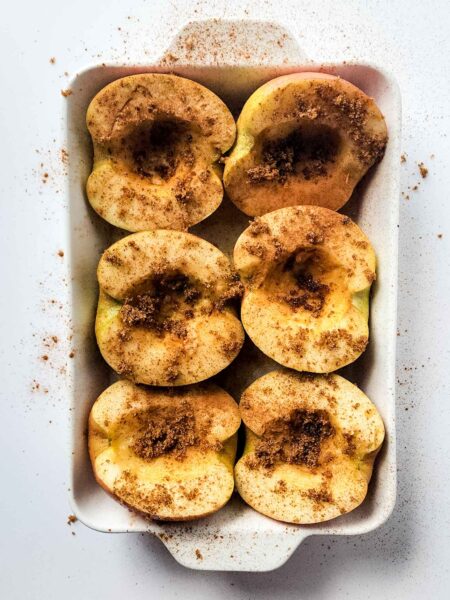 Fuji Apples: Chosen for their sweet and crisp characteristics, Fuji apples hold up well during baking and provide the perfect texture. However, you can experiment with apple varieties to suit your preferences.
Brown Sugar: This enhances the natural sugars in the apples, drawing out their sweetness while complementing the spices.
Cinnamon: This is the star spice, adding a warm, aromatic quality that's synonymous with apple desserts.
Water: A small amount of water in the bottom of the baking dish helps steam the apples as they bake, ensuring they are tender but not mushy.
Topping
Vanilla Ice Cream: The creamy, cold texture of a scoop of vanilla ice cream juxtaposes the warm, baked apples, making each bite a delightful experience.
Caramel Sauce: This optional addition contributes another layer of sweetness and depth, tying the whole dish together.
FAQs
What Kind of Apples Should I Use?
For this recipe, Fuji apples work best because of their sweet flavors and crisp texture. However, Honeycrisp apples and Pink Lady apples are good alternatives.
Can I Use Alternate Sweeteners?
Certainly! Maple syrup or light brown sugar can be used as a substitute for dark brown sugar. Just make sure to adjust to taste.
How Long is the Bake Time?
Expect a bake time of around 35-45 minutes. You'll know it's done when the apples are tender but not mushy.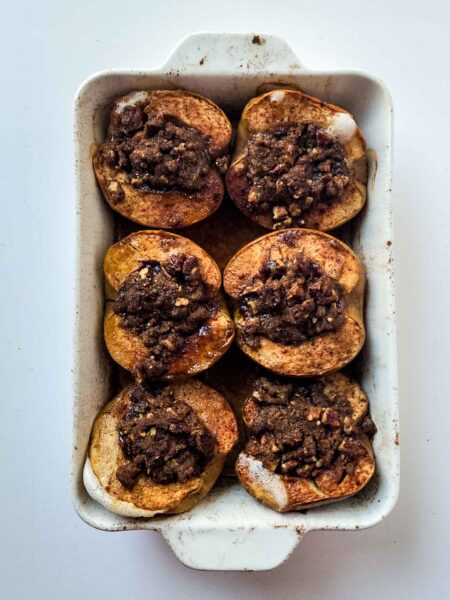 Tips and Tricks
Best Way to Core Apples: Using an apple corer is the most efficient method, but a melon baller or a small spoon also works.
Checking Doneness: A paring knife should easily slide through the center of the apple when it's done.
Add Liquid: Always add a ½ cup of water or a little apple cider to the baking dish to keep the apples moist during baking.
Variations
Tart Apples: If you prefer tart over sweet, consider using Granny Smith apples.
Healthy Baked Apples: Replace the all-purpose flour with almond flour and the butter with coconut oil for a healthier version.
Apple Varieties: Don't be afraid to mix and match apple varieties for a nuanced flavor profile.
Where to Serve
These cinnamon apples are not just a delicious dessert but can also serve as a wonderful side dish. Imagine them next to pork chops or as a topping on apple cinnamon muffins!
Storage
Store any leftovers in an airtight container in the fridge for 3-4 days. Reheat at room temperature or in the microwave for a few seconds.
Common Problems and How to Avoid Them
Soggy Apples: To avoid this, choose apple varieties known for their crisp texture, such as Fuji or Honey Crisp apples.
Too Sweet: Cut back on added sugar or opt for natural sugars from honey or maple syrup.
Overbaking: Keep an eye on your oven to ensure you don't pass the ideal bake time.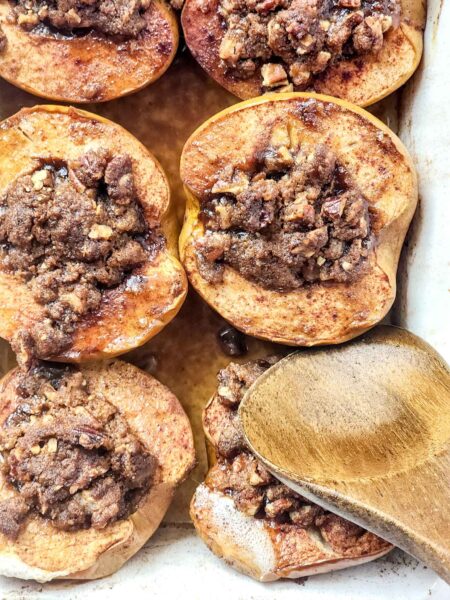 Tips for Making This Recipe With Kids
Apple Slices for Little Hands: Use an apple slicer to make smaller apple slices for your little girl or boy to enjoy.
Let Them Mix: Allow your kids to mix the brown butter topping in a small bowl. It's a great way to get them involved!
Safe Coring: Opt for a melon baller or a grapefruit spoon for safe and easy apple coring.
Topping Options
Vanilla Ice Cream: A scoop of vanilla ice cream on top of the apple is a timeless classic.
Caramel Sauce: A drizzle of caramel sauce enhances the baked apple's sweet and nutty flavors.
Nut Variations: Try using walnuts or almonds instead of pecans for a different crunch.
Why This Recipe Works
Simple Ingredients: This recipe uses simple ingredients you likely already have in your kitchen.
Easy Recipe: Despite the gourmet taste, this is an easy recipe anyone can tackle.
Versatile: Whether as a delicious treat after dinner or as a side dish, these cinnamon baked apples are perfect for any occasion.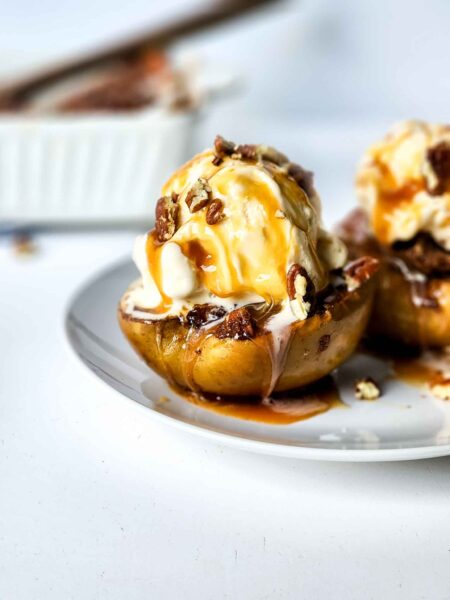 Whether you're blessed with an abundance of apples from your own apple orchard or you're picking up a bag from the local farmer's market, today's recipe is the perfect way to celebrate the fall season. So, grab your baking dish, and let's get baking!
What are some other amazing apple recipes to try out?
Yield:

6 baked Apples
Easy Cinnamon Baked Apples
Cook Time:
1 hour
5 minutes
Total Time:
1 hour
25 minutes
These delicious Cinnamon baked apples are fantastic and the perfect fall treat! Serve with ice cream and a caramel drizzle.
Ingredients
Brown Butter Topping
4 tablespoons butter
½ teaspoon vanilla extract
¼ cup dark brown sugar
¼ cup all purpose flour
¼ cup pecans, chopped
½ teaspoon cinnamon
¼ teaspoon nutmeg
⅛ teaspoon salt
Apples
2-3 Fuji Apples
2 tablespoons brown sugar
½ teaspoon cinnamon
½ cup water
Topping
Vanilla Ice Cream
Caramel Sauce
Instructions
Preheat the oven to 375 degrees Fahrenheit.
In a saucepan heat the butter until boiling, browned and smells nutty.
Remove from the heat and add to a mixing bowl. Add the brown sugar and vanilla then mix together.
Add the flour and cinnamon, nutmeg and salt, mixing again until combined.
Pour in the chopped pecans and mix together until evenly distributed. Set aside.
Take each apple and cut in half from the stem down. Use a spoon or melon baller to scoop out the center seeds and create a bit of a well for the pecan brown sugar mixture. Remove the stem as well.
Take a baking dish and pour ½ cup of water in the bottom of the dish. Place each apple half inside.
Sprinkle the tops of each apple with cinnamon and brown sugar. Then stuff each center with the pecan brown sugar mixture. Packing well so it doesn't fall out when baking.
Cover with foil and bake in the oven for 20 minutes. Remove the foil and continue baking for another 45 minutes.
Remove from the oven and top with a scoop of vanilla ice cream and caramel sauce.
Enjoy!
Nutrition Information
Yield
6
Serving Size
1
Amount Per Serving
Calories

316
Total Fat

15g
Saturated Fat

8g
Trans Fat

0g
Unsaturated Fat

6g
Cholesterol

35mg
Sodium

165mg
Carbohydrates

44g
Fiber

4g
Sugar

34g
Protein

2g
If you enjoyed this recipe be sure to check out my Instagram Page for the latest posts!
Before you go, check out these great posts!
Easy Homemade Peach Crisp Recipe With Fresh Peaches
Easy 5 Ingredient Strawberry Cheesecake Dump Cake Recipe
Easy Copycat McDonald's Pumpkin Creme Pie Recipe
Hi! I'm Nellie. I am a busy mama of three, wife to my high school sweetheart who loves to cook, workout and stay organized! I love to share helpful printables, the best recipes and fitness tips for the modern mom. I strongly believe that every mom can feed their family well, take proper care of themselves and have fun along the way! Read my story.
Get comfortable and be sure to come hang out with me on social. Don't grab your free fitness journal before you go!