If you are looking for the best steak salad recipe, I've got the perfect one for you today! This Easy Grilled Steak Salad is so good and filling!
Disclosure: This post is sponsored by the Northeast Beef Promotion Initiative, a subcontractor to the
Beef Checkoff. As always, all opinions are my own.
Lately, I've been focusing more on a healthy diet and I find that volume eating is what works for me the most.
What is volume eating?
It's basically filling your plate with a lot of food, but mostly veggies and other low calorie foods, so that you feel full without eating a ton of calories.
I find that when I volume eat salads like this one, I not only feel full and satisfied, but I also have tons of energy afterwards.
This salad is actually fun to make, it's not your general throw everything together, certain ingredients will need to be seasoned and cooked like the steak, asparagus and the roasted potatoes.
It all comes together perfectly for a delicious salad that you will make often, it's a great stand alone meal, but you can use it as an appetizer or a side dish as well.
What Ingredients do you need for this amazing summer salad?
Yellow pepper
Red Pepper
Asparagus
Baby Potatoes
Feta Cheese
Strip Steak
Sliced Avocado
Juicy Cherry Tomatoes
Spring Salad Mix
Croutons (optional)
Salad Dressing of your choice (optional)
This are all super simple ingredients for a perfect dinner salad. You can use whatever dressing you like but a homemade balsamic vinaigrette or any other homemade dressing are good options to try.
When I went to meat market to purchase a cut of beef for this salad, I had to keep in mind that I wanted a lean cut of beef. Did you know that approximately half of beef's fat is monounsaturated fat, the same heart-healthy fat found in olive oil?
What are the leanest cuts of beef?
The leanest cuts of beef are:
Eye round
Top round
Sirloin tip
Top sirloin
Bottom round
These are all great cuts of beef for this salad, but I decided to go with a strip steak because it's my favorite. When shopping for lean beef cuts, a good rule of thumb is to look for "round" or "loin," like sirloin, tenderloin or eye round roast.
Strip steak is also a great cut of beef for this salad because it's a lean cut of meat, but it's also a very flavorful cut of beef. Check out a great list of lean cuts of beef, here!
When you are cooking the steak, you want to make sure that you don't overcook it, because it will become tough and chewy. I cooked it well done because my husband is not a fan of the medium well like I am!
The best way to cook a strip steak is either in the oven or on the stove. In this recipe we actually do both!
How do you determine the doneness of beef?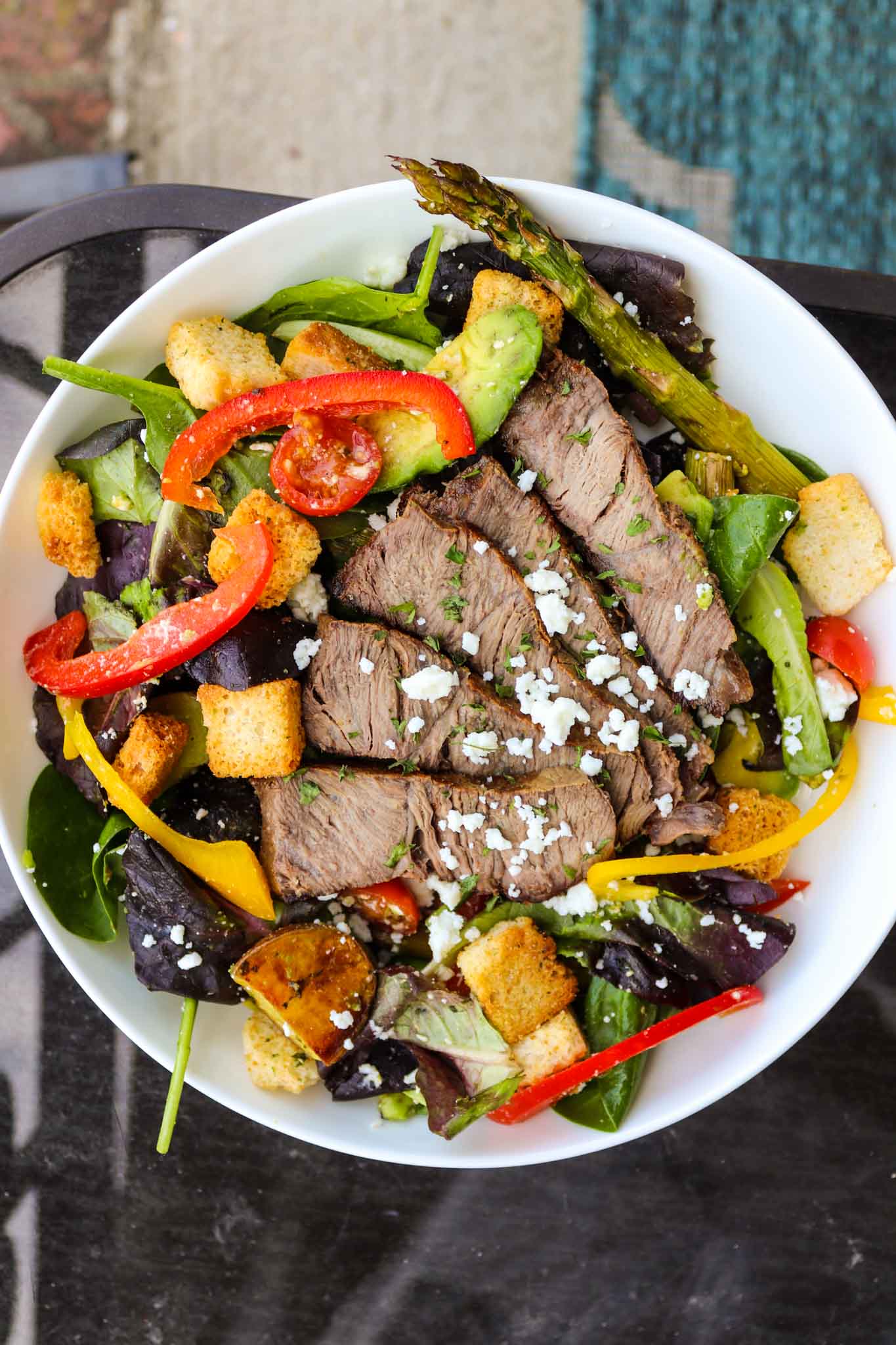 There are a few ways to determine the doneness of beef:
If you're using a thermometer, here are the different temperatures for doneness:
Medium rare: 145 degrees F
Medium: 160 degrees F
Well done: 170 degrees F and up
This fresh salad is great for leftover steak. A 3-oz serving of lean beef has about 170 calories on average and is a naturally rich source of 10 essential nutrients like protein, B-vitamins, iron and zinc.
How do you make this delicious steak salad recipe?
You grab you leafy greens and place them in a large bowl. You cut your veggies up on a cutting board and drizzle the asparagus with olive oil and garlic salt.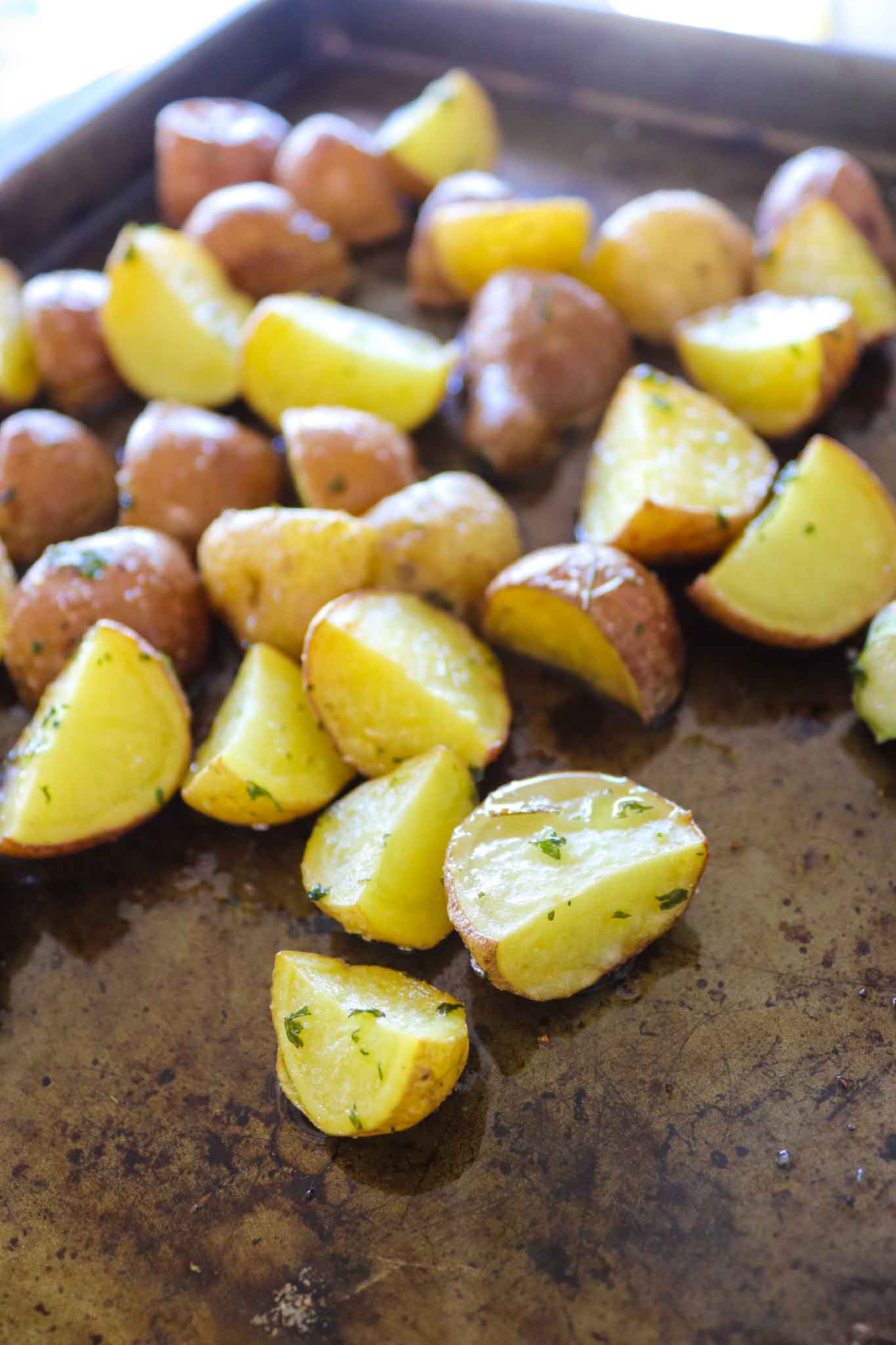 On the same baking sheet you place your seasoned potatoes with garlic powder, parsley, salt, pepper and olive oil and bake for 20 minutes for a great savory flavor. While that is baking you sear your juicy steak on stove top at medium-high heat in a cast iron skillet or frying pan.
Finished off in the oven for your desired doneness. (I recommend olive oil instead of vegetable oil in a cast iron pan because the olive oil heats to a very high temperature in a hot pan pretty quickly).
Finally when everything is done and cooled, you add the fresh ingredients, favorite veggies and healthy fats you make of of the most delicious salad recipes! It has the perfect flavor and it's a great dinner idea for dinner tonight. The sweet bell peppers, roasted potatoes, feta cheese and avocados come together perfectly for a tasty dish.
It's a full meal with tons of flavor that also serve as the perfect lunch. Visit www.NortheastBeef.org for more recipe inspiration, nutrition info, cooking tips and more!
Check out the full recipe in below and let me know what you think!
Yield:

6-8 Servings
Easy Grilled Steak Salad Recipe With Avocado
Additional Time:
5 minutes
This amazing grilled steak salad is a fantastic dinner salad made with your favorite veggies and a ton of great flavor!
Ingredients
Garlic Powder
Kosher Salt
Black Pepper
Parsley (fresh optional)
Garlic Salt
1 Yellow pepper
1 Red Pepper
1 Bunch Asparagus
8 Baby Potatoes
8 oz Feta Cheese
1lb Strip Steak
1 Sliced Avocado
14 Juicy Cherry Tomatoes
Spring Salad Mix
Croutons (optional)
Salad Dressing of your choice (optional)
Instructions
Set oven to 350 degrees
Season Steak with garlic powder, salt and pepper. Set aside.
Julienne Yellow pepper, Red pepper
Slice cherry tomatoes in half
Slice Avocado
Slice baby potatoes in 4 pieces, Grab a medium bowl, put the potatoes in and season with parsley, garlic powder, a little olive oil and kosher salt. Place on baking pan leaving room for asparagus.
Trim asparagus, place on baking sheet, drizzle with olive oil and garlic salt. Place in the oven for 25 minutes.
Using a cast iron pan or a frying pan, place the steak in olive oil (or vegetable oil) until browned on all sides.
Once browned, place in the oven for 20-30 minutes (This really based on how well done you would like your cut of beef)
Once done, let the steak rest on a cutting board for 5-10 minutes before slicing.
While the steak is resting and the potatoes and asparagus is cooling, add the spring mix to a large bowl. Add the peppers, feta cheese, cherry tomatoes and avocados. Once cooled, add the asparagus and potatoes. Mix well.
Slice the steak then add to the top. Add croutons if desired.
Here you can add the salad dressing of your choice, but I like it without.
Enjoy!
Nutrition Information
Yield
8
Serving Size
1
Amount Per Serving
Calories

333
Total Fat

22g
Saturated Fat

9g
Trans Fat

1g
Unsaturated Fat

11g
Cholesterol

72mg
Sodium

443mg
Carbohydrates

15g
Fiber

3g
Sugar

4g
Protein

21g
Enjoy!
Pin it for later
Hi! I'm Nellie. I am a busy mama of three, wife to my high school sweetheart who loves to cook, workout and stay organized! I love to share helpful printables, the best recipes and fitness tips for the modern mom. I strongly believe that every mom can feed their family well, take proper care of themselves and have fun along the way! Read my story.
Get comfortable and be sure to come hang out with me on social. Don't grab your free fitness journal before you go!