Tik Tok Cinnamon Rolls
These Tik Tok Cinnamon Rolls went viral for a reason, they are easy and incredibly delicious. These rolls only need three ingredients!
Let your taste buds go wild with these Tik Tok Cinnamon Rolls! These sweet and delicious treats are made with the easiest ingredients, making them the perfect indulgence for any occasion.
With its timeless flavors and irresistible aroma, Tik Tok Cinnamon Rolls will make your time in the kitchen even more enjoyable. It's time that social media starts giving us the good stuff and it starts with this TikTok Cinnamon Roll Recipe!
Why You'll Love Tik Tok Cinnamon Rolls
Quick & Easy: With this easy-to-follow recipe, you can have delicious Tik Tok Cinnamon Rolls ready in just 30 minutes!
Only 3 ingredients: All you need is cinnamon rolls, heavy cream, and sprinkles.
Treat Yourself: Rich in flavor, aroma, and texture, these cinnamon rolls are sure to satisfy any cravings!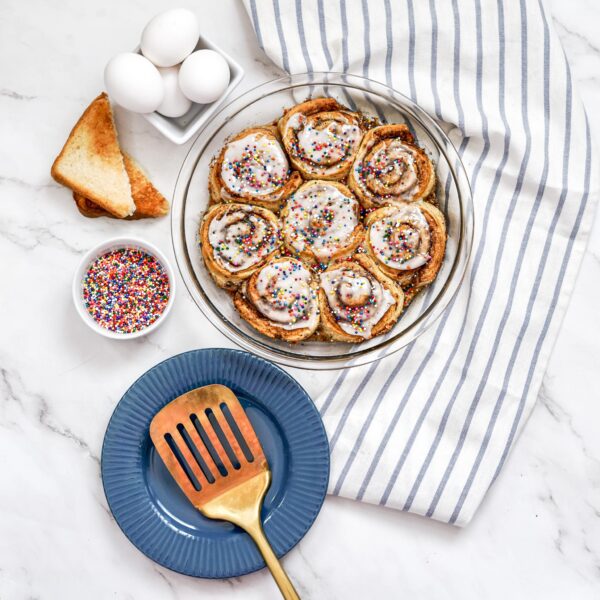 Ingredients Needed for Viral TikTok Recipes (Cinnamon Rolls)
Make sure you check the recipe card at the bottom of this post. You can get access to the entire recipe of TikTok's heavy cream cinnamon rolls.
Cinnamon Rolls: Soft, sweet, and fluffy cinnamon rolls that are a perfect treat for any occasion. Canned cinnamon rolls work just fine for this viral recipe.
Heavy Whipping Cream: Rich and creamy heavy cream creates a smooth and indulgent topping for your cinnamon rolls.
Sprinkles (optional): Add some color and crunch to your cinnamon rolls with the optional addition of sprinkles. The easy way to add sprinkles is to add as many as you'd like! Sprinkles taste great on delicious breakfast recipes
You are then going to bake cinnamon rolls in a greased baking dish! For best results for these gooey cinnamon rolls, make sure you cook them correctly and long enough. Don't worry, they are the easiest cinnamon rolls ever!
How to Store Viral Hack Cinnamon Rolls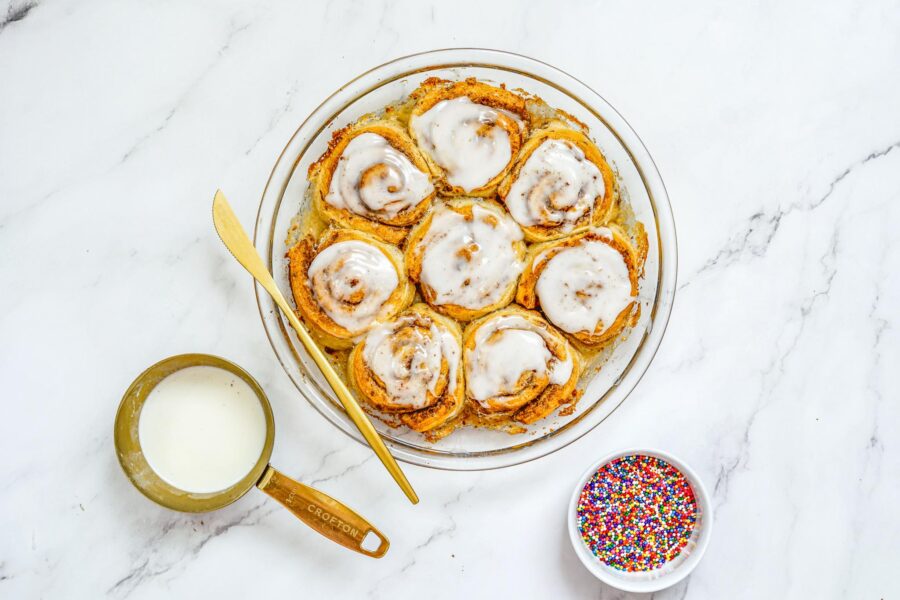 Storing: To ensure your cinnamon rolls stay fresh and delicious, store them in an airtight container in the refrigerator for up to 3 days. This will allow you to enjoy delicious recipes for days to come when you store them right! Don't leave them at room temperature.
Freezing: You can freeze your cinnamon rolls for up to a month. Be sure to wrap tightly in plastic wrap or foil before freezing. You can easily freeze leftover cinnamon rolls, just keep them in a freezer-safe container. If you need longer storage, make sure you freeze them for the best cinnamon rolls ever.
Reheating: To reheat the cinnamon rolls, remove them from their packaging and place them on a baking sheet. Bake at 350℉ for 10-15 minutes until heated throughout. Reheating the viral Tik Tok Cinnamon Rolls means that they will taste just as good as the day you made them!
FAQs for Viral TikTok Cinnamon Rolls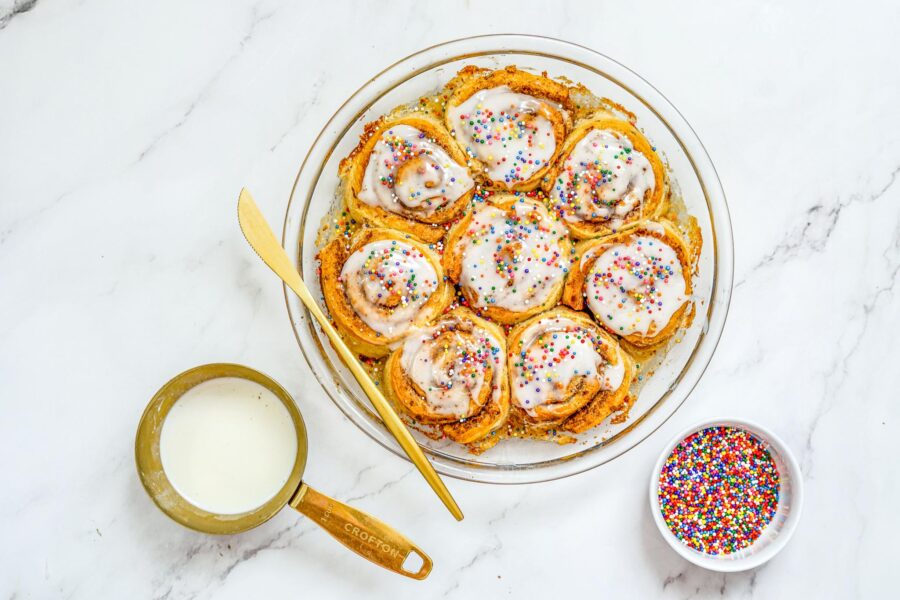 Is it safe to make Tik Tok cinnamon rolls?
Yes, it's perfectly safe to make the famous TikTok cinnamon rolls. Just be sure to use fresh ingredients and follow the recipe accurately.
How long do I need to cook my rolls?
It depends on how hot your oven is, but usually between 10 and 15 minutes. You'll know they're finished when the tops have turned golden brown and look slightly crispy.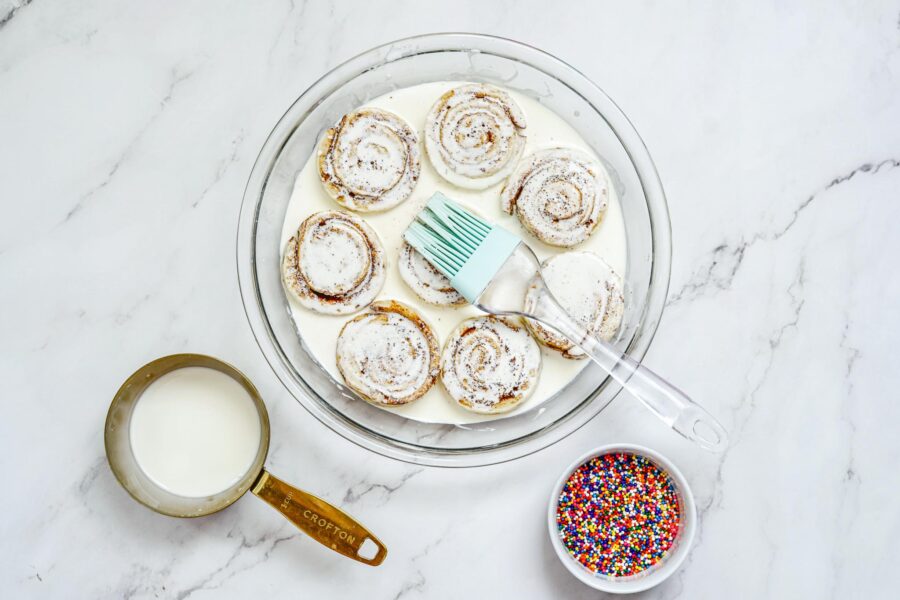 Is there a special way to store leftovers?
Yes! Place them in an airtight container or wrap them tightly in plastic wrap or foil before storing them in the refrigerator for up to 3 days. Reheat the rolls for a few minutes until warm before serving.
Topping Variation Ideas for Delicious Cinnamon Rolls
Cream Cheese Icing: An indulgent cream cheese icing is a delicious way to top off your cinnamon rolls. Simply mix together cream cheese, butter, powdered sugar, and vanilla extract until combined.
Caramel Sauce: Drizzle caramel sauce over the rolls for an extra-sweet treat!
Pecans: Sprinkle chopped pecans over the top of your cinnamon rolls before baking to add a crunchy texture.
Chocolate Chips: Add semi-sweet chocolate chips to the dough before rolling it up for a decadent twist.
Cinnamon Sugar: Sprinkle a generous amount of cinnamon sugar over the top of your rolls before baking. This will add an extra layer of flavor and sweetness.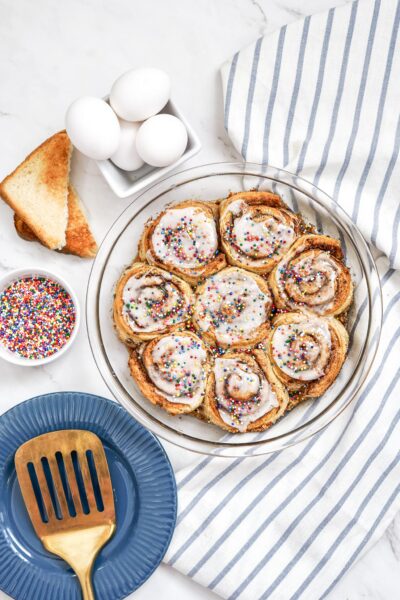 If you're a huge fan of Tik Tok, then you're going to love this Viral TikTok Cinnamon Roll Hack. Gone are the days where you enjoy the regular flavor of cinnamon roll(s). You can make these simple cinnamon rolls in no time, which means you'll be enjoying warm rolls without an extra step or two.
What are some other fun cinnamon rolls recipes to try?
If you are looking for a full list of fun and delicious sweet breakfast recipes be sure to check out this list –> The Best Sweet Breakfast Recipes
Yield:

3-4 servings
Super Viral TikTok Cinnamon Rolls
These viral TikTok Cinnamon rolls only require 3 ingredients and it's a great option for breakfast or brunch!
Ingredients
8 Pack Cinnamon Rolls
1/2 Cup Heavy Cream
Sprinkles (optional)
Instructions
Pre-heat oven to 350 degrees.
Place the cinnamon rolls into a medium sized baking pan. A pie dish/pan works perfectly!
Coat the cinnamon rolls with the heavy cream.
Place in the oven and bake for 30 minutes or until the heavy cream has soaked into the cinnamon rolls AND the cinnamon rolls are cooked!
Remove from the oven and coat with the frosting that was included with the cinnamon rolls.
Add sprinkles.
Enjoy.
Nutrition Information
Yield
4
Serving Size
1
Amount Per Serving
Calories

687
Total Fat

31g
Saturated Fat

13g
Trans Fat

8g
Unsaturated Fat

3g
Cholesterol

34mg
Sodium

1381mg
Carbohydrates

96g
Fiber

2g
Sugar

39g
Protein

8g
Pin it for later!
If you enjoyed this recipe be sure to check out my Instagram Page for the latest posts!
Before you go, check out these great posts!
Fun and Viral Fried Chicken Ice Cream Recipe
Easy Tik Tok Baked Oats For Breakfast – Simple Viral Recipe
Homemade Fried Peach Cobbler Bites
Hi! I'm Nellie. I am a busy mama of three, wife to my high school sweetheart who loves to cook, workout and stay organized! I love to share helpful printables, the best recipes and fitness tips for the modern mom. I strongly believe that every mom can feed their family well, take proper care of themselves and have fun along the way! Read my story.
Get comfortable and be sure to come hang out with me on social. Don't grab your free fitness journal before you go!