McDonald's Pumpkin Pie Recipe: A Flavorful Fall Find
Every autumn, as the leaves turn shades of gold and crimson, many of us eagerly await the return of McDonald's beloved pumpkin pie on their seasonal menu.
With its flaky pastry crust, rich pumpkin filling, and a side of vanilla creme filling, this pie promises a tantalizing treat for the taste buds. Today, I'm thrilled to share a homemade version of this fall favorite so you can indulge in this sweet treat anytime!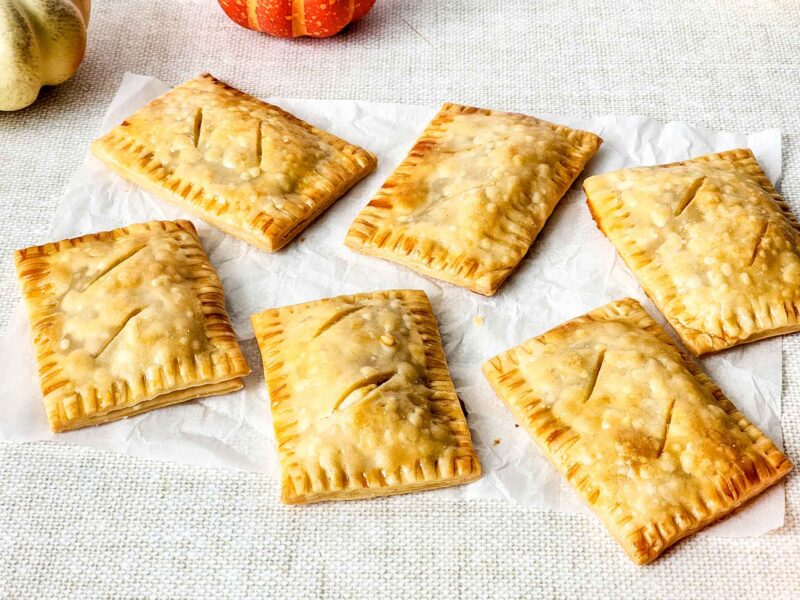 What ingredients do you need for this seasonal menu item?
15-ounce can pumpkin puree: This serves as the primary filling for the pie, offering a rich and authentic pumpkin flavor. Pumpkin puree is the essence of any pumpkin pie, giving it that characteristic texture and color.
¼ teaspoon vanilla extract: Vanilla extract enhances the flavors in desserts, providing a warm and comforting aroma. It complements the pumpkin and spices perfectly, adding depth to the overall taste.
½ teaspoon pumpkin spice seasoning: This mixture usually contains cinnamon, nutmeg, cloves, and sometimes ginger. It's what gives pumpkin pie its distinctive autumnal flavor, making it synonymous with fall.
⅓ cup white sugar: Sugar adds sweetness to counterbalance the earthiness of the pumpkin, making the pie more palatable and dessert-worthy.
8 ounces cream cheese: Cream cheese offers a creamy, tangy counterpoint to the sweet pumpkin filling. It can add depth to the pie's texture and flavor, making the filling richer.
¼ cup powdered sugar: Often smoother than granulated sugar, powdered sugar blends seamlessly with the cream cheese, sweetening it without adding grittiness.
2 pk pie crust: The pie crust is fundamental as it forms the base and (if desired) the top of the pie. It provides a buttery and flaky contrast to the soft, creamy filling.
Egg wash (1 egg + 2 teaspoons water): When brushed on the pie crust before baking, it gives the crust a glossy, golden finish, making the pie aesthetically pleasing and appetizing.
Why This Recipe Works
Turnover-Style Crust: The flaky crust, reminiscent of McDonald's apple pie, provides a perfect pocket for the flavorful pumpkin filling.
Balance of Flavors: The mix of rich pumpkin with the cream cheese-based vanilla creme offers a delightful contrast and balance.
Seasonal Delight: Just like the official date for McDonald's pumpkin pie release, making this at home heralds the onset of fall, satisfying those pumpkin pie lovers yearning for their favorite seasonal treat.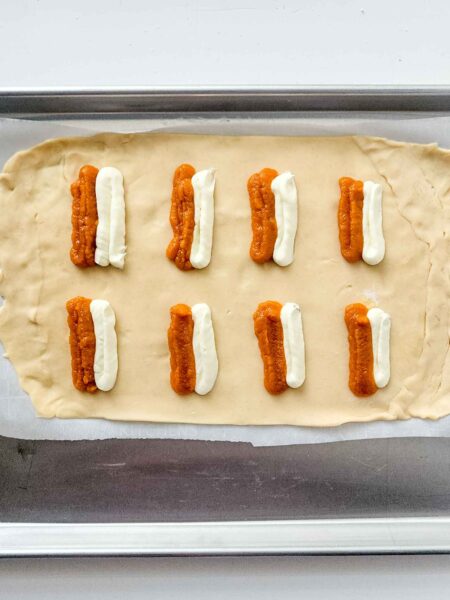 FAQs
How similar is this to the McDonald's pumpkin pie?While this recipe is inspired by the McDonald's pumpkin pie, it's crafted for home kitchens. The taste is very close, and some might even say it's a next-level version, offering your taste buds the royalty treatment.
Is this similar to McDonald's apple pie?The construction, especially the turnover-style crust, is reminiscent of the McDonald's apple pie. However, the filling is a flavorful twist with pumpkin and vanilla creme instead of apple.
Are the nutrition facts similar?Given the homemade nature, there might be slight differences in grams of fat, grams of sugars, grams of carbs, milligrams of sodium, and grams of protein. Always refer to the recipe card for exact nutritional information.
Tips and Tricks
For the flakiest crust, ensure your butter and palm oil are cold.
Add a sprinkle of cinnamon sugar on top before baking for a golden finish.
If you're tracking the nutrition, consider using a QR code on your recipe card or social media post, directing readers to detailed nutrition facts.
Variations
Creme Pie Twist: Incorporate elements of the McDonald's creme pie by layering the pumpkin with a creamier, thicker vanilla creme filling.
Apple Fusion: For a hybrid treat, consider adding apple-flavored treats within the pumpkin filling for a delightful twist.
Cinnamon Roll Crust: Incorporate cinnamon roll dough for the crust for an even richer flavor.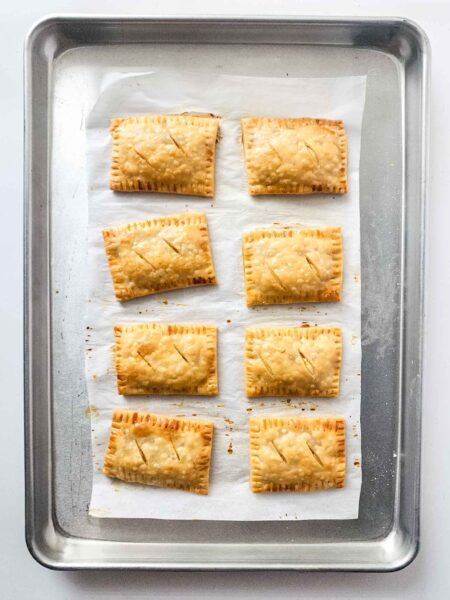 Where to Serve
As a Seasonal Offering during family gatherings or potlucks during this time of the year.
Perfect for sharing on social media as your own take on a McDonald's roster classic.
Great as a dessert option in fall-themed parties, alongside other seasonal items.
Storage
Wrap the pies individually in aluminum foil or plastic wrap and store in an airtight container. They're best enjoyed within 2-3 days for maximum freshness.
Common Problems and How to Avoid Them
Soggy Bottom: This can happen if your filling is too wet. Ensure your pumpkin filling is of the right consistency.
Crust Not Flaky: This is often due to overworked dough or warm butter. Always keep ingredients cold and handle the dough minimally.
Making This Recipe with Kids
Allow kids to help with filling the pie – they'll love spooning the pumpkin mixture!
Encourage them to crimp the edges of the pie for a hands-on experience.
For an educational twist, show them the news of McDonald's seasonal release in previous years, so they understand the significance.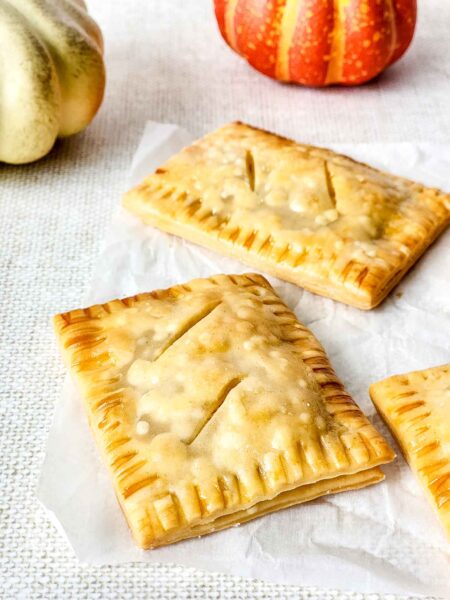 Topping Options
Cinnamon Sugar Sprinkle: Before baking, sprinkle a mix of sugar and cinnamon for a sweet, aromatic finish.
Vanilla Creme Drizzle: Post-baking, drizzle some vanilla creme over the top for extra indulgence.
In the words of McDonald's USA, this pie has always been a much-anticipated item on the Golden Arches menu. With this recipe in hand, every day can feel like a special seasonal release.
What are some other fun pumpkin recipes to try?
If you are looking for more amazing dessert recipes, be sure to check out this comprehensive list! 50+ Fun and Easy Dessert Recipes For Kids
Yield:

8 pies
Easy McDonald's Pumpkin Pie Copycat
These Mcdonald's pumpkin pies are super popular for a reason! So good and easy to make.
Ingredients
1 15 ounce can pumpkin puree
¼ teaspoon vanilla extract
½ teaspoon pumpkin spice seasoning
⅓ cup white sugar
8 ounces cream cheese
¼ cup powdered sugar
2 pk pie crust
Egg wash - 1 egg + 2 teaspoons water
Instructions
Preheat the oven to 350 degrees Fahrenheit.
In a bowl add the pumpkin puree, vanilla, pumpkin spice seasoning and white sugar.
Whisk together until combined. Set aside
In another bowl beat the cream cheese until smooth. Then add the powdered sugar and beat again until combined.
Unroll the first of the 2pk pie crust and place on a parchment covered baking sheet. Cut the excess top and bottom horizontally that doesnt fit within the sheet. Place those edges on the left and right, molding together to create a rectangle close to the size of the pan.
Place the pumpkin mixture in one piping bag and the cream cheese mixture in another. Snip the ends of both.
Create a log of the pumpkin mixture about 3 inches long and a log of the cream cheese adjacent to it the same size. Repeat this 8 times for 8 hand pies, keeping about 3 inches of width between each set of mixtures. You will create 2 rows of 4.
Place the second pie crust on top of the piped mixtures and again cut excess and replace to the left and right sides of the pastry.
Use your fingers to press down the dough in the spaces between the pie filling. This will help give you a clear indication of where to cut.
After pressing the dough, use a pizza cutter to cut out the 8 hand pies. Cut once horizontally, and 3 times vertically. Cut any excess from the tops and bottoms to create uniform pies.
Remove the excess dough and rearrange the pies on the baking sheet at least an inch apart from each other.
Use a paring knife to cut 2 slits in each hand pie. Then use a fork to seal the edges of each pie.
In a small bowl whisk the egg with 2 tablespoons of water. Brush this over each hand pie.
Bake in the oven for 25-30 minutes or until golden brown.
Remove from the oven and let cool for a couple minutes. Enjoy!
Nutrition Information
Yield
8
Serving Size
1
Amount Per Serving
Calories

377
Total Fat

22g
Saturated Fat

10g
Trans Fat

0g
Unsaturated Fat

10g
Cholesterol

75mg
Sodium

337mg
Carbohydrates

39g
Fiber

3g
Sugar

16g
Protein

6g
If you enjoyed this recipe be sure to check out my Instagram Page for the latest posts!
Before you go, check out these great posts!
Super Easy Key Lime Pie Bars Recipe
Easy Strawberry Cream Cheese Hand Pies
Delicious Cracker Barrel Buttermilk Pie
Hi! I'm Nellie. I am a busy mama of three, wife to my high school sweetheart who loves to cook, workout and stay organized! I love to share helpful printables, the best recipes and fitness tips for the modern mom. I strongly believe that every mom can feed their family well, take proper care of themselves and have fun along the way! Read my story.
Get comfortable and be sure to come hang out with me on social. Don't grab your free fitness journal before you go!