There isn't much that can't be solved with the right meal. Now, hear me out: if it weren't true, why would some of your favorite foods and that of people worldwide be referred to as comfort food? Today I've got some awesome Air Fryer Drumsticks that you can have on the dinner table in no time!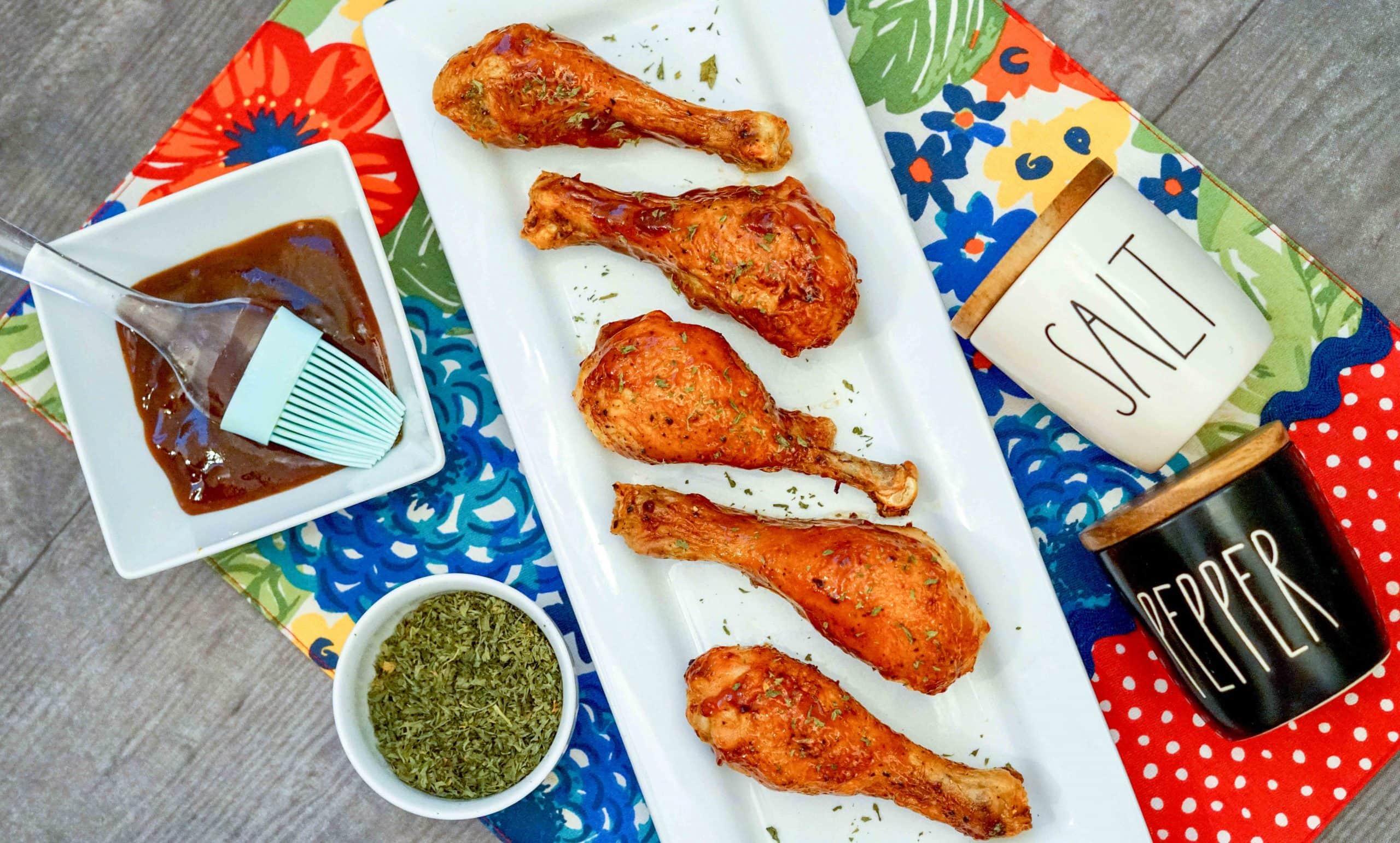 Whether you're feeling sad, anxious, nostalgic or all of the above, like me during this crazy pandemic, you most likely have a certain food that you find yourself turning to in times of hardship. It's simply human nature to seek comfort from the things that speak to our souls.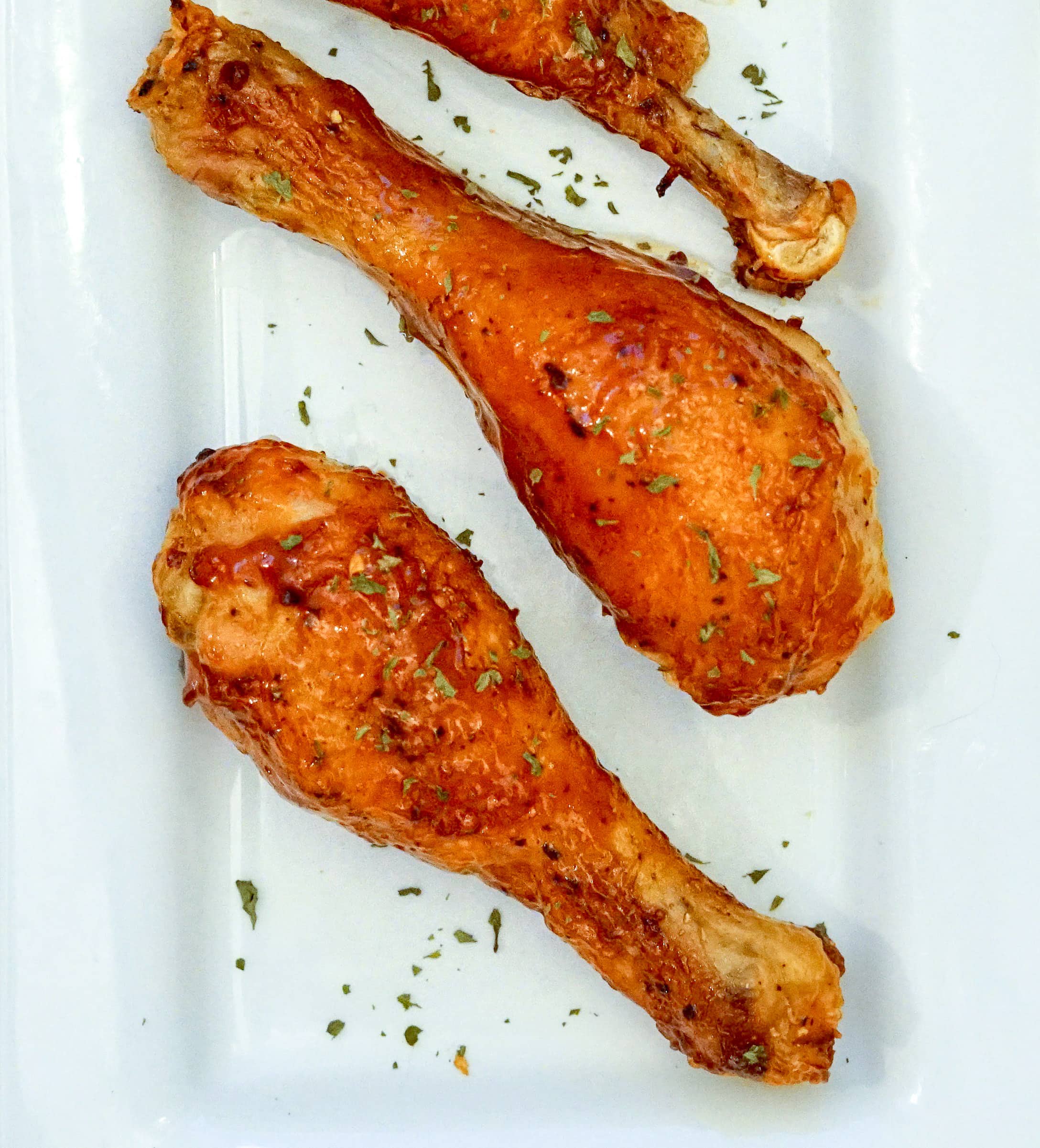 When it comes to food that comforts the soul, Air Fryer BBQ Chicken Drumsticks ranks pretty high on my list. Way back when I would have told you that fried was my cooking method of choice but these days I enjoy a lot of old favorites in my Air Fryer, which is much healthier and every bit as delicious.
No matter which cooking method you use, be it the oven, oil, etc. there's just no resisting the call of tangy barbecue sauce slathered on a tender chicken drumstick. My family simply can't resist, plus it's super fast!
With my recipe for Air Fryer BBQ Chicken Drumsticks, not only can you indulge without guilt, but if you're a busy mama like me then you'll be thrilled to know that in addition to being delicious this recipe also cooks up in 40 minutes.
Simply add a side of your favorite green vegetable if you'd like and voila! Dinner is served with no fuss, no muss and a heaping helping of satisfaction from the whole family.
If you've found yourself with a hankering for some finger licking good barbecue that won't leave you feeling like you've overindulged and that cooks up quick, then you've got to give this recipe a try.
I promise, it won't disappoint and it'll satisfy that comfort food craving you've been looking to feed, without having to drive all over and be disappointed that your favorite chicken eatery is closed.
Yield: 6 drumsticks
Easy Air Fryer Drumsticks
Prep Time: 10 minutes

Cook Time: 30 minutes

Additional Time: 10 minutes

Total Time: 50 minutes

A super easy air fryer drumsticks recipe that the family will love!
Ingredients
• 6 Drumsticks
• BBQ Sauce
• 1 Stick Butter (Melted)
• Salt
• Pepper
Instructions
Make sure drumsticks are as dry as can be by patting them down with a towel.
Coat each drumstick in butter.
Sprinkle with salt & pepper.
Place drumsticks on air fryer basket without overcrowding.
Cook at 375 degrees for 30 minutes.
Remove from air fryer and coat drumsticks in bbq sauce.
Place back in air fryer for another 10 minutes.
Sprinkle parsley for garnish and enjoy!

Nutrition Information
Yield
6
Serving Size
1
Amount Per Serving Calories 313Total Fat 24gSaturated Fat 12gTrans Fat 1gUnsaturated Fat 9gCholesterol 156mgSodium 365mgCarbohydrates 3gFiber 0gSugar 2gProtein 22g

These drumsticks are amazing and would be best served with these Crockpot Mashed Potatoes With Cheddar and Garlic or even these amazing Easy Air Fryer Baby Potatoes and don't forget these amazing homemade dinner rolls!
What is your favorite air fryer dish?