Halloween Frosted Sugar Cookies: A Spooky Sweet Treat
Halloween is all about fun, treats, and a little bit of magic! And what better way to celebrate than with these Halloween Frosted Sugar Cookies?
This easy recipe transforms simple ingredients into soft sugar cookies with a creamy orange frosting, capturing the very essence of Halloween fun. The best part? They're as delightful to make as they are to eat, especially with kids!
Ingredients For Sugar Cookies:
Cookies:
½ c unsalted butter, softened
1 c powdered sugar
½ c oil
2 eggs
1 t clear vanilla
2 T corn starch
1 t baking soda
1 t baking powder
1 t cream of tartar
3 c flour
Frosting:
½ c shortening
3 c powdered sugar
1 t clear vanilla
4 T. heavy whipping cream
½ t salt
Orange food coloring (optional)
Sprinkles (optional)
FAQs:
Can I substitute vanilla extract? Yes, clear vanilla is used to maintain the cookie's light color, but any vanilla extract will do in a pinch.
Is all-purpose flour suitable? Absolutely! Ensure it's well-sifted for the best results.
Why corn starch? Corn starch makes these sugar cookies extra soft, resembling the texture of beloved Lofthouse cookies.
Tips and Tricks:
Cream butter and sugar on medium speed for a fluffy texture.
Combine dry ingredients in a separate bowl before integrating them into the wet ingredients to ensure an even distribution.
Flash freeze cut-out cookies for about 10 minutes before baking. This helps them maintain their shape.
Use gel food coloring for the frosting for vibrant, consistent colors.
When working with icing, achieving the right consistency is key. Add small amounts of heavy cream or powdered sugar to reach the desired consistency.
Variations:
Cream Cheese Delight: Substitute part of the shortening with cream cheese in the frosting for a tangy twist.
Christmas Sugar Cookies: Swap out Halloween-themed shapes and colors for festive December delights!
Almond Surprise: Introduce almond extract to the sugar cookie dough for a nutty undertone.
Where to Serve:
These cute Halloween sugar cookies are perfect for Halloween parties, school events, or just a fun treat to enjoy with your favorite scary movie.
How To Store These Halloween Cookies:
Store in a single layer in an airtight container. Place parchment paper between layers to prevent the frosted cookies from sticking together.
Common Problems & How to Avoid Them:
Spread Out Cookies: If your cookies spread too much during baking, make sure the dough is chilled before you put them in the oven.
Frosting Too Runny: Adjust with more powdered sugar or chill for a bit.
Cookies Too Hard: Do not overbake. Remove when edges are just turning golden brown and let them cool on a wire rack.
Making This Recipe with Kids:
Let them pick their favorite Halloween cookie cutters, be it black cats, witches, or ghosts!
Kids can help with the frosting. Give them an offset spatula or a butter knife and let their creativity shine.
Decorate with candy eyes, sprinkles, and candy corn. It's much fun and allows them to get creative.
Topping Options:
Use disposable piping bags with different piping tips to create fun designs with the frosting.
Black frosting, sprinkles, and candy eyes can be added for a spooky touch!
Why This Recipe Works: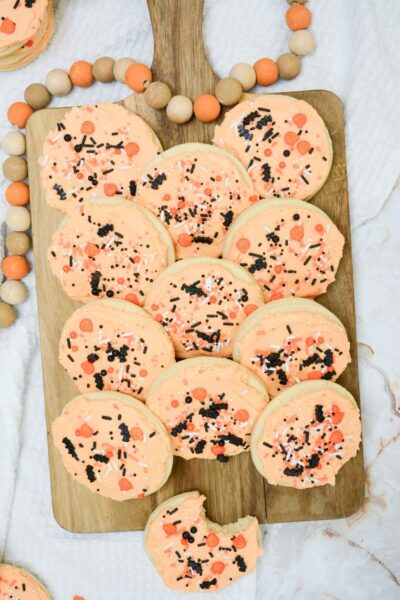 The combination of corn starch and powdered sugar produces soft sugar cookies that are reminiscent of store-bought favorites, but with homemade goodness.
The buttercream frosting is smooth and creamy, providing a sweet contrast to the cookie base. This is a great recipe for those who want easy Halloween sugar cookies that still taste gourmet!
What are some more fun Halloween cookies to try?
Yield:

20 cookies
Easy Halloween Frosted Sugar Cookies
These fun sugar cookies are topped with a delicious orange frosting and fun Halloween sprinkles.
Ingredients
½ cup unsalted butter, softened
1 cup powdered sugar
½ cup oil
2 eggs
1 tsp clear vanilla
2 Tsp cornstarch
1 tsp baking soda
1 tsp baking powder
1 tsp cream of tartar
3 c flour
For the Frosting -
½ cup shortening
3 cup powdered sugar
1 tsp clear vanilla
4 Tsp heavy whipping cream
½ tsp salt
Orange food coloring, optional
Sprinkles, optional
Instructions
In the bowl of a stand mixer, combine the softened butter and powdered sugar. Cream until smooth.
Add in the oil, eggs, cream of tartar, baking soda, baking powder, corn starch and vanilla - mix until smooth. Scrape down the sides and mix again.
Add in the flour and change the attachment from the which to the paddle attachment.
Combine until the dough comes together and balls up in the center, pulling away from the sides of the bowl.
Chill the dough for at least an hour.
When ready to bake, preheat the oven to 375 degrees.
Using two sheets of parchment, sandwich the chilled dough and roll out until about ½ of an inch thick. Do not use flour as it will dry out the dough too much.
Transfer to a parchment lined baking sheet and bake for 8 minutes. The cookies should just be set with a slight browning on the bottom of the cookie. Over baking will make for hard and crumbly cookies, rather than soft and slightly chewy. Allow to cool before decorating.
When ready to decorate, make the frosting. In the bowl of a stand mixer, combine the powdered sugar, shortening, vanilla, whipping cream and salt. Mix well on low speed for about 2-3 minutes. Once combined, scrape down the sides and then mix again on high speed for about a minute to fluff up the frosting.
Add in your desired food coloring and mix until the desired color is achieved. Continue to scrape down the sides when needed and mix until the color is cohesive. Cover until ready to use.
When ready to assemble, use a butter knife or flat spatula to spread a layer of frosting over the cookie. Immediately top with the sprinkles before it crusts over - gently press in the sprinkles if needed to help stick in place.
If you enjoyed this recipe be sure to check out my Instagram Page for the latest posts!
Before you go, check out these great posts!
Easy Salted Caramel Brownie Cookies Recipe
Easy Fudgy Copycat Cosmic Brownie Cookies
Hi! I'm Nellie. I am a busy mama of three, wife to my high school sweetheart who loves to cook, workout and stay organized! I love to share helpful printables, the best recipes and fitness tips for the modern mom. I strongly believe that every mom can feed their family well, take proper care of themselves and have fun along the way! Read my story.
Get comfortable and be sure to come hang out with me on social. Don't grab your free fitness journal before you go!