Pelvic health is crazy important. I honestly didn't realize how important it was until I attended an event in NYC held by Poise. Pelvic Health is vital for so many reasons and I learned a few things in a fun q&a session followed up by a exercise with the legendary Brooke Burke.
Question & Answer Fact Section about Pelvic Health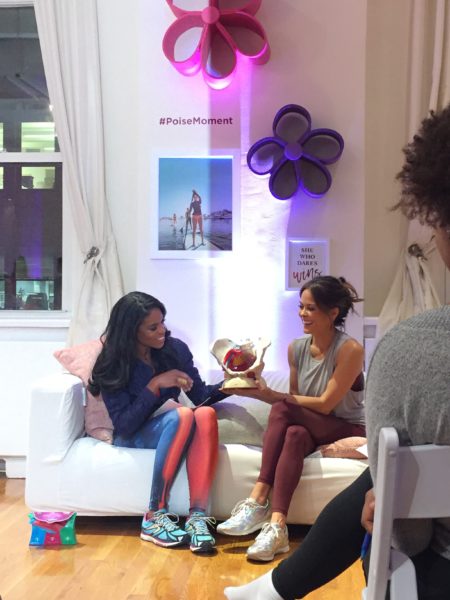 To start off the program we sat down with Dr. Jessica Shepherd, Women's Health Expert to chat about the myths and truths of LBL (Light Bladder Leakage). It was a super welcoming and comfortable environment and it almost felt as if we were having a personal meeting with our GYN.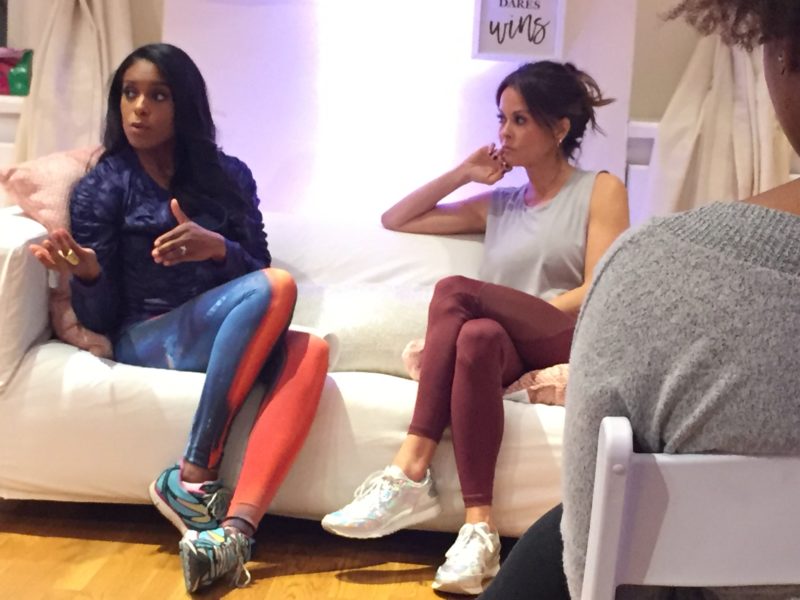 We also learned about the Poise products and how they are available to help with this very issue. The package even comes with three different sizes so you can adjust to whatever feels good to you personally. The product is super discreet and can make a world of difference for any woman who is having a hard time dealing with this issue.
I've written about Three of My Most Embarrassing Moments and why bladder leakage is nothing to feel embarrassed about. It pretty much happens to the lot of us (as you will learn below)
Fact #1: 1 in 3 women experience LBL.
It's not 1 in 10 or even 1 in 7 it's one in THREE! There is a likely hood that either yourself or someone you know dearly has this very common issue.
Fact #2: Bladder Leakage is more common in women than men.
I didn't even know that men experienced this too but they do!
Fact #3: Not just one cause can trigger LBL
This includes exercising, sneezing, laughing and lifting heavy weights.
One important thing that I learned was that the pelvic floor is connected to your core muscles. So it's super important that you pay close attention to working those lower core muscles in order to keep the pelvic floor strong! Having a strong pelvic floor impacts the core in a huge way and it will help alleviate LBL.
Brooke Burke's Pelvic Power Class
I just want to say that I absolutely love Brooke Burke's style of teaching. She is super calm and encouraging and she makes you feel as if you can complete all the moves.
We started with a bit of cardio, then we got on the floor and really got to work. We did many abs and leg exercises that I have never seen before. This included holding weights in the crux of our legs for leg lifts and so much more. I felt every move deep in my core, and as tough as each move was I was invested in the class because Brooke made me feel as if I could finish the class!
Afterwards we were treated to smoothies and goodies and we were able to chat one on one with Dr. Jessica about all we had learned.
Class w/ @brookeburke & @Poise + 3 Things you should know abt ur #PelvicHealth #PoiseMoment Click to Tweet
For more information on the Poise Products check out their website.
Did you know all of these facts? What do you do to maintain your pelvic health?
Hi! I'm Nellie. I am a busy mama of three, wife to my high school sweetheart who loves to cook, workout and stay organized! I love to share helpful printables, the best recipes and fitness tips for the modern mom. I strongly believe that every mom can feed their family well, take proper care of themselves and have fun along the way! Read my story.
Get comfortable and be sure to come hang out with me on social. Don't grab your free fitness journal before you go!