These incredible blueberry pie bars are made with fresh blueberries and are so delicious! Perfect with a side of vanilla ice cream or on it's own!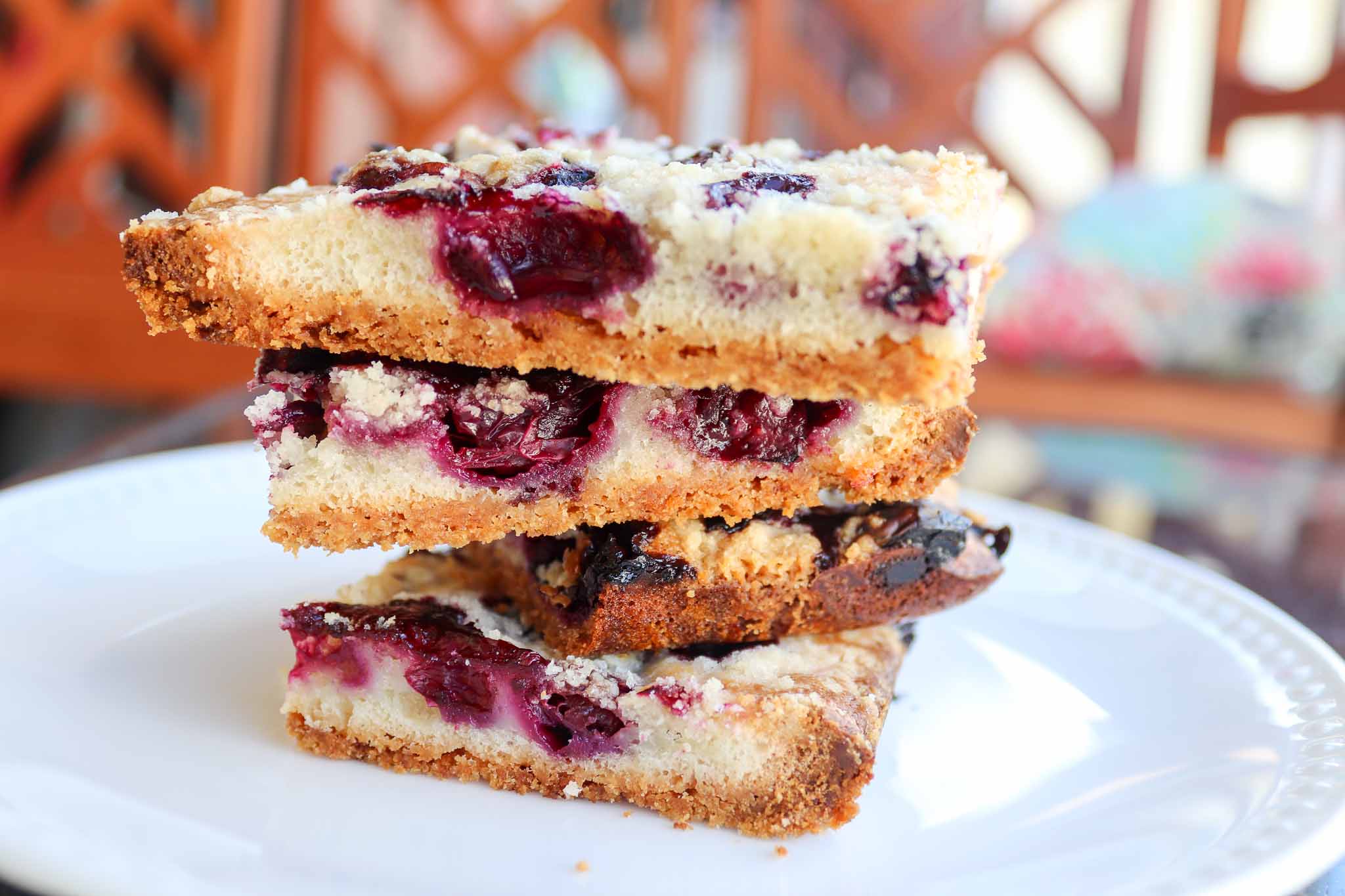 You have had blueberry pie in the past, but have you ever had Blueberry Pie Bars? There is no doubt that you've had blueberry pie in almost every form.
It comes in pop tarts, toaster strudels, coffee cake, and even waffles. However, this time it's different because we are creating something known as Blueberry Pie Bars. These bars are homemade and an excellent treat to make for your family.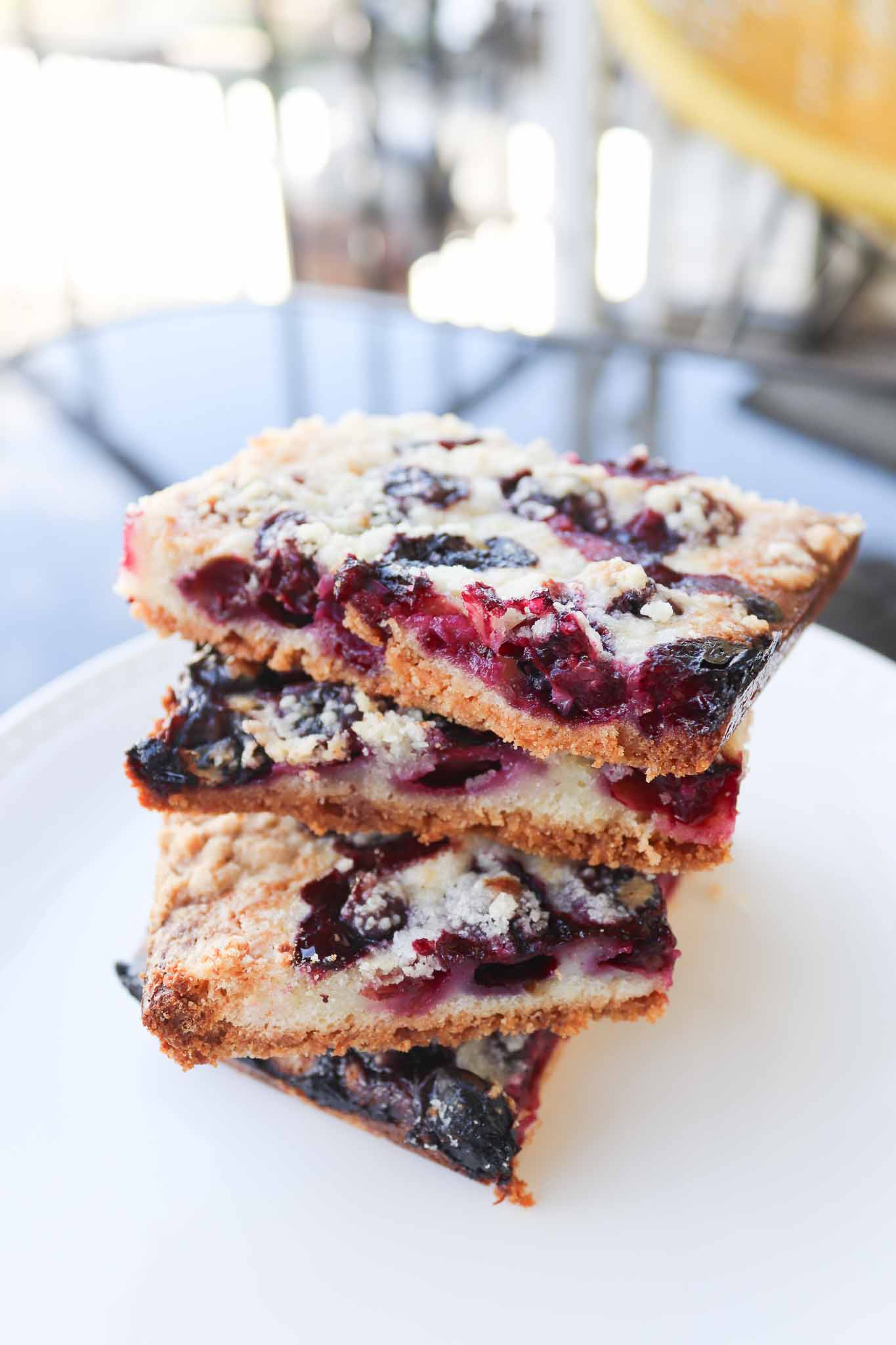 Blueberry Pie Bars
It may be easier to go to the store and buy a box of your favorite bars. However, it's always a little healthier to make your own and almost always cheaper.
Plus, these bars are freezable, so you can easily pull them out of the freezer and enjoy them whenever you like. These bars taste delicious whether they're room temperature or warm. They are low maintenance and very enjoyable!
How to Freeze Blueberry Pie Bars
Once you have made these delicious bars, you may be wondering HOW you can freeze them. I am going to let you in on a little secret.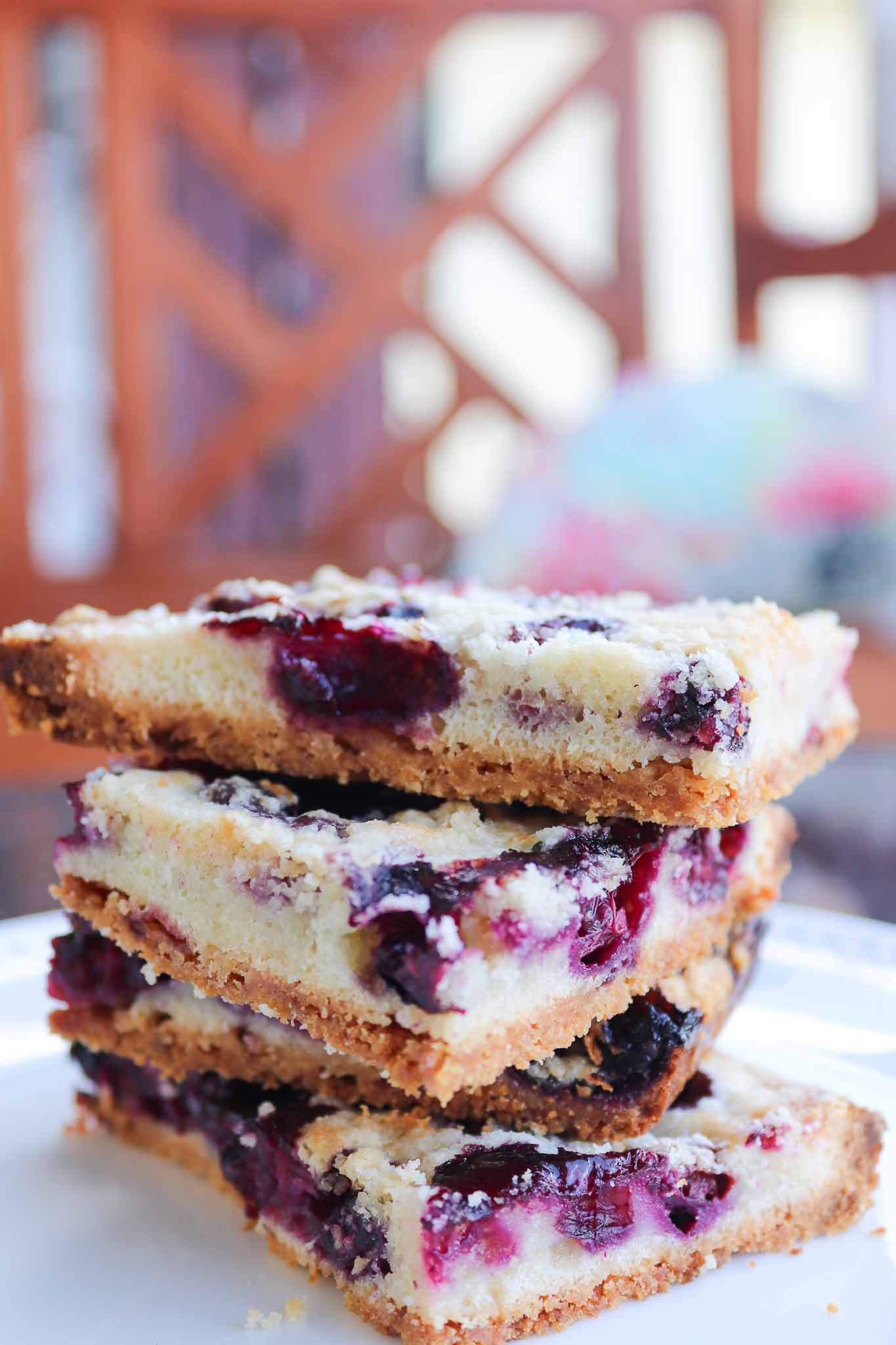 My favorite way to freeze these bars is to wrap them up individually. This works better because then you have bars for on the go and nothing goes to waste. Just make sure you are double wrapping the bars in aluminum foil and plastic wrap.
This will keep them safe from the elements in your freezer. You can leave them out to unthaw and enjoy.
If you like WARM treats like me, you can warm these Blueberry Pie Bars up in the microwave. From there, you can add a scoop of vanilla ice cream to them.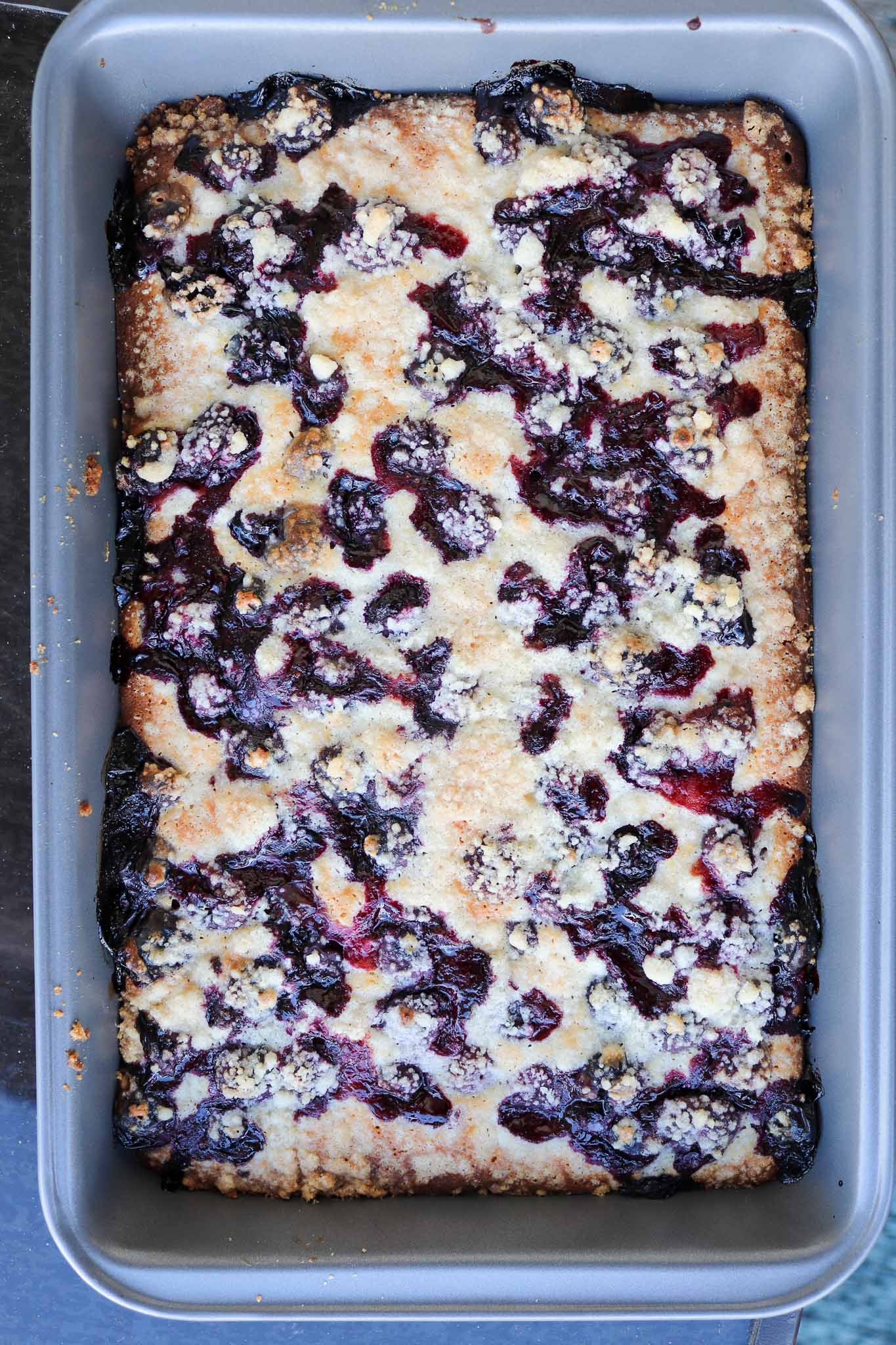 Of course, this is being extra, but it's totally worth it and so enjoyable! This recipe creates a super yummy treat that the whole family can enjoy. What's your favorite part of this recipe?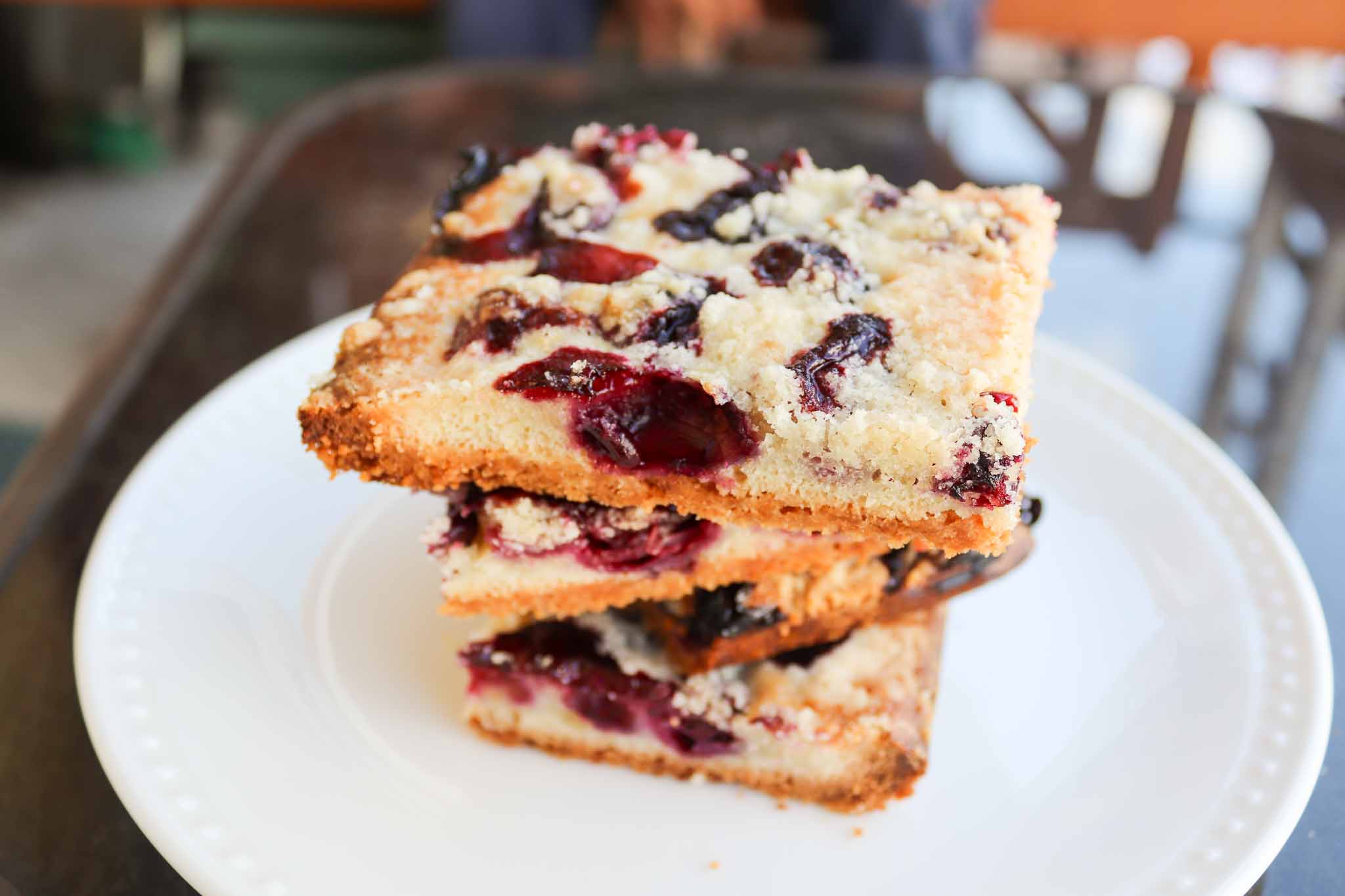 If you like delicious bars recipes check out these amazing treats:
Easy Valentine's Day Cookie Bars
Easy and Yummy Lemon Lime Bars
Christmas Sugar Cookie Bars: Fun Treat For The Holidays
Yield: 8-10 bars
Amazing Shortbread Blueberry Pie Bars
Ingredients
Crust & Topping
• 1 ½ cups all-purpose flour
• 3/4 cup granulated sugar
• pinch salt
• 3/4 cup cold butter cubed (1½ sticks)
Filling
• 3 cups fresh blueberries
• 2 eggs
• 1 cup sugar
• 1/3 cup all-purpose flour
• 1/2 cup sour cream
• pinch salt
Instructions
Grease or line with parchment a 9x13 baking dish- set aside.

Preheat oven to 350 degrees.

Add flour, sugar, salt & cubed butter to mixing bowl, beat until combined & crumbly.

Take 1 cup of mixture & set aside.

Take remaining mixture & firmly press into your baking dish, covering the bottom. Bake 15 minutes.

While crust is baking- whisk the eggs in a large bowl.

Add sugar, sour cream, flour & salt. Whisk well.

Gently fold in blueberries. Set aside.

When the crust is ready - remove from oven & add filling by gently spooning it over the top of the partially baked crust.

Sprinkle with remaining crust mixture you had set aside.

Bake 60 minutes or until top is lightly browned

Cool before serving if eating without a topping.

If serving warm- add a scoop of vanilla ice cream on top 🙂