Blueberry Coffee Cake Recipe: A Burst of Blueberry Bliss
Indulge in the irresistible charm of homemade Blueberry Coffee Cake. This delightful treat combines the goodness of a tender vanilla cake with a luscious cream cheese and blueberry filling, all topped with a crunchy streusel crumble.
Whether you savor it with your morning coffee or serve it as a sweet ending to a special occasion, this Blueberry Coffee Cake is bound to become one of your favorite parts of the day.
FAQs
What makes this coffee cake different from blueberry muffins?
While both coffee cake and blueberry muffins contain blueberries, the key difference lies in their texture and preparation. Coffee cake is typically a soft and tender cake with layers of streusel or a filling, while blueberry muffins are denser and more like individual quick breads. Coffee cake is meant to be sliced and served, while muffins are handheld.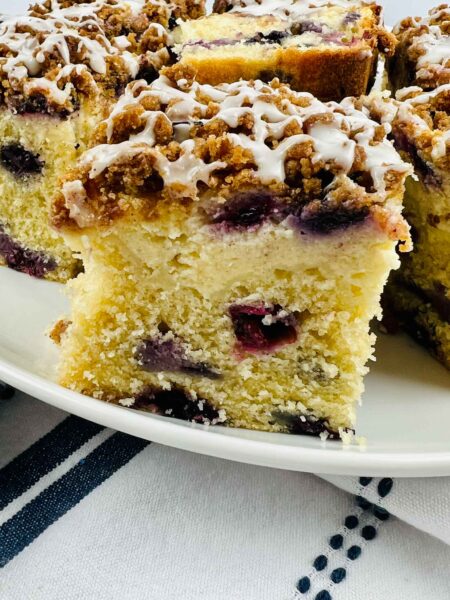 Can I use frozen blueberries?
Yes, you can use frozen blueberries if fresh ones are not available. However, keep in mind that frozen blueberries may release more moisture, potentially affecting the texture of the cake. Toss them in a bit of flour before adding them to the batter to prevent them from sinking to the bottom.
Can I make this coffee cake with whole wheat flour?
You can substitute some or all of the all-purpose flour with whole wheat flour for a slightly nuttier and heartier flavor. Keep in mind that whole wheat flour can result in a denser cake, so adjust accordingly to your taste preferences.
Tips and Tricks
Room Temperature Ingredients: Ensure that your cream cheese and butter are at room temperature for a smoother cream cheese filling and cake batter.
Lemon Zest: The hint of lemon zest adds a delightful citrus aroma to the cake. Don't skip it!
Crumb Topping: Use cold butter for the crumb topping to achieve a crunchy streusel texture.
Measuring Flour: When measuring flour, spoon it into the measuring cup and level it off with a flat edge for accuracy. This prevents using too much flour, which can result in a dry cake.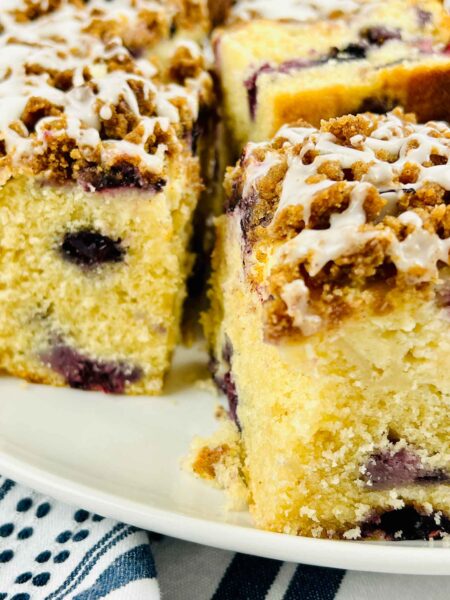 Variations
Lemon Blueberry Coffee Cake
Add a twist to this classic recipe by incorporating lemon zest and a touch of lemon juice into the cake batter for a sweet-tart lemon glaze. The citrusy burst complements the blueberries perfectly.
Pumpkin Coffee Cake
For a fall-inspired treat, substitute the blueberries with canned pumpkin puree and add warm spices like cinnamon and nutmeg to the cake batter. Top with a cinnamon streusel for extra flavor.
Where to Serve
This Blueberry Coffee Cake is perfect for various occasions:
Special Occasions: Serve it as a sweet treat for birthdays, anniversaries, or other celebrations.
Brunch: It's a delightful addition to a brunch spread, pairing wonderfully with coffee or tea.
Family Gatherings: Share this moist coffee cake with family members during cozy get-togethers.
Storage
To keep your Blueberry Coffee Cake fresh:
Airtight Container: Store any leftover coffee cake in an airtight container at room temperature for up to three days.
Reheating: To enjoy it warm, reheat individual slices in the microwave for a few seconds.
Common Problems and How to Avoid Them
Sinking Blueberries
To prevent blueberries from sinking to the bottom of the cake, toss them in a bit of flour before adding them to the batter. This helps them distribute evenly throughout the cake.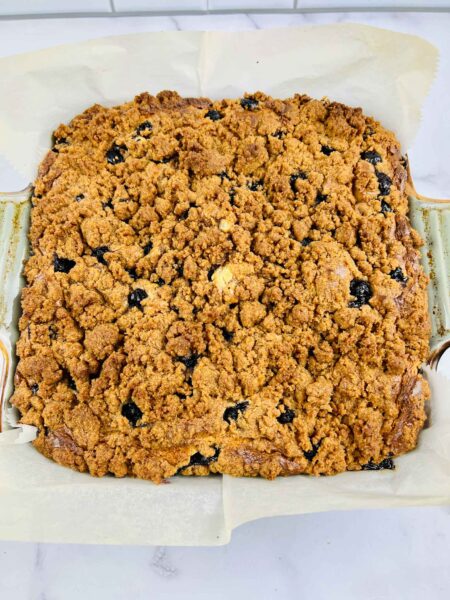 Dry Cake
Overmixing the cake batter can result in a dry, dense cake. Mix just until the ingredients are combined and no more to maintain a tender crumb.
Uneven Crumble Topping
For an evenly distributed crumble topping, sprinkle it over the top of the cake in an even layer before baking. Use a pastry cutter or your fingers to achieve a buttery streusel texture.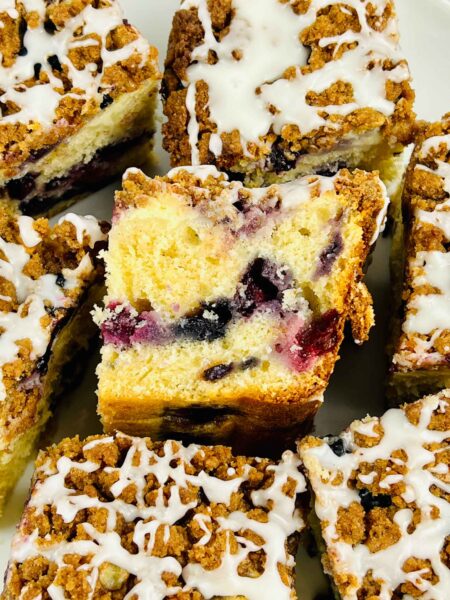 Tips for Making This Recipe with Kids
Getting kids involved in the kitchen is a great way to spend quality time together. Here are some child-friendly tasks:
Let them help measure and mix the dry ingredients for the cake.
Allow them to sprinkle the blueberries into the cream cheese filling.
Supervise as they crumble the streusel topping, ensuring they use cold butter for the best results.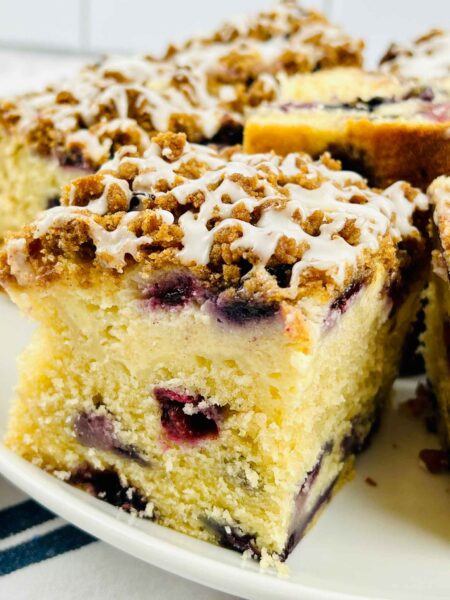 Topping Options
Customize your Blueberry Coffee Cake with these topping options:
Sweet Vanilla Glaze: Drizzle a sweet vanilla glaze made with powdered sugar, vanilla extract, and a touch of milk over the cooled cake.
Powdered Sugar: Dust the top of the cake with powdered sugar for an elegant finishing touch.
Why This Recipe Works
This Blueberry Coffee Cake recipe works because it combines simple ingredients to create a delectable and moist cake with layers of flavor and texture. The cream cheese filling adds a creamy contrast to the sweet vanilla cake, while the blueberries provide bursts of freshness.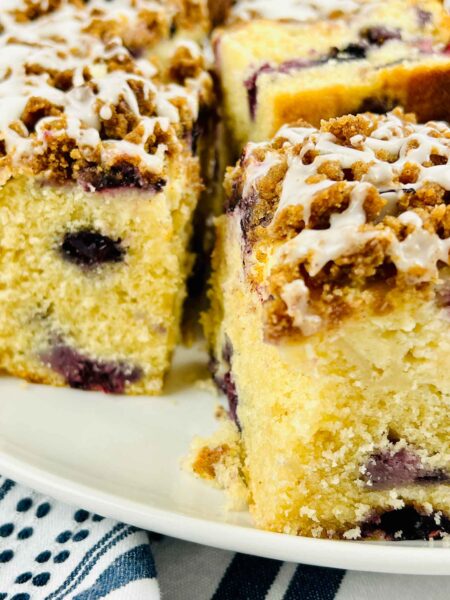 Topped with a crunchy streusel crumble, it's the perfect coffee cake for any occasion. So, whether you're sharing it with loved ones or savoring it on your own, this Blueberry Coffee Cake is bound to brighten your day with its deliciousness.
Here are some more fun coffee cake recipes to try:
Yield:

12 servings
Delicious Blueberry Cream Cheese Coffee Cake Recipe
Total Time:
1 hour
10 minutes
This delicious blueberry coffee cake is so good and easy to make for a yummy breakfast pastry.
Ingredients
Cake -
1 stick butter, soft
¾ cup sugar
2 eggs
1 tablespoon vanilla
¾ cup milk
2 cups flour
2 teaspoon baking powder
1 cup blueberries
Filling -
⅓ cup sugar
8 oz cream cheese, soft
1 egg
2 teaspoons vanilla
½ cup blueberries
Crumble -
¼ cup butter, soft
½ cup flour
6 tb brown sugar
1 ts cinnamon
Glaze -
¾ cup powdered sugar
1 tbs lemon juice
Instructions
Preheat oven to 350 and prepare a square baking pan with parchment paper or baking spray
Cake - cream the butter and sugar - add in eggs, vanilla, and milk
Add in flour and baking powder
Fold in blueberries
Spread evenly into prepared pan
Filling - beat the sugar and cream cheese - add in egg and vanilla
Spread over the cake batter and add blueberries on top
Crumble - mix all ingredients together until a sand texture then sprinkle over the filling
Bake for 50 minutes
Cool completely
Mix glaze ingredients and drizzle over cake
Slice, serve, and enjoy!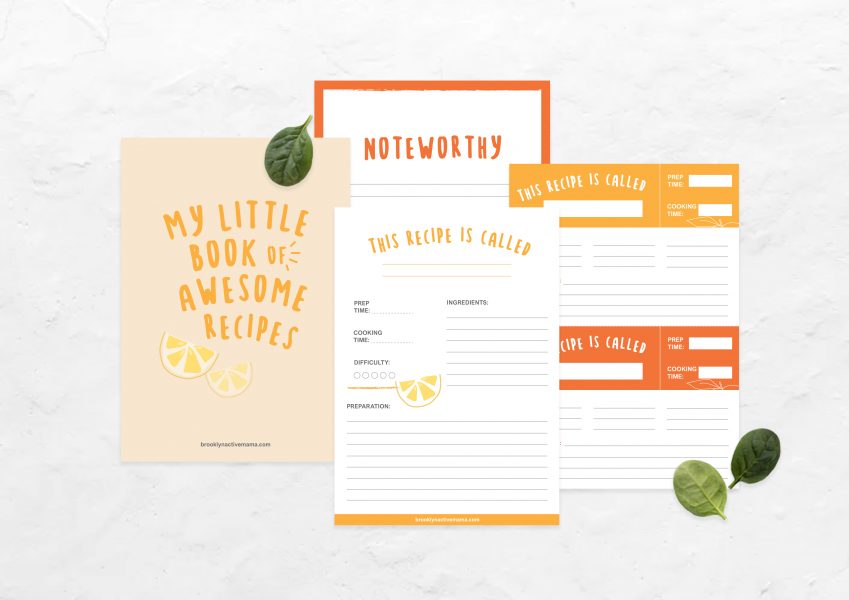 Before you go, grab Your Free Printable Recipe Kit!
Write down your favorite recipes and create your own personal cookbook of your favorite food creations!
Hi! I'm Nellie. I am a busy mama of three, wife to my high school sweetheart who loves to cook, workout and stay organized! I love to share helpful printables, the best recipes and fitness tips for the modern mom. I strongly believe that every mom can feed their family well, take proper care of themselves and have fun along the way! Read my story.
Get comfortable and be sure to come hang out with me on social. Don't grab your free fitness journal before you go!