Did you know you can make delicious cake on your stove top? Check out this amazing Easy Cast Iron Skillet Coffee Cake recipe.
What is the origination of coffee cake?
Most recipes are rooted in European baking, but it seems that the first recipe for coffee cake was published in the United States.
According to several cookbooks from around 1898, coffee cake was a popular item at buffets and ladies' luncheons. It didn't appear to have any frosting or other accompaniment beyond what you might serve with a regular cake but it's still so good! The crumb topping and the awesome cake batter makes this a really good coffee cake!
This sweet treat is one of the great things you can make in your cast-iron skillet. You can even use fresh blueberries to make a skillet blueberry coffee cake.
Coffee Cake History:
It is said that in the late 19th century, when Scandinavian immigrants brought their coffee cakes (Kaffekager) to America, they translated the name into English rather than pronouncing it "coffee kahg-uht". The traditional coffee cake was a simple egg and milk dough enriched with butter.
It had a coarse texture and was generally not sweetened beyond what might be found in the batter or streusel topping. Most often it would be served as an accompaniment to breakfast or afternoon coffee.
As years went on, many different types of coffee cakes were introduced including; Cheese Coffee Cake , Carrot Coffee Cake , Lemon Coffee Cake , Applesauce Coffee Cake and even Coffee Cake Muffins! It's so yummy and can be flavored in so many ways.
In the 70's and 80's coffee cakes were almost exclusively made from a cake mix. You can probably still find this type of delicious recipe online as many people have not found the time to convert over to using regular ingredients.
Today, I'm going to share with you how to make an easy cast iron skillet coffee cake that is very close to the traditional sour cream based version. We will use all natural ingredients and no box mixes or baking soda/powder. Since we are cutting out these not-so-natural items, we need a little more moisture in other areas.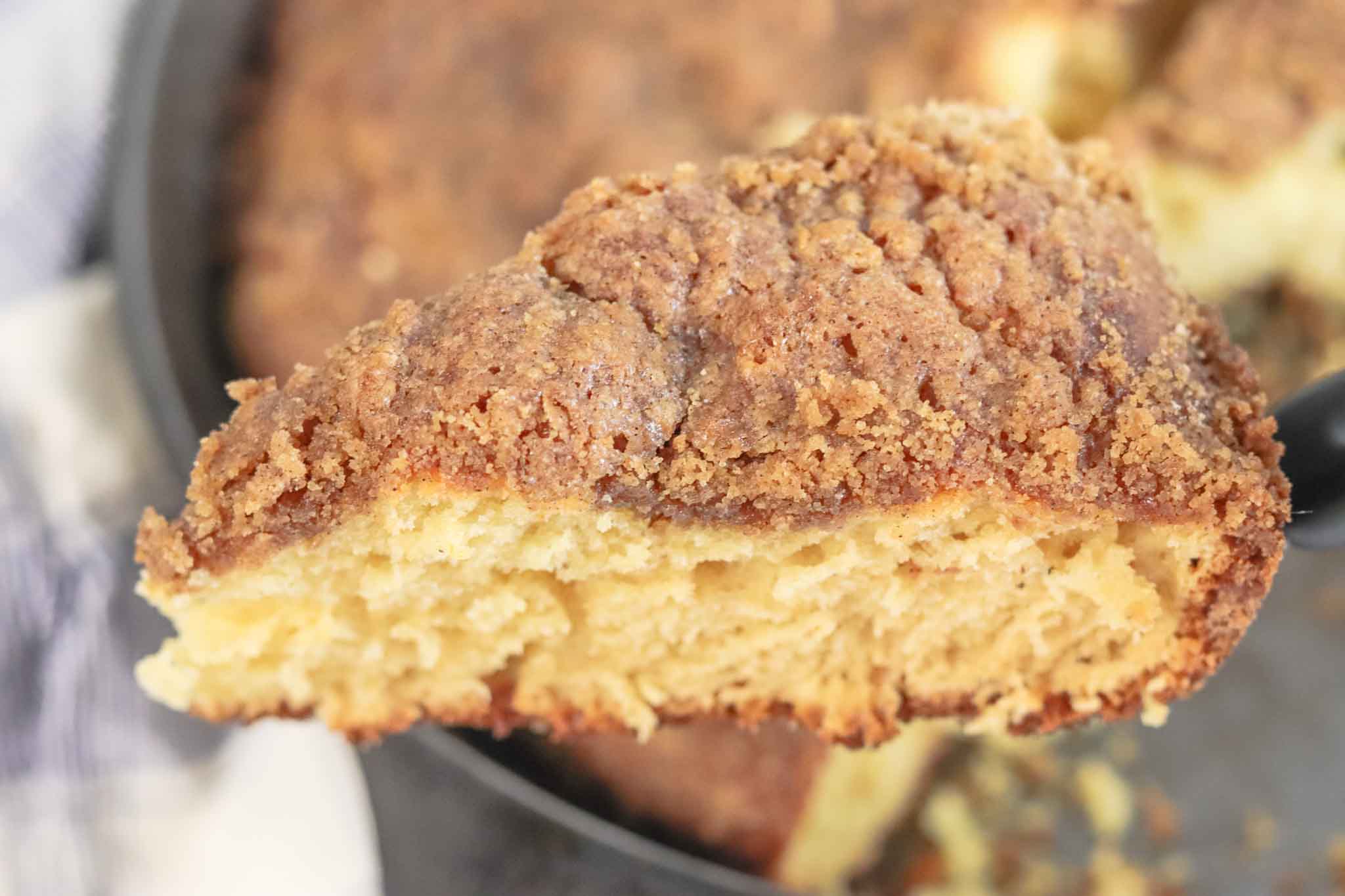 Can I bake a cake in a cast-iron pan?
Yes, cast-iron pans are able to be used in the oven. You may have heard that you do not want to use metal utensils on your cast iron because it will wear down the seasoning. I would suggest using silicone or wood utensils for this reason, but if you were to forget and decide to "dig out" your cake with a fork, I suspect it would be just fine.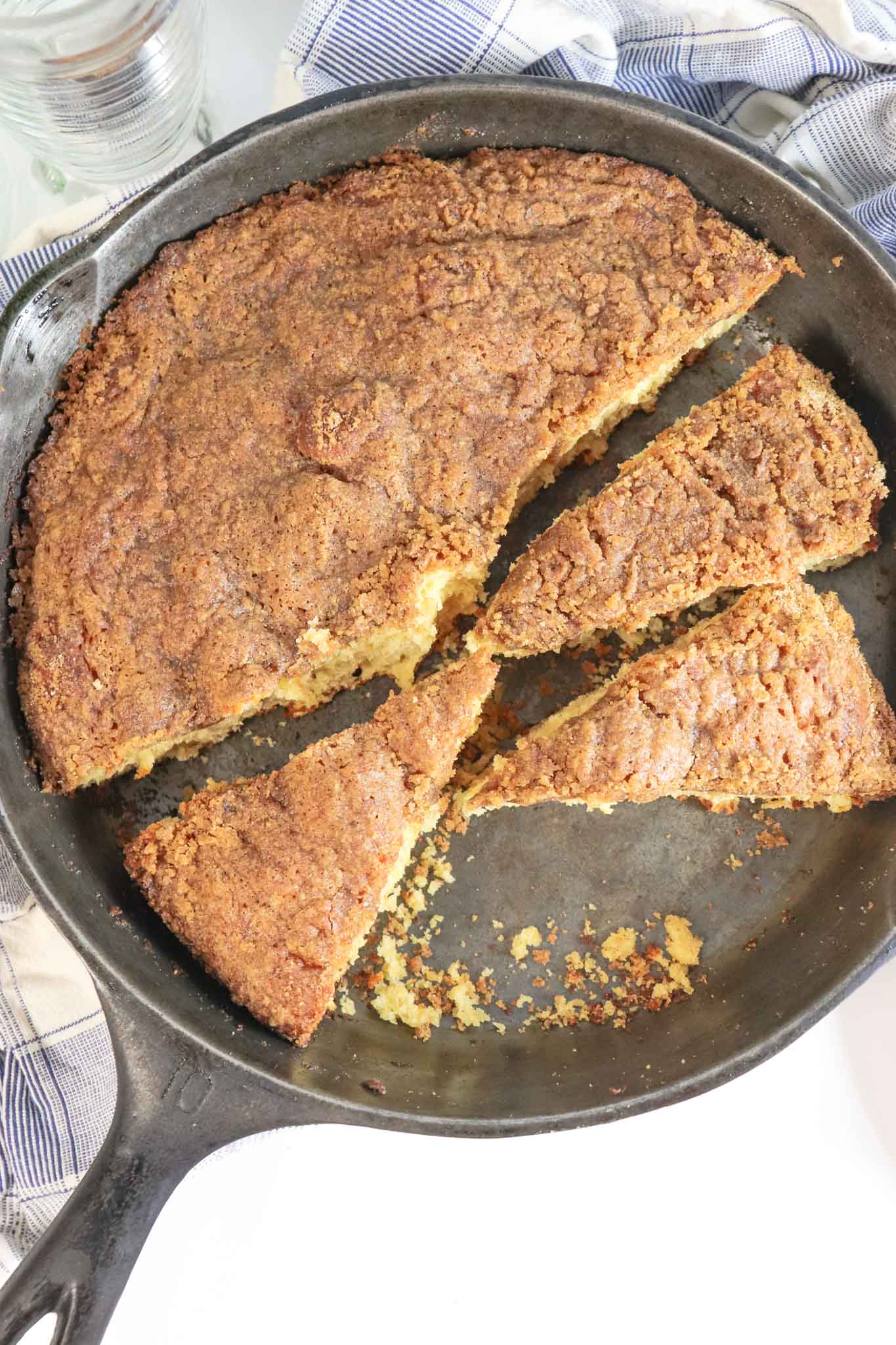 Why is a coffee cake called coffee cake when there is no coffee in the recipe?
This is a very interesting question and we've even heard different theories about it! One theory suggests that coffee cakes may have been called this way because they use the same ingredients as steamed or boiled puddings, which were often referred to as "coffee puddings" long ago.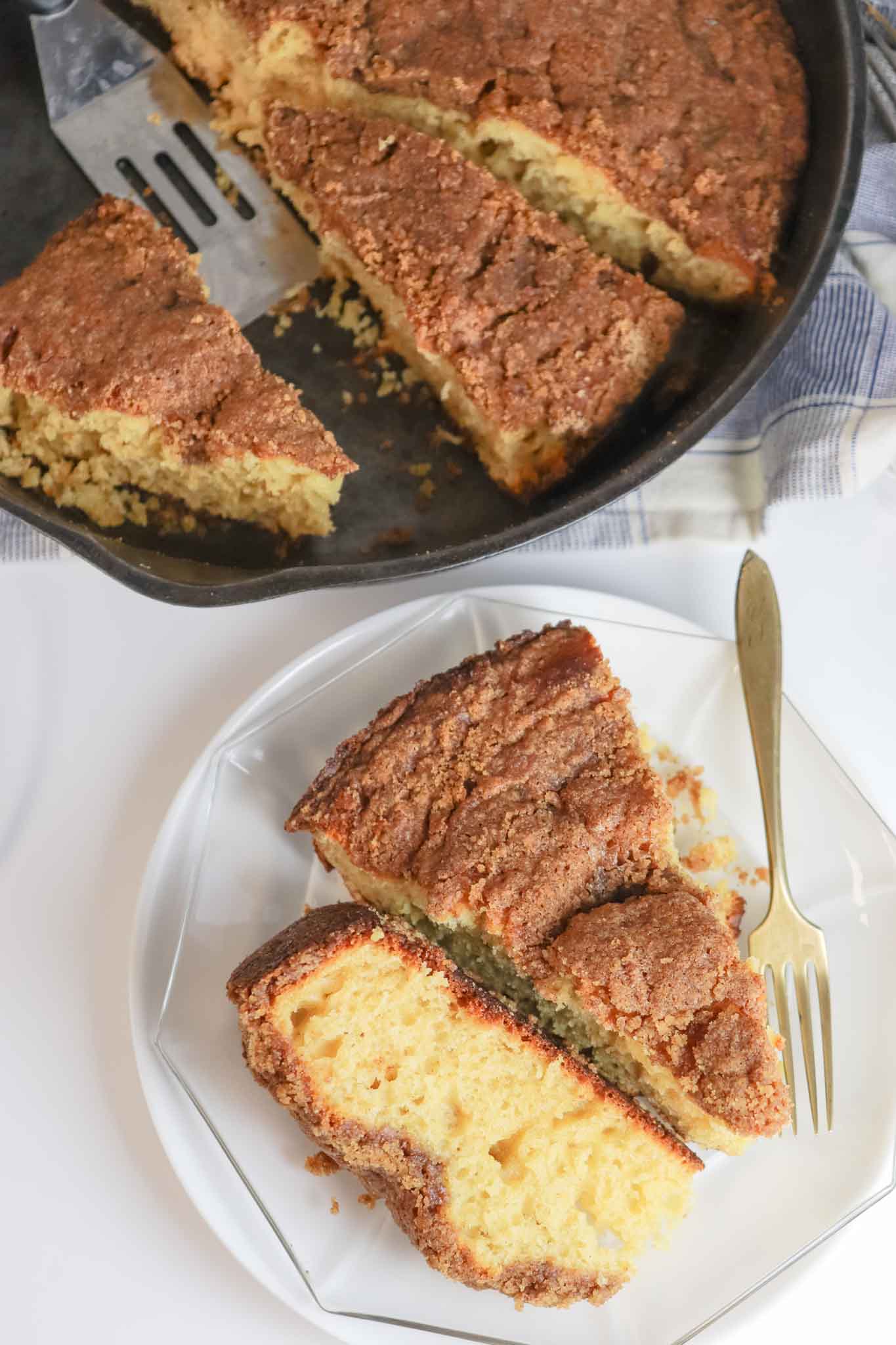 Another idea behind its name is that these types of cakes were enjoyed by those stopping for an afternoon cup of coffee. No matter how it got its name, one thing's for sure: there is nothing like sinking your teeth into a fresh-from-the-oven slice of delicious cake. It's so good!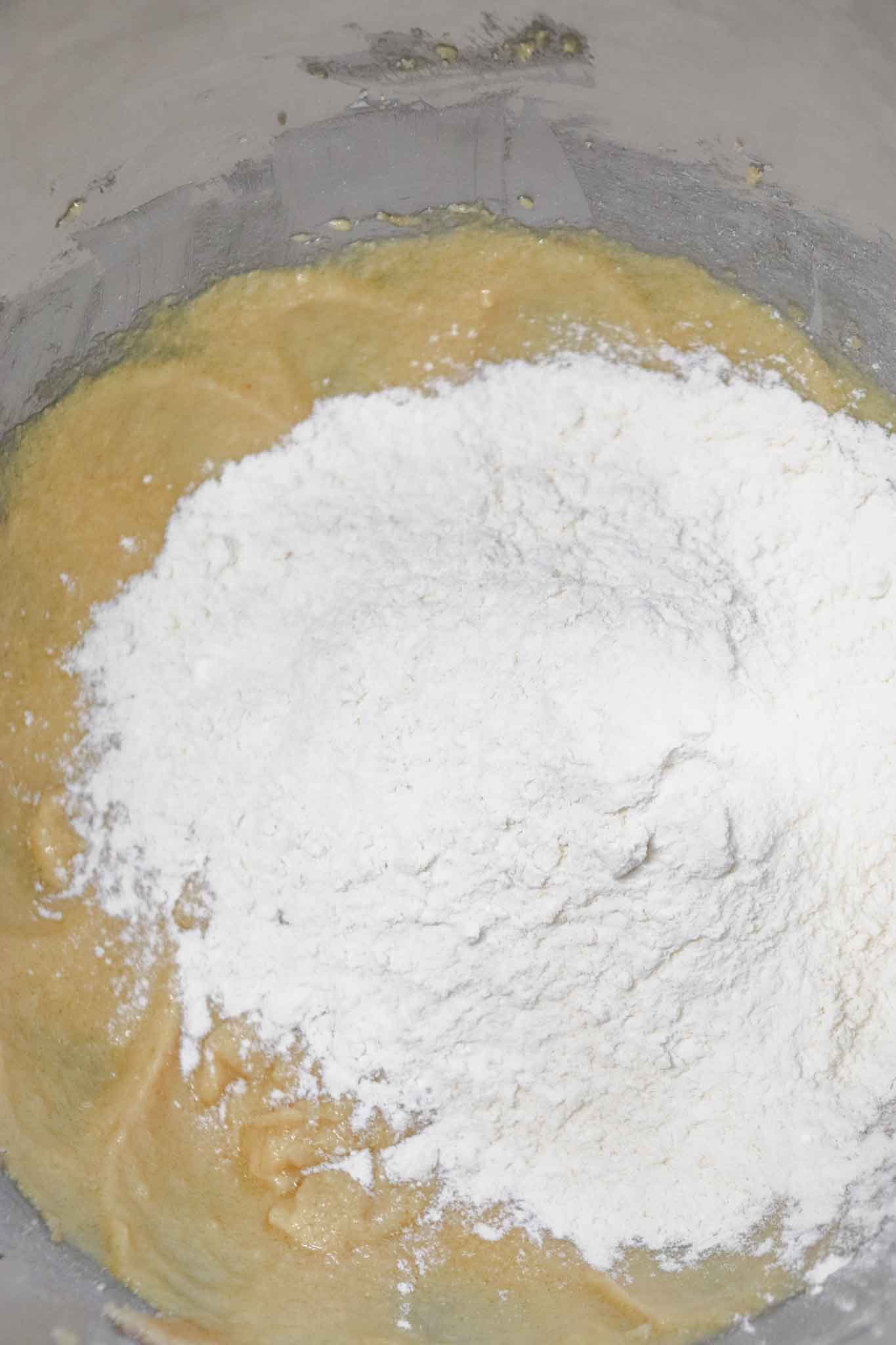 What is the difference between tea cake and coffee cake?
There is actually no difference between these two types of cakes, just the different names people use. So, you can go ahead and substitute any of our tea cake recipes into a coffee cake recipe and vice versa!
Why use cast iron to make coffee cake?
For this new twist on an old favorite, we chose to bake it in our trusty 10″ Cast Iron Skillet . Not only is this one of our most popular skillets, but it's also ideal for baking, making it perfect for today's recipe. The skillet gets nice and hot while preheating in the oven (we like to start at 425 degrees F) so that when you add the batter it immediately starts cooking on the sides of the pan.
What ingredients do you need for this Cast Iron Skillet Coffee Cake Recipe: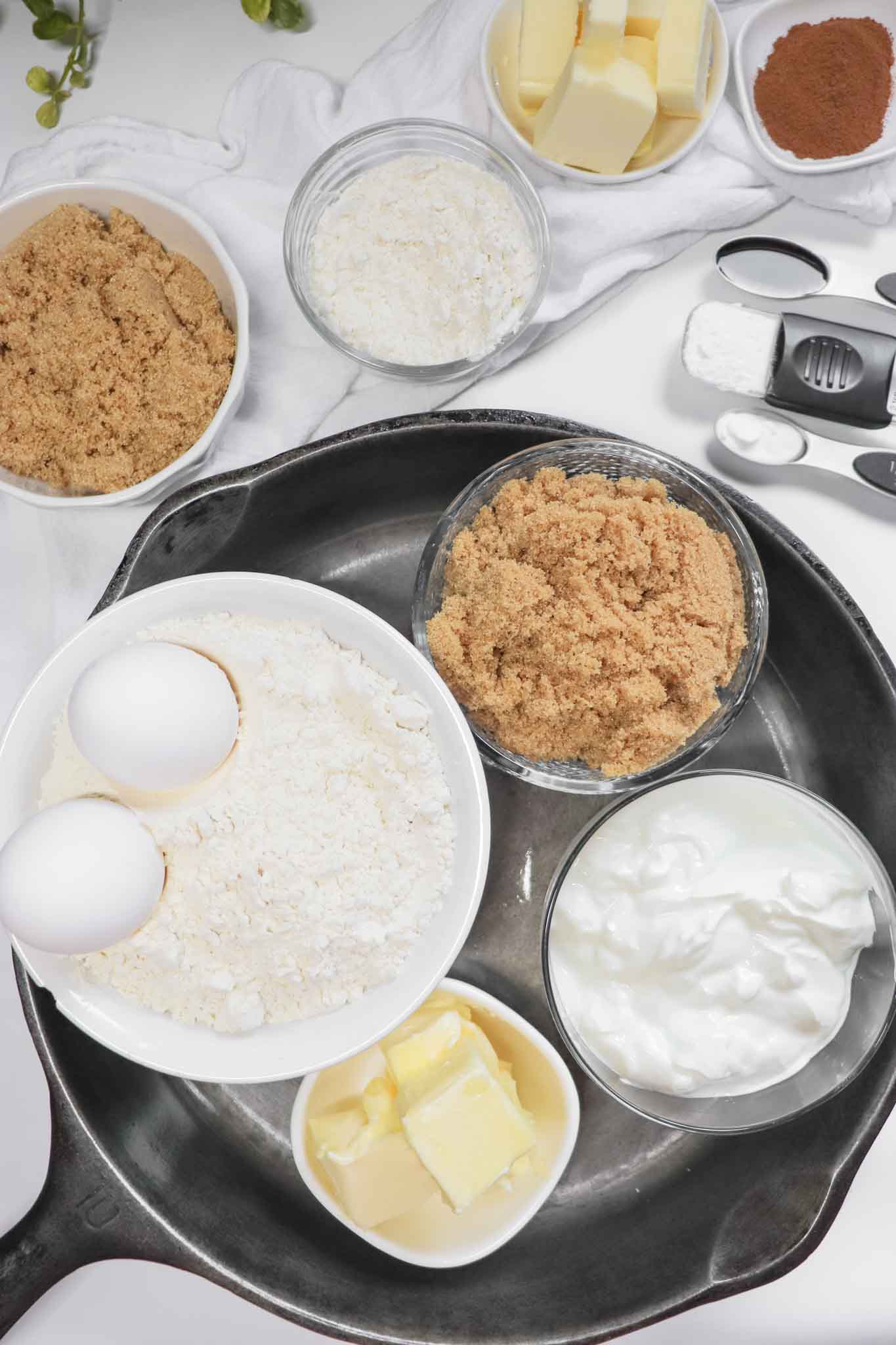 Cake Ingredients:
• 2 1⁄2 cups all purpose flour
• 1 cup brown sugar, packed
• 3⁄4 cup plain greek yogurt
• 1⁄2 cup butter, softened
• 2 eggs
• 2 tsp baking powder
• 1⁄2 tsp baking soda
• 1 tsp vanilla extract
Topping Ingredients:
• 3⁄4 cup brown sugar, packed
• 1⁄2 cup flour
• 6 tbsp butter, firm
• 2 tsp cinnamon
Supplies:
• 10" cast iron skillet
• stand or hand mixer
• medium bowl
• small bowl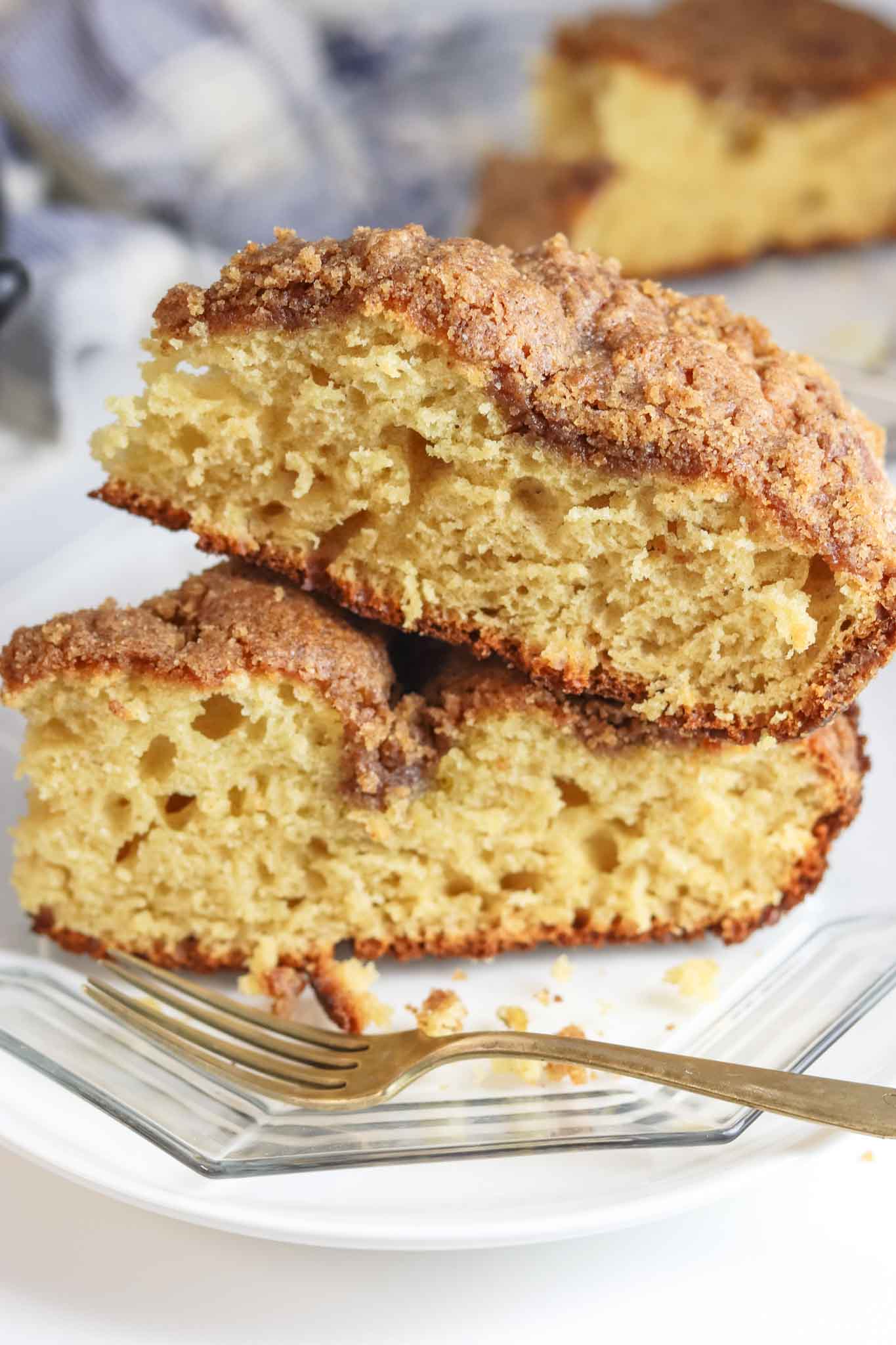 Super simple ingredients that you can get from the grocery store. It's a delicious way to enjoy a cold evening in the middle of winter. You can even serve with vanilla ice cream. The top of the cake gets golden brown and it can be cut with a butter knife. The sugar mixture will create the coarse crumbs for an amazing topping!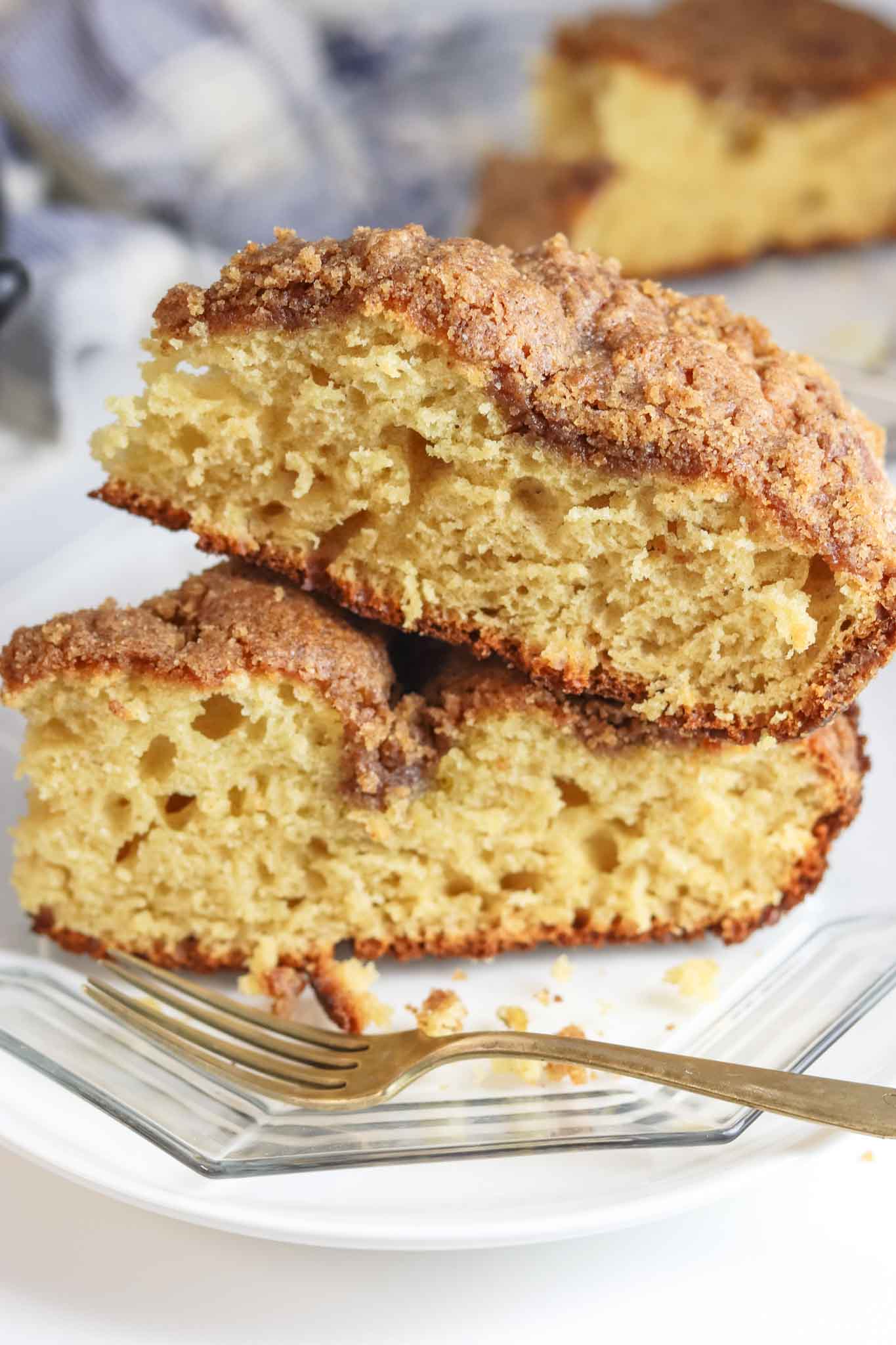 Yield:

6 servings
Cast Iron Skillet Coffee Cake With Crumb Topping
This coffee cake skillet recipe is so great! Making a cake in your cast iron skillet is so good and easy.
Ingredients
Cake Ingredients:
• 2 1⁄2 cups all purpose flour
• 1 cup brown sugar, packed
• 3⁄4 cup plain greek yogurt
• 1⁄2 cup butter, softened
• 2 eggs
• 2 tsp baking powder
• 1⁄2 tsp baking soda
• 1 tsp vanilla extract
Topping Ingredients:
• 3⁄4 cup brown sugar, packed
• 1⁄2 cup flour
• 6 tbsp butter, firm
• 2 tsp cinnamon
Supplies:
• 10" cast iron skillet
• stand or hand mixer
• medium size bowl
• small size bowl
Instructions
Heat oven to 350° F
Grease skillet with butter
In a medium bowl, whisk together flour, baking powder, and baking soda. Set aside.
With a stand or electric mixer, beat together butter and brown sugar until light and fluffy.
Add eggs one at a time to butter mixture. Beat well after each egg.
Beat in vanilla.
With the mixer on low, beat in half the flour mixture until thoroughly combined.
Add in yogurt and mix until thoroughly combined.
Add in remaining flour and mix until thoroughly combined.
This is a stiff batter. Spread into buttered skillet. Set aside and prepare topping.
In a small bowl, combine brown sugar, flour, and cinnamon.
Add firm butter and cut with pastry cutter or work into small crumbs with your fingers.
Sprinkle topping evenly over cake batter.
Bake for 35-40 minutes. Check with a cake tester or toothpick at 30-35 minutes.
Cut and serve warm or cool.
Store leftovers in a covered container.
Nutrition Information
Yield
8
Serving Size
1
Amount Per Serving
Calories

567
Total Fat

23g
Saturated Fat

13g
Trans Fat

1g
Unsaturated Fat

8g
Cholesterol

107mg
Sodium

420mg
Carbohydrates

81g
Fiber

2g
Sugar

43g
Protein

9g
Pin it for later!
If you enjoyed this recipe be sure to check out my Instagram Page for the latest posts!
Before you go, check out these great posts!
Easy Homemade Pumpkin Spice Cold Brew Coffee Recipe
Cold Brew Overnight Oats Recipe
Copycat Starbucks Pumpkin Bread Loaf
Easy Homemade Tiramisu – Simple No Bake Method
Yummy Starbucks Cream Cheese Pumpkin Muffins
Hi! I'm Nellie. I am a busy mama of three, wife to my high school sweetheart who loves to cook, workout and stay organized! I love to share helpful printables, the best recipes and fitness tips for the modern mom. I strongly believe that every mom can feed their family well, take proper care of themselves and have fun along the way! Read my story.
Get comfortable and be sure to come hang out with me on social. Don't grab your free fitness journal before you go!