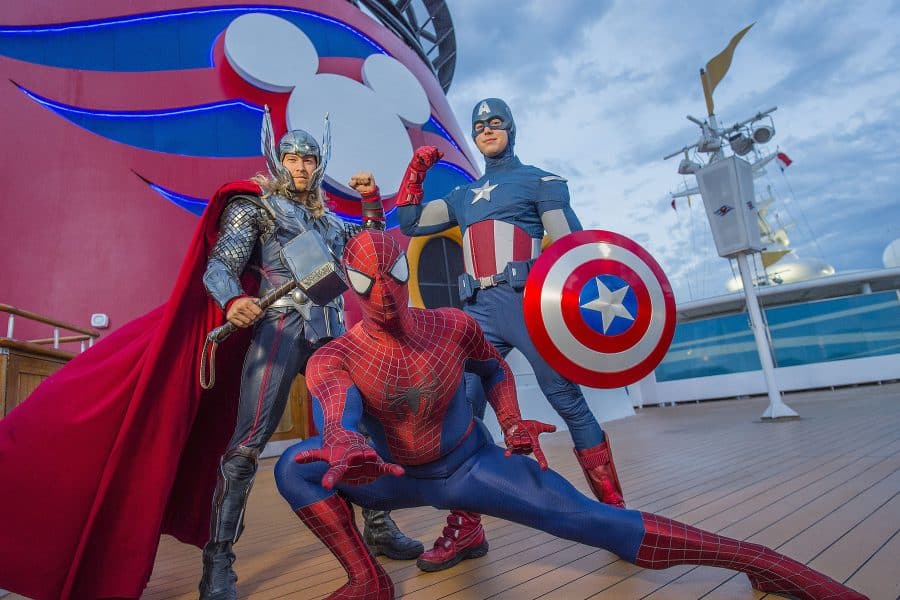 When you have a house full of boys you end up watching a ton of marvel cartoons, TV shows and comics. I don't know as much as they do about it, but when I got the invite about the Brand New Disney Cruise Marvel Day At Sea, I didn't hesitate to see what it was all about!
Marvel Day at Sea combines the thrills of renowned Marvel comics, films and animated series, with the excitement of a Disney Cruise to summon everyone's inner Super Hero for the adventures that lie ahead during this unforgettable day at sea.

Occurring on one action-packed day during each of the seven Disney Magic sailings, guests are transported to a new realm of possibilities when the Marvel Universe assembles on the ship. The event features all-day entertainment including exclusive interactions with some of the mightiest Marvel Super Heroes and the menacing foes that oppose them, an extraordinary deck party, Marvel-themed youth activities, special merchandise and unique food and beverage offerings.
The media luncheon would take place at a beautiful Italian restaurant called Locanda Verde NYC located in Greenwich Village. It's *so* posh that we saw Kate Winslet (!!) being interviewed in the corner, but we bloggers, we played it cool (of course).
When we arrived, we got to choose different sayings from all kinds of Disney themed movies to be our "names" for the day. I chose "just keep swimming like Dory" which is just appropriate on so many levels.
We were able to mingle and enjoy wine and appetizers which were SO good! There was even a fun photo booth with props. Our programming began with a fun overview of The Disney Cruise Line as well as the brand new Marvel Day At Sea which will be setting sail this week for the very first time!

Here's How To Unleash Your Inner Super Hero during the Ultimate Day at Sea
Spider-Man, Captain America, Thor and other Marvel Universe Super Heroes are onboard for scheduled meet-and-greets and photos.
A brand-new spectacular party fills the upper deck with music, dancing and games.
The deck party culminates in a stunning display of themed pyrotechnics, lighting, sound effects and the largest collection of Marvel Super Heroes and Super Villains ever assembled on a cruise ship.
Kids and families summon their Marvel knowledge and enjoy friendly competition during trivia games, covering courageous heroes and fun facts from the Marvel Universe.
For young heroes-in-training, Marvel-themed games, activities and arts and crafts will be offered throughout the day in the Marvel's Avengers Academy in the Oceaneer Club.
We also did a Marvel trivia contest, which I was remarkably bad at. (Remind me to go to the Marvel Avengers Academy when I take my next Disney Cruise!!) Then we settled down and got to know each other a lot better over these incredible entrees. Yum yum yum.
It was a really fun way to spend an afternoon. My kids were totally jelly but weren't that mad when they got some of mom's swag gifts. I can't wait to plan my next Disney Cruise because it will absolutely be with the addition of Marvel Day At Sea!
How You Can Unleash Your Inner #Superhero On The @DisneyCruise #MarvelDayAtSea! #DisneyCruise
Marvel Day at Sea will be on seven- and eight-night Disney Magic Bahamian cruises departing from New York on Oct. 6, 14, 28; Nov. 4, 11 and 18, 2017. All will include a stop at Disney's private island Castaway Cay and Port Canaveral, Fla., with a day at the Walt Disney World Resort. Marvel Day at Sea will be on one seven-night Canadian Coast cruise departing from New York on Oct. 21, 2017, with stops at Charlottetown, Sydney and Halifax.
Have you been on a Disney Cruise Yet? Do you have any Marvel fans in your household?