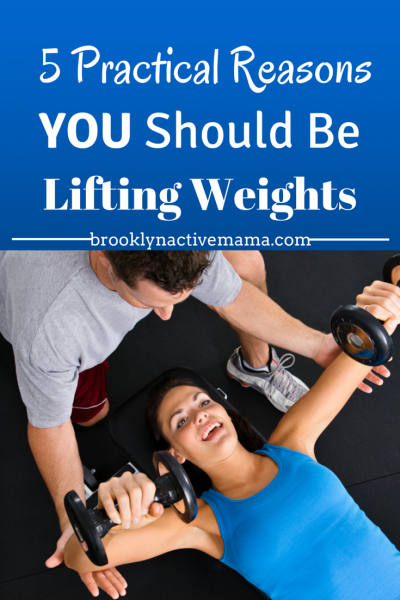 5 Practical Reasons Why All Women Should Be Lifting Weights
When I started working out at a real gym when I was in college, I was terrified of weights. In my old gym the fancy elliptical, treadmills and other cardiovascular equipment was located on the first two floors. There was a weights room in the basement that was filled with an insane amount of barbells, free weights and other resistance machines.
I was always too scared to venture downstairs…I took a peek one time and all I saw were humongous men who were grunting really loudly and slamming weights on the floor when they were finished.
It was terrifying.
So I stayed on my cardiovascular machines secretly afraid of all that was happening in that basement and prayed I would never have to go down there.
Then I met my first personal trainer. He told me that in order to pull off the sexy drop dead shoulders I wanted for my strapless princess wedding gown, I would have to get over my fear of the weight room. He taught me how to use each machine, even those that I was sure was not meant for women to use. In short, I was hooked.
When I explain to my friends how awesome lifting is, I usually get a side eye or maybe even a chuckle because a lot of women generally do not lift weights. Here are 5 reasons why all women (including you) should be lifting weights several times a week.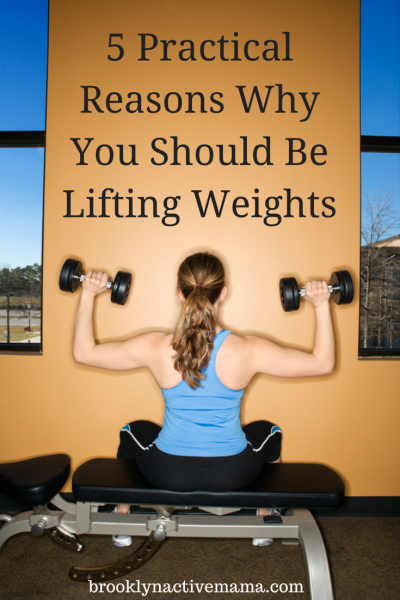 Lose weight while you sleep: When you break down muscle with resistance training your body needs energy (read: calories) to build them back up. Even for hours after you leave the gym, your body is still working hard burning calories! How awesome is that?!

Tones and tightens: Losing weight is awesome, but when you lose a lot of weight without incorporating weight training you tend to have a lot more excess skin than you would if you lifted through out. Besides you won't get guns or amazing legs without it!

Gym Cred: Do you know how good it looks when a woman is in the weights area and knows exactly what they are doing? You are respected, not only by terrified women like I was, but by the men too! Make room fellas, this is no longer a boys club!

Improves Cardio Performance: Most people don't realize that you have to cross train to get better at any activity such as running, swimming, biking etc. The awesome part? If you do resistance training you are only making your self stronger therefore making you better at what you do. You run faster, swim faster, bike faster and stronger!

You Encourage Other Women: Being a woman that knows what she is doing is encouraging to other women too scared to try. You become an advocate for women's strength training. There are so many of us that are so intimidated by the sheer amount of testosterone that hangs out by the weights area. Your session may inspire a Cardio bunny or two to jump off the elliptical.
[Tweet "Check out 5 great reasons why YOU should be lifting weights!"]
Do you lift weights regularly? Are you a cardio bunny? if you do lift weights do you follow a plan or wing it?
Hi! I'm Nellie. I am a busy mama of three, wife to my high school sweetheart who loves to cook, workout and stay organized! I love to share helpful printables, the best recipes and fitness tips for the modern mom. I strongly believe that every mom can feed their family well, take proper care of themselves and have fun along the way! Read my story.
Get comfortable and be sure to come hang out with me on social. Don't grab your free fitness journal before you go!