Thanksgiving is easily one of my favorite holidays. The warm colors, the food, the family and the fun is always such a fun highlight of the year! It's an especially fun time for kids, my children personally LOVE watching the famous Thanksgiving day parade on television (even though we are only a couple of trains away!). Today I am sharing an awesome and easy DIY Thanksgiving craft for kids: Turkey Feathers!
5 years ago, I had a creative explosion. I used to HATE crafts everything and bought all the things. Then I started paper planning and crafting in my planner every week. Then I bought a silhouette machine and all of a sudden I wanted to make ALL the things!
All of a sudden, I discovered the power and the fun of creating fun things from scratch with my own two hands. It's a magical feeling! I believed that I couldn't do creative things and somewhere inside of me was this creative monster waiting to be born. 🙂
Easy Thanksgiving Craft For Kids: DIY Turkey Feathers
Today I've got a really fun and easy thanksgiving craft for kids. This turkey feathers craft is so fun and it comes with a printable to make things even more easier. You can pick and choose turkeys from the following colors: red, yellow, blue, orange, green and purple.
The craft only has 4 parts of materials: the printable turkeys, tape, Small Styrofoam balls & Colored feathers. There is also a simple 4 step process so easy that even the most non crafty mom can do it–with ease!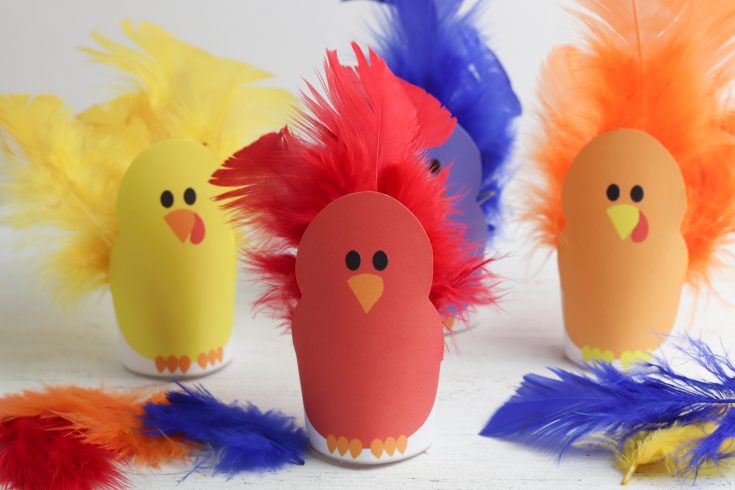 Yield:

6 Turkeys
Easy Thanksgiving Crafts For Kids: Turkey Feathers
This super easy thanksgiving craft for kids is the perfect holiday craft for turkey day!
Materials
Printable turkeys
Tape
Small Styrofoam balls
Colored feathers
Instructions
Print turkey printable on card stock and cut out
around outer edge.
Fold the white strips on each side of the turkey
around and tape the ends together.
Place a Styrofoam ball in the back of each
turkey.
Match colored features to each turkey and stick
the feathers into the Styrofoam ball to attach


What is your favorite DIY Easy thanksgiving craft for kids?
For more Thanksgiving fun check out:
How To Eat Healthy On Thanksgiving
Free Printable Thanksgiving Gratitude Game For Your Family
Free Thanksgiving Meal Planner + Tips For Hosting A Fantastic Dinner Party
Thanksgiving Lunchbox Notes + Tips For Saving Money On Thanksgiving