After an amazing day enjoying the Land and Sea tour offered at the Coconut Bay Beach Resort and Spa, we were able to take a minute to refresh and get ready for Caribbean night! Every week the resort hosts two amazing themed evenings–one of them is Country/western night (you'd be surprised at how POPULAR country music is in St. Lucia!) and Caribbean night.
I wanted to share with you about Caribbean night because I don't think I've ever had such a good time. Sometimes these themed night can get a bit cheesy and overdone but I am going to tell you why this night in particular is worth the price of admission (which is none because Caribbean night is included in your resort stay!).
The festivities all happen around the pool and in front of a stage. There are plenty of tables set up all around with a fantastic view but if you really want to be in the action grab a table right up front near the stage.
Be sure to get one of these amazing weaved hats that looks good on anyone!
The food at Caribbean Night
The menu is full of amazing authentic island foods. I was a little nervous because I am such a snob when it comes to Caribbean food–how could I not be? I live in a part of Brooklyn that is full of amazing little Caribbean food shops. Plus the food at all inclusive resorts generally get a bad rap and I really wanted to ENJOY my food.
Spoiler alert: I totally did.
Check out the Menu for caribbean night at the Coconut Bay Beach Resort & Spa!
SATURDAY CARIBBEAN NIGHT BUFFET
Gourmet Salad Bar
Butter Leaf Lettuce, Crispy Romaine
Curried Chicken & Pineapple Salad,
Plantain and Black bean Salad, Breadfruit Salad
Caribbean Potato Salad,
Island Coleslaw, Okra Salad, Corn Salad, Fresh Fruit Display
Chef's Choice of Condiments & Dressing
BBQ Grill
Jerk Chicken, Jerk Pork
Chef's Special
Action Station
National Bakery
Pumpkin Corn Chowder
Assorted Breads & Butter
From The Buffet
Pumpkin Mash
Roasted Corn
Caribbean Roasted Potato with Garlic Paprika and Thyme
Fried Plantain
Vegetable Au Gratin
Stewed Ground Provisions in Coconut Milk
Chicken Fingers
Rice & Peas
Dessert Bar
Chef's Assorted Selection of Desserts, Banana Foster Action station
---
I had so many things, I ate delicious curried goat, oxtail, rice and peas, fried plantain, jerk pork– you name it. There were so many amazing caribbean foods to choose from and my belly was SO happy. They not only managed to cook caribbean food in large amounts, but they did it WELL. I was crazy impressed and I wanted to low key kiss the chef. It was THAT good.
The Entertainment
Even though I was SO impressed with the food, I was blown away by the entertainment even more. If you can, be sure to arrive early so you can enjoy the entire experience. There is a FANTASTIC steel pan band that plays in the beginning that reminds you that this is one of the most perfect islands on earth.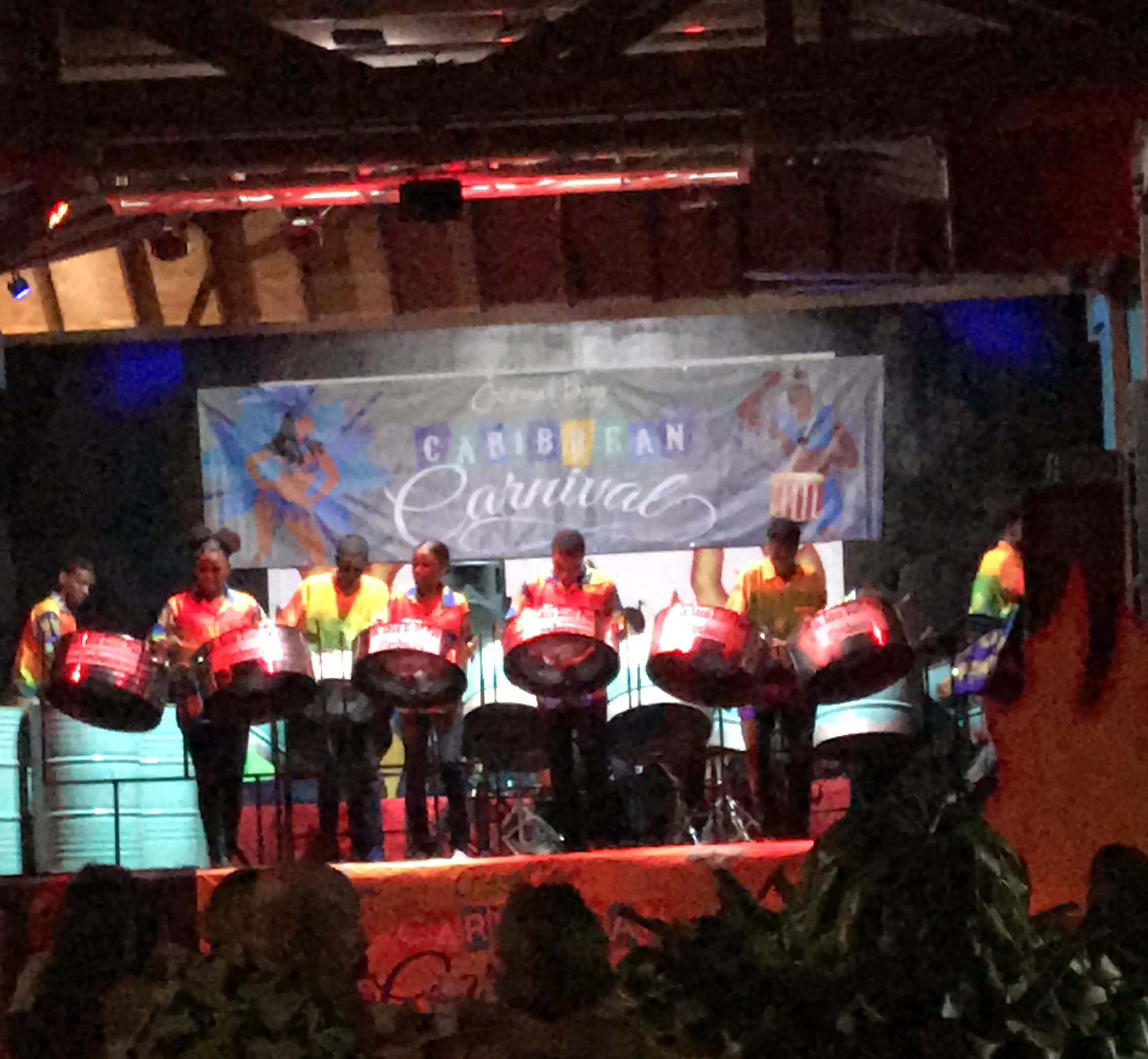 Then there is a band that plays some amazing covers of popular reggae songs. We were all vibing to the jams! There was also stilt walkers dancing and having a great time to the latest and most fun soca music.
Then there was fire
Right after there was limbo on stage…except the limbo stick was on fire! You read that right. It was a sight to see!!
Then we had fire swingers
And last but not least the fire breathers: I was so enthralled with their performance that I got real close to catch all of the incredible on camera.
Then they asked for volunteers and I said why not?! (Did I mention that the bar was freely flowing throughout the night?!) He gave me the sticks to hold, asked me if I was ready and proceeded to blow fire right from my hands! The heat was HOT and I was nervous but I can definitely count it as one of the coolest things I've ever done!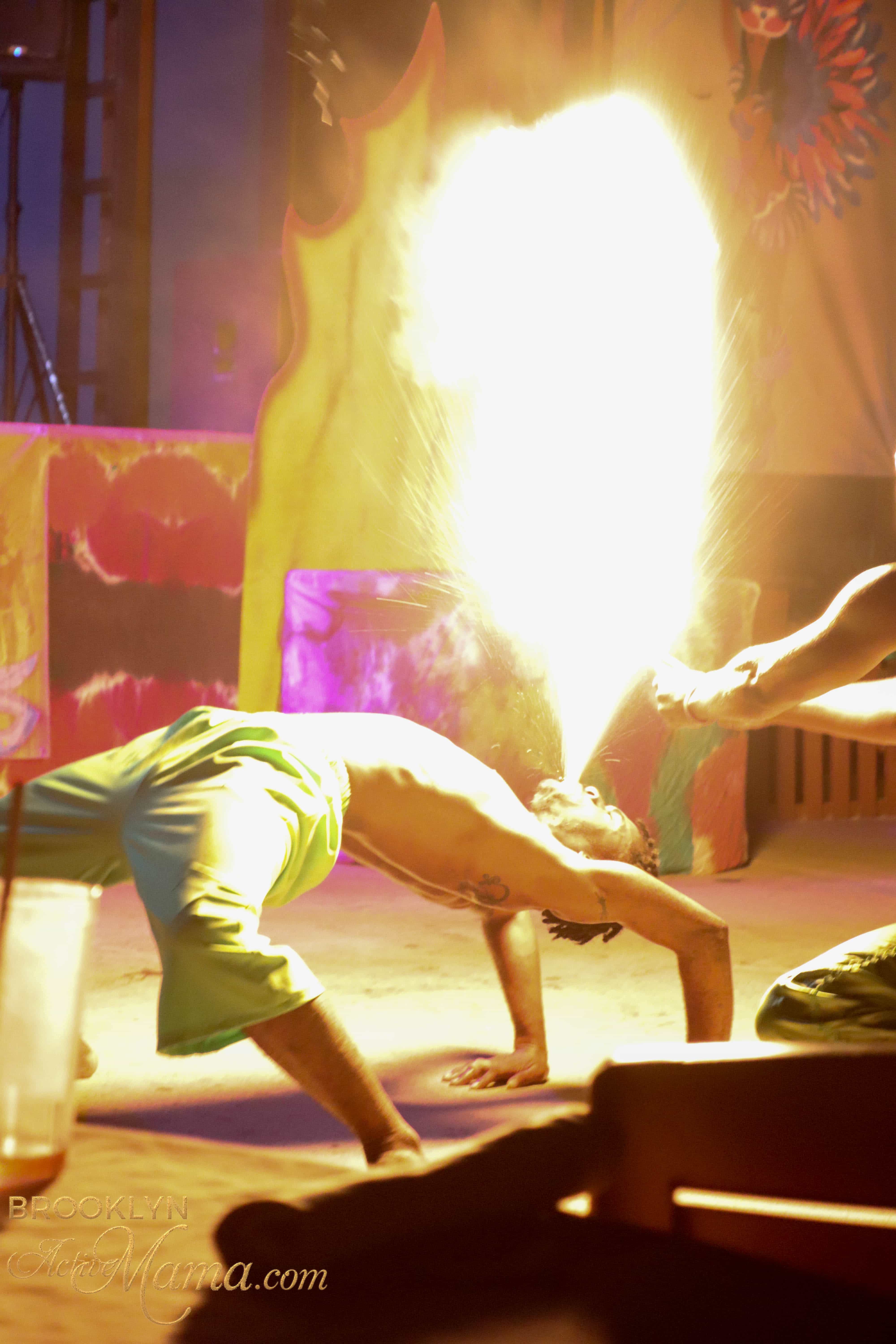 The finale
Then everyone sitting was called to the front for a dance party. We all gathered to the top of the stage and followed directing to dance and even conga! I felt right at home as they played the latest most popular soca songs and they were REALLY good. It was thoroughly entertaining being that I was super familiar with the music selection. Even if you never heard the songs before it was easy to vibe to the good music.
I made a lot of friends that night! We danced and danced the night away. It was just such a good and pure time. The talent is just incredible.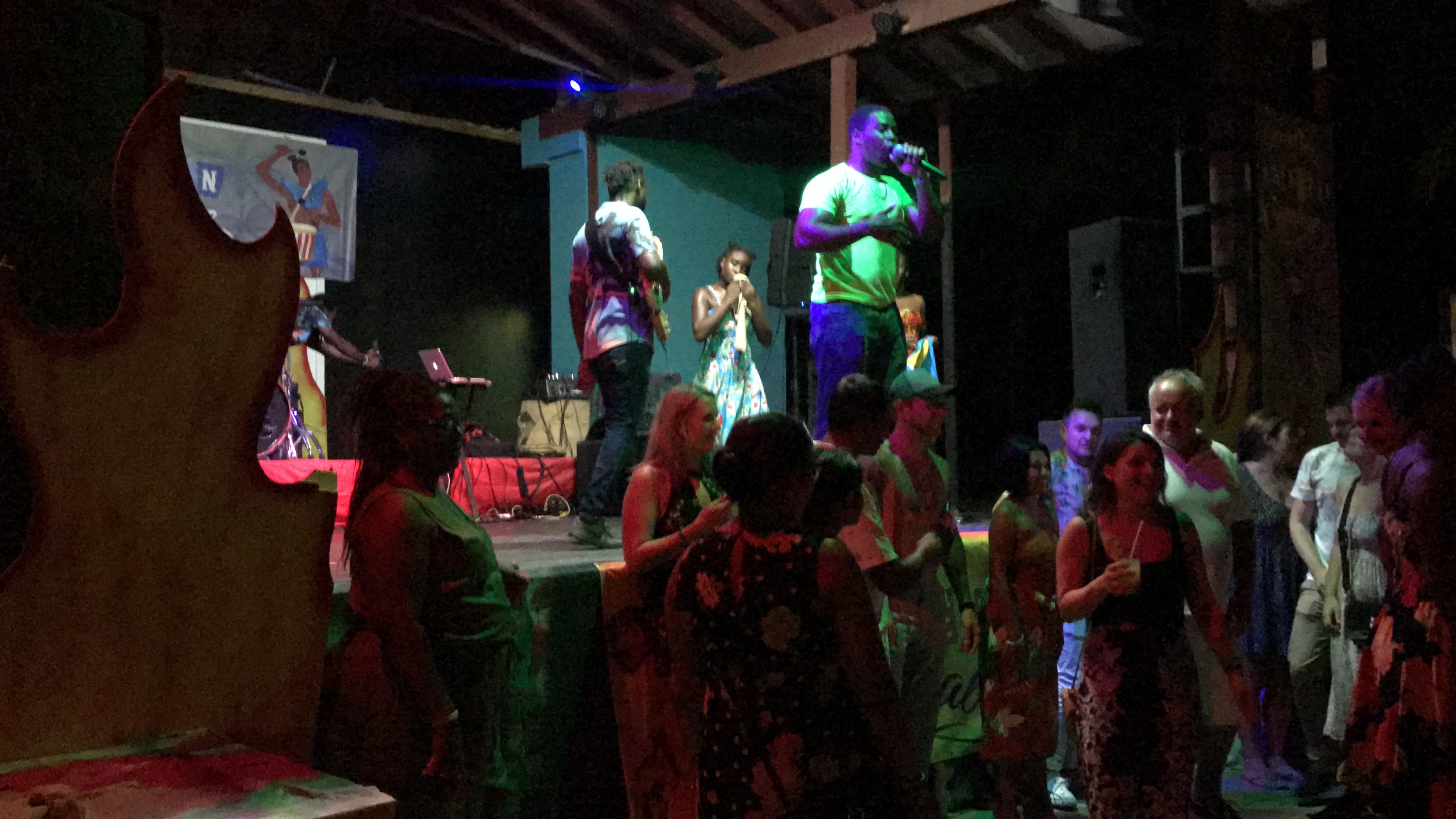 When you book Coconut Bay Beach Resort & Spa, try to book a Saturday for Caribbean Night. You won't regret it!
To read more about the Caribbean Night at the Coconut Bay Beach Resort and Spa check out the official website here.
*I was provided with a hosted media trip from Coconut Bay Beach Resort and Spa, all words and opinions are my own*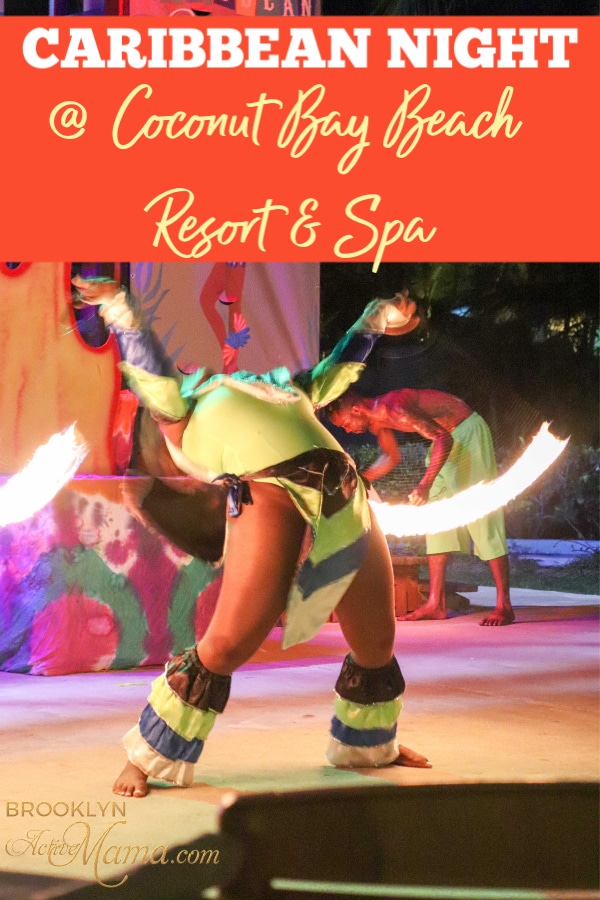 Hi! I'm Nellie. I am a busy mama of three, wife to my high school sweetheart who loves to cook, workout and stay organized! I love to share helpful printables, the best recipes and fitness tips for the modern mom. I strongly believe that every mom can feed their family well, take proper care of themselves and have fun along the way! Read my story.
Get comfortable and be sure to come hang out with me on social. Don't grab your free fitness journal before you go!