Did you know that New Yorkers without cars can take public transportation to adventure travel activities (hiking, biking, kayaking, skiing) within two hours of New York City? It's true! As one of those New Yorkers I am sharing some of the best hikes near NYC that don't require a car!
Hiking isn't just about the journey from one point to another; it's an enriching experience that offers a myriad of physical, mental, and emotional benefits. Whether you're trekking through dense forests, ascending majestic mountains, or wandering through rolling meadows, the act of hiking is bound to leave you rejuvenated and inspired. Let's delve into the myriad benefits that this wonderful activity offers:
Physical Fitness:

Cardiovascular Health: Hiking increases heart rate, promoting better cardiovascular health.
Muscle Strengthening: It engages multiple muscle groups, from your legs to your core and even your arms, depending on the terrain and if you're using trekking poles.
Bone Density: Walking is a weight-bearing exercise, which helps in preventing osteoporosis.

Mental Well-being:

Stress Reduction: Nature has a calming effect on the mind. Combined with physical activity, hiking helps in reducing stress and anxiety levels.
Enhanced Creativity: Immersion in nature can boost creative problem-solving skills.
Improved Focus: Taking a break from the constant buzz of technology and urban life can help improve concentration and attention span.

Emotional Boost:

Elevation of Mood: Physical activity releases endorphins, the body's natural happy hormones.
Enhanced Self-esteem: Conquering trails, especially challenging ones, can be a significant boost to one's confidence.
Mindfulness and Presence: Being in nature, listening to the rustling leaves, the chirping birds, and the crunch underfoot helps anchor one in the present moment.

Connection with Nature:

Eco-awareness: Regular hikers often develop a deeper appreciation for the environment, which can lead to more eco-friendly behaviors.
Spiritual Connection: Many find a profound spiritual connection when surrounded by the vast beauty of nature.
Vitamin D Boost: Hiking in daylight provides an essential dose of vitamin D from the sun, promoting better bone health and improved mood.

Social Benefits:

Bonding: Hiking with friends or family can strengthen relationships.
Community Building: Joining hiking groups can help you meet like-minded individuals, fostering a sense of community.

Cognitive Advantages:

Memory Boost: Regular physical activity, like hiking, is known to improve memory and cognitive functions.
Problem Solving: Navigating trails, especially unfamiliar ones, can enhance problem-solving skills.

Economic and Accessibility Perks:

Cost-effective: Most hiking trails are free or have a minimal entrance fee.
Versatility: Hiking can be tailored to one's capability—be it a flat trail, a rugged mountainous trek, or anything in between.

Improved Sleep:

The physical exertion combined with the fresh air can lead to better sleep quality.

Reduced Risk of Chronic Diseases:
Regular hiking can lower the risk of high blood pressure, heart diseases, and certain types of diabetes.
Adaptable Challenge:
Hiking can be as challenging or as relaxed as you want it to be. Over time, as one's endurance builds, they can take on more challenging trails, making it a constantly evolving experience.
In essence, hiking is more than just a leisure activity—it's a holistic experience that nurtures the mind, body, and soul. In a world that's increasingly indoors and screen-bound, hiking serves as a refreshing reminder of the world outside, waiting to be explored and appreciated. So, lace up those boots, pack a backpack, and set out on your next adventure!
Rural areas within two hours of midtown Manhattan offer hundreds of opportunities to paddle, peddle, slide, and tromp. New York's bus and train lines radiate outward like spokes on a wheel, making them available via public transportation. The following New York outdoor adventure destinations are all accessible via bus or train. The directions on which type of transportation to take is included below as well.
Check out the Best Places To Hike Near NYC
Appalachian Trail, Pawling, New York
Eighty-nine miles of the world-famous Appalachian Trail wind through New York's Hudson Valley, about 70 miles from New York City. The AT even has its very own train station on Metronorth's Harlem Line, a few miles north of Pawling. (service only on Saturdays, Sundays, and holidays). Trains leave Grand Central Station; the ride takes just over an hour and a half.
On the trail, hikers can head north (toward Maine) or south (toward Georgia). The hiking seems surprisingly remote considering it's within a whistle of a New York commuter train. Northbound leads through fields, past old farms, and up and down several small hills.
Overnighters can stay in Wiley Shelter, 5.9 miles out. Southbound, the Telephone Pioneers Shelter is only 3.1 miles away; the Morgan Stewart Shelter is 10.7 miles. Either way, navigation is easy: follow white blazes painted on trees, fence posts, rocks, highways signs, and the corners of buildings.
Appalachian Trail Conservancy (maps and guidebooks): (304)-535-6331.
Thunder Ridge Ski Area, Patterson, New York
Tiny Thunder Ridge, just 65 miles north of New York, can't compete with the ski resorts of New England or the Catskills. The family-run area has only three chairlifts and one t-bar, and none of the trails takes more than a few minutes to ski.
But slow, gentle slopes meet the needs of beginning skiers and snowboarders, and a couple of advanced slopes have steep pitches.
Thunder Ridge offers a sweetheart weekend deal for New Yorkers, including roundtrip train fare from Grand Central or 125th Street to Patterson, a shuttle to the ski area, all-day/all-night lift tickets (no night skiing on Sundays), and a $5 discount on rental equipment.. The ski package is available at all Metro-North ticket offices and ticket machines.
Thunder Ridge Ski Area: (845) 878-4100.
Harlem Valley Rail Trail, Millerton, New York
Here's a new take on the rail-trail idea: Use the rail (MetroNorth Railroad) to take your bike to the trail (the Harlem Valley Rail Trail).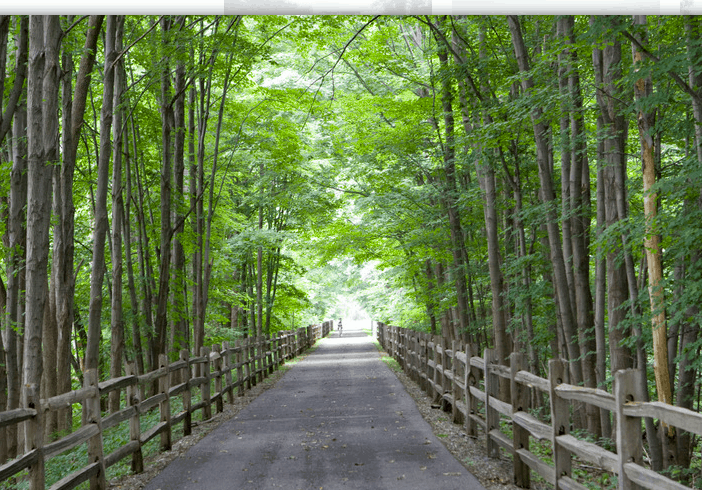 From Grand Central, take the Harlem Line to Wassaic (end of the line). Metronorth allows bicycles on trains, but a $5 permit, available at Grand Central Station at Window 27, is required. (Space is limited, for details, call Metronorth.)
Plans call for the Hudson Valley Rail Trail to start at the Wassaic Train Station, but the three-mile segment from the station to Amenia hasn't yet been built. In the interim, either ride the shoulder of Route 22 (watch for heavy traffic).
Or loop south one-half mile, then cut east to Wassaic to pick up slower, less trafficked Old Route 22. Both lead north to Amenia, where the rail trail starts just off of Mechanic Street.
The village of Millerton is eight miles farther. Take a break in one of the local diners or restaurants, or visit Oblong Books and Music, where you can pick up regional guidebooks.
Harlem Valley Rail Trail: (518 )789-9591.
Delaware Water Gap, Pennsylvania
At the border between New Jersey and Pennsylvania, the Delaware River cuts a deep gorge in the Kittatiny Ridge of the Appalachian Mountains. Interstate-80 cuts through here, too, but only because the river did all the hard work first, leaving in its wake one of the most scenic gaps in the entire Appalachian chain.
The Delaware Water Gap National Recreation Area includes 40 miles of the Delaware River and almost 70,000 acres of land along the river's New Jersey and Pennsylvania banks. Activities include hiking, kayaking, horseback riding, canoeing, rafting, and climbing.
From the Port Authority Terminal on 8th Avenue, take the Martz bus company's service to Scranton/Wilkes-Barre, Pennsylvania and get off at Route 611 in the town of Delaware Water Gap PA, just before Stroudsburg. The bus stop is near the Ramada Inn and the Pack Shack, which offers a variety of outfitting options including kayaks, canoes, and rafts; they also offers rock climbing lessons. Call ahead for a shuttle from the Martz Travel Center.
Martz:: 800-220-3133; Packshack: (570) 424 – 8533.
Breakneck Ridge, New York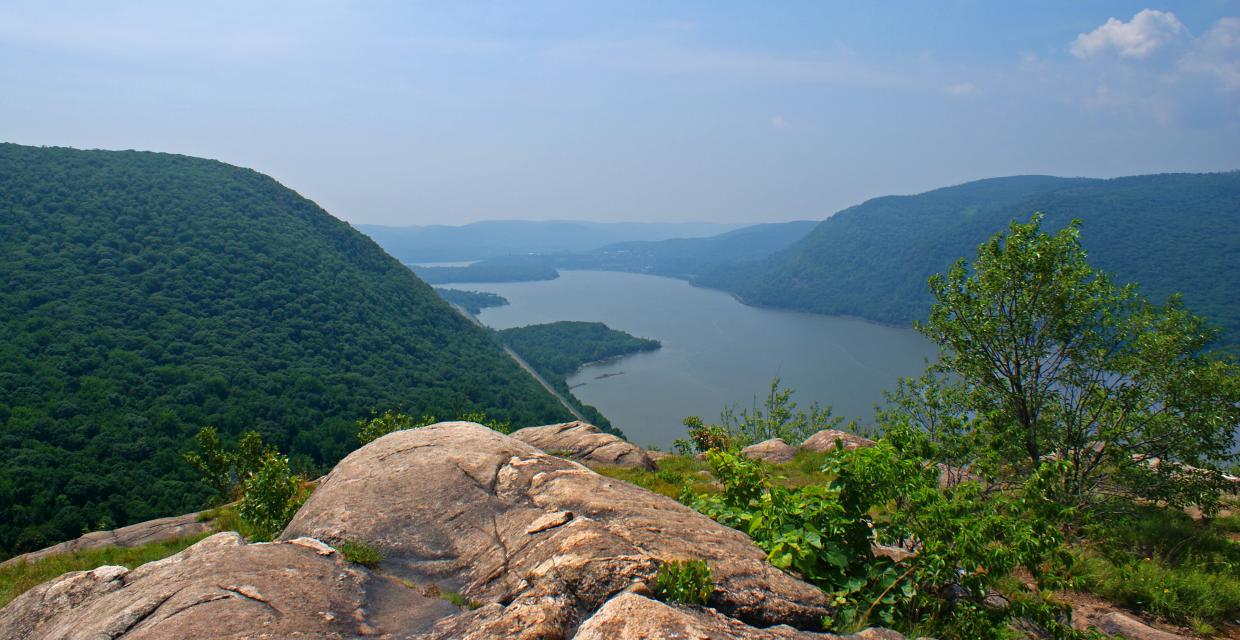 Like the Appalachian Trail, Breakneck Ridge has its own train station – or rather, platform. Take Metronorth's Hudson Line just past Cold Spring to the Breakneck Ridge platform (limited service).
From the platform, walk south along Route 9D almost to the tunnel. The trailhead is at the base of a building that marks the New York City Aqueduct. The first mile of trail ascends steeply, rewarding the effort with panoramic views. Don't try to walk and watch at the same time: Falls can be fatal here! Instead, take advantage of the viewpoints and rest areas.
Once atop the ridge, two miles of ridge-walking offers more views. A network of trails makes it possible to shorten or lengthen the hike, or make a loop via the Wilkerson Memorial Trail and Sugarloaf Mountain to avoid having to retrace steps.
New York-New Jersey Trail Conference (maps and guidebooks): (201) 512-9348.
The bottom line: No car? No problem: New Yorkers can head out to hike, camp, paddle, ski, or bike with their gear and a train or bus ticket.
Or if you are looking for another fun and easy trip outside of NYC check out these trips to Hershey Park, Mount Airy Lodge and Block Island.
What is your favorite place to travel to outside of New York?
Hi! I'm Nellie. I am a busy mama of three, wife to my high school sweetheart who loves to cook, workout and stay organized! I love to share helpful printables, the best recipes and fitness tips for the modern mom. I strongly believe that every mom can feed their family well, take proper care of themselves and have fun along the way! Read my story.
Get comfortable and be sure to come hang out with me on social. Don't grab your free fitness journal before you go!