Thanksgiving is easily one of my favorite holidays. The warm colors, the food, the family and the fun is always such a fun highlight of the year! It's an especially fun time for kids, my children personally LOVE watching the famous Thanksgiving day parade on television (even though we are only a couple of trains away!). Today I am sharing an awesome and easy DIY Thanksgiving craft for kids: Turkey Feathers!
5 years ago, I had a creative explosion. I used to HATE crafts everything and bought all the things. Then I started paper planning and crafting in my planner every week. Then I bought a silhouette machine and all of a sudden I wanted to make ALL the things!
All of a sudden, I discovered the power and the fun of creating fun things from scratch with my own two hands. It's a magical feeling! I believed that I couldn't do creative things and somewhere inside of me was this creative monster waiting to be born. 🙂
Easy Thanksgiving Craft For Kids: DIY Turkey Feathers
Today I've got a really fun and easy thanksgiving craft for kids. This turkey feathers craft is so fun and it comes with a printable to make things even more easier. You can pick and choose turkeys from the following colors: red, yellow, blue, orange, green and purple.
The craft only has 4 parts of materials: the printable turkeys, tape, Small Styrofoam balls & Colored feathers. There is also a simple 4 step process so easy that even the most non crafty mom can do it–with ease!
The Whimsical World of Thanksgiving Turkey Feather Crafts: A Family Holiday Favorite
Ah, the holiday season! A time when families come together to celebrate, share delicious meals, and make lasting memories. Among the many traditions that make Thanksgiving special, crafting with kids holds a cherished place. One craft that stands out as both enjoyable and educational is making Thanksgiving turkey feather crafts. Here's why this creative endeavor is an absolute hit during the holiday season and how it brings joy, not just to kids but to everyone involved.
Tapping into Creativity and Imagination
When it comes to Thanksgiving turkey feather crafts, the possibilities are endless. Whether you're using construction paper, felt, or even real feathers, the variety of materials and colors available means no two turkeys will ever be the same. The project allows kids to unleash their creative potential and individuality, picking their favorite colors or patterns to design their unique bird.
Engaging Sensory and Fine Motor Skills
The hands-on nature of turkey feather crafts makes them not just fun but also educational. Pasting, cutting, and assembling the various elements helps children hone their fine motor skills. It's also an engaging sensory experience, with the different textures and colors stimulating young minds. It's a perfect blend of learning and fun, packed into one exciting holiday activity.
Quality Family Time
Life can get hectic, but the holidays are a chance to slow down and savor precious moments with family. Making turkey feather crafts offers an ideal opportunity for quality family time. Working on a project together fosters collaboration and team spirit, and it's a chance for everyone to contribute, no matter their age or skill level. The sense of accomplishment that comes from creating something beautiful together? Absolutely priceless.
An Outlet for Holiday Excitement
As Thanksgiving Day approaches, kids get increasingly excited. The turkey feather craft serves as an excellent outlet for this pent-up enthusiasm. It builds up the anticipation and keeps the children engaged and occupied, especially useful if you're busy with preparations for the big day.
Versatile Decor and Keepsakes
Once the turkey feather crafts are complete, they make for adorable Thanksgiving decorations. Hang them up, use them as table centerpieces, or integrate them into your broader holiday décor scheme. They also serve as charming keepsakes that you can bring out year after year to remember past celebrations.
Teaching Gratitude and History
The Thanksgiving holiday offers a chance to educate children about the importance of being thankful and the historical aspects of the holiday. As you create your turkey feather crafts, each feather can represent something or someone you're thankful for. This simple yet powerful exercise instills the true essence of Thanksgiving in young minds.
Practical Lessons for Future Crafting
While fun is the main objective, the turkey feather crafting process also serves as a practical lesson in following instructions, patience, and the satisfaction that comes from seeing a project through to completion. These are valuable life skills that children will use in different ways as they grow older.
In summary, making a Thanksgiving turkey feather craft is more than just a fun holiday activity; it's a tradition that embodies the joy, creativity, and togetherness that make this season special. It's an inclusive, imaginative, and utterly delightful way to celebrate Thanksgiving with your kids. So go ahead, spread some craft supplies on the table, and let the feather-flying, turkey-making fun begin!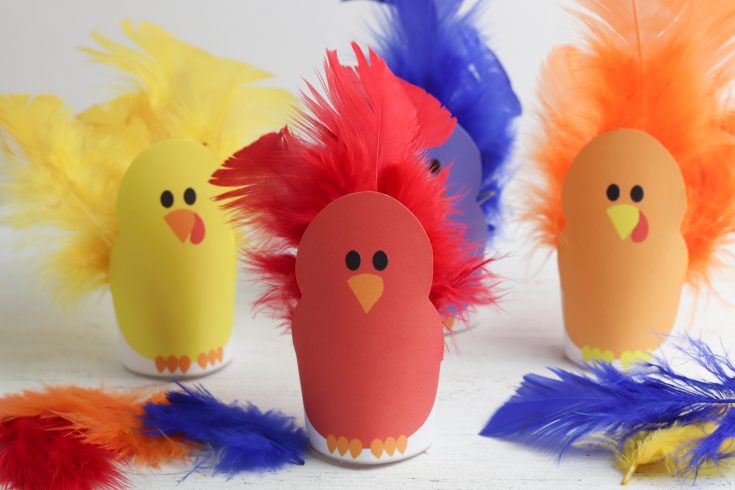 Yield:

6 Turkeys
Easy Thanksgiving Crafts For Kids: Turkey Feathers
This super easy thanksgiving craft for kids is the perfect holiday craft for turkey day!
Materials
Printable turkeys
Tape
Small Styrofoam balls
Colored feathers
Instructions
Print turkey printable on card stock and cut out
around outer edge.
Fold the white strips on each side of the turkey
around and tape the ends together.
Place a Styrofoam ball in the back of each
turkey.
Match colored features to each turkey and stick
the feathers into the Styrofoam ball to attach


What is your favorite DIY Easy thanksgiving craft for kids?
For more Thanksgiving fun check out: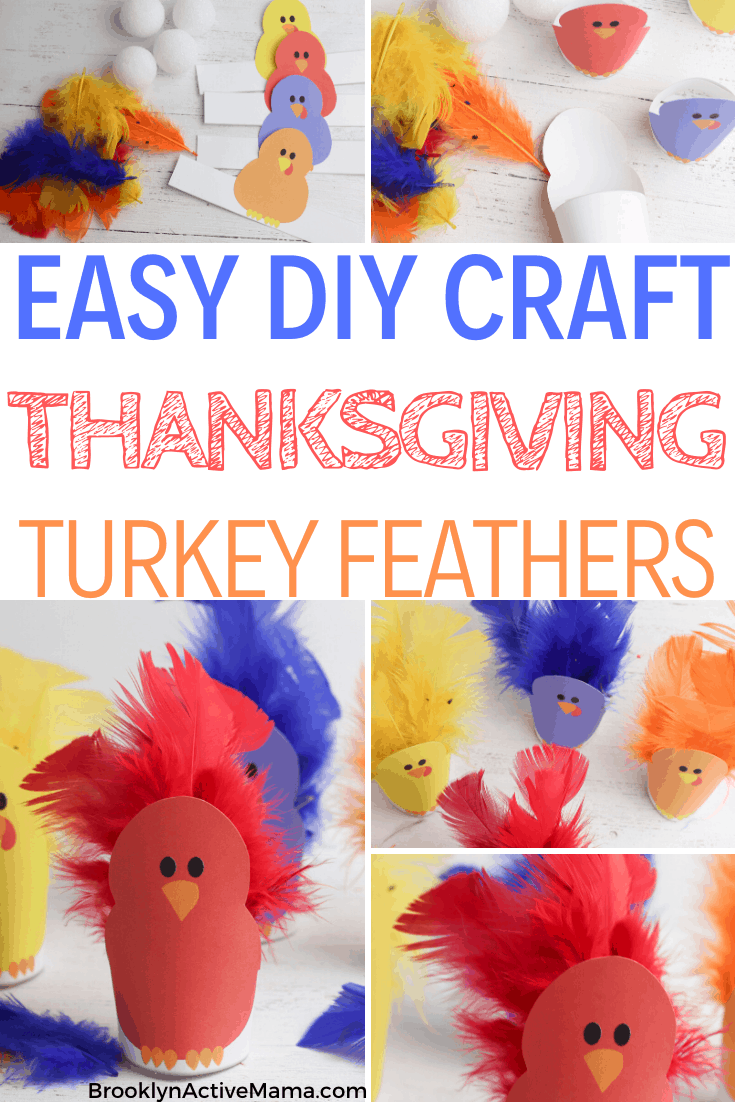 Hi! I'm Nellie. I am a busy mama of three, wife to my high school sweetheart who loves to cook, workout and stay organized! I love to share helpful printables, the best recipes and fitness tips for the modern mom. I strongly believe that every mom can feed their family well, take proper care of themselves and have fun along the way! Read my story.
Get comfortable and be sure to come hang out with me on social. Don't grab your free fitness journal before you go!