Here is a delicious meatless penne rosa recipe that is cheesy and full of flavor. The best part about this recipe is that it's done and ready in 20 minutes for an easy dinner!
When I started dating my husband over 20 years ago, we were teenagers, and as teenagers we were BROKE. However, there was a local Italian restaurant that we frequented often because they had the BEST bread and food, and the bill was never over $20.
I had never know much about pasta before meeting him but it quickly became one of my favorite places, and before you knew it, I was trying out recipes on my own! Now I know so much about pasta because let's face it, it is a super easy to boil pasta, grab some crusty bread and boom! dinner.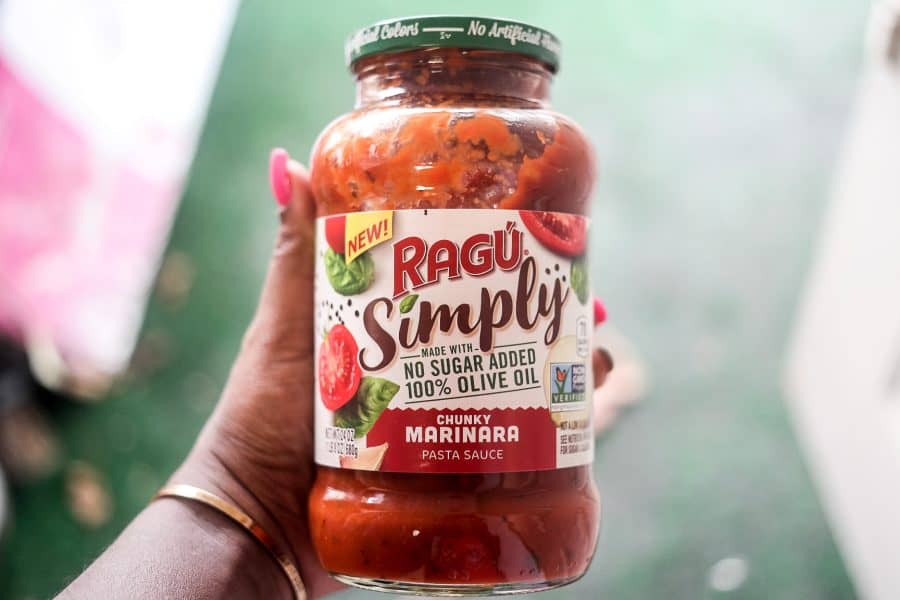 Luckily I have evolved a lot since that time because now I make pasta for my kids too! One thing I know for sure is that SAUCE MATTERS. The best pasta sauce will make the dish every single time!
Today I am going to share with you my version of Penne Rosa featuring the new RAGÚ Simply Chunky Marinara Sauce as the star of the dish! Plus it helps that this yummy meatless pasta dish only took 20 minutes to make!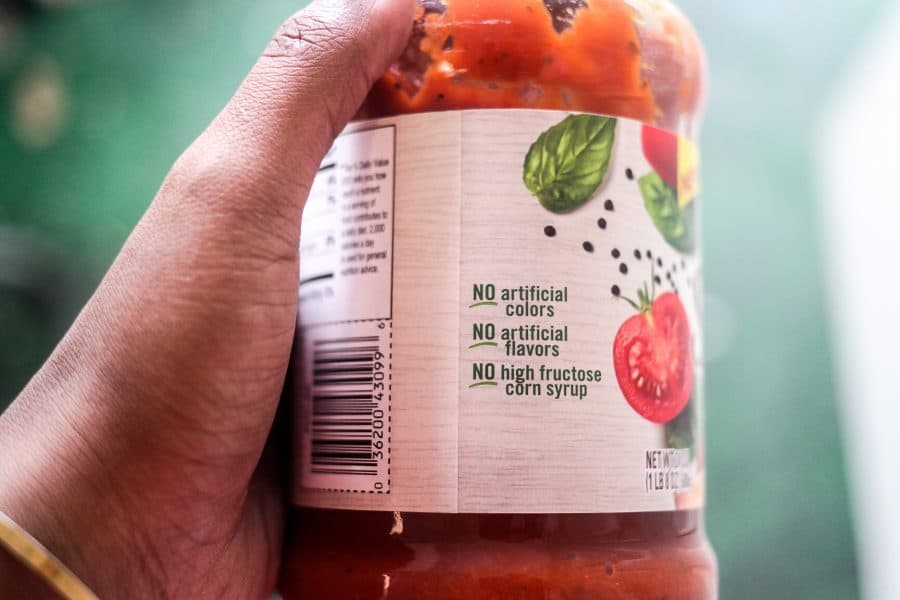 The inspiration for this dish came from the 15 Minute Penne Rosa Recipe at TheStayAtHomeChef.com but since hubby is not a fan of mushrooms, I changed up a few ingredients and added some of my own.
Why is it called Penne Rosa Sauce?
Glad you asked because I was curious about this too! Penne Rosa gets it's name because when heavy cream mixes with tomato sauce it becomes pink like a rose. Rosa meaning pink. So interesting right?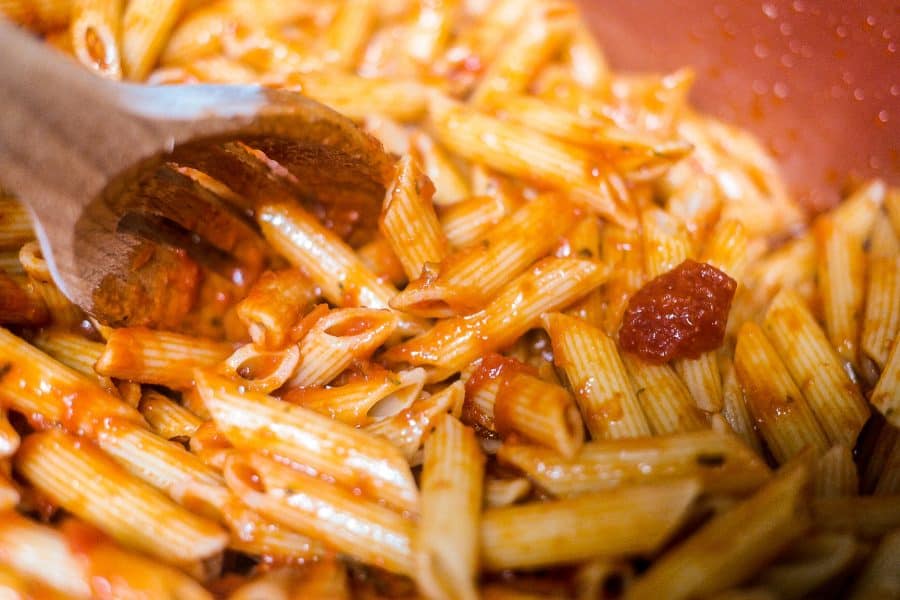 Is Penne Rosa Vegan?
It is not vegan. Pasta is vegan by itself but the heavy cream and sugar in the marinara sauce makes it not vegan.
This Penne Rosa Recipe is super easy to make on busy weeknights after school activities and it's fast, quick and tasty! I initially made this for hubby because the boys already had dinner, but they ended up eating this instead!
The RAGÚ® Simply Chunky Marinara Pasta Sauce has a super fresh taste because they are made with 100% olive oil and contain no added sugar. Healthy weeknight meals are my jam but when I can make them quickly, it helps so much! This recipe is more than just penne pasta with marinara sauce, but if that is what you are looking for look not further!
Plus I love a good meatless monday meal! This penne rosa recipe is one you keep around for those moments when you forgot to meal plan. If you are anything like me, this happens many times during the week!
What are some helpful tips for making penne rosa?
1. Start with a good quality pasta – Penne rosa is best made using high-quality durum wheat pasta for an optimal texture.
2. Use the right sauce – The classic Italian recipe calls for a tomato-based cream sauce, but you can also make penne rosa with pesto or alfredo sauce for a more modern version.
3. Don't overcook the pasta – Penne rosa should be cooked al dente, which means it should still be slightly firm when bitten into. Be sure to keep an eye on the timer and avoid boiling the pasta too long!
4. Add some extra flavors – Fresh herbs, a sprinkle of Parmesan cheese or a splash of white wine can all add extra flavor to your penne rosa.
5. Let it sit for a few minutes – After you've plated the pasta, let it rest for 5-10 minutes before serving. This helps the flavors mingle and ensures that each bite is as flavorful as possible.
6. Serve it hot – Penne rosa is best served immediately after cooking, while the sauce and flavors are still warm and vibrant. Enjoy!
With these tips in mind, you're sure to make a delicious plate of penne rosa that everyone will love! Buon appetito!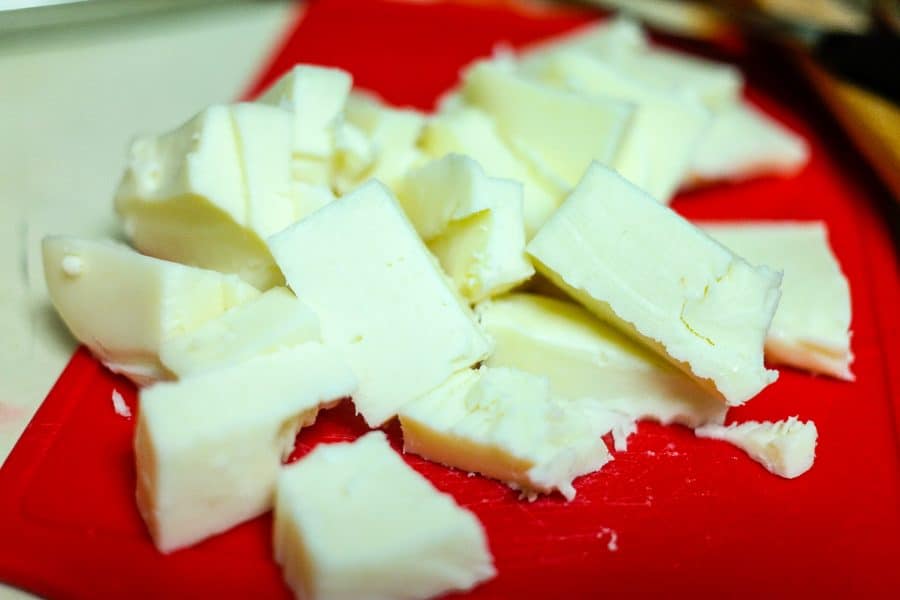 What ingredients are in this delicious Penne Rosa Pasta Dish?
1 pound penne pasta
1 tablespoon olive oil
3 cloves garlic, crushed
2 cups RAGÚ Simply Chunky Marinara Sauce (or your favorite sauce)
4 roma tomatoes, diced
3 cups fresh spinach leaves
8oz Mozzarella cheese roughly chopped
½ cup heavy cream
salt and pepper, to taste
½ cup shredded parmesan cheese
How to make Penne Rosa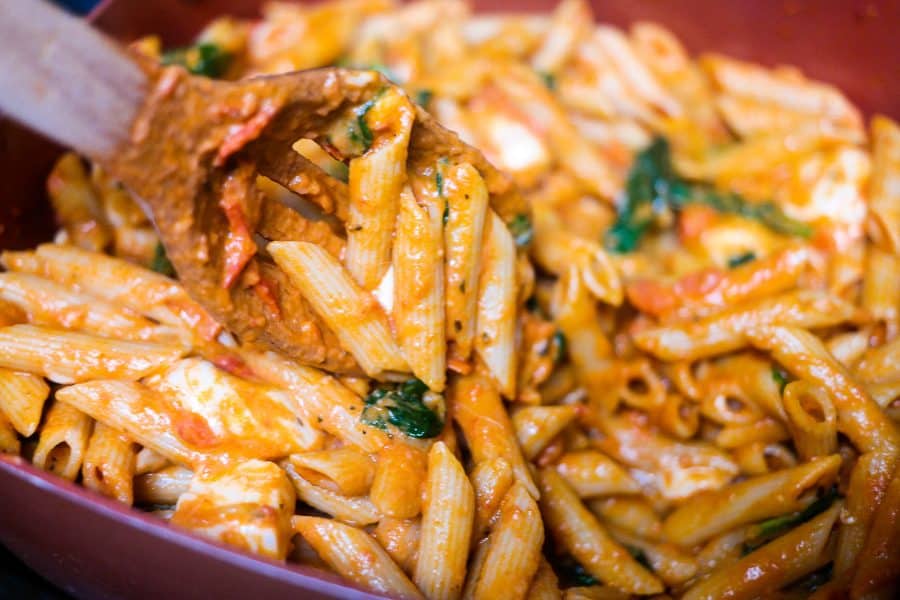 First cook the penne pasta according to directions on the box. In a separate pan cook down the garlic and add the rest of the ingredients except the heavy cream. Add the cooked pasta then finish with the heavy cream, this is when the cream mixes with the marinara sauce to create the awesome pink color. Add the seasonings for the perfect dish!
Can I make chicken penne rosa pasta?
I don't see why not. Make sure the chicken in fully cooked — the fully cooked strips would work well with this dish.
Yield:

6 Servings
20 Minute Easy and Delicious Weeknight Penne Rosa Recipe
This meatless penne rosa recipe is perfect for a quick meal on busy weeknights. Packed with flavor and delicious spices, done in 20 minutes!
Ingredients
1 pound penne pasta
1 tablespoon olive oil
3 cloves garlic, crushed
2 cups RAGÚ Simply Chunky Marinara Sauce
4 roma tomatoes, diced
3 cups fresh spinach leaves
8oz Mozzarella cheese roughly chopped
½ cup heavy cream
salt and pepper, to taste
½ cup shredded parmesan cheese
Instructions
Cook penne pasta according to package directions.
Meanwhile, heat olive oil in a large skillet over medium-high heat.
Add in crushed garlic and let heat 1 minute.
Stir in cooked pasta and RAGÚ Simply Chunky Marinara Sauce
Add in Mozzarella
Pour in tomatoes and spinach. Stir to combine.
Stir in heavy cream.
Serve hot sprinkled with parmesan cheese.
Nutrition Information
Yield
6
Serving Size
1
Amount Per Serving
Calories

433
Total Fat

22g
Saturated Fat

11g
Trans Fat

0g
Unsaturated Fat

9g
Cholesterol

59mg
Sodium

952mg
Carbohydrates

39g
Fiber

6g
Sugar

8g
Protein

21g
Need more inspiration? Check out these easy meal inspiration ideas!
Fresh Homemade Cheesy Beef A Roni Recipe
Easy Creamy Spinach Artichoke Penne Recipe
Yummy Veggie Tacos Recipe + How To Get Your Kids To Eat More Vegetables
How To Cook Easy Spaghetti Squash Marinara
What is your favorite go to weeknight meal recipe?
Hi! I'm Nellie. I am a busy mama of three, wife to my high school sweetheart who loves to cook, workout and stay organized! I love to share helpful printables, the best recipes and fitness tips for the modern mom. I strongly believe that every mom can feed their family well, take proper care of themselves and have fun along the way! Read my story.
Get comfortable and be sure to come hang out with me on social. Don't grab your free fitness journal before you go!