Looking for a rasta pasta recipe that will knock your socks off? Look no further! This is an awesome dinner recipe that you can make on it's own or with your favorite meat addition!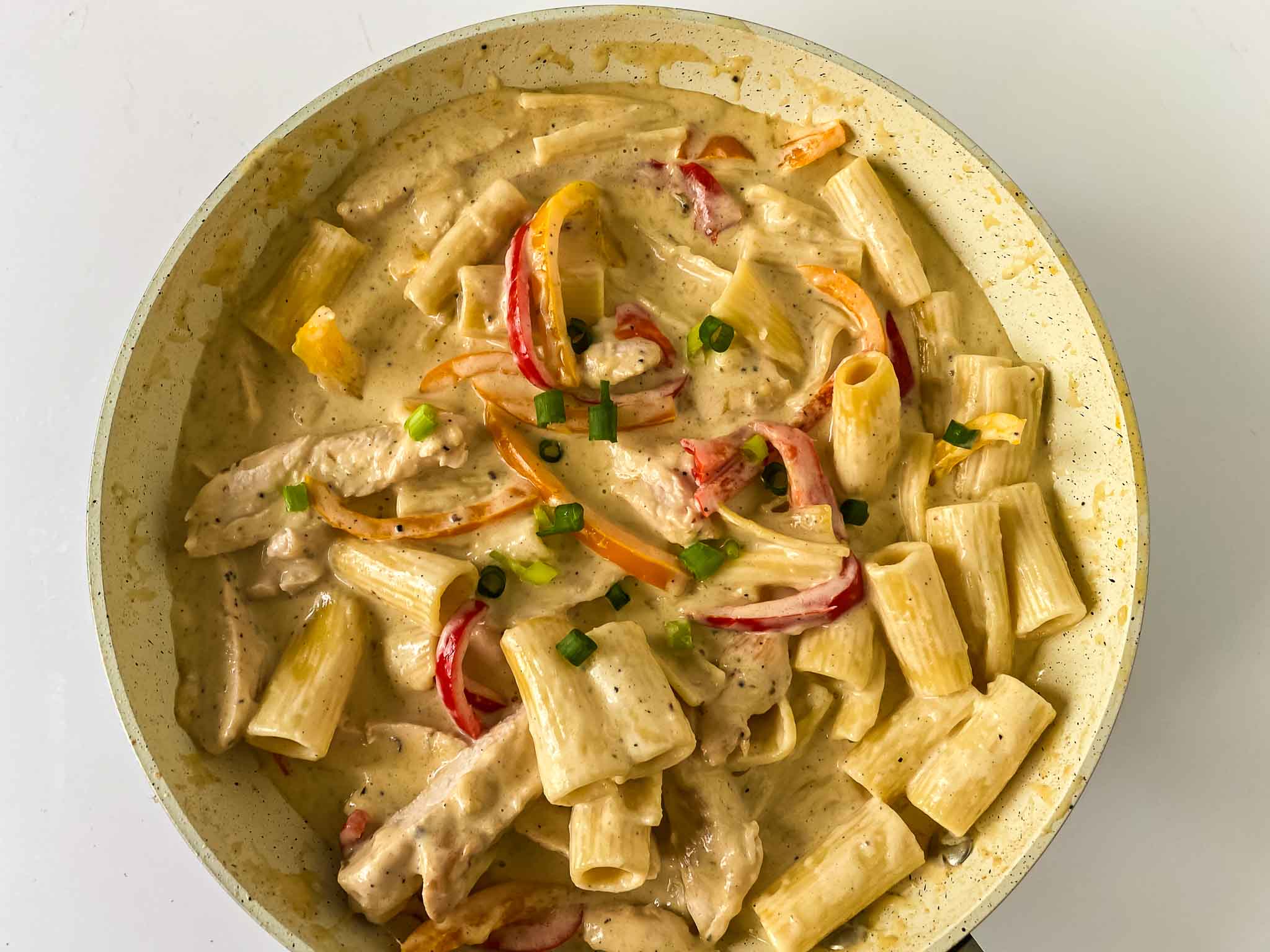 What is Rasta pasta?
Rasta Pasta is a classic Jamaican dish that typically uses heavy cream, penne pasta, parmesan cheese, awesome caribbean seasonings and colorful bell peppers.
Locally in Brooklyn, there used to be only ONE restaurant that served this amazing pasta, but now there are a dime a dozen! Rasta pasta is NOT one of your ordinary pasta dishes.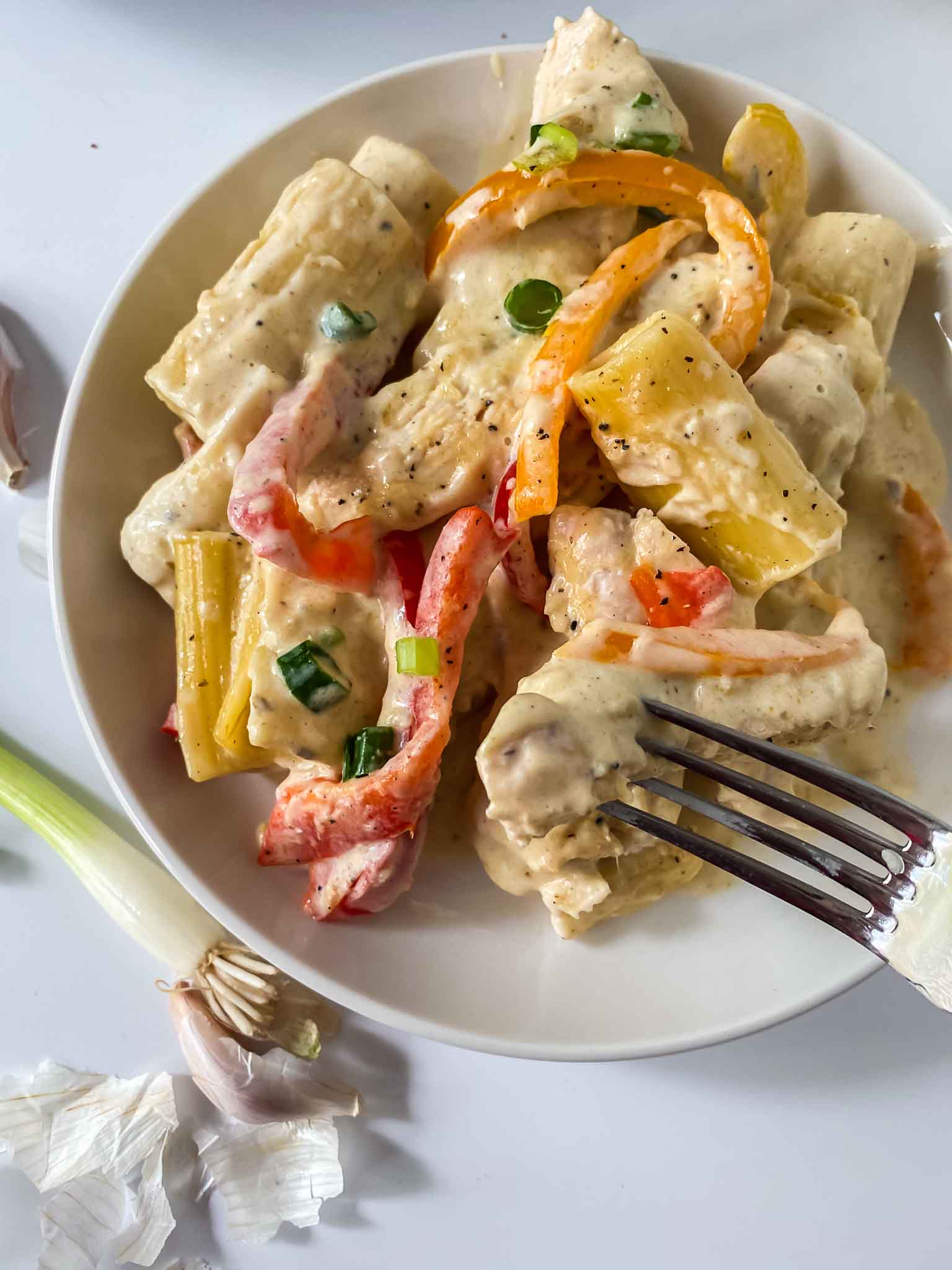 It is an amazing combination of Jamaican cuisines and Italian pasta cuisines. The recipe pays homage to rastafarian culture — We know that true rastafarians don't eat meat that's why there is no meat in the original recipe!
This Caribbean inspired pasta dish is full of flavor and can be customized any way you like. I've seen so many different combinations including cajun rasta pasta, oxtail rasta pasta, jerk chicken rasta pasta, shrimp rasta pasta (some use jerk shrimp or jumbo shrimps) and so much more!
This recipe covers the yummy pasta that you can use as a base. There IS chicken in this recipe but it can easily be omitted.
The origin of Rasta Pasta
The dish gets its name from the traditional rasta colors of green, yellow, and red.
One thing about rasta pasta is that it is SO pretty! In addition to the delicious creamy sauce, this pasta is made with green bell peppers, yellow bell peppers and red bell peppers. The colors are said to represent the natural beauty of Africa. The sauce is similar to alfredo sauce but just with a ton more flavor. Your taste buds will be thankful!
What to serve with Rasta Pasta?
This dish is perfect for serving with a side of rice. You can also serve it with some grilled vegetables or a salad. The dish alone is pretty great too!
What ingredients do you need for this amazing rasta pasta recipe?
1/2 box (8oz) rigatoni – You can use any type of pasta you want, a lot of people use penne which is totally fine, a round thick pasta works versus a thin angel hair or spaghetti type of pasta.
1 cup bell peppers (any colors green peppers etc.) – Bell peppers add such a pretty color to the dish! Orange, Yellow, Red and Green work great.
2-3 tbsp olive oil
1 -2 Thinly sliced chicken breasts – (optional if you want to keep it vegetarian)
1 tbsp minced garlic – fresh or jarred garlic is fine (I am a big fan of fresh garlic though!)
1 tbsp butter
1 1/2-2 cup heavy whipping cream – To give the rasta pasta the signature creaminess
1 tsp Jamaican jerk seasoning – Choose the heat on this one, we chose mild, but if you love a REAL spicy dish you can go for medium or hot.
1/2 tsp garlic powder
1/2 tsp onion powder
1/2 tsp salt
1 cup shredded Parmesan cheese
Salt and pepper to taste
What cheese is best for rasta pasta?
There is no definitive answer to this question. Some people prefer to use a cheese such as mozzarella, while others prefer to use a cheese such as Parmesan.
Some recipes call for green onions, coconut milk, all purpose seasoning, chicken broth, fresh thyme, old bay and even scotch bonnet peppers.
Instead of using penne this time we are using a short pasta called rigatoni! The cream sauce loves to find itself in the nook and crannies of this awesome pasta. Cook the pasta al dente according to package directions.
How do you store rasta pasta?
Rasta pasta can be stored in the fridge for up to 3 days. Just make sure to store it in an airtight container so that it doesn't dry out.
This is a one pan meal that you will be cooking over medium heat, adding the cooked pasta, seasonings and more to a large skillet. Jamaican chefs make this delicious pasta recipe all the time! Now you can make it on a hectic weeknight. It will definitely become one of your favorite pasta recipes!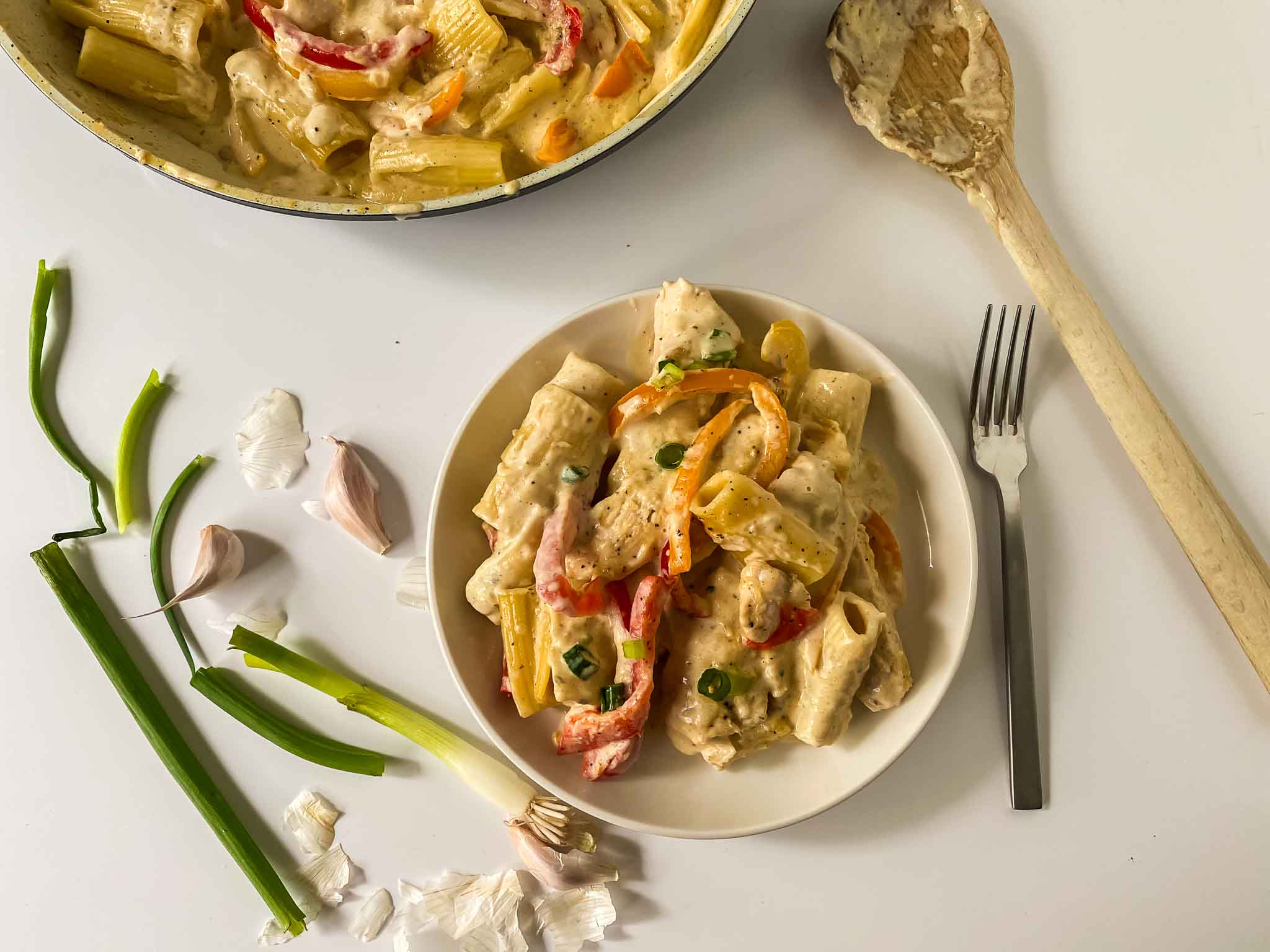 How do you store rasta pasta?
You can store leftovers in an airtight container for the next day with plastic wrap.
What is in the jerk seasoning?
The jerk seasoning is a mixture of different spices. The most common ingredients in jerk seasoning are allspice, cinnamon, thyme, and Scotch bonnet peppers. These peppers are very spicy, so be careful when adding them to the dish. If you can't find Scotch bonnet peppers, you can use jalapeño peppers instead.
Some recipes call for a tablespoon of jerk seasoning but this one you only need a teaspoon.
What is rasta pasta made of?
Rasta pasta is typically made with a combination of red, yellow, and green bell peppers, onions, tomato sauce, and seasonings. This dish is often served with a side of bread or rice.
Can you use half and half to make rasta pasta?
Yes, you can use half and half to make rasta pasta. Just be sure to add a bit of extra jerk sauce to balance out the sweetness of the cream.
Can you make rasta pasta Without jerk seasoning?
Yes, you can make rasta pasta without jerk seasoning. However, it will not have the same flavor profile as traditional rasta pasta. If you want to try something different, you can substitute the jerk seasoning for curry powder or Italian seasoning.
How do you make homemade jerk sauce?
There are many recipes for homemade jerk sauce, but they typically include a combination of scotch bonnet peppers, allspice, thyme, ginger, garlic, and onions.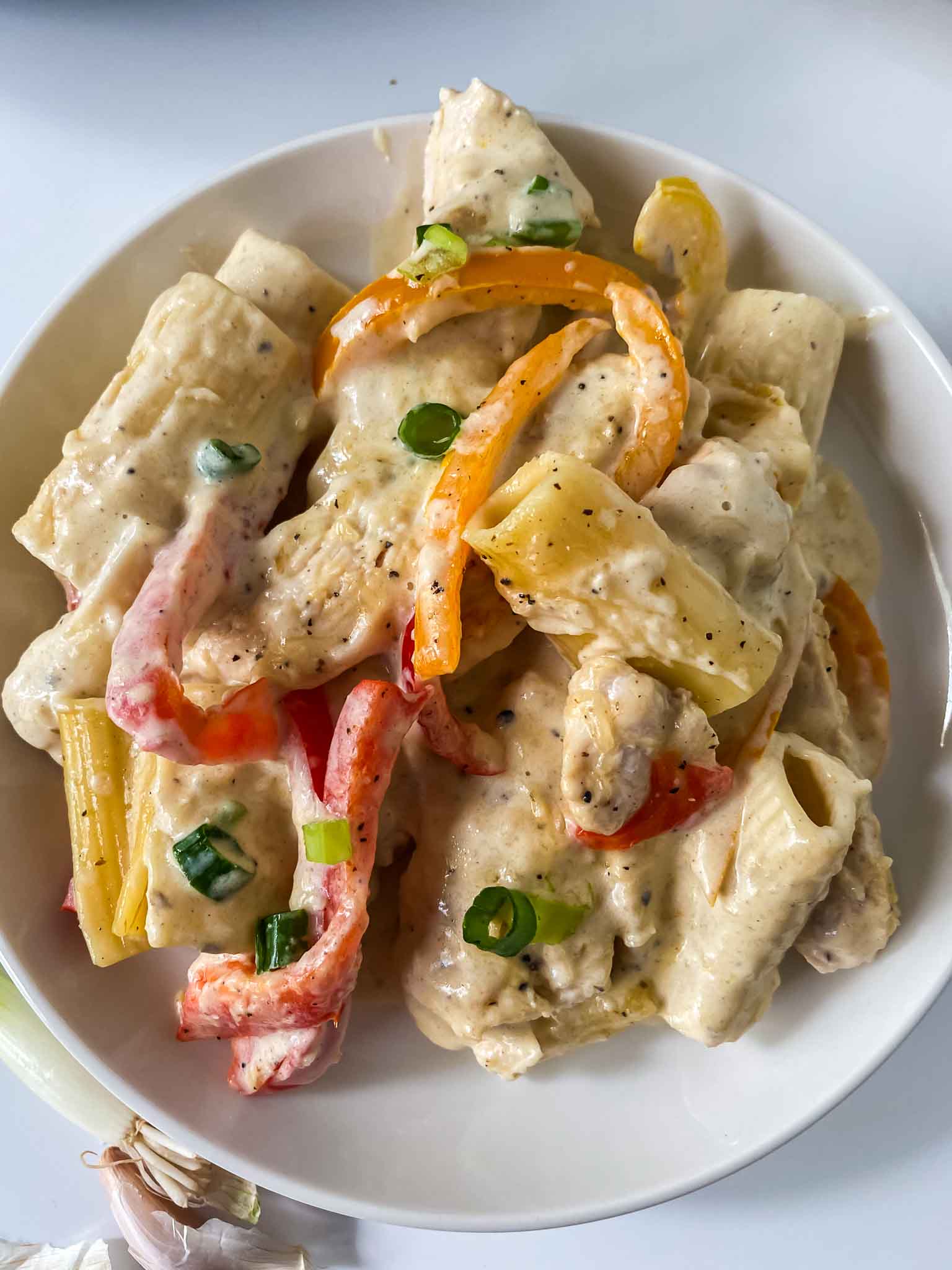 What is the best way to cook rasta pasta?
The best way to cook rasta pasta is to simmer it in a pot on the stove until the vegetables are cooked through and the sauce has thickened. You can also bake it in the oven if you prefer.
How long does rasta pasta last in the fridge?
Rasta pasta will last in the fridge for up to four days. Be sure to reheat it thoroughly before eating.
Why is it called jerk?
Jerk is a style of cooking that originated in Jamaica. The name "jerk" comes from the jerking motion used to cook the meat over a fire.
Do Jamaicans eat rasta pasta?
Yes, Jamaicans eat rasta pasta. It is a popular dish in Jamaican cuisine.
Is rasta pasta spicy?
Rasta pasta can be spicy, depending on the type of jerk seasoning used. If you don't like spice, you can always omit the jerk seasoning or substitute it for another type of seasoning.
Where can you serve this amazing rasta pasta dish?
Brunch is a great option, or dinner with your favorite protein.
What are the different types of protein you can serve with thispasta?
Just about any protein goes great with rasta pasta, but some of our favorites include chicken, shrimp, and beef.
Do you have to use bell peppers?
No, you don't have to use bell peppers. If you don't like them, you can substitute another type of vegetable, such as carrots or celery.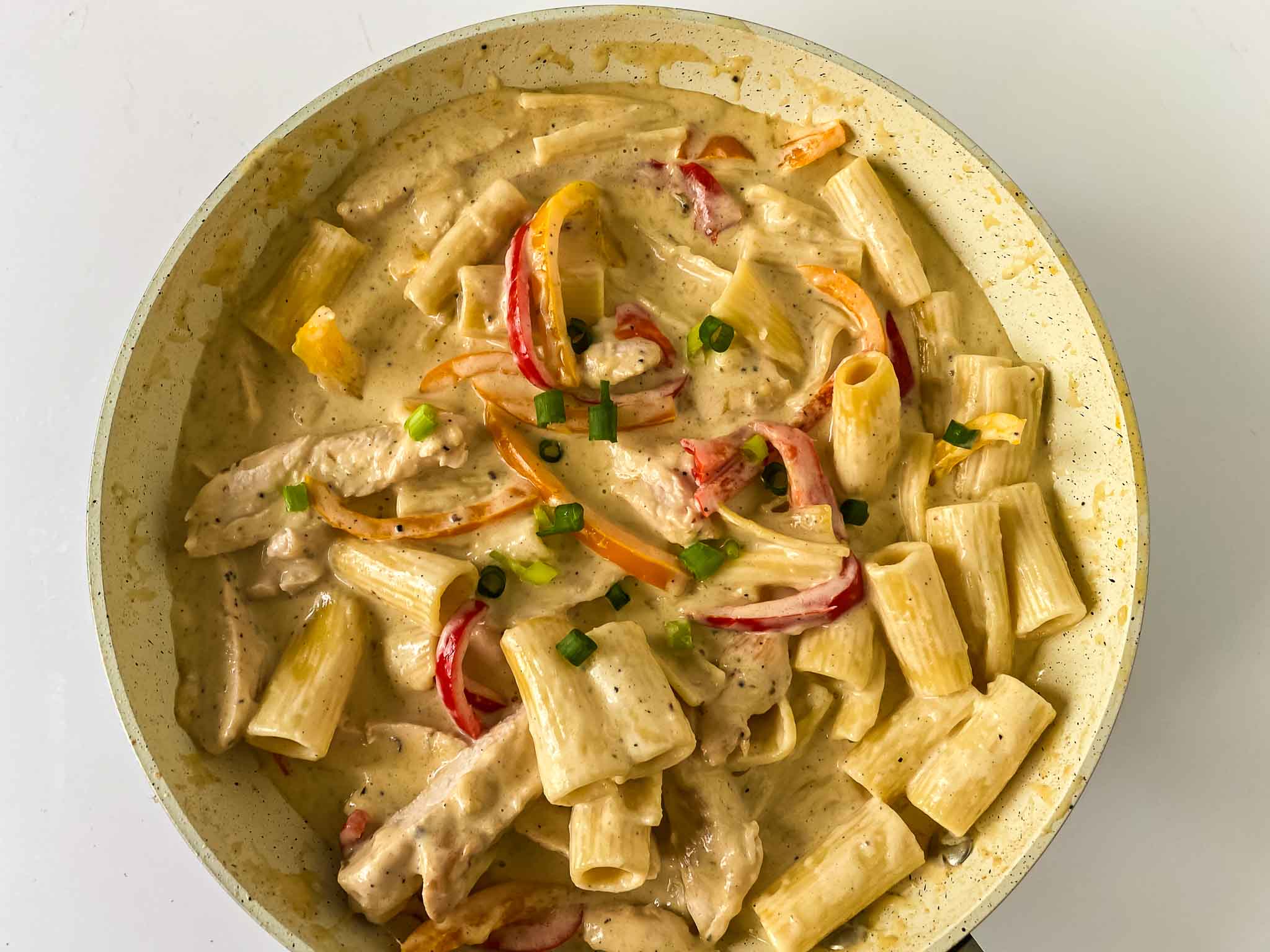 Can I make this dish ahead of time?
Yes, you can make pasta ahead of time. Just be sure to reheat it thoroughly before serving.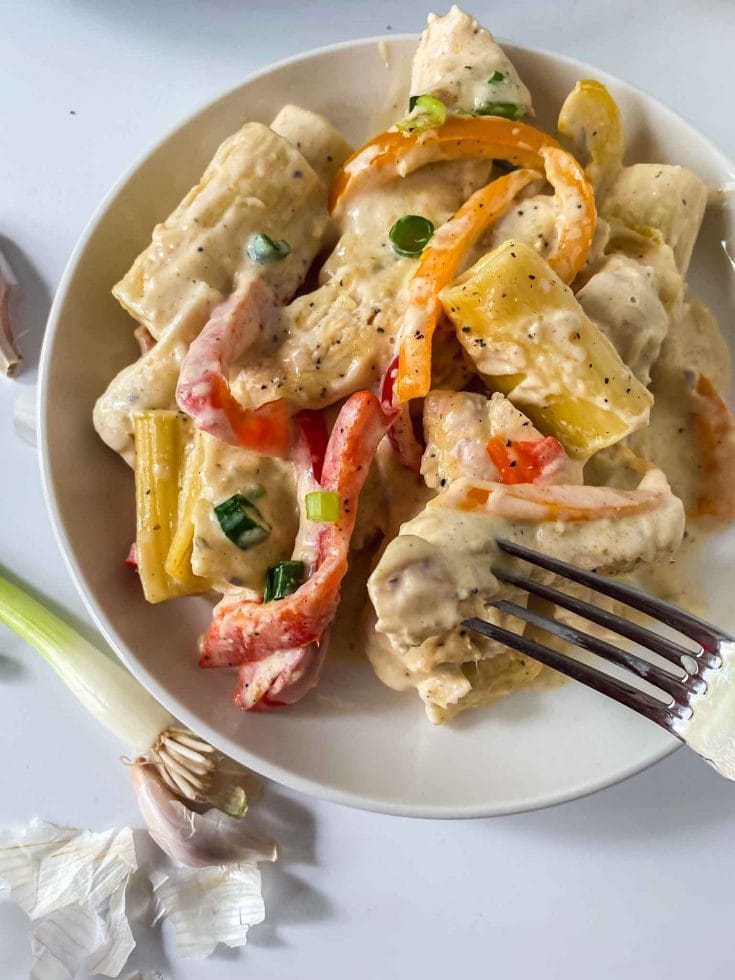 Yield:

4-6 servings
The Best Jamaican Rasta Pasta Recipe - Add Your Favorite Protein!
This awesome flavorful rasta pasta recipe is so good! Perfectly cooked pasta with a delicious sauce, peppers and your favorite protein! This one is made with chicken
Ingredients
1/2 box (8oz) rigatoni
1 cup bell peppers (any colors) 2-3 tbsp olive oil
1 -2 Thinly sliced chicken breasts 1 tbsp garlic
1 tbsp butter
1 1/2-2 cup heavy cream
1 tsp jerk seasoning
1/2 tsp garlic powder
1/2 tsp onion powder
1/2 tsp salt
1 cup shredded Parmesan cheese Salt and pepper to taste
Instructions
Boil pasta in heavily salted water for 12 mins
Sauté peppers in olive oil for 3-4 mins. Remove veggies and add chicken
Sprinkle lightly with salt and pepper
Brown on both sides over medium heat (about 4-5 min per side) ensuring chicken is cooked all the way through
Remove chicken add garlic and butter to the pan and whisk while melting
Whisk in heavy cream and jerk seasoning and bring to a roaring boil. Add in onion powder, garlic powder and salt and stir

Once it thickens add In the Parmesan cheese.
Reduce heat to low and add in pasta, chicken and sautéed peppers.
Notes
For a spicer pasta use a Spicy jerk seasoning. A little goes a long way unless you have a high tolerance for spices.
Nutrition Information
Yield
6
Serving Size
1
Amount Per Serving
Calories

607
Total Fat

57g
Saturated Fat

32g
Trans Fat

2g
Unsaturated Fat

21g
Cholesterol

183mg
Sodium

558mg
Carbohydrates

5g
Fiber

0g
Sugar

4g
Protein

21g
If you liked this recipe you will LOVE these!
Delicious Authentic Jamaican Rice and Peas Recipe
Chicken Wings 3 Ways: Dry Rub, Buffalo & Caribbean Style
Air Fryer Sweet Fried Plantains – Healthy Twist On A Classic Dish
Hi! I'm Nellie. I am a busy mama of three, wife to my high school sweetheart who loves to cook, workout and stay organized! I love to share helpful printables, the best recipes and fitness tips for the modern mom. I strongly believe that every mom can feed their family well, take proper care of themselves and have fun along the way! Read my story.
Get comfortable and be sure to come hang out with me on social. Don't grab your free fitness journal before you go!