The universoul circus is so fun and I was taught a wonderful lesson by being called to the stage and here is how it all went!
The circus is a timeless tradition for me, I don't remember a year in my childhood that I didn't go. Whether it was from my family, school, church–I went to see the circus at least once and some years there were multiple visits!
This year we decided to visit the Universoul Circus and it was only 15 minutes away and it has classically been my favorite of them all! I bought my tickets early so we would have the best seats as I know the circus is extremely interactive with the crowd. Unlike shows like Disney On Ice and Ringling Brothers, the acts come into the crowd and entertain us very much in person. I had no idea that picking those great seats would land me in the middle of the circus ring. More on that later!
The Universoul Circus is very different from all other circuses. First there is the music, they intro with soca songs which got the crowd jumping. Then they play lots of old school and current songs that are so fun! The cast is very diverse and when you attend this circus you feel like you are a part of the show immediately.
The boys were crazy excited to watch, there were several points during the show where they encouraged the kids to get up and dance, of course this is what we do at home everyday so we didn't need any push to get our groove on 🙂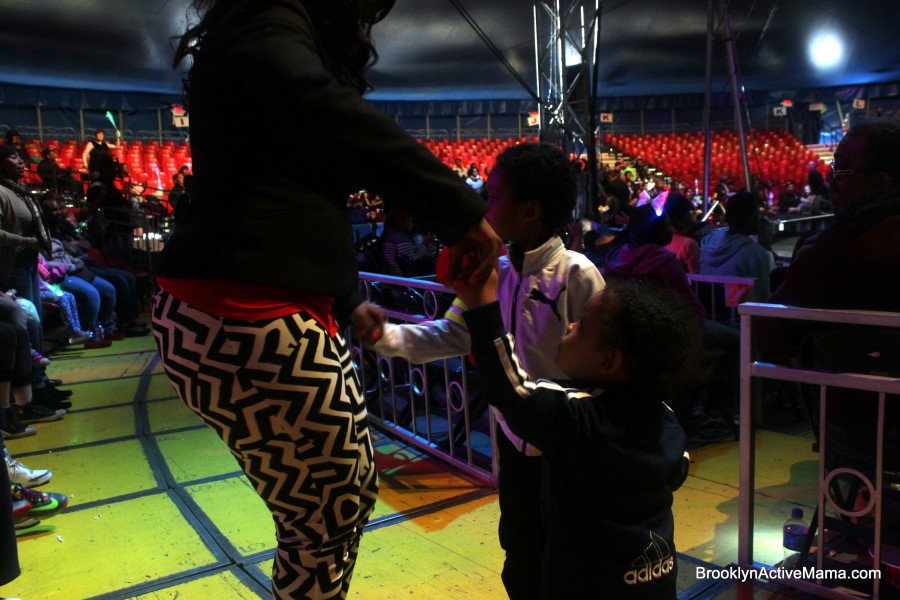 In addition to the intimate feel of the circus, the acts were just as impressive as the bigger circuses. Here are some of my favorite pictures:
Getting in the ring
It might have been the fact that I had great seats, or maybe it was my crazy pants, or maybe I attract crazy–but the ring master chose 4 random people from the audience to be a part of the show. I was the only girl! They put the spotlight on me and encouraged the crowd to applaud to get me out of my seat. I got up and went out there with a big smile although I was terrified–for couple of reasons 1) my eldest was watching very closely and I wanted to teach him that you can do things that you are afraid to do and 2) I didn't want to say no and regret it later.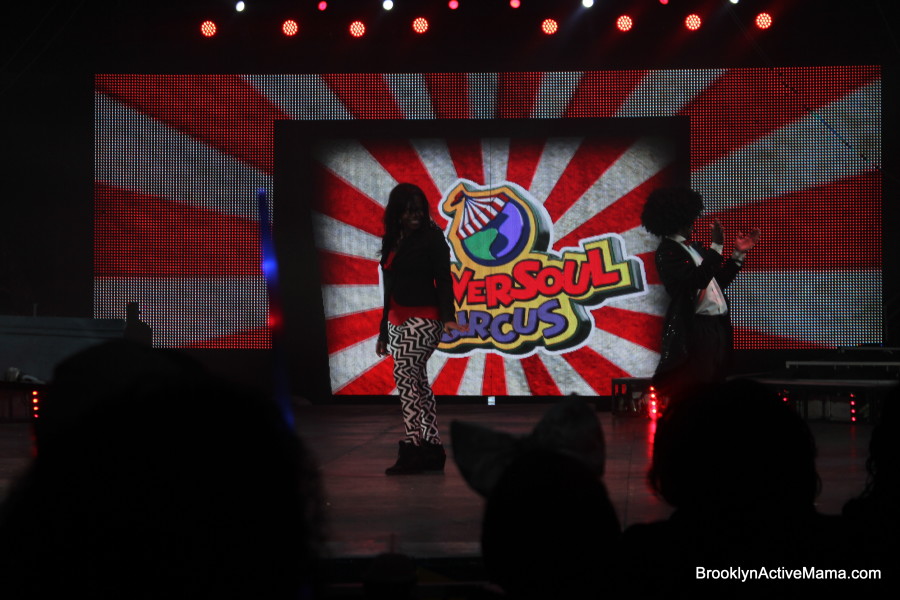 The ringmaster had us do so many things! It was all quite hilarious. He had me strut across the ring (hair flip and all) then he had me squat crazy low and play the pretend piano. Oh my. I heard all the women in the crowd encouraging me so I gave it the best I had!
I was glad I swallowed my fear and used it as a teachable moment for my boy. Sometimes he gets really shy and I wanted to show him that he can let him guard down and have some fun sometimes too. He was so excited when I came back to my seat and he even told me to go back out there a couple of times!
The Universoul Circus is certainly worth every dime if you want an interactive, high energy, good time with your family.
For some more fun family posts be sure to check out:
Have you ever been to Universoul Circus? What was your latest Teachable Moment?
Hi! I'm Nellie. I am a busy mama of three, wife to my high school sweetheart who loves to cook, workout and stay organized! I love to share helpful printables, the best recipes and fitness tips for the modern mom. I strongly believe that every mom can feed their family well, take proper care of themselves and have fun along the way! Read my story.
Get comfortable and be sure to come hang out with me on social. Don't grab your free fitness journal before you go!