Check out my recap of The Cinco De Mayo 5k race in Brooklyn NY! Chatting everything weather, organization and more!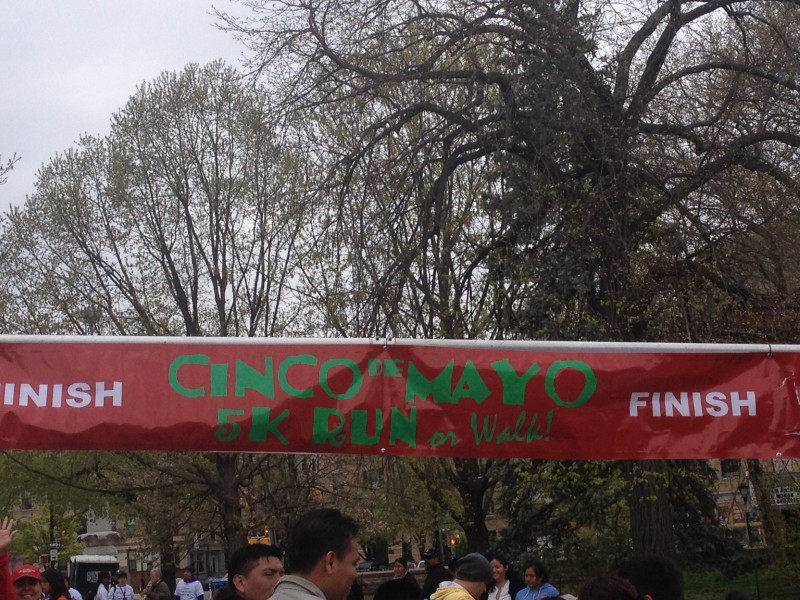 Last Sunday, I ran my first race since the fun run at Blogalicious and the first official timed race since the Illuminite Run last September.
You guys already know that I have a love/hate relationship with running. I never train as I am supposed to, yet I find myself on the race course multiple times a year enjoying the energy of the real runners and the the fun of competition. Every year I try to do different races, because every race has its own personality. I was a bit late to the racing season this year as I have been so caught up in other things but better late than never right?
My general goal is to run in at least 5 races/fun runs per year. I chose this one because it was local and it had a really awesome weekend start time of 11AM. So that meant, I got to sleep in late, AND run in a race that was located fairly close to home. When I signed up for the race, I of course texted my long time friend (friends since we were 8!) Yonique to join me, because after all she is my running buddy! You may remember she ran the JFK Airport 5k, The Color Run & The Illuminite Run with me last year.
The Cinco De Mayo 5k run in Prospect Park Brooklyn is a great run, it has a rich history as it has been around for 17 years. When we arrived at the park everything was in perfect order. We registered in under 2 minutes–got our t-shirts–checked our bags in under 10 minutes. We waited patiently until the alarm/bell sounded at approximately 11:04 AM that it was time to race.
I don't know why I race so often YET don't train as I should. It might have something to do with the fact that I simply hate running on the treadmill. I do it maybe once a week for a mile or so but it definitely not my favorite thing to do. Since I am not a fan of running in my neighborhood–the dreadmill is really the only option for me. Yet, despite my lack of training I show up at races and simply give it my all.
Getting through the first mile was not so bad. For experienced and enthusiastic runner, a mile is really nothing. For me however, it was never ending. Once I saw that 1 mile sign I know I was pretty much 1/3 done, so I knew the hard part would be Mile two.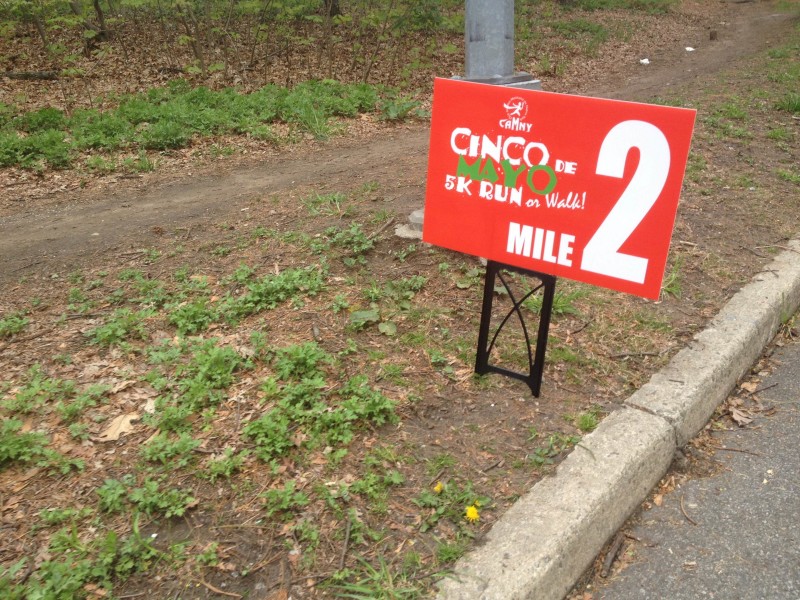 Except no one warned about the brutal hills that were waiting for me on mile 2. It was at that point that I started wogging (jogging and walking) because all of my legs burned. Once the hills were over, I was able to get my feet under me again and start jogging at a good pace.
After what seemed like forever, I finally saw that 3 Mile sign, it was simply a gift from God. It was almost over. I was quite pleasantly surprised that the clock was in the 37 minute range when I finally crossed the finish line. I am very happy with that considering I walked the hills and it was my first race in 7 months!
After the race, I was awarded my first medal. Now I always have medal envy when I see my friends run 10ks, half and full marathons. So to get a medal at the end of this race I was simply SO excited. I will treasure it forever.
There was plenty of food and snacks available for us post race and we stuck around to watch and cheer the most adorable race filled with kids under 5.
I already have my eye on another 5k in a few weeks!! I am a bit of an addict to the finish line!
For more fun race posts be sure to check out:
2022 TCS Marathon Recap: Back On The Pavement
How Not To Run A Half Marathon Pregnant (AKA My NYC Half Recap)
Prospect Park Turkey Trot 5 Mile Race Recap
Princess Half Marathon 2015 Recap Part 2: The Course, Characters and Congestion
What was your last race? What do you do that you love to hate?
Hi! I'm Nellie. I am a busy mama of three, wife to my high school sweetheart who loves to cook, workout and stay organized! I love to share helpful printables, the best recipes and fitness tips for the modern mom. I strongly believe that every mom can feed their family well, take proper care of themselves and have fun along the way! Read my story.
Get comfortable and be sure to come hang out with me on social. Don't grab your free fitness journal before you go!