So today I have the prettiest and most amazing Valentine's Day cookies for you. Make these if you are looking to impress the guests of your Valentine's Day Party, or even simply make these awesome cookies for friends and family. They are not only pretty but delicious too!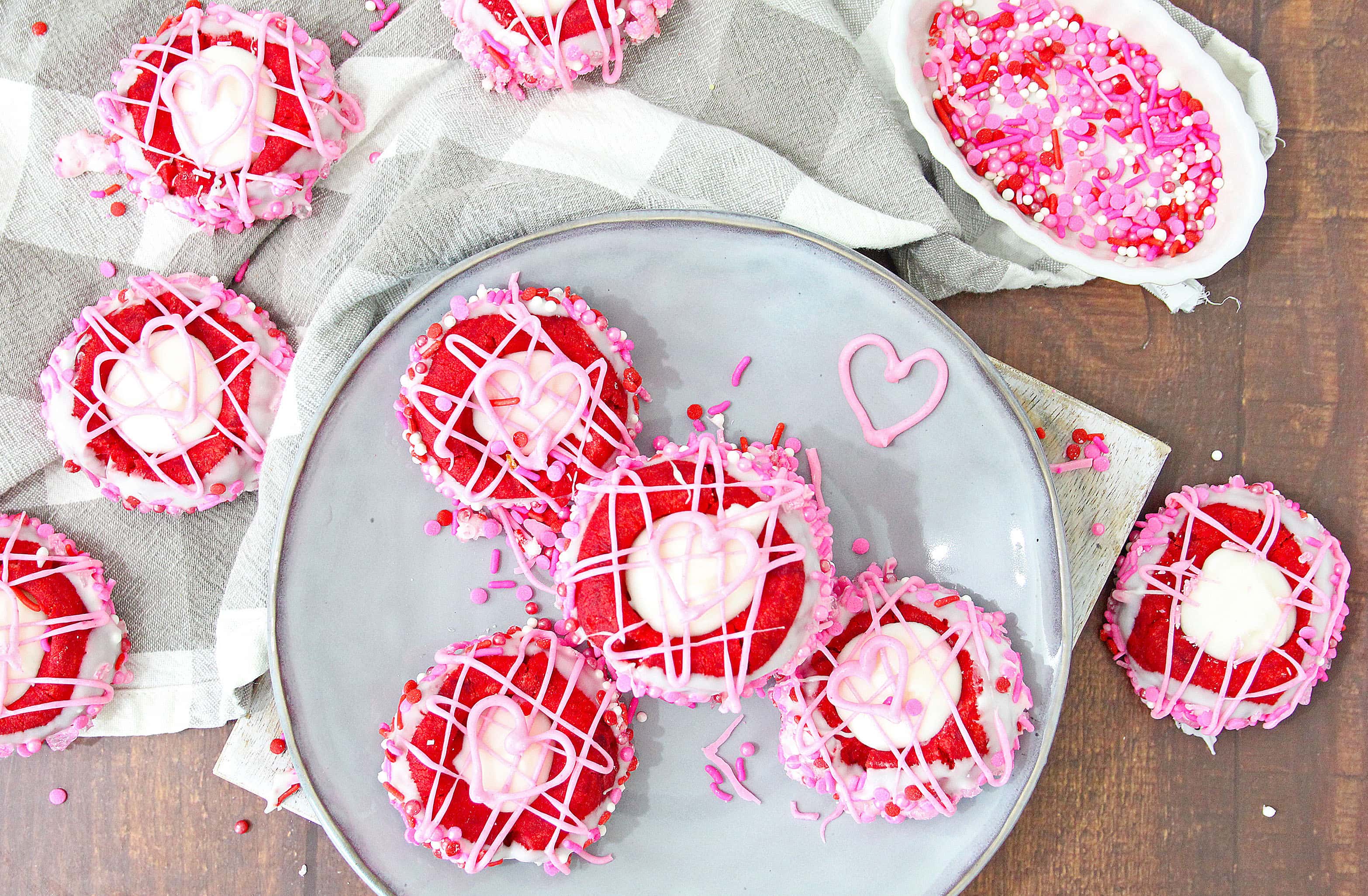 I've mentioned before that I have somehow become that mom who loves the "holidays" even the most random ones! I definitely don't want to celebrate with over priced chocolates or roses (lilies are my favorite flower anyway!). But fun things like little gifts for the kids or specially baked themed treats are always so much fun!
These cookies have many layers and require a special attention to detail but to be honest, totally worth it!
Where to bring these Valentine's Day Cookies?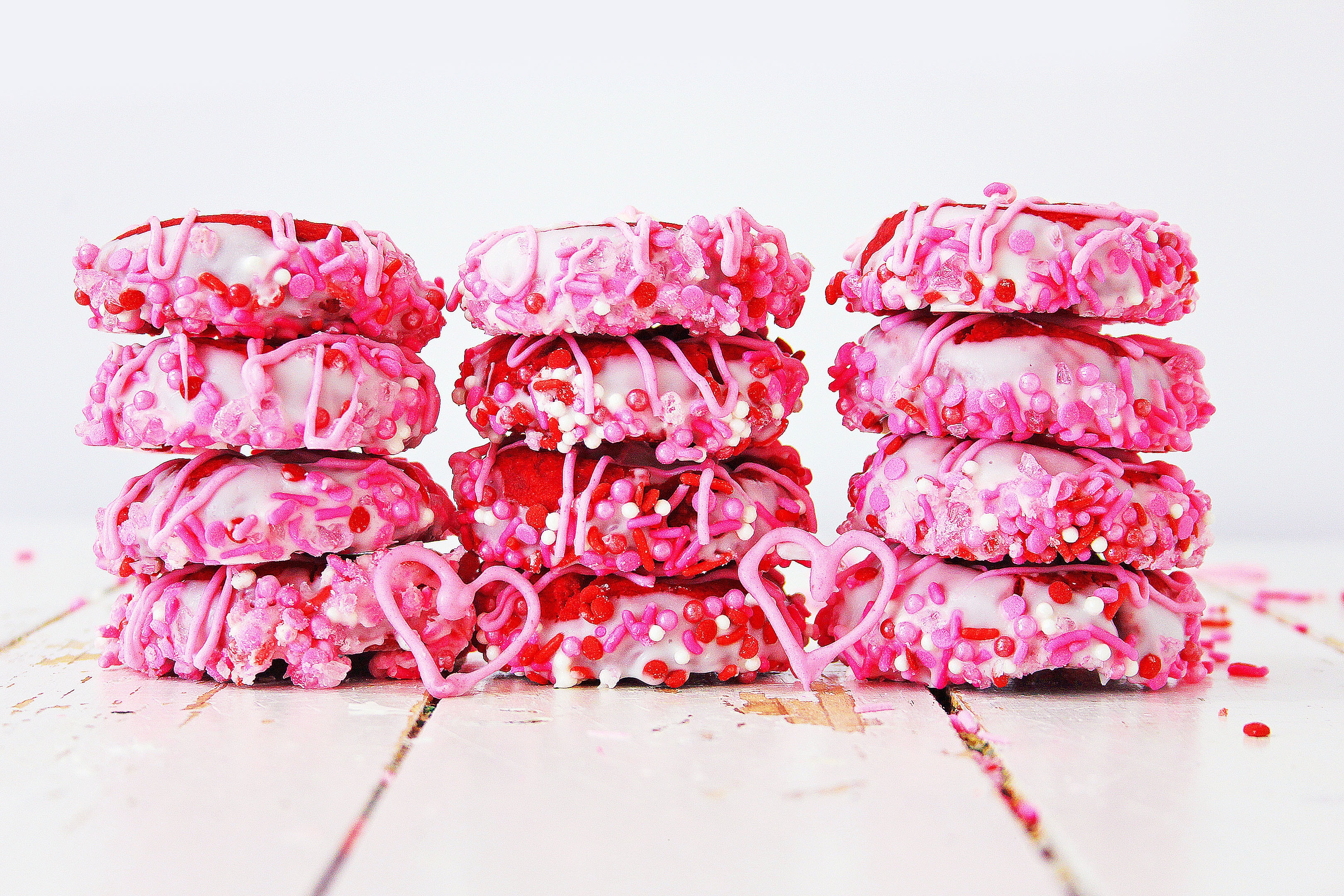 They are perfect to take for a school snack for your kids (Valentine's Day is on a Friday this year!). Or even a for a classroom party. You can make these for the household or even a special treat for your coworkers. The opportunities to show these amazing cookies off is endless!
What are some other Valentine's Day Recipes to try?
These cookies are a new twist on an old favorite. Thumbprint cookies have been around for years, but these Valentine cookies with red dough, dipped in white chocolate and sprinkles, with white chocolate pink hearts, are the best take on them I've ever eaten.
Not only are they pretty to look at, and will brighten up any table or buffet, they're really delicious too! Talk about a great surprise for your special Valentine, this is sure to please.
Put this recipe in your favorites, because you'll want to make this one for all the Valentine days to come!
Yield:

36 cookies
The Prettiest and Most Delicious Valentine's Day Cookies
These fun cookies are a bright red color for Valentine's Day and decorated with white, red and pink sprinkles.
Ingredients
3 sticks of butter - softened
1 cup of sugar
1 teaspoon of Vanilla
3 1/2 cups of flour - sifted
1/4 teaspoon of salt
1 package of White Chocolate Almond Bark
1 bottle of Red food coloring gel
1 tube of Neon pink food coloring gel
Assorted Valentines Sprinkles - we used red, pink and white
Instructions
In the mixing bowl of an electric mixer, blend the butter and sugar until light and fluffy.
Add the vanilla and blend.
In a separate bowl sift the flour and salt together, and add it to the mixing bowl with the butter mixture a little at a time until all the flour is added, and blended well.
Add the Red food coloring gel, starting with about 5 drops, and blend until the dough is all red. If you want the dough a darker color, add another drop and blend, until the desired color is achieved.
Roll the dough into 1 1/2 inch balls, and place them on a Parchment lined cookie sheet about an inch apart.
When the cookie sheet is full, use your thumb or knuckle, and press a 'thumbprint' into the center of the cookies, making an indentation.
Bake the cookies at 350 degrees for 20 to 25 minutes, or until the cookies start to turn golden brown. When the cookies are done, remove them to a wire rack to cook completely.
When cookies are cool, melt 4 squares of the white chocolate almond bark in the microwave on 15 second intervals, until it's smooth and creamy, stirring between intervals.
When the white chocolate is melted, fill the centers of the cookies with the white chocolate.
When all the centers have been filled, dip the bottoms of the cookies in the melted white chocolate, and immediately in the sprinkles.
Sit the cookies on parchment paper to let the chocolate set.
Melt the rest of the white chocolate in the microwave on 15 second intervals, and stir between intervals.
When the chocolate is melted, remove it from the microwave, and add 1 - 2 drops of the Neon pink gel food coloring to the white chocolate, and stir well to combine the food coloring into the chocolate.
Place the pink chocolate in a squeeze bottle with a tip, and squeeze heart shapes out on parchment paper to decorate the cookies. (you can make the hearts large or small, or some of both)
Drizzle the remaining pink chocolate over the cookies as shown.
Let the cookies set for at least one hour before moving them or serving them, to allow the chocolate to set.
After the chocolate is set, serve, and Enjoy!
Makes approximately 36 cookies
Notes
tools needed: Parchment paper
Cookie sheets
Spatula's
Electric mixer
Small squeeze bottle - to drizzle chocolate
NOTE: White Chocolate Almond Bark is a great melting chocolate. It has a better flavor than most of the melting chocolates, and is easy to work with.
If you find that you left your chocolate in the microwave too long, and it's a little thick, don't throw it away, just add a couple of drops of heavy cream to the chocolate, and place it in the microwave for about 5 seconds, and stir well.
Keep adding a drop or two of cream until the chocolate thins, and is easily stirred. You'll find the White Chocolate Almond Bark on the baking isle typically in the chocolate chips section.
Nutrition Information
Yield
24
Serving Size
1
Amount Per Serving
Calories

202
Total Fat

12g
Saturated Fat

7g
Trans Fat

0g
Unsaturated Fat

4g
Cholesterol

30mg
Sodium

113mg
Carbohydrates

22g
Fiber

1g
Sugar

9g
Protein

2g
Are you planning on baking for Valentine's Day?
Hi! I'm Nellie. I am a busy mama of three, wife to my high school sweetheart who loves to cook, workout and stay organized! I love to share helpful printables, the best recipes and fitness tips for the modern mom. I strongly believe that every mom can feed their family well, take proper care of themselves and have fun along the way! Read my story.
Get comfortable and be sure to come hang out with me on social. Don't grab your free fitness journal before you go!