If you are looking for some delicious Cuban Dinner Ideas, I've got you covered! Cuban food is such a great blend of spices and flavor that the family will love.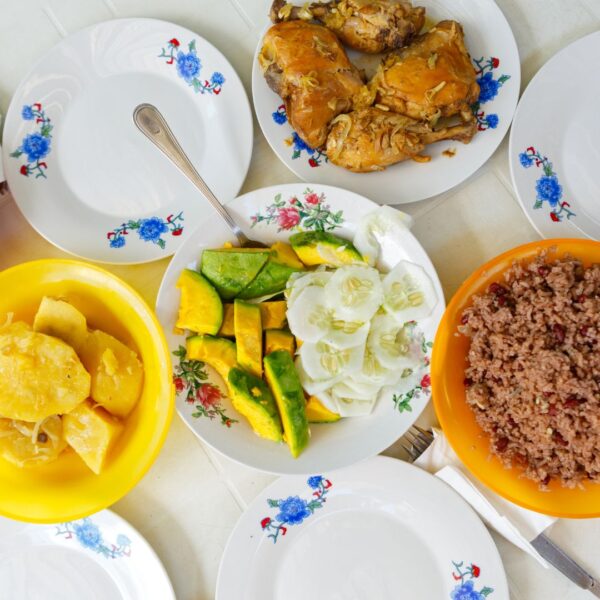 The lack of variety in foods also means that traditional Cuban dishes can be quite similar, with sauces consisting of the same ingredients but served with different fish or meats. Hearty stews are the most common main course dishes and are a perfect way of using whatever happens to be at hand.
Unlike food from the nearby West Indies, Cuban popular dishes tend not to be spicy, the main flavorings being cumin and oregano, though it would be wrong to say that Cuban cuisine, usually called "la comida criolla", is not flavorsome.
Traditional Cuban food develops its intense flavors from the marinating of the meat and the subsequent slow, gentle simmering of the meat with vegetables and a sofrito an onion and garlic base used to create a sauce.
Cuban dishes do stand out because they are ones that you will see on offer time and again – if you are a tourist. Ordinary Cuban people tend not to eat so much meat and, although tourists can enjoy a traditional dish or some fabulous fish dishes, most families eat very little fish at all.
Ropa vieja
Ropa vieja, the name translates as "old clothes," and the dish consists of stewed shredded beef. It's a popular main course in many Spanish-speaking countries. Since all cows in Cuba belong to the government, this is a dish that may occasionally be found on the menu in state-run restaurants and only occasionally enjoyed by Cubans.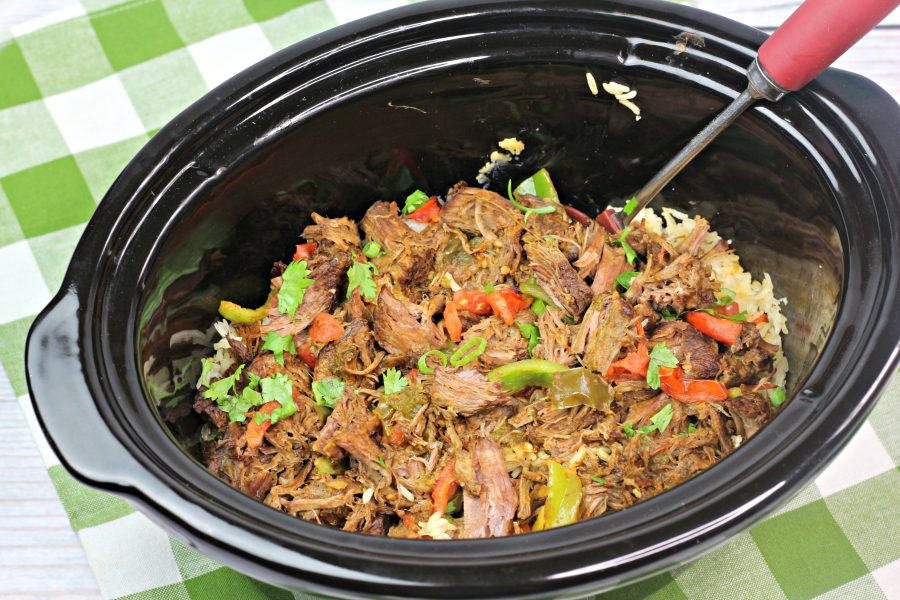 Rabo encendido
Rabo encendido is an oxtail stew that again is common in Spanish-speaking countries. Outside Cuba, the oxtail is usually simmered in rioja or other red wine.
Ajiaco Cubano
Ajiaco Cubano is usually referred to as a soup though it is more properly a hearty stew that contains beef, pork, chicken, root vegetables such as malanga ( a kind of taro), plantain, and corn.
Moros y Cristianos a common accompaniment to most main courses, is a mixture of rice (the Christians) and black beans (the Moors); it's yet another dish found widely in Spanish-speaking countries.
Congri
Congri the name of this dish is often confused with Moros y Cristianos; to be absolutely precise, congri is a dish that uses red kidney beans whereas Moros y Cristianos should only use black beans. Congri originates from the island of Haiti but is eaten in several other Caribbean islands.
Frijoles negros
Frijoles negros a delicious dish of stewed black beans that is often served as a side dish to meat main courses that will make your taste buds go wild. Something I learned AFTER I started eating it thinking I'd been given a soup starter!
Frijoles negros, or black beans, are considered to be a Cuban meal staple. Black beans have an earthy, pleasant flavor and velvety texture. Cuban Black Beans are prepared with sofrito, which makes the dish come alive. Traditionally, it is served over white rice.
Black beans are a power food packed with over 60 nutrients, including protein and antioxidants. As part of a great meal for anyone in the family, they are great to mash and serve to babies as early as 8 months old. When served with white rice, the contrasting colors are an appealing sight for older babies ready to chew and swallow foods of this consistency, tempting them to feel, taste, and likely wear it.
This Cuban food recipe is made in two parts. The sofrito is prepared first. Sofrito freezes well, so several batches can be made in advance and thawed to make black beans or to be used in other dishes.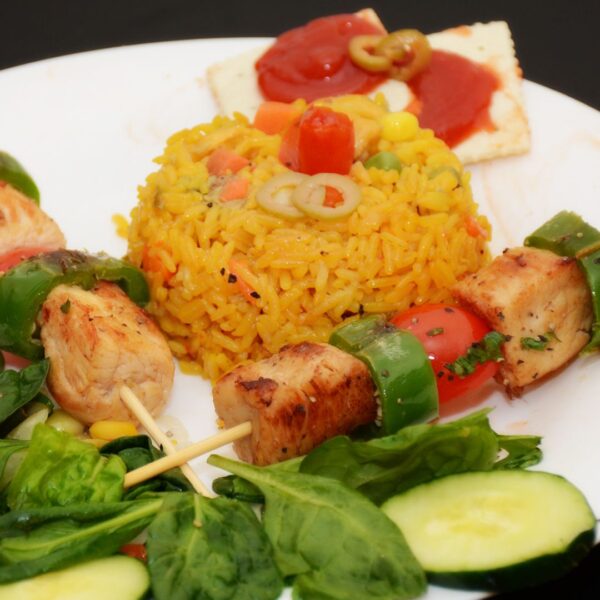 Cuban Sofrito
Ingredients:
1 T. cilantro
1 can stewed tomatoes
1 or 2 green bell peppers, unseeded
1/2 C. onion, chopped
1 T. garlic, minced
Place all of the ingredients for the sofrito in a blender or food processor and puree. Measure out the necessary amount of Cuban Black Beans and freeze the rest.
Cuban Black Beans
Ingredients:
2 15oz. cans of black beans (or follow the directions below to prepare dry beans)
1 C. sofrito (more or less)
2 whole bay leaves
1 ½ tsp. cumin
1 ½ tsp. oregano
1 T. olive oil
1 T. apple cider vinegar
½ cup water
salt, to taste
Place all the key ingredients into a medium saucepan. Simmer over medium to low heat for 10-15 minutes. Stir frequently with a wooden spoon, sweeping the bottom of the pan to prevent the beans from sticking.
Remember that you can control the length of time the beans are simmered by adding more water to the beans. This can be a helpful maneuver if you are preparing several dishes and would like them to be ready at the same time.
Once the beans have simmered and reached the desired consistency, remove the bay leaves and serve over a bed of white rice.
Replacing Canned Beans with Dry Beans
Dry beans can be cooked and substituted for canned beans in this simple dish. Canned beans are convenient and will still offer plenty of taste. However, if you have the time to pre-cook dry beans, you will maximize the bean's flavor and nutritional value.
Simply prepare and cook 1 cup of dried black beans. Once cooked, you should have around 3 cups of beans for the recipe. If they have a considerable amount of liquid at the end, omit the ½ cup of water that the Cuban Black Beans recipe calls for in the recipe above.
Roast pig and Cuban steak
Roast pig is a dish for special occasions in Cuban culture, there is nothing as spectacular as seeing a glistening suckling pig being roasted on a spit until golden brown. The meat is first marinated with salt, garlic, and orange juice and cooked until the skin is crisp and delicious.
How to Cook a Cuban Steak
Cuban cooking is renowned for its subtle blend of fiery spices. Making Cuban steak takes some prep work, but the results are worth the time if you like tender meat with a citrus tang. Authentic Cuban steak is marinated for several hours and then grilled, but you can cook Cuban steak in a skillet. Flank steak works best for Cuban steak, even though it is a tougher cut of meat. The seasoned citrus bath tenderizes it completely.
Place the lime juice and orange juice into a small bowl and season the liquid to taste with salt, pepper, and oregano. Whisk them together.
Pour olive oil into a skillet and heat it over medium-high heat. Add just enough olive oil to coat the bottom. Let the oil heat until you can smell it. Saute the sliced garlic and the cumin for two minutes or until the garlic is golden but not burned.
Add the citrus juice to the seasoned oil in the skillet. Whisk them together and take the skillet off of the heat. Let it cool to room temperature.
Place your steaks into a plastic zipper bag and pour in the citrus marinade. Seal the bag and refrigerate the steaks for one to two hours.
Heat a skillet over medium-high heat. Add the steaks and cook them for two to three minutes per side or until you get a reading of 145 F with an instant-read thermometer.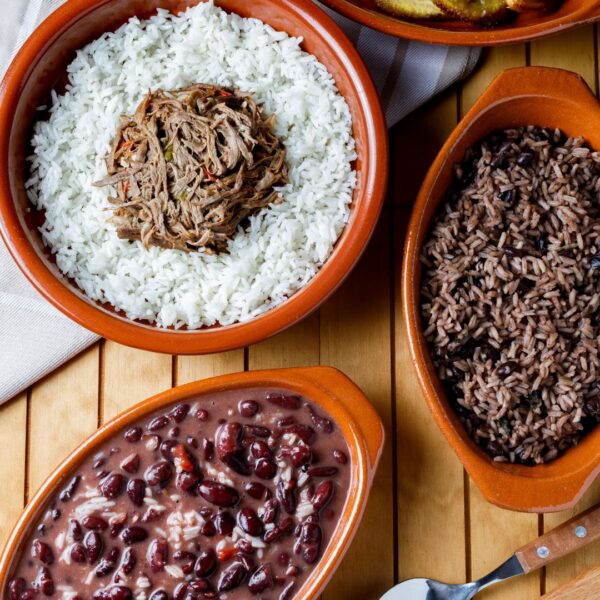 Cuban Dinner Tips and Warnings
Serve your Cuban steaks with grilled onions an authentic accompaniment.
Never reuse marinade without boiling it for at least one minute to kill any bacteria.
Things You'll Need
Lime juice
Orange juice
Salt
Black Pepper
Oregano
Small bowl
Whisk
Olive oil
Skillet
Garlic, peeled and sliced
Cumin
Plastic zipper bag
Cilantro washed and chopped
Cuban Arroz con pollo
Arroz con pollo another classic dish that has its origins in Spanish cuisine, this Creole chicken with rice dish is a delicious and welcome change from the array of stews that are usually on offer. As with most meats, the chicken is marinated in orange juice and mild spices. Lime juice is another commonly used ingredient in meat and poultry marinades.
Arroz con Pollo is the Puerto Rican version of rice and chicken. The Spanish seasonings used in this recipe give the meal it's unique flavoring.
Shopping List
sazon sofrito
pollo recalito
oregano
garlic
chicken (cutlets or pieces)
Cuban Dinner Ideas: Cuban Rice
How to Make Cuban Rice
Heat oil in a large pot.
Brown the meat with 2 tbs of sofrito and 2 tbs of recalito.
Add 1 package of sazon and 2 packages of pollo with a little oregano and garlic.
Add water to cover the ingredients and then cover with a tight fit.
After about 1/2 hour, drop a little oil.
Then add 3 cups of rice, 1 sazon, and enough water to cover the ingredients. Cover with lid.
Bring to a boil and then simmer for about 30 minutes.
Stir once and let it sit for 10 minutes.
Serves 4 people.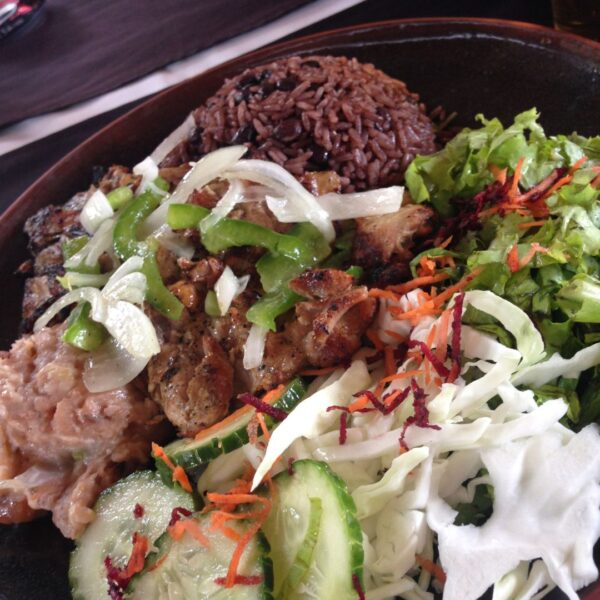 Medianoche sandwich is so called because it's the kind of sandwich you create from whatever you have to hand in the middle of the night or when arriving home in the early hours. This Cuban comfort food is served sometimes hot, and sometimes cold, and should contain ham, roast pork, slices of mild swiss cheese, and pickles in crusty bread.
Unlike most American sandwiches, in Cuban sandwiches, there is no place for all the trimmings like mayonnaise, ketchup, or salad! The best bread for this kind of sandwich is slightly sweet, crusty yellow Cuban bread. If you want to make this yourself, crusty French bread would be the best option.
No meal is complete without a dessert and those with a sweet tooth won't be disappointed! One thing Cuba is not short of is sugar and every Cuban family loves a sweet treat.
It's not uncommon to see people leaving a bakery store carefully carrying a tray on which is perched an elaborately iced birthday cake or someone on a street corner selling individual meringues that people eat on the move. Best of all is "flan". A popular Cuban dish commonly eaten in Mexico and known to Brits as "creme caramel"; every Cuban restaurant and paladar has flan on the menu and it's always excellent!
I hope you enjoyed this comprehensive list of Cuban dinner ideas!
Pin it for later!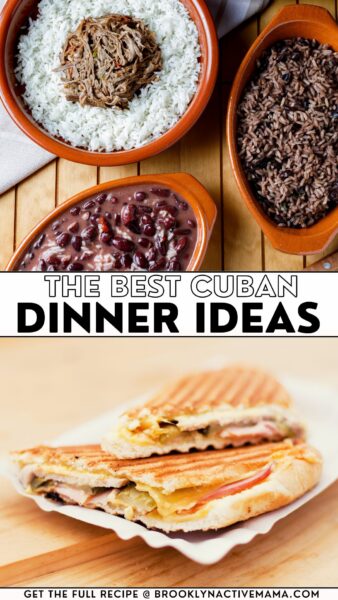 If you enjoyed this recipe be sure to check out my Instagram Page for the latest posts!
Before you go, check out these great posts!
What To Serve With Pulled Pork Sandwiches – 20 Amazing Side Dishes
The Best Pasta Recipes For Weeknight Dinners
Easy and Tasty Dinner Ideas For The Whole Family
Hi! I'm Nellie. I am a busy mama of three, wife to my high school sweetheart who loves to cook, workout and stay organized! I love to share helpful printables, the best recipes and fitness tips for the modern mom. I strongly believe that every mom can feed their family well, take proper care of themselves and have fun along the way! Read my story.
Get comfortable and be sure to come hang out with me on social. Don't grab your free fitness journal before you go!