This sweet potato bread is a yummy twist on the classic bread pudding! If you are a sweet potato fan, this dessert recipe is for you!
One of my all-time favorite desserts is Sweet Potato Bread Pudding.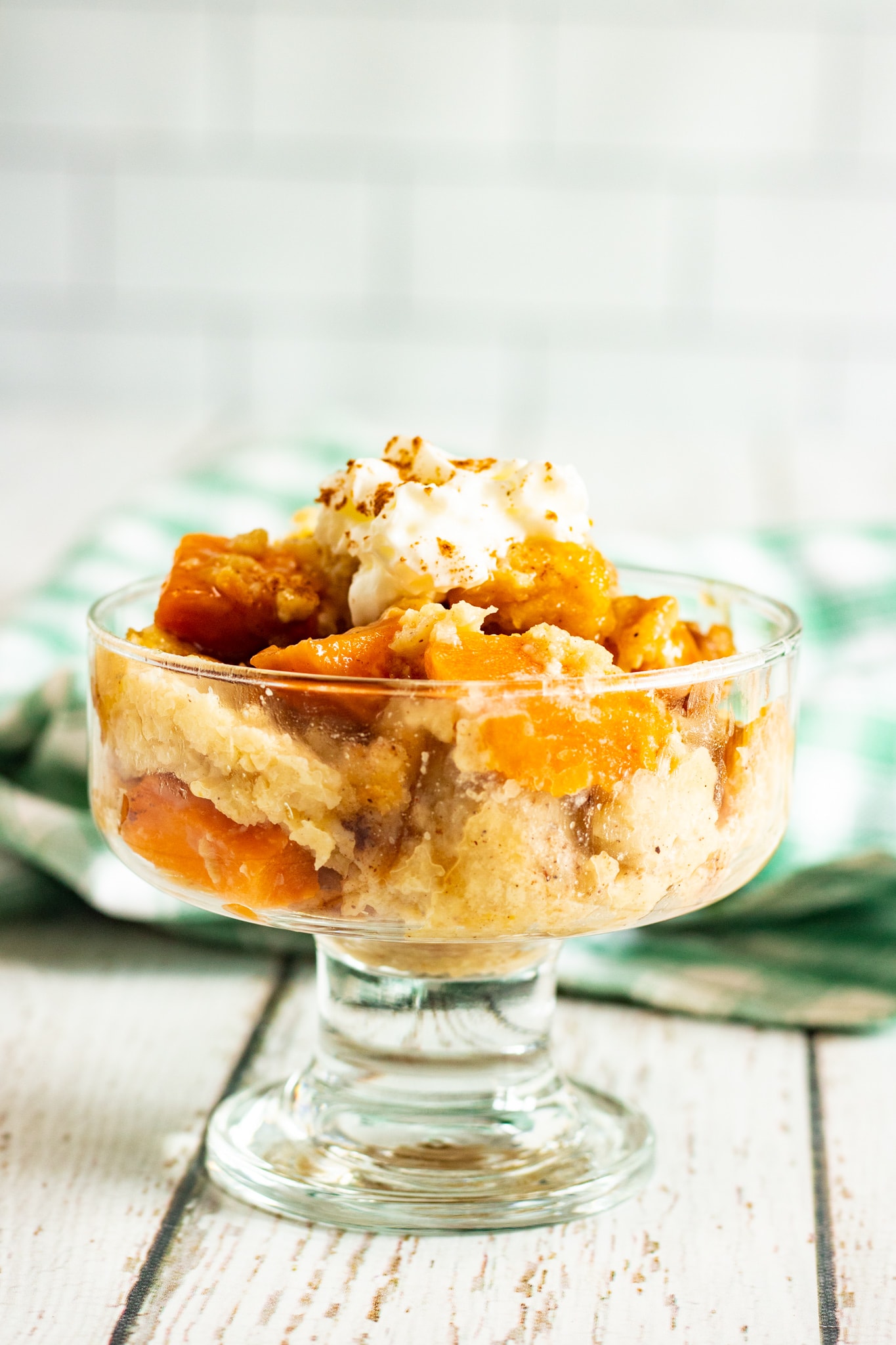 This is one of those recipes that you cannot knock until you try. Let's get started on teaching you how to make this recipe, so you can enjoy it too.
Sweet Potato Bread Pudding
The really cool thing about this recipe is that you can choose what bread you want. The recipe calls for focaccia, but again you can use whatever you have on hand.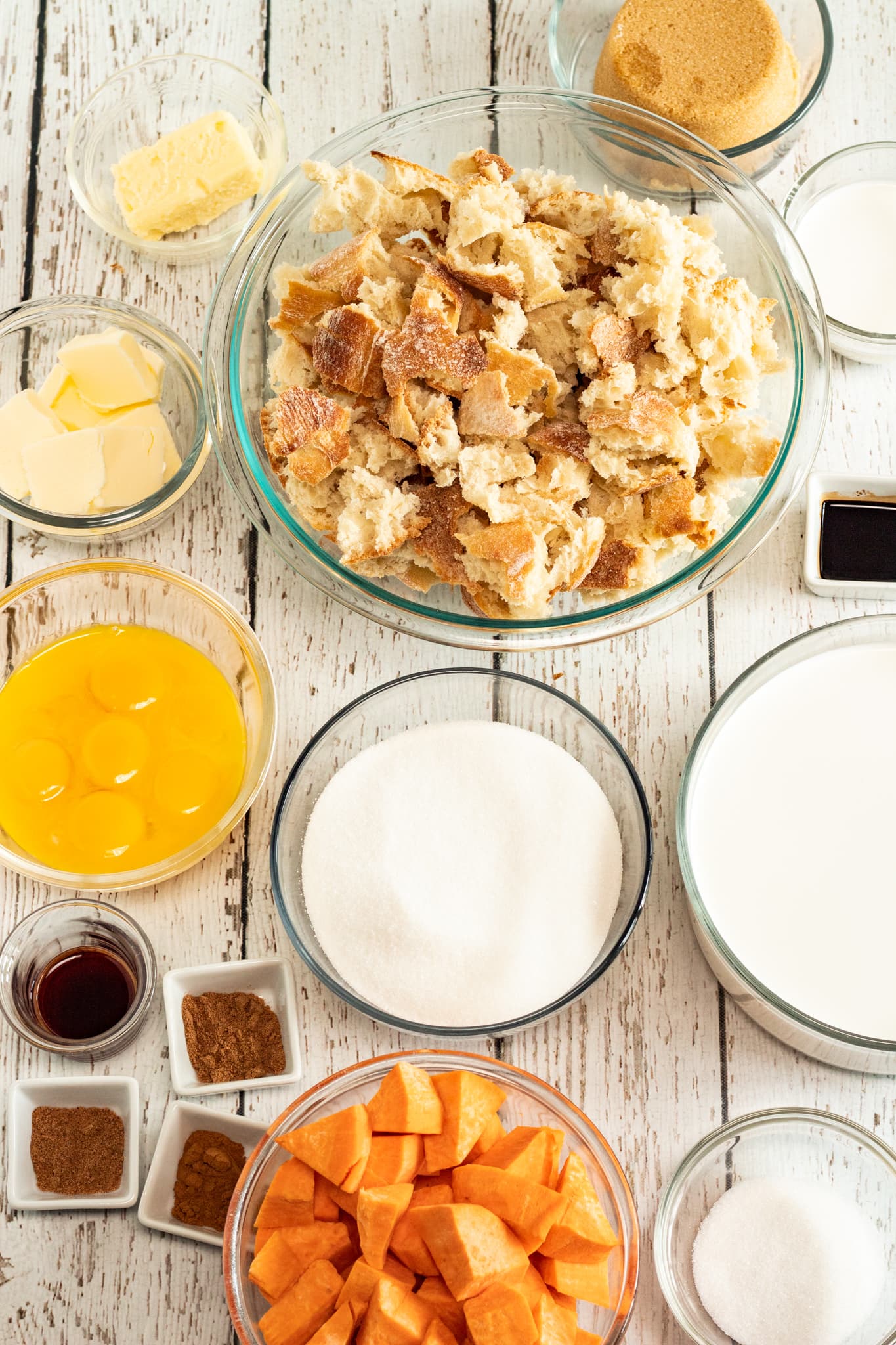 You will also be using sweet potatoes in this recipe, which might seem weird, but the end result is amazing! Keep in mind that you will also be using vanilla extract, egg yolks, granulated white sugar, half and half, ground cinnamon, ground nutmeg, and butter.
Of course, that isn't all that is involved in this bread pudding. The Maple Sauce that is involved in this recipe is also my favorite part. This part calls for brown sugar, butter, half and half, and maple extract.
Make sure you gather the ingredients and follow the instructions listed in the recipe card. This Bread Pudding is going to knock your family's socks off this holiday season.
How to Store Sweet Potato Bread Pudding
After you have made this pudding, you may be wondering how to store it. You will need to store this bread pudding in a container in the fridge. Since this has so many cold products, it needs to be in the fridge to keep.
Sweet Potato Pudding is best served as a dessert, but no one would judge you on what you make it for. It's great for breakfast or as a snack. If you do make this dessert, leave a comment below to let me know what you thought.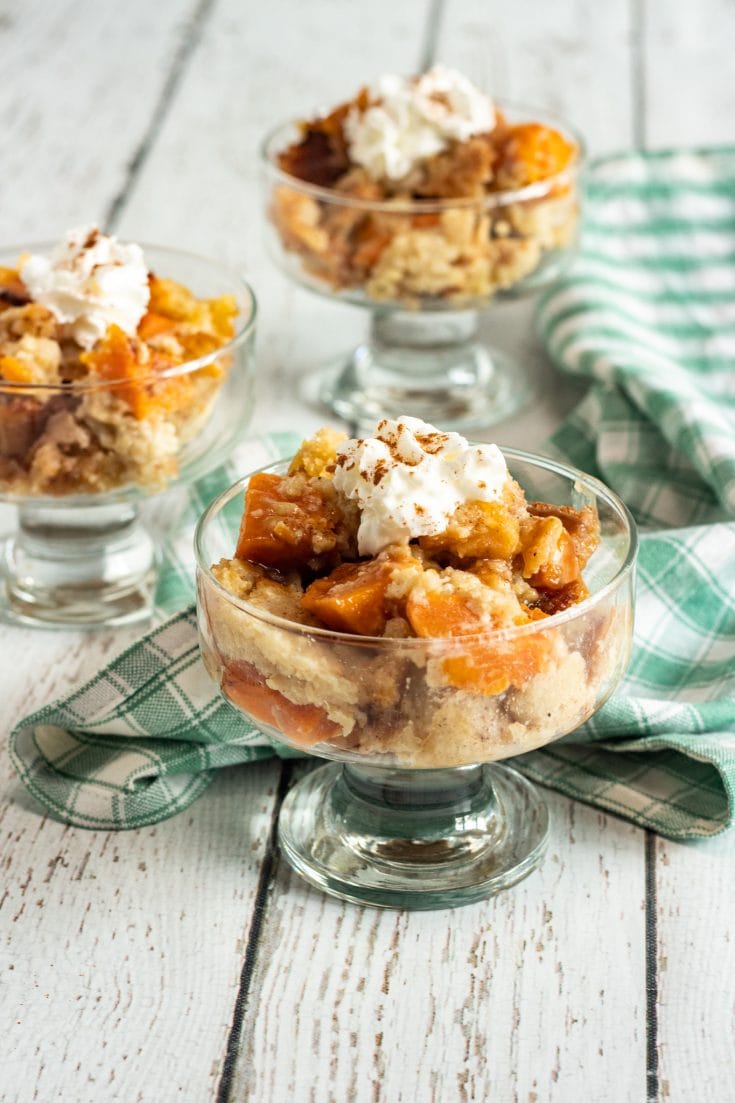 Yield:

8-10 servings
Sweet Potato Bread Pudding With Homemade Maple Sauce
Cook Time:
1 hour
20 minutes
Total Time:
1 hour
45 minutes
This sweet potato bread is a yummy twist on the classic bread pudding! If you are a sweet potato fan, this dessert recipe is for you!
Ingredients
• 9 c Choice of bread (we used focaccia) (torn in 1 inch squares; brioche, baguette, Italian, focaccia)
• 3 c Sweet potatoes (cut in 1- inch chunks)
• 4 c Half and half (can use milk but will be less rich)
• 1 1/2 c Granulated white sugar
• 8 lg Egg yolks (room temperature)
• 1 tbsp Vanilla extract
• 1/2 tsp Ground cinnamon
• 1 1/4 tsp Ground nutmeg; divided (divided 1/2, 3/4)
• 3 tbsp Granulated white sugar
• 6 tbsp Butter (cut into 1/4 inch pieces and chilled)
Maple Sauce
• 1 c Brown sugar (packed)
• 1/2 c Butter
• 1/2 c Half and half
• 1 tsp Maple extract
Instructions
Pre-heat oven to 450 degrees. Coat a 9" x 13" baking dish with non-stick spray.
On a rimmed baking sheet spread the torn bread pieces out in a single layer. Bake the pieces until crisped and brown to dry out. Cool completely. Reduce oven temperature to 300 degrees.
In a large bowl whisk together the half and half, sugar, egg yolks, vanilla, 1/2 teaspoon cinnamon and 1/2 teaspoon nutmeg. Add the toasted bread and toss until evenly coated. Let sit, tossing occasionally, until the bread begins to absorb the liquid and softens, approximately 20-30 minutes.
Add a small amount of water to sweet potato chunks and microwave for about 4-5 minutes to soften (leaving just slightly al dente).
Pour half of the bread mixture into the prepared baking dish. Layer the sweet potato pieces and then pour the remaining bread mixture on top. Cover with foil and bake for 45 minutes.
Meanwhile in a small bowl mix the remaining nutmeg and 3 tbsp of granulated white sugar. Using your fingers work the butter into the sugar mixture forming pieces the size of small peas.
Remove foil from the bread pudding and sprinkle with the nutmeg-butter mixture. Rotate the dish and continue to bake uncovered until the custard is set. Approximately 25 minutes.
Increase the oven temperature back to 450 and bake until the top is crisp and golden, about 10 minutes. Let the bread pudding cool for 30 minutes.
How to Make the Maple Sauce
In a saucepan over medium heat melt the sugar and butter together, bringing to a boil.
Whisk in Half and Half and maple extract. Pour over bread pudding and serve.
If you enjoyed this Sweet Potato Pudding be sure to check out these Easy Strawberry Bars!