This easy green smoothie recipe combines vegetables and fruit for a yummy healthy breakfast or snack! Simple ingredients for a great drink!
I'll admit it. It took me a super long time to jump on the green smoothie craze. Somehow whenever I thought of green smoothies, I was instantly grossed out. I mean spinach and kale is yummy and all but I'm no rabbit. I like to make it all taste good. 🙂
That was up until a couple of years ago when I was at a fitness event and someone suggested that I take a taste of a green smoothie. I instantly turned my nose up in the air and said "no, thanks". They asked again and I said okay and tasted it just to be polite. It was SO good! I had to verify what the ingredients were–it was like my eyes were opened to a whole new realm of smoothies.
Since I got my Nutribullet, I have been making quick and easy smoothie recipes daily. I stress the quick and easy part because no one has time to be making smoothies with dozens of ingredients. I definitely don't.
Today I am sharing my favorite daily recipe which only uses 4 ingredients and it is packed with 30g of protein from Premier Protein! The best part about using the Premier Protein Shakes is that you don't have to worry about adding any other liquid to your smoothie! Plus it has lots of great benefits like:
They are packed with 30g of delicious protein to give you the good energy you need every day – they are low in fat, with 160 calories, only 1g of sugar, and 24 vitamins and minerals.
Perfect for breakfast on the go, a healthy afternoon snack or post workout recovery, Premier Protein Shakes are available for purchase in 4-count, 12-count and 18-count 11-oz packs. They come in five rich and creamy varieties: Chocolate, Vanilla, Strawberries & Cream, Bananas & Cream and Caramel. (I've been a fan of the Vanilla shakes since just about forever! I love the fact that the protein taste is not overwhelming.)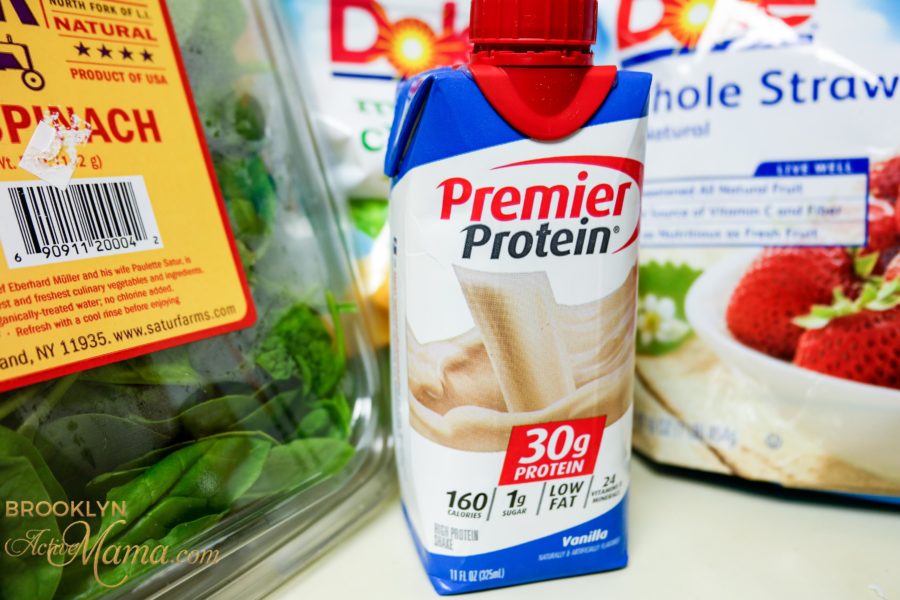 A Simple and Delish Green Protein Smoothie Recipe
1-1/2 cups of fresh Spinach or Baby Spinach
4-5 frozen strawberries
6-7 small frozen sliced frozen peaches
1 full container of Premier Protein Vanilla Shake
Combine all ingredients in order. Blend until smooth. Add a little orange juice if you want a sweeter taste.
Why make a green smoothie?
Well, there are a number of reasons why green smoothies are so popular. First, they are incredibly easy to make and can be consumed as is or incorporated into other recipes. Second, green smoothies provide an excellent way to get more fruits and veggies in your diet.
They are packed with vitamins, minerals, antioxidants, and fiber that help you feel energized and healthy. Finally, green smoothies are a great way to kickstart your day with a nutritious breakfast that will keep you feeling full for longer. So go ahead and make yourself a green smoothie today – your body will thank you!
Additionally, green smoothies provide an easy way to mix in other ingredients like superfoods, nuts and seeds, probiotics, and protein powders. This makes them a great way to support any type of lifestyle or dietary needs you may have. So don't be afraid to get creative with your green smoothie concoctions – your body will thank you for it!
There are so many great reasons to make this delicious green smoothie recipe – from convenience and nutrition to taste and variety. So go ahead, get creative, and enjoy your delicious drinks! Your body will thank you.
What are some other delicious smoothie recipes to try?
Happy blending!
What is your favorite smoothie recipe? Are you into green smoothies?
Hi! I'm Nellie. I am a busy mama of three, wife to my high school sweetheart who loves to cook, workout and stay organized! I love to share helpful printables, the best recipes and fitness tips for the modern mom. I strongly believe that every mom can feed their family well, take proper care of themselves and have fun along the way! Read my story.
Get comfortable and be sure to come hang out with me on social. Don't grab your free fitness journal before you go!