Here is a fun game that the family can play on New Year's Eve or Day! This New Year Scavenger Hunt is fun to play inside or even virtually with family and friends!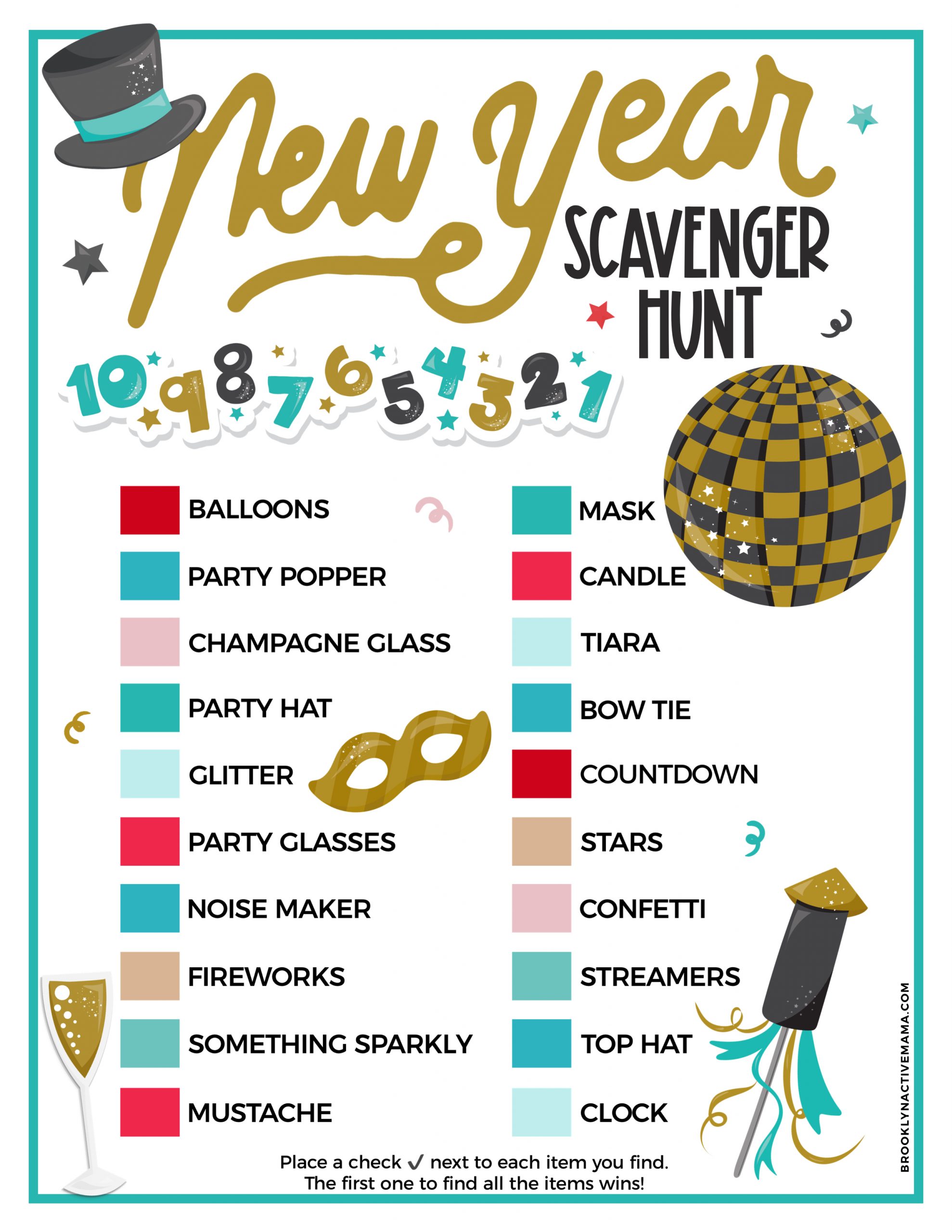 Who doesn't love a really good scavenger hunt? New Year's Day is a great time to play fun games as we all lead into a New Year.
Create new traditions with the family by talking about what you might want to do in the New year and playing fun games like this Candy Dice Game that fun and filled with sweets!
Even though a lot of us have spent a lot of this year indoors, New Year's Eve is still such a fun time of anticipation and excitement. We are all hoping for a better year next year where our dreams and goals come to fruition!
Be sure to check out some more fun New Year's Eve printables at the bottom of this post!
How To Play Virtually
This New Year's Scavenger Hunt is fun to play virtually. You can send everyone the PDF beforehand, they print it out and each participating web conference member can produce each item for everyone to see! Just be sure not to send it too early, or everyone might have the items ready when you play!
Another way to do it, is have ONE person call out each item so no one know what is coming next. Then write down the name of the person next to the item they find first. There could be a fun grand prize of a $10 Amazon gift card or something else that is fun!
What are some of the items on the New Year Scavenger Hunt Printable?
Balloons
Party Popper
Champagne Glass
Glitter
Noise Maker
Something Sparkly
Bowtie
Stars
Clock
…and more!
Why Play This New Year's Eve Scavenger Hunt?
Playing a scavenger hunt on New Year's Eve can provide numerous benefits for families. Here are some reasons why a family should consider engaging in this exciting activity:
Bonding Opportunity: Scavenger hunts promote teamwork and collaboration. Working together towards a common goal can strengthen family ties and create lasting memories.
Entertainment for All Ages: A well-planned scavenger hunt can cater to all age groups within the family. Whether it's simple clues for younger members or more challenging ones for adults, everyone can be involved and entertained.
Learning Experience: Scavenger hunts can be educational. You can integrate questions about family history, local facts, or general knowledge, encouraging learning in a fun setting.
Encourages Physical Activity: After a heavy holiday meal, getting up and moving can be a great way to burn calories. A scavenger hunt can be as active as you make it – whether it's searching around the house or spanning across the neighborhood.
Fosters Creativity: Coming up with clues and solutions can be a creative endeavor. Participants often have to think outside the box to solve riddles and find items.
Inexpensive Entertainment: Unlike some New Year's activities that can be costly, a scavenger hunt mainly requires creativity and time. It's a cost-effective way to have fun and celebrate the occasion.
Builds Anticipation: The excitement of finding the next clue or item can make the countdown to midnight even more thrilling.
Safety: New Year's Eve is often associated with parties and outdoor events. A family scavenger hunt can provide a fun and safe environment for everyone, especially if you're looking for an at-home activity.
Tradition Building: Making a scavenger hunt an annual event can create a cherished family tradition. Each year can present an opportunity to add new clues, themes, or challenges, making every New Year's Eve unique.
Encourages Exploration: If designed to span a larger area, scavenger hunts can encourage exploration. Families might discover new parks, landmarks, or hidden gems in their city or neighborhood.
Sense of Achievement: Completing the hunt, especially if some of the clues are challenging, can give a sense of achievement and satisfaction. Starting the New Year with a win can be motivating for the days ahead.
Inclusivity: Scavenger hunts can be modified to be inclusive for family members with special needs, ensuring that everyone feels involved and has a role to play.
Photo Opportunities: With smartphones at the ready, families can document their scavenger hunt experiences. These photos can serve as delightful memories when looked back upon in future years.
A scavenger hunt on New Year's Eve can be an exciting, inclusive, and memorable way for families to celebrate the end of one year and the dawn of another. With a little creativity and planning, it can become a cherished tradition that everyone looks forward to.
If you enjoyed this fun New Year free printable be sure to check out these too:
Hi! I'm Nellie. I am a busy mama of three, wife to my high school sweetheart who loves to cook, workout and stay organized! I love to share helpful printables, the best recipes and fitness tips for the modern mom. I strongly believe that every mom can feed their family well, take proper care of themselves and have fun along the way! Read my story.
Get comfortable and be sure to come hang out with me on social. Don't grab your free fitness journal before you go!