Not sure what to make for dinner? Give this Frito Pie a try! It's crunchy and filled with the perfect ground beef mixture.
Looking for a comfort food to satisfy your cravings? Look no further than Frito Pie! This classic dish, also known as a Frito Casserole, is a beloved American comfort food that has been enjoyed for decades.
It's a simple and delicious combination of crunchy corn chips, savory chili, and gooey melted cheese, all baked together in one tasty casserole. Whether you're looking for a quick and easy dinner option, or want to serve up a crowd-pleasing dish for your next gathering, Frito Pie is a perfect choice.
Why You'll Love This Recipe
Crunchy and savory: One of the best things about Frito pie is the perfect blend of crunchy corn chips and savory chili.
Easy to make: Frito Pie is an easy and quick recipe that anyone can master, making it perfect for those who are short on time or new to cooking.
Customizable: Frito Pie is a versatile dish that can easily be customized to your liking. You can switch up the ingredients, try a different type of cheese, or add your favorite toppings to make it your own.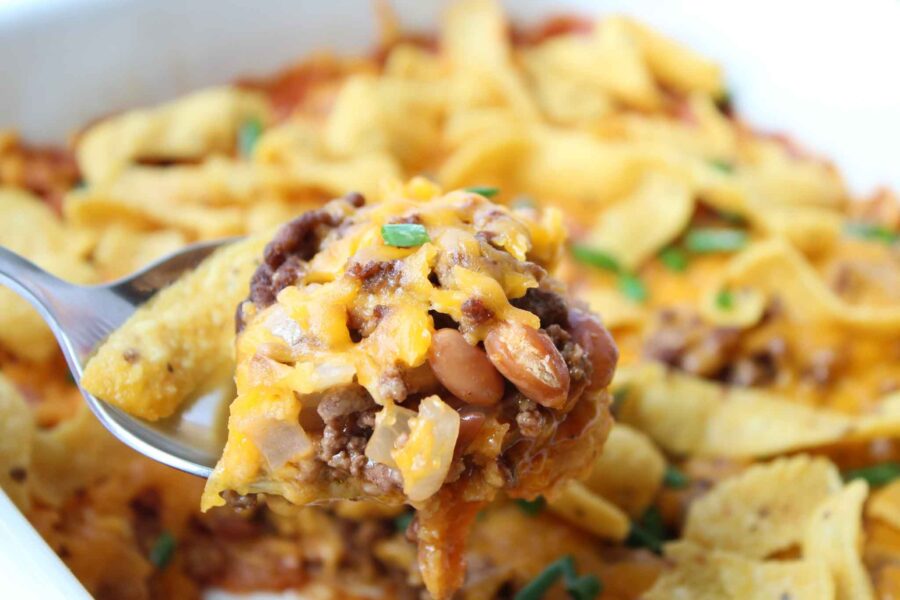 Ingredients Needed for Frito Pie Ground Beef Casserole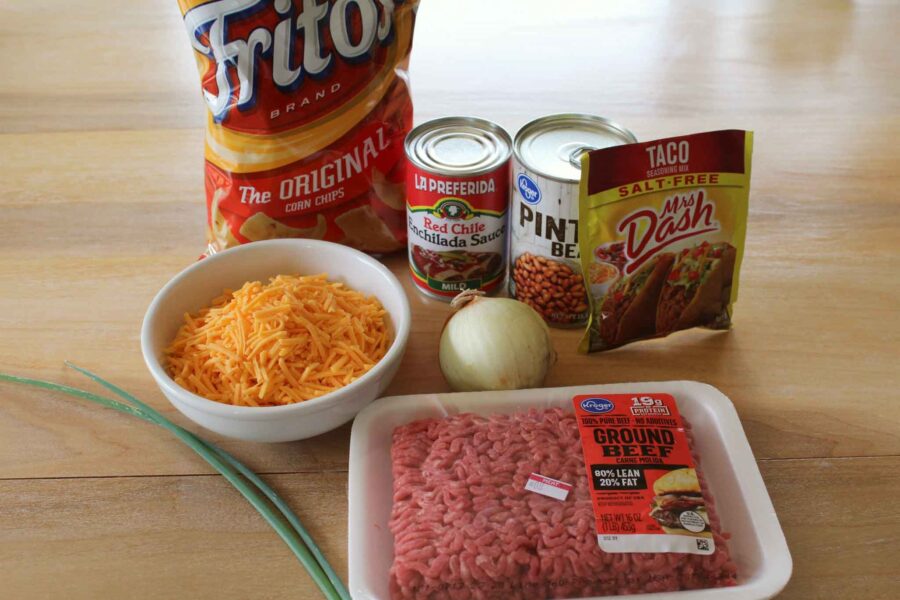 Ground beef is a staple ingredient in many classic American dishes, including Frito pie. It provides a hearty and flavorful base for the recipe that is rich in protein. Cook beef entirely.
The onion is a key ingredient in Frito pie, adding a tangy and aromatic flavor to the dish. It's a great ingredient to use in many types of cuisine and can be used in a variety of dishes.
Taco Seasoning Mix is a blend of spices that gives the dish a Mexican flare. It usually contains a mix of chili powder, garlic powder, paprika, cumin, and other spices. It gives the dish a bold, spicy flavor.
Diluting the taco seasoning mix with water helps it mix evenly with the other ingredients, creating a balanced flavor throughout the dish.
The enchilada sauce is often used to add richer and more complex flavor to the dish. It brings a slightly sweet and savory taste to the beef.
Pinto beans are a great addition to Frito pie because they are a good source of fiber and protein.
Fritos Corn Chips are the perfect topping for Frito pie. They are crunchy and salty, and they provide a great contrast of texture to the meat, beans, and cheese. A bag of Fritos or mini Fritos bags do the trick!
The shredded cheese used in Frito Pie, such as cheddar or Monterey jack, melts beautifully and helps to hold the dish together.
Adding chopped green onion gives the dish a fresh and bright texture. It adds a mildly spicy and tangy flavor which contrasts well with the other ingredients used in the recipe.
Optional Garnish: ranch-style beans, refried beans, chili beans, green chilies, olive oil, tons of cheese, red onions, and whatever else you're craving!
What are some favorite taco toppings for Classic Frito Pie?
There are many different toppings that can be used to enhance the flavor and texture of tacos! Here are some of the most popular taco toppings: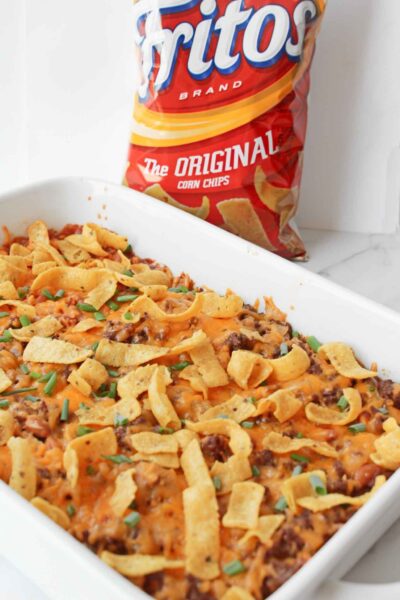 Shredded cheese: Adding some shredded cheese, such as cheddar, Monterey jack, or queso fresco, to your tacos can give them a creamy and savory flavor. Gooey cheese is the best!
Guacamole: A scoop of guacamole adds a deliciously creamy and slightly tangy flavor to tacos. It's perfect for people who love avocados.
Salsa: Salsa is a classic topping for tacos. It can be mild or spicy and adds a tangy, refreshing flavor that complements the other ingredients.
Sour cream: Sour cream is a great topping for those who enjoy a cooling element to balance out the spice or heat in their tacos. It also adds a creamy and slightly tangy flavor.
Lettuce or Cabbage: Adding some shredded lettuce or cabbage can give your tacos a satisfying crunch and a fresh flavor.
Tomatoes: Chopped tomatoes add a juicy and slightly sweet flavor, which can contrast well with some of the other savory taco ingredients.
Red Onion: Diced red onion gives a hint of sharpness and pungency, which adds depth of flavor to your tacos.
Cilantro: Adding some fresh cilantro can give your tacos a burst of flavor and aroma.
It's a great topping for those who love fragrant herbs.
These are just some of the most commonly used taco toppings, but there is no limit to the flavors and textures you can add to your tacos. Experiment with different toppings and find your perfect combination of flavors!
What else is Frito Pie called?
Walking tacos
Frito Pie Casserole Dish
Frito Chili Pie
Frito Taco Pie
Easy Frito Pie recipe is an easy dinner recipe and the ultimate comfort food. If you're looking for something to make for the family that involves casserole recipes, give this easy recipe a try! The whole family will love this delicious comfort food recipe.
If you are looking for more fun dinner recipes be sure to check out this comprehensive list! Easy and Tasty Dinner Ideas For The Whole Family
Yield:

8 servings
The Best Frito Pie With Ground Beef
This fitro pie is so tasty and full of flavor! a great dinner or lunch option.
Ingredients
1 pound ground beef
1 onion, diced
1 package taco seasoning mix
2/3 cup water
1 can (15 oz.) enchilada sauce
1 can (15 oz) pinto beans, drain and rinse
1 bag (9.25 ounce) Fritos corn chips
2 cups shredded cheese
1 green onion chopped
Optional Garnish: lettuce, tomato, sour cream, guacamole
Instructions
Prepare a 9x13 inch baking dish by spraying it with oil or a non-stick cooking spray. Preheat the oven to 350ºF.
In a large skillet, add the ground beef and onions. Cook over medium heat stirring often until meat is brown and onions have softened.
Once meat and onions are fully browned, drain off excess fat. Add in water and taco seasoning, stir and simmer for 3-4 minutes.
Add the enchilada sauce and beans to the skillet and stir to fully combine.
Sprinkle about 4 cups of Fritos onto the bottom of your baking dish, then top the Fritos with 1 cup of cheddar cheese. Spread the meat mixture on top of that for the next layer then top with remaining cheese.
Bake at 350ºF for about 20 minutes until the cheese is melted and bubbly. You're your casserole is out of the oven, top with the remaining Fritos.
Allow to cool slightly, then serve with optional topping such as lettuce, tomato, green onions, sour cream, or guacamole.
Enjoy!
Nutrition Information
Yield
8
Serving Size
1
Amount Per Serving
Calories

347
Total Fat

22g
Saturated Fat

9g
Trans Fat

1g
Unsaturated Fat

9g
Cholesterol

80mg
Sodium

506mg
Carbohydrates

14g
Fiber

3g
Sugar

5g
Protein

24g
Pin it for later!
If you enjoyed this recipe be sure to check out my Instagram Page for the latest posts!
Before you go, check out these great posts!
Southern Sweet Potato Casserole With Crunchy Pecan Topping
The Best Side Dishes That Will Make Your Meal Amazing
The Best Quick and Easy Lunch Recipes
Hi! I'm Nellie. I am a busy mama of three, wife to my high school sweetheart who loves to cook, workout and stay organized! I love to share helpful printables, the best recipes and fitness tips for the modern mom. I strongly believe that every mom can feed their family well, take proper care of themselves and have fun along the way! Read my story.
Get comfortable and be sure to come hang out with me on social. Don't grab your free fitness journal before you go!