Looking for a fun twist on Hot Chocolate? These Hot Chocolate Bombs are so fun and easy to make for the family! They are filled with chocolate chips and marshmallows and melt into a tasty warm beverage.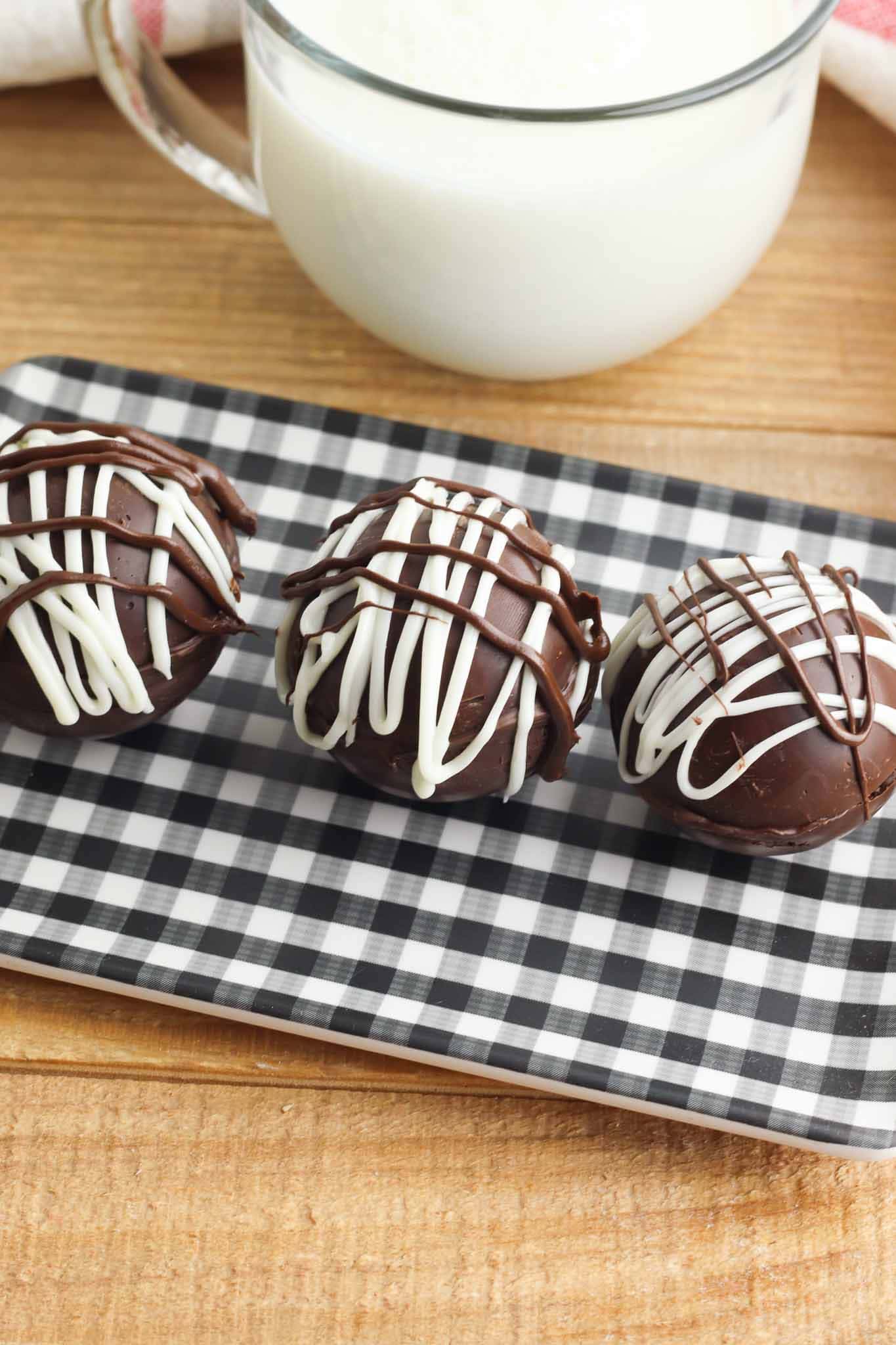 2020 has been a journey, am I right? I must say though, who thought that hot chocolate would be a highlight?! I just want to personally thank whomever came up with the idea for Hot Chocolate Bombs because they are the coolest!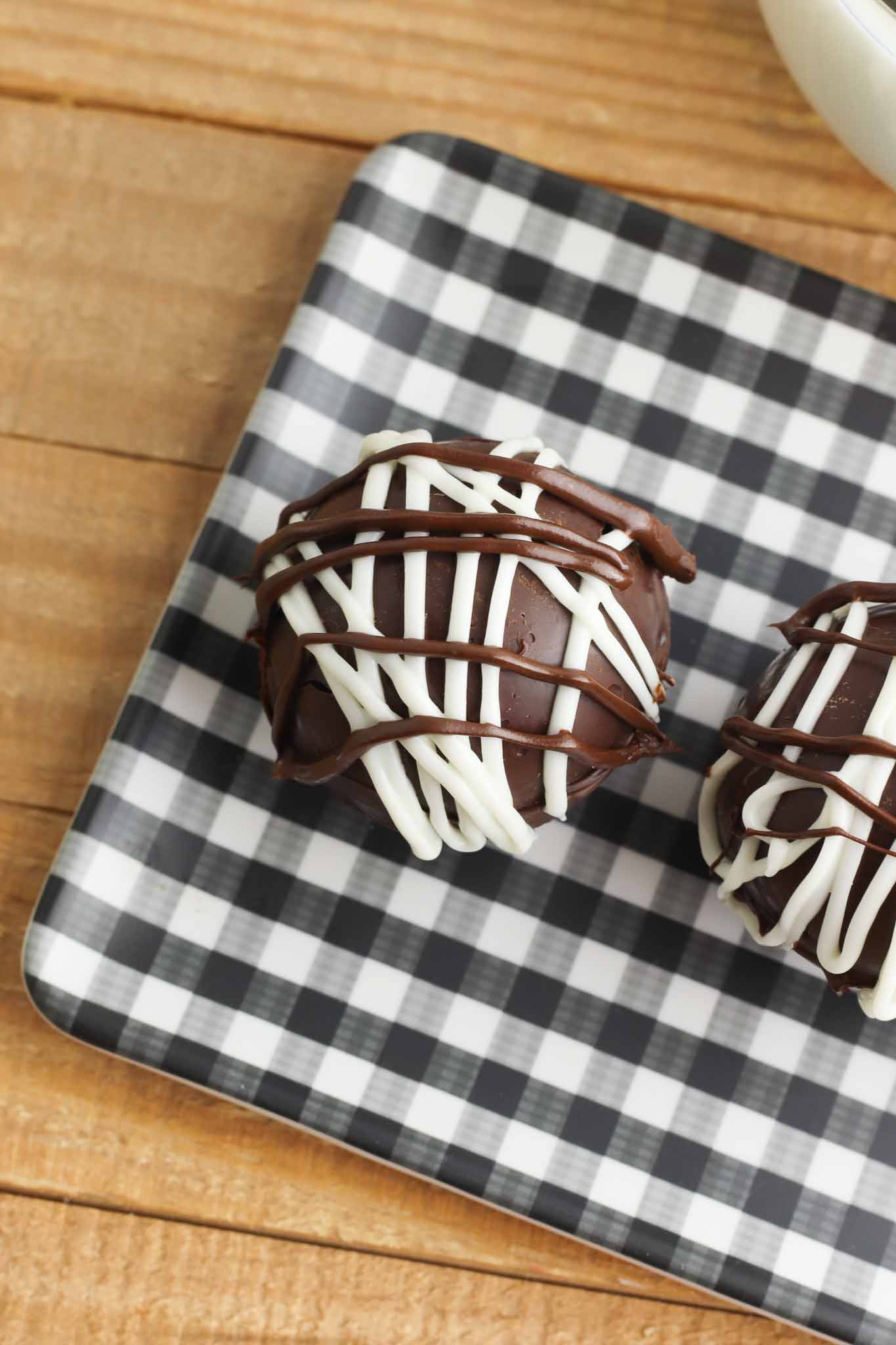 What are hot chocolate bombs?
Well friends, they are the hottest new treat! You basically melt delicious hot chocolate, set it in a mold, fill it with yummy goodness (In our case here it's white chocolate chips, marshmallows and instant cocoa mix).
You combine all of these awesome ingredients in a pretty chocolate ball, drop it in piping hot milk and baby you have got a fun treat! There are many ways to make it, but I've got a pretty easy and fun recipe for you today.
Why go through the trouble of making these treats?
Because it's fun! They are fun to give as gifts, they are even more fun for a movie night (YEAR ROUND). I love the drama of these too, yes, it's one hot chocolate drink but the payoff is so worth it!
Yes there is a lot of set time and care put into these bombs. There must be a lot of patience when making these, you have to create the molds, fill in the ingredients, then wait again for everything to come together perfectly. These hot chocolate bombs are certainly a labor of love.
What can I put in my chocolate bombs?
Anything you want really. I've seen so many things–candy, peanut butter, mint chocolate–basically any flavor that will go well with chocolate. I wouldn't go TOO crazy though, the basic recipe is just perfect enough! I won't be mad if you decide to add some razzle dazzle.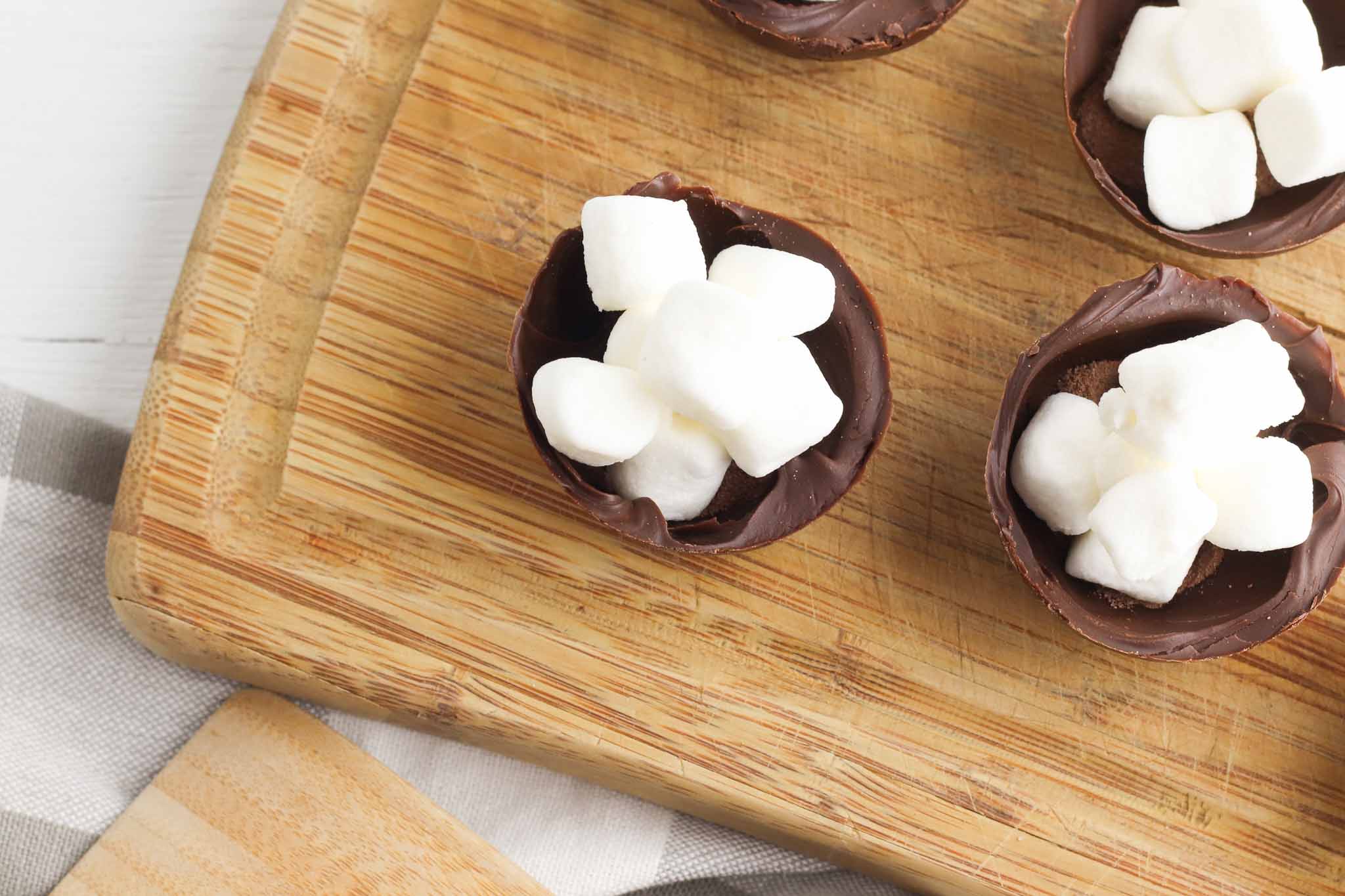 Try it out! Have fun and enjoy!
Yield:

6 bombs
Hot Chocolate Bombs with Chocolate Chips and Marshmallows
Total Time:
4 hours
30 minutes
These fun chocolate bombs are great to make for movie night or cold evenings indoors! Pour hot milk over these treats, mix and enjoy.
Ingredients
1 12-ounce package semi-sweet chocolate chips
1 packet instant cocoa mix
1 cup mini marshmallows
¼ cup white chocolate chips
6 cups hot milk to make the bombs
Instructions
Instructions:
Place the semi-sweet chocolate chips in a microwave safe bowl and microwave in 30 second intervals, stirring between each interval, until the chocolate chips are fully melted.
Put a spoonful of melted chocolate inside one cup on the silicone mold and use the back of the spoon to spread the chocolate up the sides of the mold. Continue this process until all the molds are coated.
Set the remaining chocolate aside for sealing and decorating the bombs.
Allow the chocolate to set completely, around 2 to 3 hours. You can speed up the process by placing the chocolate in the refrigerator.
When the chocolate is set, remove each of the chocolate pieces from the mold. Add a small amount of instant hot cocoa mix to half the
pieces and top the hot cocoa mix with marshmallows.
Reheat the chocolate in 15 second intervals until melted. Pick up an empty chocolate piece and dip the edges into the melted chocolate. Carefully place it on top of a filled piece and lightly press it into place. Use your finger to smooth melted chocolate around the seam.
Continue until all the chocolate bombs are sealed.
Melt the white chocolate chips in 15 second intervals until melted, then place the remaining semi-sweet chocolate and white chocolate in piping bags. Drizzle the chocolate over the top of the bombs to
decorate.
Allow the chocolate decorations to set before using, around 1 hour.
To make the hot chocolate bombs, place the bomb in the bottom of a mug. Pour one cup of hot milk over the top of the bomb to melt the chocolate. When the chocolate is completely melted, stir to combine.
Enjoy!


Hi! I'm Nellie. I am a busy mama of three, wife to my high school sweetheart who loves to cook, workout and stay organized! I love to share helpful printables, the best recipes and fitness tips for the modern mom. I strongly believe that every mom can feed their family well, take proper care of themselves and have fun along the way! Read my story.
Get comfortable and be sure to come hang out with me on social. Don't grab your free fitness journal before you go!