Today I've got some really fun green hot cocoa bombs that you can make for St. Patrick's Day with the kids! This fun mix even turns the hot chocolate GREEN!
When someone mentions St. Patrick's Day, many people automatically think whiskey and green food coloring! However, when planning to celebrate with children for St. Patty's Day, that probably would not be the best course of action. Below are some ideas on what to do for the kids on this Irish holiday.
How To Dress For St. Patrick's Day
St. Patrick's Day does not mean everyone has to wear elaborate costumes (although that would certainly be a fun idea), but getting the kids dressed up green jackets and goofy top hats is in keeping with the St. Patrickís Day theme is super fun! Adults accompanying their kids may want to participate in the festive attire, too!
St. Patty's Day Games
Games are such a fun way to celebrate St. Patty's Day! One idea is to get a bunch of gold coins – the chocolate ones, of course – and hide them around the house and yard.
Then tell the children that a pesky leprechaun has hidden all his coins, and that they must go on a scavenger hunt for them! This should keep the little ones entertained and occupied until you announce that all the coins have been found. Buy a lot of these, to ensure everyone will get at least one, to keep the kiddos happy.
Decorate For St. Patrick's Day!
Since this is for the kids and has no expectations of being elegant or sophisticated, feel free to go tacky, decorating with huge clovers and leprechauns, festive paper plates and napkins, etcetera.
Make some goody bags with lucky charms, shamrock-shaped erasers and the like, little trinkets to keep the kids busy. Go all out and don't worry if it looks silly; it's supposed to!
St. Patty's Food
Last, but certainly not least, there is the menu. Food is an integral part of any celebration, and children have big appetites. Try some fun and whimsical shamrock cookies, and incorporate the color green and/or shamrocks into all the food items.
Try making a shepherd's pie, and just to tease the kids (no one really has to eat it), make a black pudding and gauge their reactions when you offer it to them.
A dessert option for any adults at the party could be 'goody', an Irish dessert bread made with various spices. Kids might not see it as a viable dessert, but their parents will appreciate it!
St. Patrick's Day Green Hot Cocoa Bombs
Today I've got some really fun St. Patrick's Day Hot Chocolate Bombs that the kids will love! All you need are some green candy melts, ziplock bag, vanilla coffee creamer and mini marshmallows if you like!
Once you make these bombs, place them in your favorite mug, pour hot milk over them and you have got a fun green tasty treat!
Enjoy!
Yield: 3 bombs
St. Patrick's Day Green Cocoa Bombs
Prep Time: 20 minutes

Total Time: 20 minutes

Make these fun green hot cocoa bombs for St. Patrick's Day or anytime!
Ingredients
--Equipment
Microwave Safe Bowl
Spoon
6 cavity mold
Small Piping bags or ziploc baggies Scissors
A Hot Plate or Frying Pan
--Ingredients
2 cup green candy melts
Powdered French Vanilla Coffee Creamer
Mini Marshmallows, optional
White Candy Melts
Green Candy Melts
Yield: 3 bombs
Instructions
First, Place a plate in the freezer

Melt green candy melts in a microwaveable bowl on high for 30 seconds.
Stick a spoon in the chocolate to see if it's beginning to melt. If it is you will need to decrease the power percentage on your microwave down to 60 percent and continue.
Continue to warm up chocolate in 30 second intervals stirring between each time. This may take 2-4 times.
When you stir the chocolate and see it's mostly melted, heat for 15 seconds and stir until all lumps are gone and the chocolate is smooth.
Use the back of the spoon to coat the mold completely.

Wipe away any excess chocolate.

Freeze for 15-20 mins.

Prepare your set up for the contents inside of the cocoa bombs.
Remove plate and mold from the freezer.
Carefully remove each half from the mold and set them on the now cold plate (this keeps them from melting)
Spoon in powdered coffee creamer and mini marshmallows (if you'd like)
Connect the two ends of the cocoa bomb together by either melting chocolate to serve as a glue (piping bag method) or place the top half onto a heated plate to lightly melt the edges and stick them together.

Notes
Ways to connect your cocoa bomb:
Hot Plate Method: Place a plate in the microwave for 2 minutes and remove. The plate
will hold the heat without the risk of burning yourself.

Pipe melted chocolate: Use leftover melted chocolate. Add to a piping bag or small
ziploc bag. Cut a small hole at the end of the piping bag (or one corner of the ziploc bag). Squeeze chocolate around the rim of the bottom sphere and simply place the other sphere on top. Using your finger, smooth the chocolate out. (leave as is or add sprinkles or crushed candies)

If you use the piped chocolate method just remember if the chocolate is too hot it will burn a hole into your bomb, so watch your temperature.

If you do not bring the chocolate all the way up the cavity your two halves will not
connect. Make sure to take extra care to bring the melted chocolate all the way up all the sides. You should not be able to see the color of the inside of the molds, if you can your bomb wont be as sturdy.

If cocoa bombs are being made in advance they can be frozen and stored.

Secrets of success:
Place the bomb on it's side in the mug and pour piping hot (almost boiling) milk or water directly onto the seam.
Body heats melts chocolate quickly, use gloves or touch the bombs as little as possible once they are formed in the molds.
Important Note:
Remember whatever you put inside the cocoa bomb will end up in your hot chocolate. All candy and sprinkles do not melt. While it is nice for presentation, be selective on what you put inside of your hot cocoa bombs. Some sprinkles may be a choking hazard to small children.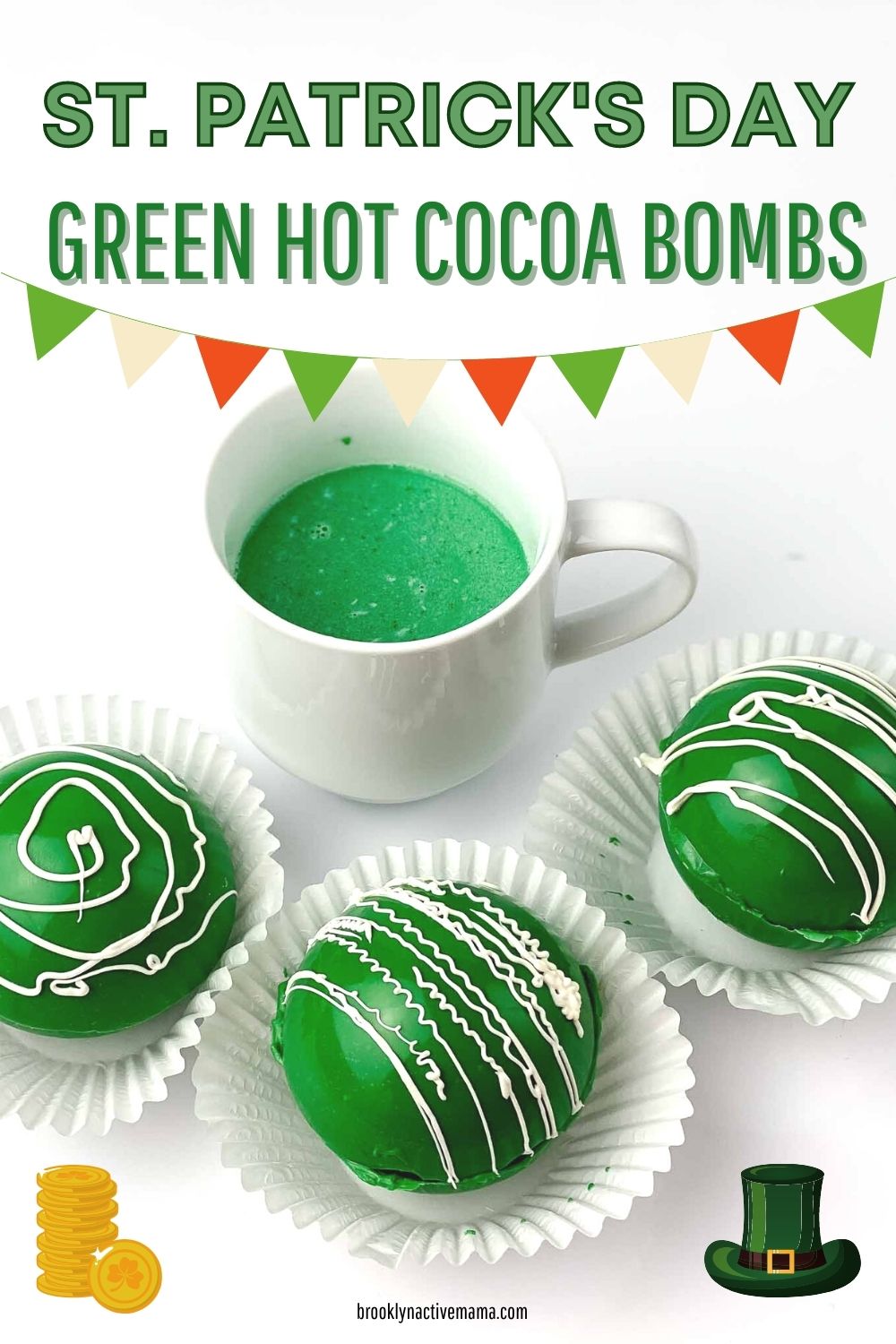 Don't forget to check out these awesome hot cocoa bomb recipes too!
Valentine's Day Hot Cocoa Bombs
Birthday Hot Cocoa Bombs – Celebrate With This Tasty Treat!
Winter Themed Hot Chocolate Bombs
Easy and Yummy Hot Chocolate Bombs Recipe
Hi! I'm Nellie. I am a busy mama of three, wife to my high school sweetheart who loves to cook, workout and stay organized! I love to share helpful printables, the best recipes and fitness tips for the modern mom. I strongly believe that every mom can feed their family well, take proper care of themselves and have fun along the way! Read my story.
Get comfortable and be sure to come hang out with me on social. Don't grab your free fitness journal before you go!