Today I am sharing a super easy gingerbread hot chocolate recipe that you likely have all the ingredients to make right now!
Embrace the holiday spirit with a mug of gingerbread hot chocolate! This is not your average hot cocoa; it combines the beloved chocolate flavor with classic gingerbread spices, making it the perfect warm drink to cozy up with during the festive season. Whether you're wrapping presents, watching your favorite Christmas movies, or simply enjoying a quiet night by the fireplace, this tasty gingerbread hot chocolate will be your favorite way to warm up.
FAQs:
Can I use cocoa powder instead of chocolate milk?
Of course! Just use warmed milk and mix in quality cocoa or cacao powder, adjusting the sweetness to taste.
Is there a vegan version of this drink?
Absolutely! You can use plant-based milk like almond milk, soy milk, or coconut milk. Skip the whipped topping or go for coconut cream as a vegan alternative.
What's the difference between blackstrap molasses and regular molasses?
Blackstrap molasses is darker, less sweet, and contains more minerals. For a lighter taste, opt for regular molasses.
Tips and Tricks:
For the richest flavor, use good quality milk chocolate or dark chocolate chips instead of just chocolate milk.
Always heat milk on medium heat, stirring often, to avoid scalding.
If using raw cacao for extra health benefits, remember it's less sweet than traditional cocoa powder, so adjust sweeteners accordingly.
Variations:
White Hot Chocolate: Use white chocolate shavings for a different twist and add gingerbread spices.
Vegan Gingerbread Hot Chocolate: Combine vegan hot chocolate with gingerbread syrup and top with coconut cream.
Spicy Kick: Add a pinch of fresh ginger or gingerbread spice mix for an extra kick.
Where to Serve:
Christmas Eve: Nothing says Christmas spirit more than this drink and a plate of gingerbread cookies.
Holiday Gatherings: This hot cocoa recipe will impress guests, especially when paired with gingerbread waffles or gingerbread lattes.
Movie Night: This cozy drink enhances the experience of holiday films.
Storage: The hot chocolate drinks are best enjoyed immediately. However, gingerbread syrup or gingerbread spice mix can be stored in a mason jar for later use.
Common Problems and How to Avoid Them:
Grainy Texture: Always use low heat and whisk frequently. Chocolate can seize if heated too rapidly.
Overly Sweet: Adjust the amount of brown sugar, coconut sugar, or maple syrup, and avoid artificial sweetener.
Separation: Ensure all ingredients are well-mixed. If using chocolate chips, ensure they're fully melted.
Tips for Making This Recipe with Kids:
Kids can decorate mugs with mini marshmallows or chocolate shavings.
Allow them to whisk the hot milk (with supervision) for a bit of kitchen fun.
A star tip in a piping bag with whipped cream can make topping the hot chocolate a fun activity for them.
Gingerbread Hot Chocolate Recipe Ingredients:
Chocolate Milk:
Purpose: It forms the creamy and rich base of the hot chocolate. Using chocolate milk gives an immediate, sweet, and cocoa-infused foundation to the drink.
Ground Allspice:
Purpose: Allspice, often used in holiday recipes, brings a warm and complex flavor. It has hints of cloves, cinnamon, and nutmeg, which enriches the spiciness of the drink, making it perfect for the winter season.
Cardamon:
Purpose: Cardamom adds a unique and aromatic scent, slightly sweet and with an invigorating, cool aftertaste. This complements the heat of the other spices and creates a well-rounded flavor profile.
Cinnamon:
Purpose: A staple in many holiday recipes, cinnamon offers a sweet, woody fragrance. It brings warmth to the hot chocolate and enhances the gingerbread flavor.
Clove:
Purpose: Clove imparts a strong, pungent flavor which adds depth to the gingerbread profile. It's a key element in creating that classic gingerbread taste.
Molasses:
Purpose: Molasses is the secret to a true gingerbread flavor. It gives the hot chocolate a rich, deep sweetness, different from the usual sugar sweetness. It also gives a dark color which visually enhances the drink's appeal.
Whipped Topping:
Purpose: The whipped topping not only creates a beautiful contrast against the dark drink, but it also introduces a delightful creamy texture with every sip. When it melts into the hot chocolate, it adds richness and makes the drink even more luxurious.
The combination of these ingredients creates a perfectly balanced, rich, and spicy hot chocolate that invokes the festive spirit of the holiday season. Each element has a role, and together they harmonize to make the Gingerbread Hot Chocolate a comforting and delectable treat.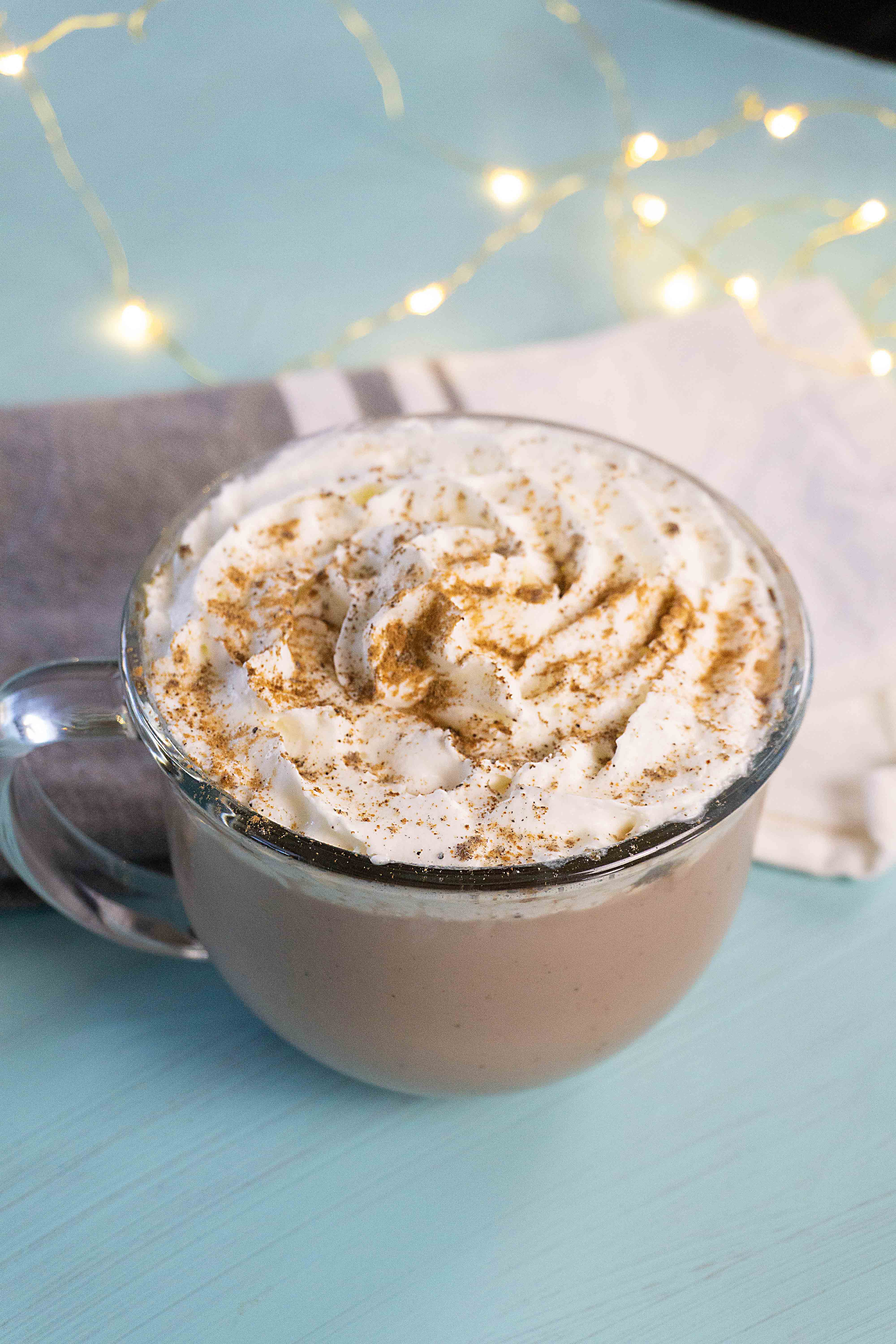 Here is fun hot chocolate recipe for you to enjoy all season long, and all winter long too!
Topping Options:
Whipped Cream: A dollop of heavy cream or even coconut cream for vegans.
Chocolate Shavings: Enhance the chocolate flavor and presentation.
Candy Canes: A festive touch that adds a hint of mint.
Why This Hot Chocolate Recipe Works:
Melding the comforting flavors of hot chocolate with gingerbreads spicy sweetness makes for a delightful concoction that encapsulates the holiday season's essence. The secret ingredient, molasses, gives depth and authenticity to the gingerbread flavor, making every sip feel like a hug in a mug.
What are some other delicious hot chocolate recipes to try?
Yield:

1 serving
Yummy Gingerbread Hot Chocolate Recipe
This super simple gingerbread hot chocolate recipe will have you ready for the holiday season!
Ingredients
1 1/2 cups chocolate milk
1 teaspoon ground allspice
1 teaspoon cardamon
1 teaspoon cinnamon
1 teaspoon clove
1/2 teaspoon molasses
whipped topping
Instructions
Heat chocolate milk for 30 seconds in microwave or in a sauce pan.

Add a half teaspoon of each spice and the molasses to the cup and pour in hot chocolate milk. Stir well.

Add whipped topping to the drink and top off with remaining spices.
Nutrition Information
Yield
1
Serving Size
1
Amount Per Serving
Calories

358
Total Fat

15g
Saturated Fat

10g
Trans Fat

0g
Unsaturated Fat

4g
Cholesterol

45mg
Sodium

230mg
Carbohydrates

47g
Fiber

5g
Sugar

40g
Protein

12g
How many gifts do your kids get every year?
Hi! I'm Nellie. I am a busy mama of three, wife to my high school sweetheart who loves to cook, workout and stay organized! I love to share helpful printables, the best recipes and fitness tips for the modern mom. I strongly believe that every mom can feed their family well, take proper care of themselves and have fun along the way! Read my story.
Get comfortable and be sure to come hang out with me on social. Don't grab your free fitness journal before you go!