New Years Eve and New Years Day is one of my favorite times of year. There is always a sense of renewal in the air. It's a time to start things brand new and it's a time to end bad habits leaving them in the previous year. New Year's is a fun time filled with hope and a renewed focus. My favorite thing about New Years Day is the family time! Today I have a fun New Year's Scattergories game you can play with family!
Do your kids stay up to watch the ball drop at midnight? Mine do not, I don't even think they know it's a "thing" yet. We let them watch a lot of the festivities on the various channels but very rarely do they make it past 10pm.
Since we always spend New Years Eve and New Years Day as a family, I've decided a start a new tradition where we will play games and usher in the new year together while bonding so we can keep the same vibes throughout the year.
My mother has a yearly tradition of bringing the entire family to her house on New Years Day for a wonderful dinner and time of reflection. We often sing hymns and share what we are most grateful for during the previous year. She has been doing it now for the past 10 years!
It's so fun and so refreshing to start the new year not only with good family but some really good food too!
New Year's Scattergories Printable Game
When I was growing up Scattegories was one of my FAVORITE games to play—of course because it involved words! While all my friends loved classic board games like "monopoly" "candy land" and "Life", I absolutely loved Scattergories. It was so fun to race against the clock to write down my answers!
How does Scattegories work?
Scattergories is a creative-thinking category-based party game originally published by Parker Brothers in 1988. The objective of the 2-to-6-player game is to score points by uniquely naming objects within a set of categories, given an initial letter, within a time limit.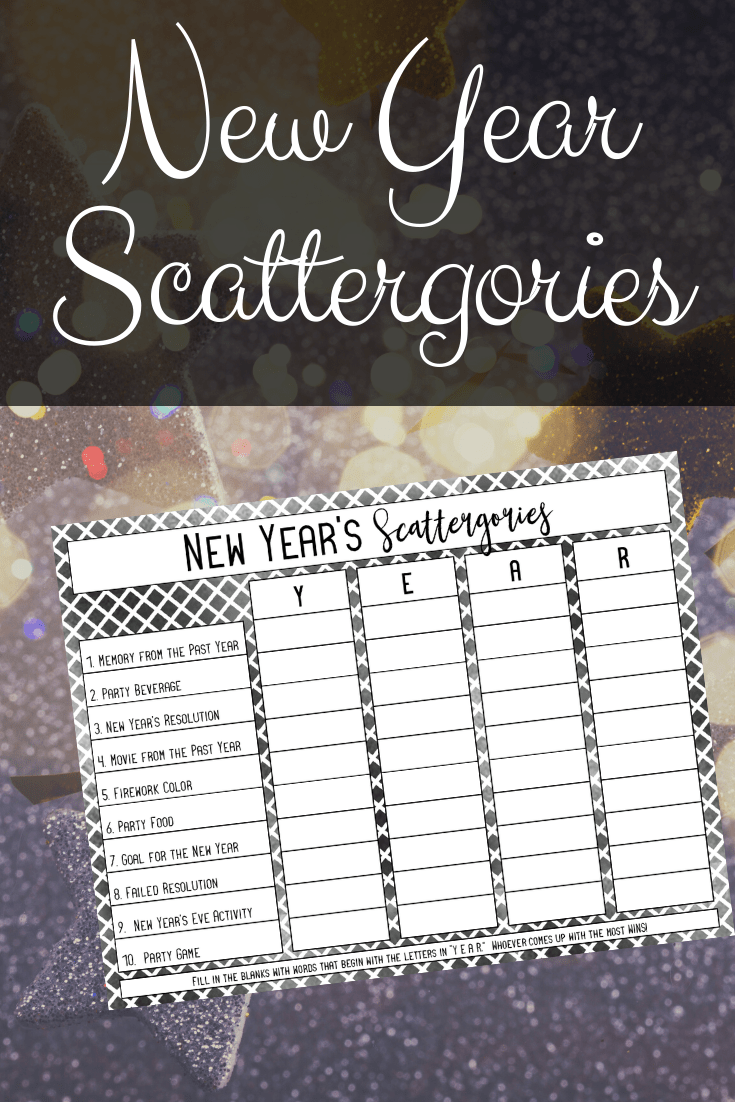 How does this free Scattergories Printable work?
You can download and print as many copies as you need. You have 10 different categories including:
–Memory from the past year
–Party beverage
–New Year's Resolution
–Movie From the past year
–Firework Color
–Party food
–Goal for the new year
And more!
Then you have to fill in the blanks with words that begin with the letter "Y" "E" "A" and "R". Whoever comes up with the most answers wins!
I suggest you have someone use the timer option on their phone for the best results—you can choose the time, whether it's 60 seconds, 3 minutes or even 5 minutes. The goal here is to have fun and learn more about your family and friends!
New Year's Eve Scattergories: Where the Countdown to Chaos Begins
Ah, New Year's Eve—a time of reflection, resolutions, and let's face it, revelry! But between the champagne toasts and renditions of "Auld Lang Syne," lies a gem of a party game that's been stealing the limelight: New Year's Eve Scattergories. If you're looking for a way to ramp up the excitement and stir the competitive juices among friends and family as the clock ticks toward midnight, look no further.
The Alphabet Soup of Hilarity
Who knew that a 26-letter alphabet could create such an uproar? The moment that 20-sided die (a real tongue twister, try saying that after a couple of cocktails) rolls to a stop and reveals the letter of the round, you know it's go-time. Suddenly everyone's brains are rifling through their mental dictionaries for words that fit absurd categories like "Things You Don't Want to Find in Your Holiday Stocking" or "Unlikely New Year's Resolutions."
Timed Tension and Release
Adding a timer to any situation usually cranks up the tension, and Scattergories is no exception. The sands of the hourglass become a metaphor for the year that's ticking away. Feel the adrenaline! Feel the pressure! Feel the… complete mind blank as you try to think of a celebrity that starts with the letter 'Z.'
The Debate Stage: Where Friendships Are Tested
The best part? The heated debates and impassioned pleas that follow each round. Is 'xylophone' a reasonable answer for "Things You Wouldn't Want to Drop"? Can you justify 'eating kale' as an unlikely New Year's Resolution? The courtroom drama that unfolds during the scoring process can be more entertaining than a season finale of your favorite TV drama.
The Community of Quirks
Amid the squabbles and the laughs, something magical happens. You learn some pretty quirky things about the people you're playing with. Who knew Uncle Mike would suggest "olive oil" as a bad ice cream flavor? Or that your best friend thinks "nose-hair trimmer" is a bad gift to receive? It's like peeling an onion but way more fun and much less teary.
Why New Year's Eve Makes It Even Better
So why is Scattergories particularly epic on New Year's Eve? It's all about the energy of the room. People are already keyed up with anticipation for the midnight moment, making the stakes of this seemingly innocent game seem higher. Plus, let's be honest, the cocktails and fizzy drinks flowing throughout the night only make the answers—and the subsequent arguments—that much more entertaining.
As the final minutes of the year wind down and you're scrambling to jot down that last, desperate answer, remember: New Year's Eve Scattergories isn't just a game, it's an event, an experience, a grand finale to the year that's been and a hilarious herald to the year that's to come. So grab your pencils, your thinking caps, and your willingness to defend absurd answers. It's not just about welcoming a new year; it's about celebrating the fun, the silly, and the downright ridiculous moments that make life truly enjoyable.
What are some more fun New Year's Eve posts to check out?
Do you have any New Year's Eve traditions that you do with your family?
Hi! I'm Nellie. I am a busy mama of three, wife to my high school sweetheart who loves to cook, workout and stay organized! I love to share helpful printables, the best recipes and fitness tips for the modern mom. I strongly believe that every mom can feed their family well, take proper care of themselves and have fun along the way! Read my story.
Get comfortable and be sure to come hang out with me on social. Don't grab your free fitness journal before you go!