New Years Eve and New Years Day is one of my favorite times of year. There is always a sense of renewal in the air. It's a time to start things brand new and it's a time to end bad habits leaving them in the previous year. New Year's is a fun time filled with hope and a renewed focus. My favorite thing about New Years Day is the family time! Today I have a fun New Year's Scattergories game you can play with family!
Do your kids stay up to watch the ball drop at midnight? Mine do not, I don't even think they know it's a "thing" yet. We let them watch a lot of the festivities on the various channels but very rarely do they make it past 10pm.
Since we always spend New Years Eve and New Years Day as a family, I've decided a start a new tradition where we will play games and usher in the new year together while bonding so we can keep the same vibes throughout the year.
My mother has a yearly tradition of bringing the entire family to her house on New Years Day for a wonderful dinner and time of reflection. We often sing hymns and share what we are most grateful for during the previous year. She has been doing it now for the past 10 years!
It's so fun and so refreshing to start the new year not only with good family but some really good food too!
New Year's Scattergories Printable Game
When I was growing up Scattegories was one of my FAVORITE games to play—of course because it involved words! While all my friends loved classic board games like "monopoly" "candy land" and "Life", I absolutely loved Scattergories. It was so fun to race against the clock to write down my answers!
How does Scattegories work?
Scattergories is a creative-thinking category-based party game originally published by Parker Brothers in 1988. The objective of the 2-to-6-player game is to score points by uniquely naming objects within a set of categories, given an initial letter, within a time limit.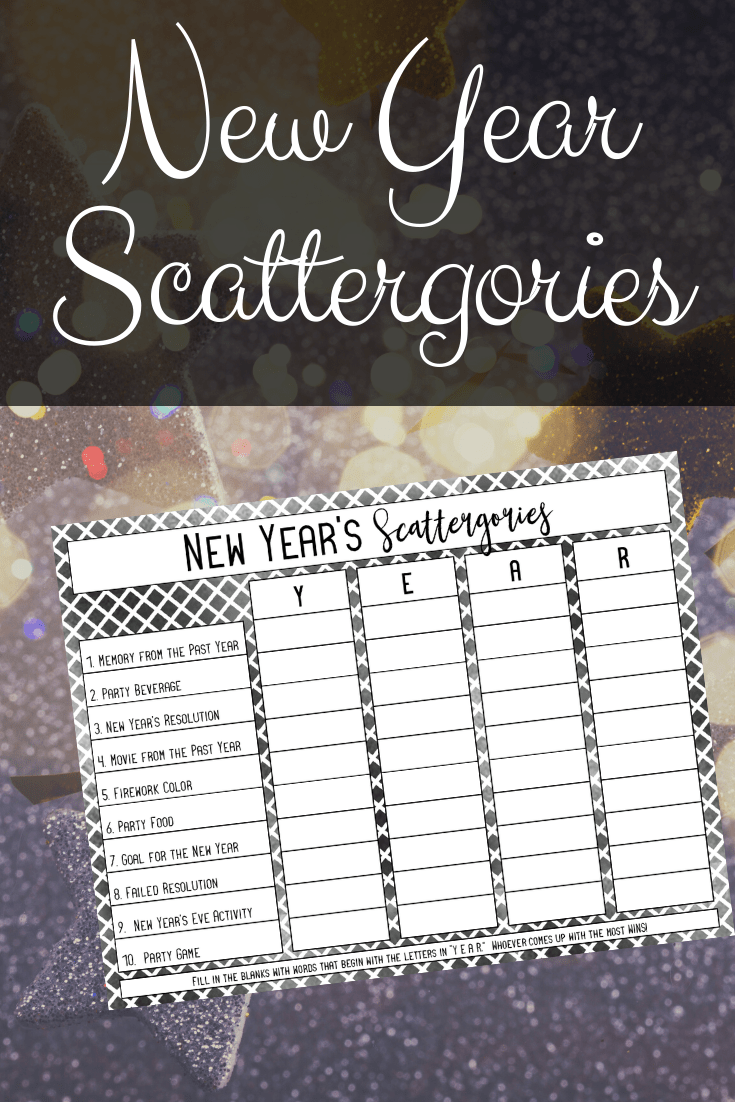 How does this free Scattergories Printable work?
You can download and print as many copies as you need. You have 10 different categories including:
–Memory from the past year
–Party beverage
–New Year's Resolution
–Movie From the past year
–Firework Color
–Party food
–Goal for the new year
And more!
Then you have to fill in the blanks with words that begin with the letter "Y" "E" "A" and "R". Whoever comes up with the most answers wins!
I suggest you have someone use the timer option on their phone for the best results—you can choose the time, whether it's 60 seconds, 3 minutes or even 5 minutes. The goal here is to have fun and learn more about your family and friends!
Download the free New Year's Scattergories printable.
Do you have any New Years Eve traditions that you do with your family?
Hi! I'm Nellie. I am a busy mama of three, wife to my high school sweetheart who loves to cook, workout and stay organized! I love to share helpful printables, the best recipes and fitness tips for the modern mom. I strongly believe that every mom can feed their family well, take proper care of themselves and have fun along the way! Read my story.
Get comfortable and be sure to come hang out with me on social. Don't grab your free fitness journal before you go!