It's that time of year again! Are you ready to indulge in your favorite romantic Christmas movies? Check out this fun Hallmark Christmas Movie Bingo Game you can play while you watch!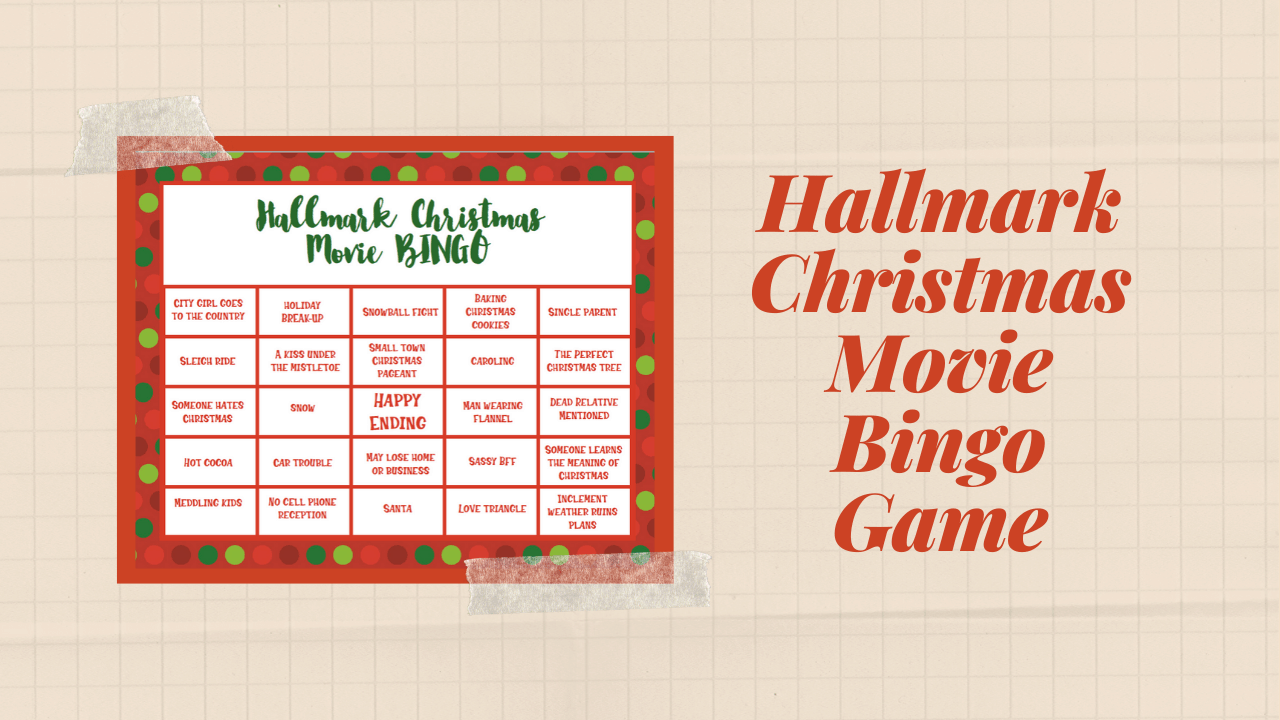 I LOVE romantic Christmas movies. It wasn't always this way for me, I used to see all of my friends talking about them every year and I didn't understand what the big deal was! Then last year I was on 24/7 newborn duty during the holidays and tripped up on the Hallmark channel.
I immediately wondered why it took me so long to get there! I was captivated by the over the top story lines, the cheesy back and forth between the two lead characters, and of course the decor.
The decorations were so fun! It's a bit of an adventure to see how the two main character will meet, what obstacle they will overcome and how the magic of the Christmas season will bring them together. I love it so much that I've got a Hallmark Christmas Movie Bingo game for you to play while you binge!
The Cozy Allure of Romantic Christmas Movies During the Holidays
There's something incredibly comforting about settling down to watch a romantic Christmas movie during the holiday season. Picture this: a warm blanket, a steaming cup of hot cocoa, and the gentle flicker of your Christmas tree lights. As the first strains of a holiday jingle come from your television or streaming device, you know you're in for a heartwarming tale that perfectly complements the season of joy and togetherness.
Christmas movies in general have a kind of magic that can quickly evoke the holiday spirit. But romantic Christmas movies take it a step further by weaving in love stories that are as enchanting as the season itself. These movies, often filled with warm embraces, heartfelt confessions, and charming rendezvous under the mistletoe, epitomize the coziness and intimacy that many of us seek during the holidays.
Finding Love Amidst the Snowflakes and Jingle Bells
The plots of romantic Christmas movies may follow familiar arcs, but it's the holiday backdrop that makes them irresistibly special. Imagine watching two characters share their first kiss under a sky full of falling snow or declare their love in front of a twinkling Christmas tree. The stories are often set in picturesque small towns decked out in holiday glory or big cities where Christmas markets and ice-skating rinks provide delightful dating scenes. The beauty of these settings elevates the romance, making everything feel magical and larger than life.
For example, movies like "Love Actually" weave together multiple romantic stories set during Christmas, each one filled with its own unique twists and turns. The sentimentality is amplified by the holiday themes—forgiveness, gratitude, and, of course, love. There's something incredibly satisfying about watching characters navigate the complexities of love and life against the comforting, celebratory background of Christmas festivities.
The Emotional Journey: Why We Love the Drama
Part of the appeal is also the emotional journey these movies take us on. We laugh, we cry, and we cheer as love triumphs against all odds. In "The Holiday," the characters not only find love but also discover important truths about themselves, all while celebrating Christmas. In "While You Were Sleeping," the holiday season serves as a time of personal reflection and new beginnings for the characters involved. We relate to their struggles, triumphs, and revelations, and the holiday setting amplifies these emotions.
Characters in these films often mirror our own desires for love, connection, and holiday companionship. Whether they're falling in love for the first time or rekindling a long-lost romance, these storylines tap into our innate longing for affection and intimacy, making them all the more appealing to watch during a season that celebrates unity and togetherness.
Nostalgia and Tradition: Rewatching Favorites Every Year
Another incredible aspect of romantic Christmas movies is their rewatchability. Year after year, many of us revisit these films as a holiday tradition. Just like decorating the tree or baking gingerbread cookies, watching these movies becomes an integral part of our holiday celebrations. The nostalgia factor is high; each viewing brings back fond memories of Christmases past, as well as the good feelings associated with the holiday season.
In essence, romantic Christmas movies offer a multi-faceted form of entertainment. They serve as mood setters, life reflectors, and generators of holiday spirit. They provide laughter, tears, and that warm fuzzy feeling in our stomachs. And most of all, they remind us that love—much like the holiday season itself—is a gift that keeps on giving, year after year
Did you know that Hallmark has over 136 movies in their Christmas collection? I have a LOT to catch up on! There are some things you will see in every romantic Christmas movie–and I look forward to it every time!
Things you will find in every romantic Christmas movie
Person who LOVES Christmas (usually the woman)
Overworked grinch (usually the man)
Small town
Insanely Beautiful Christmas Decor everywhere!
People that can see the connection between the lead actors before they can
Hot cocoa
Some sort of Christmas show
Santa figure
Snow
Christmas Carols sung by insanely talented voices
and so much more!
Romantic Christmas Movie Cast Improvements
If you watch enough of these movies you are bound to see actors and actresses that you grew up with on your favorite sitcoms or soap operas! You might even discover some of new favorites too!
I must say that the Christmas movies are getting better and more plentiful every year. There are more plot twists, better locations, and gorgeous sets. The actor quality is getting better too! One big difference I've noticed is that the diversity improving as well. There are many more actors of color and I'm here for it!
If you are looking for a checklist of all the Hallmark movies that will be premiering all season be sure to download this one!
Hallmark Movie Facebook Group
Did you know that you can chat with over 20k other romantic Christmas movie fans about the new premieres or even the "old" movies (let's face it, these movies never get old!) You can join the Hallmark Christmas Movies Facebook group or the Hallmark Movie Club Facebook group so you can chat Hallmark Movies with those that GET IT!
Hallmark Christmas Movie Bingo Game
To fuel your binging habits and make it a little bit more fun, I have a Hallmark Christmas Movie Bingo game for you to download and enjoy! If you love to watch these movies solo or as a family, this is a super fun addition to your viewings!
This game comes with 4 printable pages with four different randomized bingo cards that has class Christmas movie things such as caroling, hot cocoa, the perfect Christmas tree and so much more! How fast can you get BINGO?!
Don't forget to enjoy some more Christmas fun with these yummy festive treats: Snickerdoodle Christmas Cookies and Christmas Tree Cupcakes. Maybe you might want to enjoy the Hallmark movies with a slice of amazing Coconut Cream Pie!
…and don't forget your free Christmas Gift Tags! You will need them for gift giving!
Do you love romantic Christmas movies? Which one is your favorite?
Hi! I'm Nellie. I am a busy mama of three, wife to my high school sweetheart who loves to cook, workout and stay organized! I love to share helpful printables, the best recipes and fitness tips for the modern mom. I strongly believe that every mom can feed their family well, take proper care of themselves and have fun along the way! Read my story.
Get comfortable and be sure to come hang out with me on social. Don't grab your free fitness journal before you go!