Exercise Shaming Is A Thing — And It Needs To Stop.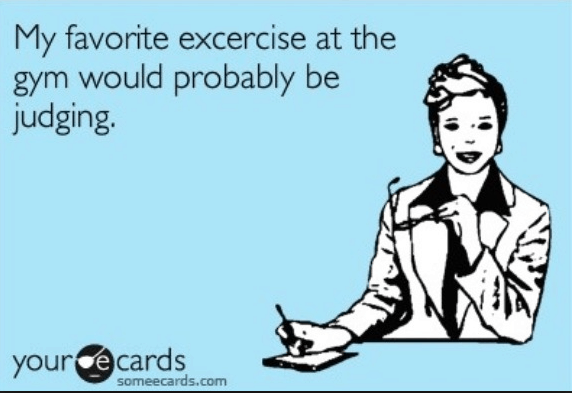 I started blogging about fitness almost six years ago. Since then fitness has exploded, from having the latest fitness gear, devices, running popular races–being healthy and taking care of yourself is IN. It's awesome to watch and super inspiring from pretty much any angle.
With all that positivity however there have been a few bad apples that have been criticizing the *way* people define fitness. We all know that fitness is defined and interpreted by the individual. Yet, the opinions of those who deem themselves as "better" or "greater" have been getting louder and louder towards those who may just be starting out or may not even have a clue what to do when it comes to moving their body.
What irks the hell out of me are the people who taunt others for doing something that is not quite up to par with what THEY are doing. I saw a post on Instagram of a woman who bragged about doing a heavy lifting routine while women next to her were doing some low impact floor work. When I saw the post, it irked me and it stayed with me for days. I really had to unpack WHY this bothered me so much.
Just let people live
I realized that I was most upset because here we are as women–talking about other women–even though they both are on the gym floor. Even though, she is minding her own business. Even though she MADE IT to the gym today. This woman felt the need to talk down on her and turn her nose up because she lifted things and put them back down and the woman wasn't working nearly as hard.
This type of ridiculous bullying behavior is becoming more and more apparent every single day:
"You aren't a real runner until you have run a half marathon/marathon/ultra marathon"
"You get on the elliptical every day? You don't know how to workout properly."
"What? you wear costumes to your races? You can't POSSIBLY be taken seriously in a tutu."
"You can't bend this way? There is no way you are a true yogi."
"Do you even lift?"
"Real runners run in all types of weather."
You get the drift. I respect all of the elite and strong people who dominate fitness on every level. The thing is…you can't expect everyone to be on your level.
The first time I walked into a gym, I was SO nervous. I was 18. Everyone looked like they knew exactly what they were doing. My only goal was to get on a machine and not die. My palms were clammy as I stepped on a treadmill for the first time in my life. I pressed the speed up to 2.0 and walked for 15 minutes. I stepped off, grabbed my things and went home. Might be nothing for most, but for me it was the consistency of going back the next day and adding 3 minutes. Graduating to the elliptical, then the reclining bike.
You never know where someone is on their journey, so before you roll your eyes at someone not doing what you are doing, re-direct that energy into your own workout.
/rant.
Hi! I'm Nellie. I am a busy mama of three, wife to my high school sweetheart who loves to cook, workout and stay organized! I love to share helpful printables, the best recipes and fitness tips for the modern mom. I strongly believe that every mom can feed their family well, take proper care of themselves and have fun along the way! Read my story.
Get comfortable and be sure to come hang out with me on social. Don't grab your free fitness journal before you go!