These Instant Pot Teriyaki Wings are juicy, sticky, and bursting with flavor, making them a hit for any occasion.
Instant Pot Teriyaki Wings: A Quick, Flavorful Party Appetizer
Looking for a game day recipe or a quick and delicious appetizer? Look no further!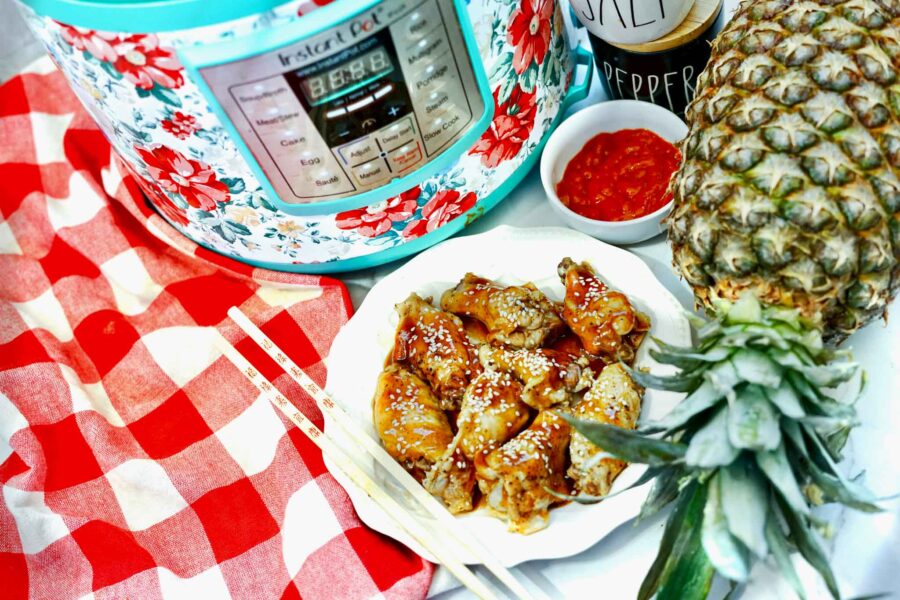 Using an Instant Pot for chicken wings dramatically reduces the cooking time while sealing in all the flavors, making it an easy meal option.
What ingredients do you need for these Asian inspired wings?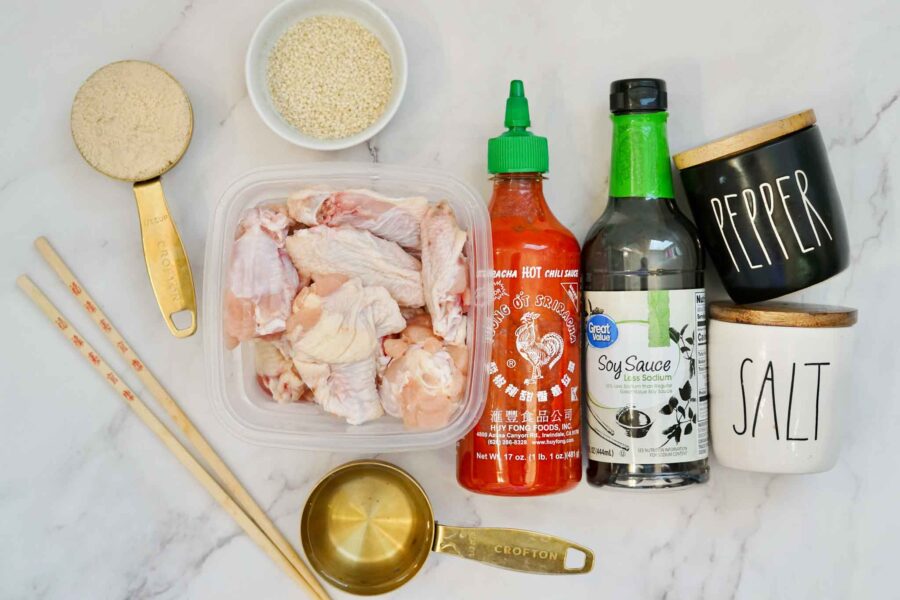 Let's break down the purpose of each component in your Instant Pot Teriyaki Wings recipe.
Chicken Wings
The central protein of this dish, chicken wings are loved for their flavorful meat and the way their skin crisps up. Using the Instant Pot ensures that they cook under high pressure, making them juicy and well-infused with the teriyaki sauce.
Brown Sugar
Brown sugar brings a caramel-like sweetness that balances the saltiness of the soy sauce. Its molasses undertone adds depth to the flavor profile of the teriyaki sauce.
Soy Sauce
The quintessential base of any teriyaki sauce, soy sauce offers both salt and umami, contributing to the savory, deep flavors of the dish. It also provides the signature dark color to the sauce.
Sriracha (Optional)
For those who love a little kick, Sriracha adds spice to the dish. Its inclusion elevates the complexity of flavors in your sauce, offering more than just sweetness and umami.
Salt & Pepper
Salt enhances the natural flavors of the chicken, while pepper adds a mild heat. These simple seasonings work together to elevate the overall taste of the wings.
Water
A crucial but often overlooked ingredient, water dilutes the sauce to the right consistency, allowing it to permeate the chicken effectively. Without it, the soy sauce and brown sugar would be overpowering and too concentrated.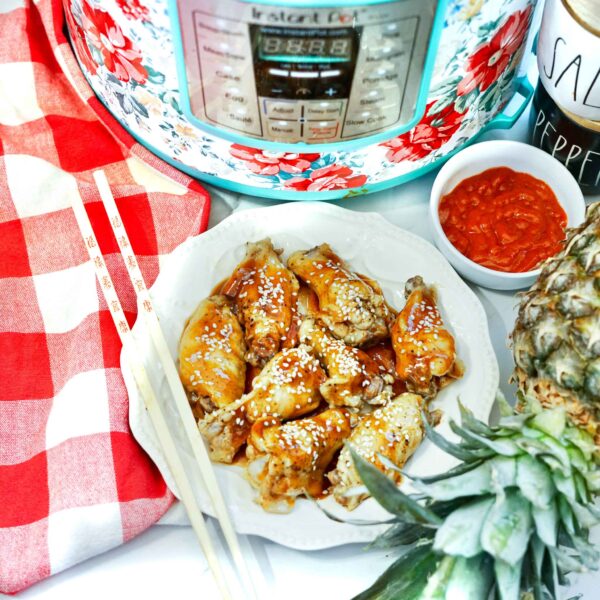 FAQs
Do I Have to Use Whole Chicken Wings?
You can use whole wings or chicken wingettes based on your preference. Both will work well in this recipe.
Can I Make My Own Teriyaki Sauce?
Absolutely. Homemade teriyaki sauce gives you control over the flavor and is often fresher than grocery stores' pre-made options.
What is the Cooking Time?
Expect a 10-15 minute cook time on high pressure, plus additional time for the Instant Pot to reach pressure and for natural pressure release.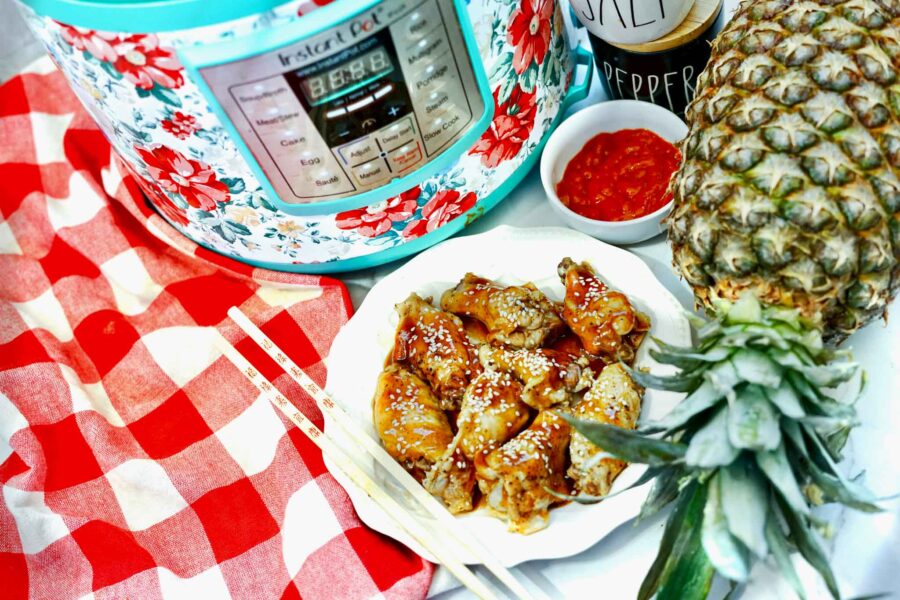 Tips and Tricks
Brown Sugar: Adds sweetness to the sauce. If you want to adjust the sweetness, do so in a small bowl before adding to the Instant Pot.
Soy Sauce: Provides the umami, salty flavor. Use low-sodium if you wish to control salt intake.
Cornstarch Slurry: To thicken the sauce after cooking, make a slurry with teaspoons of cornstarch and water. Use the saute function to incorporate it into the cooking liquid.
Quick Release vs Natural Release: A quick release is useful when you are short on time, but a natural release generally yields juicier wings.
Variations
Protein: You can substitute chicken thighs or chicken breasts, adjusting the cooking time accordingly.
Spices: Onion powder, garlic powder, or chili powder can be added for extra flavor. If you like it spicy, add cayenne pepper or Sriracha.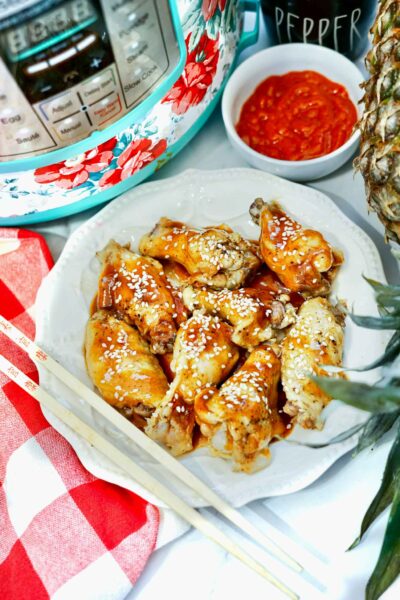 Where to Serve
These Instant Pot Teriyaki Wings make a fantastic party appetizer. They are also a great option for dinner when served with brown rice or cauliflower rice for a balanced meal.
Storage
Leftovers can be stored in an airtight container in the refrigerator for up to four days. Make sure the wings have cooled to room temperature before storing.
Common Problems and How to Avoid Them
Soggy Wings: If your wings aren't as crispy as you'd like, you can place them on a foil-lined baking sheet and broil them for a few minutes.
Too Salty or Sweet: Always taste your sauce before pressurizing the Instant Pot. Adjust seasonings in a small bowl before proceeding.
Tips for Making This Recipe with Kids
Measuring Ingredients: Let the kids measure and mix the teriyaki sauce ingredients.
Button Pressing: Children love hitting buttons! Let them initiate the high-pressure cooking by pressing the appropriate button on the display panel.
Decorating: Once the wings are cooked, kids can help sprinkle sesame seeds or chopped green onions as a garnish.
Topping Options
Sesame Seeds: Adds a crunch and aesthetic appeal.
Green Onions: Provide a fresh burst of color and flavor.
Favorite Sauce: Serve with additional teriyaki sauce, favorite barbecue sauce, or a dipping sauce of your choice.
Why This Recipe Works
The best part about using an Instant Pot for chicken wings is the speed at which you can have dinner on the table. The high-pressure cooking infuses the chicken with flavors in a fraction of the time it would take with other methods.
The saute function allows you to thicken the sauce directly in the pot, making it a one-pot wonder. Plus, the option to use your own teriyaki sauce means you can customize it to your liking. With juicy wings and a delicious sauce that clings to every nook and cranny, it's hard not to love these easy Instant Pot Teriyaki Chicken Wings.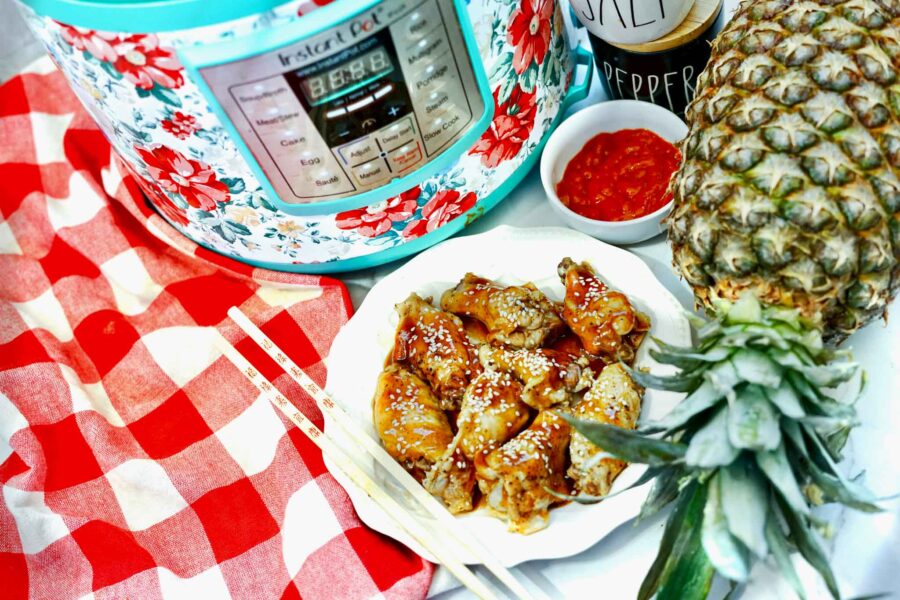 Your next favorite Instant Pot recipe awaits. Check out the recipe card at the bottom of this post for all the details you need to make these amazing wings!
What are some other amazing wings recipes to try?
If you are looking for some more fun game day recipes be sure to check out 25 Incredible Dip Recipes For Game Day Appetizers!
Yield:

3-4 Servings
Easy Instant Pot Teriyaki Wings
These amazing flavorful asian inspired teriyaki wings are so perfect for game day!
Ingredients
10-12 Chicken Wings
2Tbs Brown Sugar
1/2 Cup Soy Sauce
1Tsp Sriracha (optional to add spice)
Salt & Pepper (To Taste)
1/4 Cup Water
Instructions
Pour the water into the instant pot.
Place the trivet inside the instant pot.
Pat dry the chicken wings and place them on top of the trivet.
Sprinkle with salt & pepper.
Secure lid and cook on Manual High Pressure for 10 minutes.
When cooking has finished, perform a quick release.
Combine the soy sauce, brown sugar & optional sriracha.
Shake the wings in the mixture.
Sprinkle with sesame seeds before serving.
Nutrition Information
Yield
4
Serving Size
1
Amount Per Serving
Calories

303
Total Fat

20g
Saturated Fat

7g
Trans Fat

0g
Unsaturated Fat

11g
Cholesterol

66mg
Sodium

2177mg
Carbohydrates

15g
Fiber

1g
Sugar

6g
Protein

16g
If you enjoyed this recipe be sure to check out my Instagram Page for the latest posts!
Before you go, check out these great posts!
Easy Slow Cooker Queso Dip For Game Day Appetizers
50 Delicious and Healthy Game Day Recipes
Super Easy Game Day Bacon Cheddar Dip
Hi! I'm Nellie. I am a busy mama of three, wife to my high school sweetheart who loves to cook, workout and stay organized! I love to share helpful printables, the best recipes and fitness tips for the modern mom. I strongly believe that every mom can feed their family well, take proper care of themselves and have fun along the way! Read my story.
Get comfortable and be sure to come hang out with me on social. Don't grab your free fitness journal before you go!