Prepare a sweet and savory snack that tastes like your favorite dessert with this recipe for Apple Pie Egg Rolls. They're easy to prepare, mess-free, and incredibly delicious.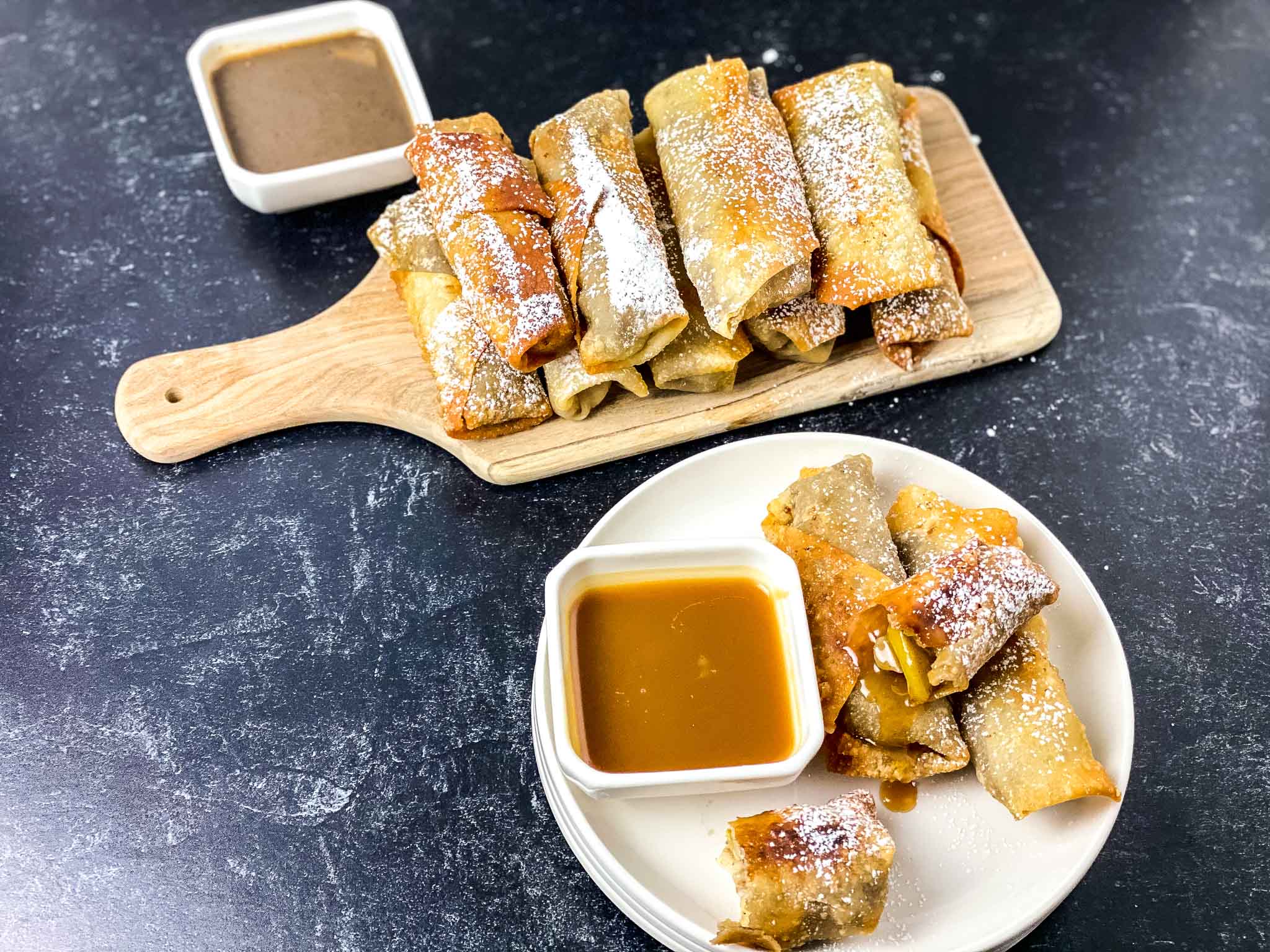 Is apple pie one of your favorite desserts? Do you love the sweet taste of fresh apple slices combined with ingredients that take them to the next level? If so, you're going to love these easy Apple Pie Egg Rolls. They're crispy, sweet, and delicious. Serve them while they're warm and store any leftovers in the fridge!
Prepare to be blown away by the heavenly combo of apple pie and egg rolls in our easy Apple Pie Egg Rolls recipe! These delectable treats feature a sweet filling of diced Granny Smith apples, brown sugar, and warm spices, all wrapped in crispy egg roll wrappers. Whether you're looking for a quick breakfast or a delicious dessert, these apple pie egg rolls are the perfect way to indulge your taste buds any time of the year.
What Are Apple Pie Egg Rolls?
When you normally get an egg roll from one of your favorite fast food restaurants, it typically contains cabbage, shrimp, and other ingredients for a savory appetizer.
FAQs:
Q: Can I use different types of apples for the filling? A: Absolutely! While Granny Smith apples offer a nice tartness, you can use your favorite apple variety or even a combination of different apples for a unique flavor twist.
Q: Can I make these egg rolls in an air fryer instead of deep frying? A: Yes, you can! Follow the same preparation steps and then air fry the egg rolls at 375°F for about 10-12 minutes, flipping them halfway through for even cooking.
Tips and Tricks:
Keep egg roll wrappers covered: To prevent them from drying out, cover the unused egg roll wrappers with a damp paper towel while you're assembling the rolls.

Test oil temperature: Before frying, drop a small piece of egg roll wrapper into the hot oil. If it sizzles and turns golden brown within a few seconds, the oil is ready for frying.
Where Did It Originate:
The delightful fusion of apple pie and egg rolls is the ingenious creation of foodies who sought a playful twist on the classic apple pie. This inventive recipe has quickly become a popular treat, loved by both kids and adults alike.
However, these Apple Pie Egg Rolls are a sweet appetizer that you can make at home using egg roll wrappers and common ingredients used to make apple pie, including Granny Smith apples, cinnamon, butter, and sugar.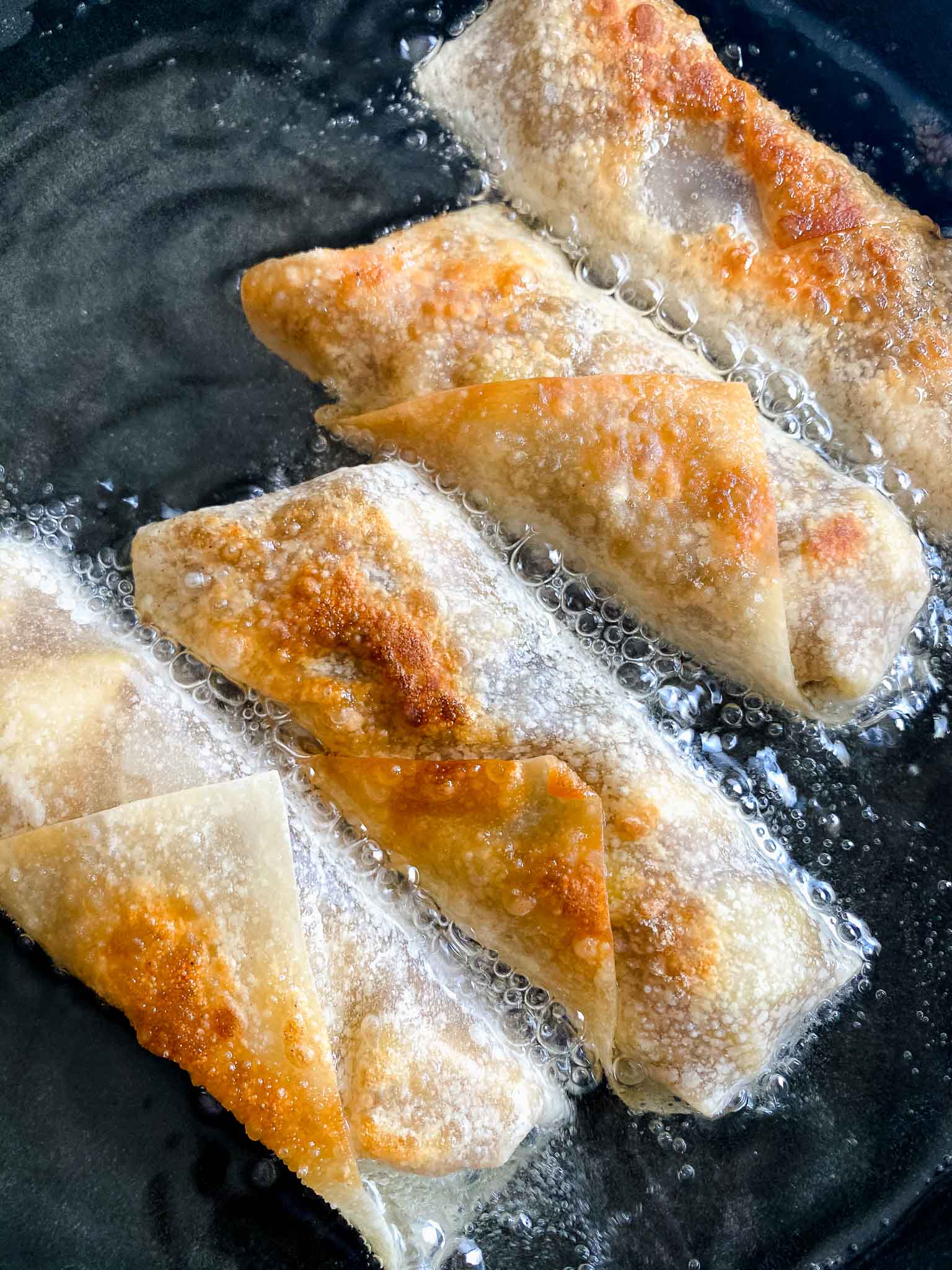 The crisp egg roll wrapper takes perfect with the gooey warm and sweet apple filling center.
Variations:
Vegan Apple Pie Egg Rolls: Use vegan butter and vegan-friendly egg roll wrappers to create a delicious plant-based version of these delectable treats.

Mini Apple Pie Hand Pies: Use store-bought or homemade pie crust and create small hand pies filled with the apple mixture for a portable and cute variation.
Where to Serve:
Dessert indulgence: Serve these Apple Pie Egg Rolls as a tasty treat after dinner, alongside a scoop of vanilla ice cream or a drizzle of caramel sauce.

Breakfast delight: Enjoy these egg rolls as a quick breakfast option that's both satisfying and full of flavor.
Storage:
Store any leftover Apple Pie Egg Rolls in an airtight container on a prepared baking sheet in the refrigerator. Reheat them in the oven or air fryer for a few minutes to regain their crispiness.
Why Make the Apple Pie Yummy Egg Rolls?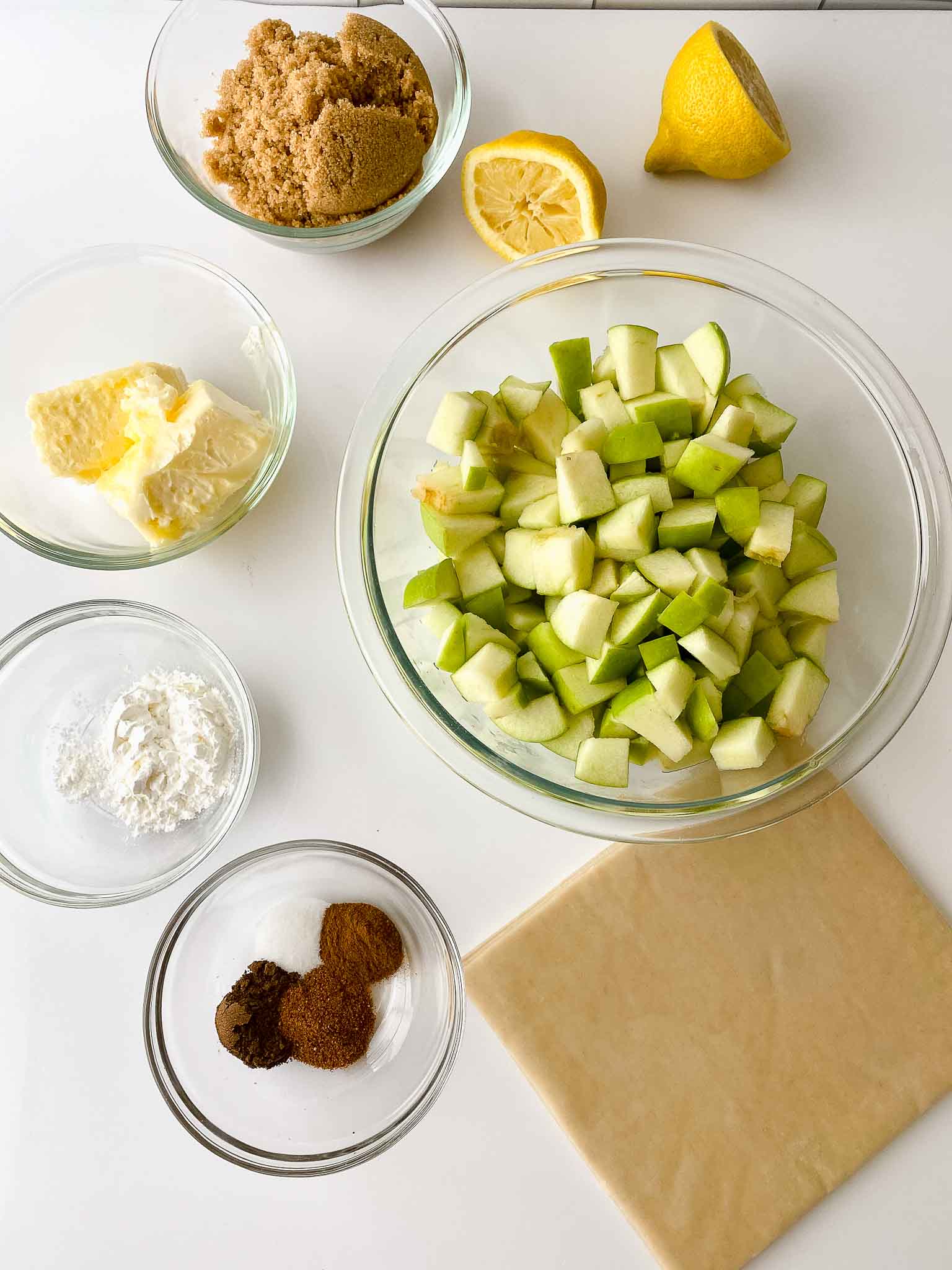 Make these Apple Pie treats when you want to create a unique and delicious dessert. It's not hard to prepare them.
After creating the filling using your fresh apple slices with sugar, cinnamon, butter, nutmeg, lemon juice, and a few other ingredients, you can place a bit of it in the center of each egg roll wrapper, wrap them up, and fry them to perfection.
Each bite tastes better and better!
Common Problems and How to Avoid Them:
Leaky egg rolls: To avoid leaks during frying, ensure the egg roll wrappers are sealed tightly. Use a dab of water to moisten the edges before folding to create a secure seal.

Burning: Maintain a consistent medium heat during frying to achieve a golden brown color without burning the egg rolls.
Topping Options:
Cinnamon sugar dusting: Sprinkle a mixture of cinnamon and sugar over the hot egg rolls for an extra touch of sweetness.

Powdered sugar dusting: Dust some powdered sugar on top of the egg rolls for a classic and elegant presentation.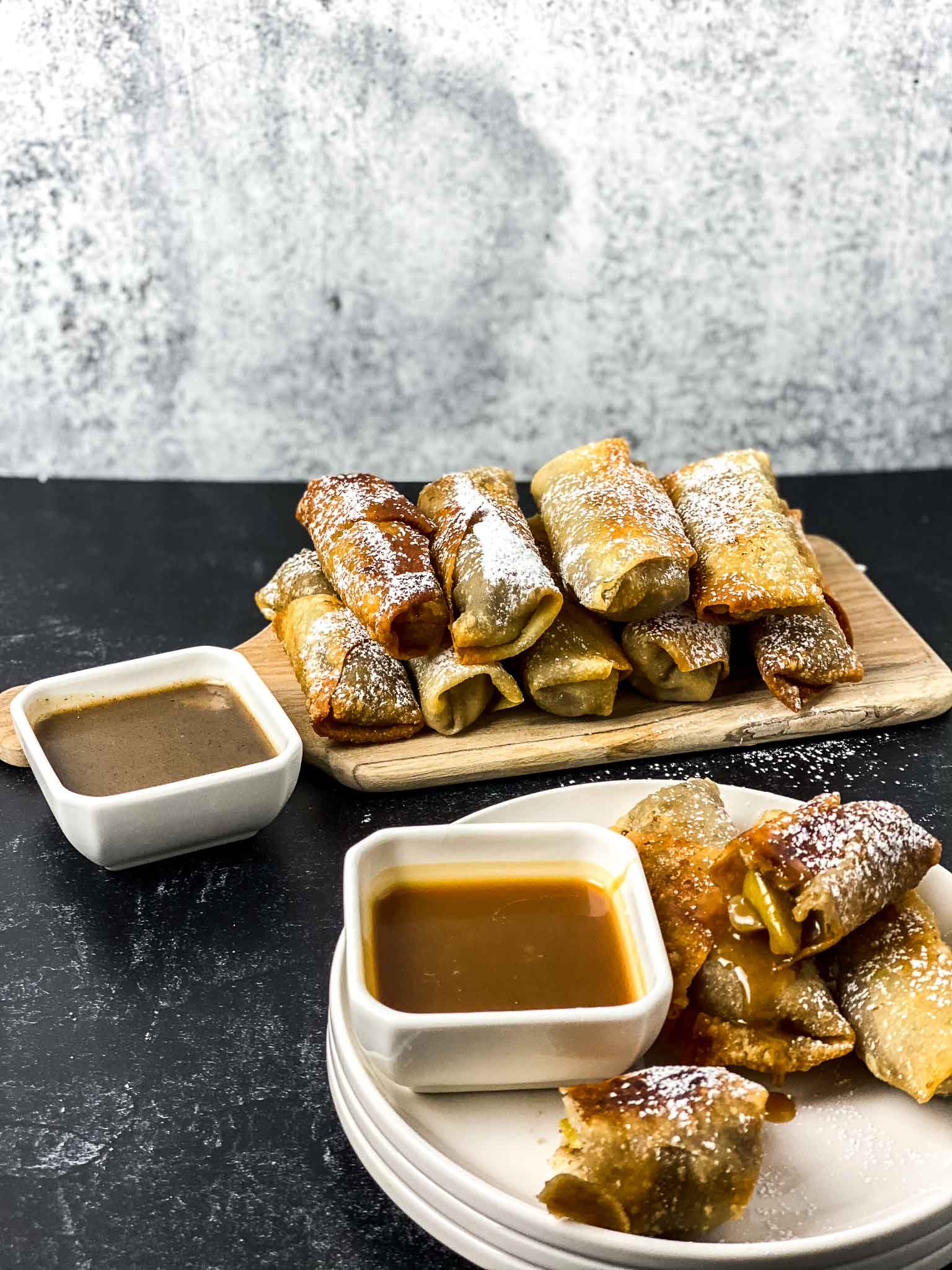 You can serve these sweet appetizers on their own or with a side of ice cream! You can also drizzle some of your favorite toppings over the Egg Rolls, including a powdered sugar glaze, caramel syrup, or chocolate syrup. No matter what you add to them, you can enjoy these dessert-style egg rolls with friends and family.
Why This Recipe Works:
Our Apple Pie Egg Rolls are the ultimate combination of crispy and sweet, offering the beloved flavors of apple pie in a fun and easy-to-eat form. With the perfect balance of tart Granny Smith apples and warm spices, each bite is a delightful explosion of taste. The egg roll wrappers create a light and crispy texture that complements the soft and flavorful filling. Whether you're new to egg rolls or a seasoned pro, this recipe is a crowd-pleaser that's sure to impress your family and friends. So whip up a batch of these delicious treats and embrace the almighty pie in a whole new way with our Apple Pie Egg Rolls!
What are some other fun apple dessert recipes to try?
If you are looking for more amazing dessert recipes, be sure to check out this comprehensive list! 50+ Fun and Easy Dessert Recipes For Kids
Yield:

12 Apple Pie Egg Rolls
Easy Apple Pie Egg Rolls - Simple Mess Free Desserts
These apple pie egg rolls are so good and easy to make! Impress our guests with this awesome treat.
Ingredients
2 Granny Smith Apples, diced
12 egg roll wrappers
1/2 cup butter, unsalted
3/4 cup brown sugar
1/2 cup granulated sugar 1 tsp cinnamon
1/2 tsp nutmeg
1/2 tsp allspice
1/2 tsp salt
Juice of one lemon 1 tbsp cornstarch 2 tbsp water
Oil for frying
Instructions
Melt butter in a pan

For softer apples, cook in butter before adding sugar.

Add sugar and spices to pan and cook with chopped apples. Bring to a boil.
Mix cornstarch and water together and add to the mixture.

It will begin to thicken. Once it reaches a consistency where it coats the back of the spoon remove from pan and let cool to room temperature.

Once cooled, add a spoonful of filling to the egg roll wrapper and roll tightly.

Heat oil and fry until golden brown on all sides.

Drain on paper towels

Dust with powdered sugar. And Serve with leftover filling syrup or caramel sauce.
Nutrition Information
Yield
12
Serving Size
1
Amount Per Serving
Calories

262
Total Fat

9g
Saturated Fat

5g
Trans Fat

0g
Unsaturated Fat

4g
Cholesterol

23mg
Sodium

285mg
Carbohydrates

42g
Fiber

1g
Sugar

21g
Protein

3g
If you liked these recipes be sure to check these out too!
Easy Apple Dumplings With Lemon Sauce
Cinnamon Apple Pie Cups – Easy and Fun Treats
Scrumptious Air Fryer Apple Fritters Recipe
Hi! I'm Nellie. I am a busy mama of three, wife to my high school sweetheart who loves to cook, workout and stay organized! I love to share helpful printables, the best recipes and fitness tips for the modern mom. I strongly believe that every mom can feed their family well, take proper care of themselves and have fun along the way! Read my story.
Get comfortable and be sure to come hang out with me on social. Don't grab your free fitness journal before you go!