Check out this amazingly tasty Cinnamon Vanilla Granola Recipe! Perfect for any parfait, or easy healthy snack for the kids!
Would you believe that I didn't "discover" granola until I was a full grown up? I think somewhere in my head I thought that granola was some sort of weird rabbit food that tasted like dirt and I wanted absolutely nothing to do with it! I am so happy that I finally took the time to taste it because it was pretty life changing. I love granola and the shocking part is, I love so many different kinds of granola!
I generally love granola by itself as a yummy snack in between meals, or with yogurt. Usually granola is the key part of any breakfast parfait. The sky is truly the limit, you can have super sweet granola to the savory kind. You can experiments with many types of nuts, and other fun additions such as chocolate chips, coconut, honey and so much more. Dried fruit can also work really well too. It can be really hard sometimes to find the right types of granola especially when there are so many flavors available. It took me a long time to find my favorite combination but once I did I was SO excited and off to the races!
Wikipedia defines granola as: a breakfast food and snack food consisting of rolled oats, nuts, honey or other sweeteners such as brown sugar, and sometimes puffed rice, that is usually baked until it is crisp, toasted and golden brown. During the baking process, the mixture is stirred to maintain a loose breakfast cereal consistency.
My personal favorite ingredient is cranberries. In this recipe I have combined a few of my favorite ingredients including chia seeds and coconut. The chia seeds are fantastic for runners especially so I try to sneak them in wherever I can!
Check out this Cinnamon Vanilla Granola recipe and let me know if you like it! I'm thinking about adding more flavors down the line.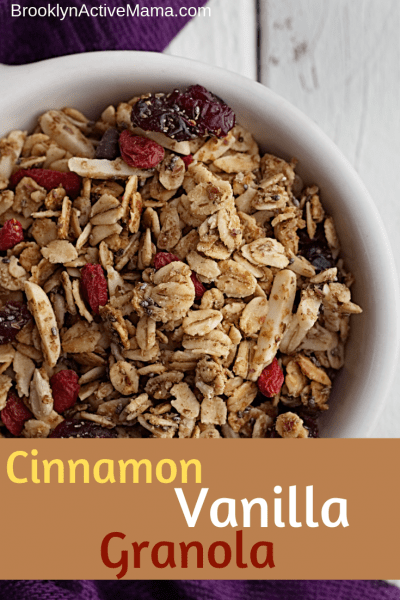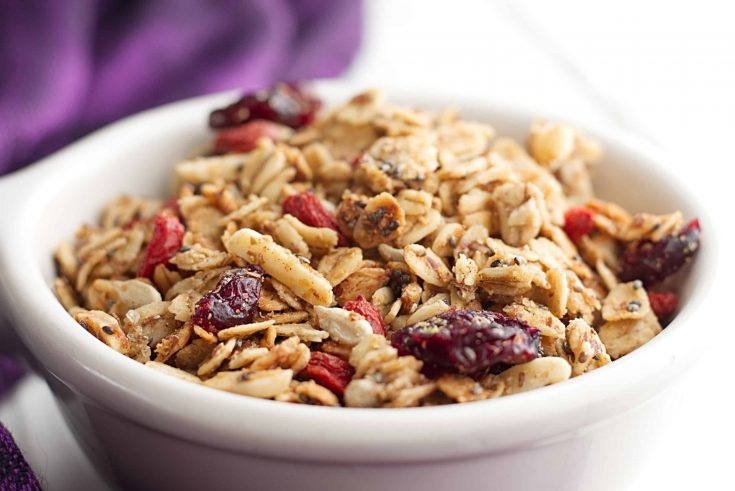 Yield: 2-3 servings
Cinnamon Vanilla Granola Recipe
Prep Time: 20 minutes

Cook Time: 20 minutes

Total Time: 40 minutes

Check out this amazingly tasty Cinnamon Vanilla Granola Recipe! Perfect for any parfait, or easy healthy snack for the kids!
Ingredients
½ Cup Honey
½ Cup Unsalted Butter
3 ½ Cups Oatmeal
½ Cup Wheat Germ
½ Cup Flax Meal
½ Cup Almonds
½ Cup Sunflower Seeds
½ Cup Chia Seeds
1 Teaspoon Cinnamon
1 Teaspoon Vanilla
½ Teaspoon Salt
½ Cup Dried Goji Berries
½ Cup Dried Cranberries
Instructions
Directions:


Preheat oven to 325 degrees F and line a 17x11 baking sheet with parchment paper.
Melt the butter and honey together in a small saucepan over med-low heat.
While the butter and honey are melting, add the oatmeal, wheat germ, flax meal, almonds, sunflower seeds, chia seeds and cinnamon to a large mixing bowl.


When the honey and butter are melted, pour them into the dry ingredients and add the vanilla.
Mix everything really well. Make sure all the dry ingredients are coated with the honey and butter.
Spread evenly onto the prepared baking sheet and sprinkle with salt.


Bake for 10 minutes then give it a gentle stir. Continue baking for another 15 to 20 minutes or until nicely golden brown.
Store in an airtight container.



Nutrition Information
Yield
8
Serving Size
1
Amount Per Serving Calories 506Total Fat 29gSaturated Fat 9gTrans Fat 0gUnsaturated Fat 18gCholesterol 31mgSodium 684mgCarbohydrates 56gFiber 12gSugar 28gProtein 12g

For more recipes be sure to try:
Healthy Blueberry Chia Pudding and More Easy Post Workout Snacks
Vegan Strawberry Smoothie Bowl Recipe + Quick and Healthy Breakfast Ideas
50 Delicious and Healthy Game Day Recipes
Tomato Cucumber Greek Pasta Salad Recipe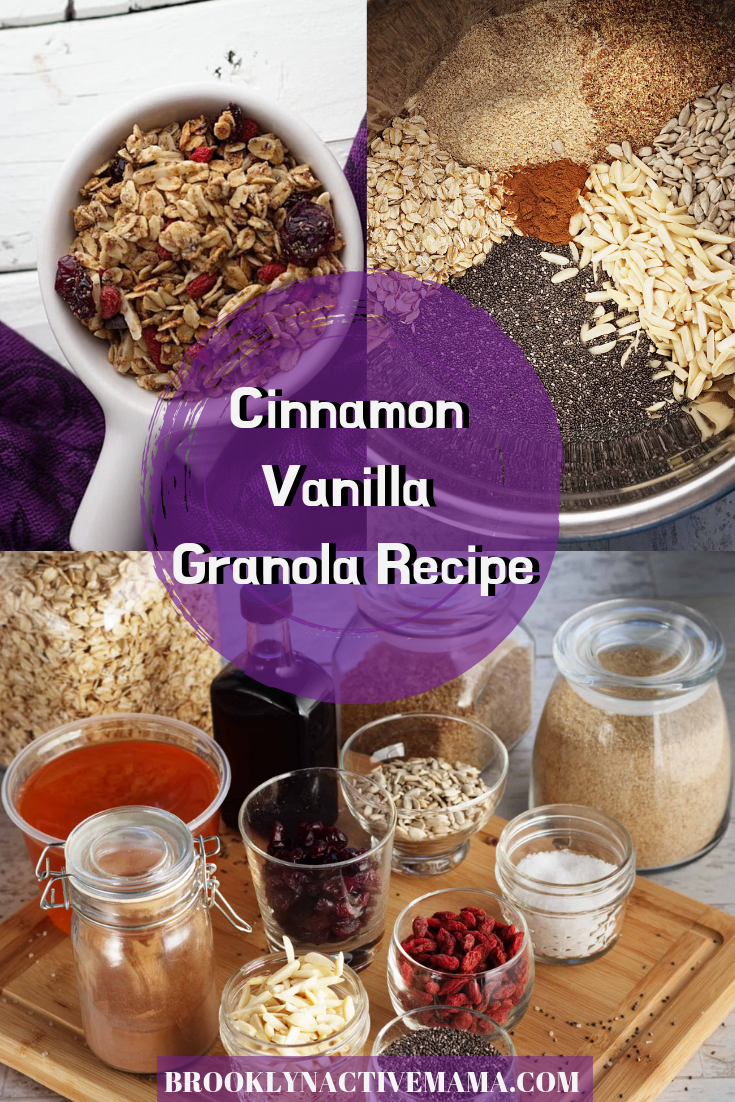 Have you ever tried Cinnamon Vanilla Granola?
Hi! I'm Nellie. I am a busy mama of three, wife to my high school sweetheart who loves to cook, workout and stay organized! I love to share helpful printables, the best recipes and fitness tips for the modern mom. I strongly believe that every mom can feed their family well, take proper care of themselves and have fun along the way! Read my story.
Get comfortable and be sure to come hang out with me on social. Don't grab your free fitness journal before you go!