With Halloween right around the corner, it's time to start planning on making all things "spooky and gross" for the kids to enjoy! This Halloween Bug Punch Mocktail is the perfect drink!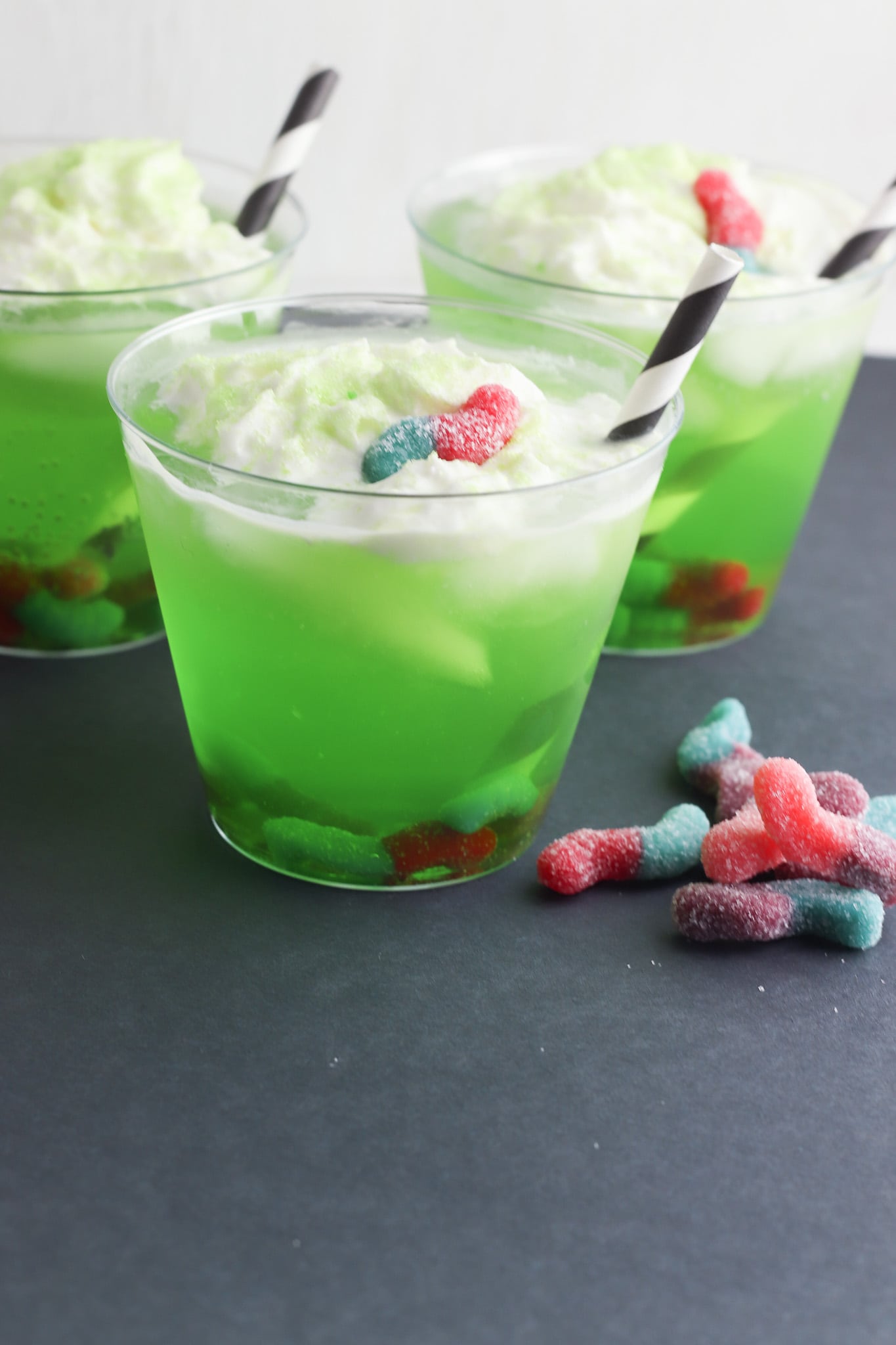 Does your child like to eat bugs? What if those bugs are gummy worms that are topped with a tasty drink and whipped cream? Changes the whole question, right?
Dare to dip into this devilishly delightful Bug Punch, a Halloween mocktail that promises to add an element of spine-chilling surprise to your spooky celebrations. This concoction combines the invigorating tropical zest of green Hawaiian punch, effervescent lemon-lime soda, topped with whipped cream and gummy worms that wiggle in frightful delight. A sprinkle of green sanding sugar adds the final touch of magic, conjuring images of witches and cauldrons bubbling over with bewitching brews. Served over a bed of ice, this is a fun, fizzy, and fabulously fearsome drink to delight both kids and adults alike.
When it comes to creating a punch recipe that the kids are going to love, it's really not that complicated at all. Since punch offers the ability to add in almost any type of ingredient that you want, you can have fun with the "bugs" and "worms" that you're adding to this beverage.
FAQs
Q: Can I use a different type of soda? A: Absolutely! While we suggest lemon-lime soda for its tangy zest, you can also experiment with other sodas like ginger ale or even a clear cream soda.
Q: Where can I find green sanding sugar? A: Most baking supply stores or supermarkets will carry colored sanding sugar in their baking aisle. If not, you can easily order it online.
Tips and Tricks
For a cooler and more refreshing drink, chill all your ingredients before mixing.
If you're serving this at a party, consider making a large batch in a punch bowl. It's easy to scale up, and the gummy worms look extra creepy floating around in there!
Variations
Add a twist of lime or lemon for an extra citrusy punch. You could also include sherbet for a frothier and creamier version.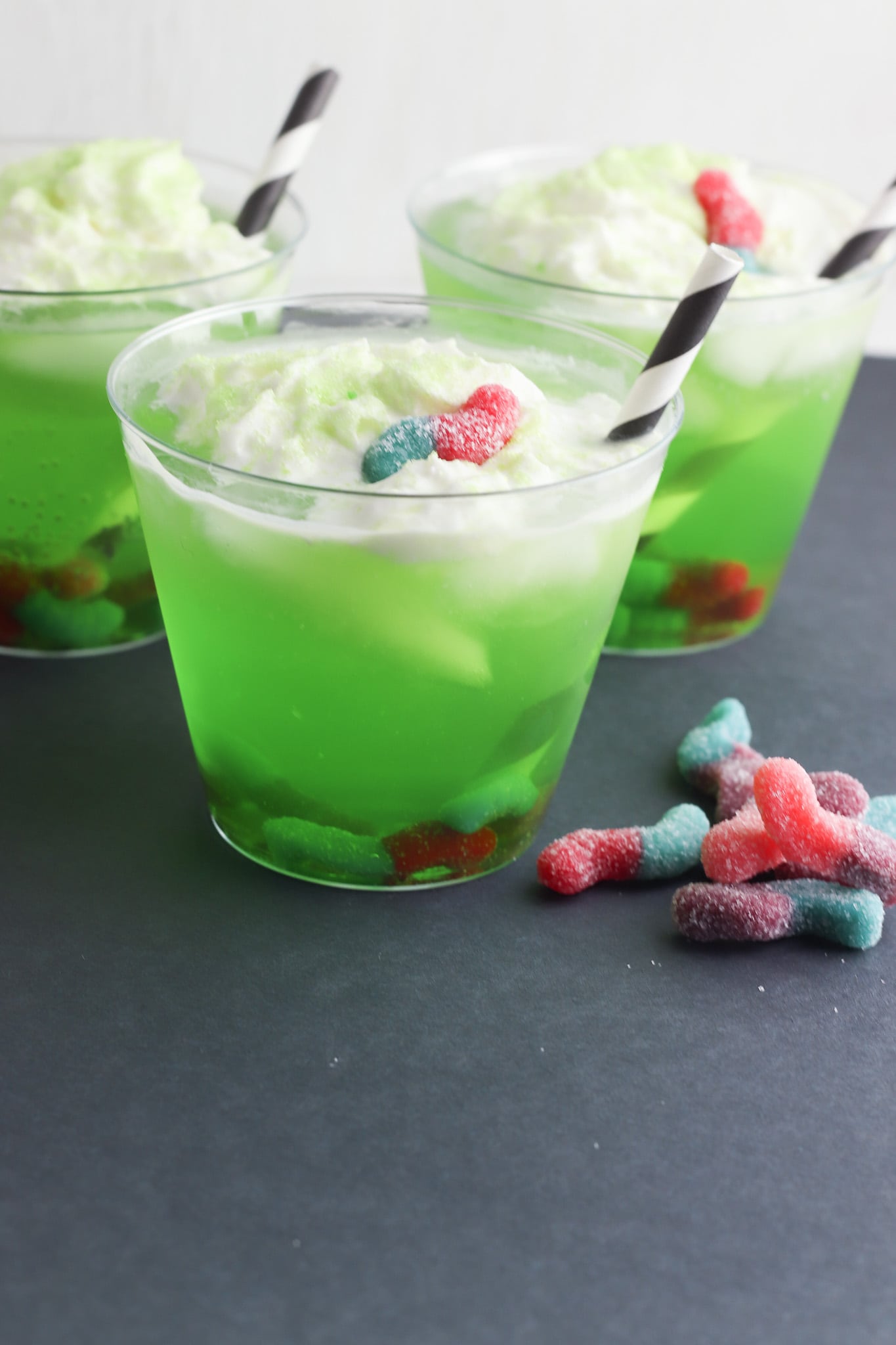 I like adding in the gummy worms because they're long and look a bit slimy in the glass. (I know – creeping out my kids at Halloween is just one of the perks of being a mom!)
Where to Serve
This punch is perfect for Halloween parties, scary movie nights, or any autumn event where a bit of eerie fun is welcomed!
Storage
This mocktail is best served immediately after preparing. If necessary, you can store it in the fridge for a few hours, but be warned: the gummy worms might become a bit too squishy!
Common Problems and How to Avoid Them
Problem: The drink isn't fizzy enough. Solution: Make sure your soda is properly chilled and add it to the punch right before serving to retain maximum fizz.
Problem: The gummy worms sink to the bottom. Solution: Freeze your gummy worms before adding them to the punch; this helps them float longer.
How to Make This Halloween
Bug

Punch

Mocktail the Star of Halloween

Here's the deal. I'm all about Halloween. What other holidays out there is basically a free pass for dressing up in costumes and eating sugar until you feel like you might explode? And since it only happens one time a year, I tend to really go all out in making it a fun and memorable night.
Tips for Making This Recipe with Kids
Involve your kids in the process: they'll love pouring the punch and soda and dropping in the creepy gummy worms.
Teach them about measurements as they measure the liquids.
Let them decorate the rims of the glasses with the green sanding sugar!
Topping Options
Other than gummy worms, consider spooky alternatives like gummy spiders or even eyeball candies. For an extra Halloween feel, top with a dollop of orange tinted whipped cream.
I've always made fun goodie bags and Halloween themed treats to share with the kids in the neighborhood but fail to have something creepy and silly in our own house. This year, that all changes. This bug punch is going to be the one drink that keeps everyone in the house happy all day long.
Why This Recipe Works
This Bug Punch recipe is a fantastic blend of sweet, sour, and fizzy, making it a refreshing and engaging beverage. Its unique presentation, complete with creepy crawly gummy worms, not only makes it visually appealing but also a fun interactive experience, particularly for kids. With simple, easy-to-find ingredients and the flexibility to adjust as per taste, this mocktail is set to become the highlight of your Halloween bash!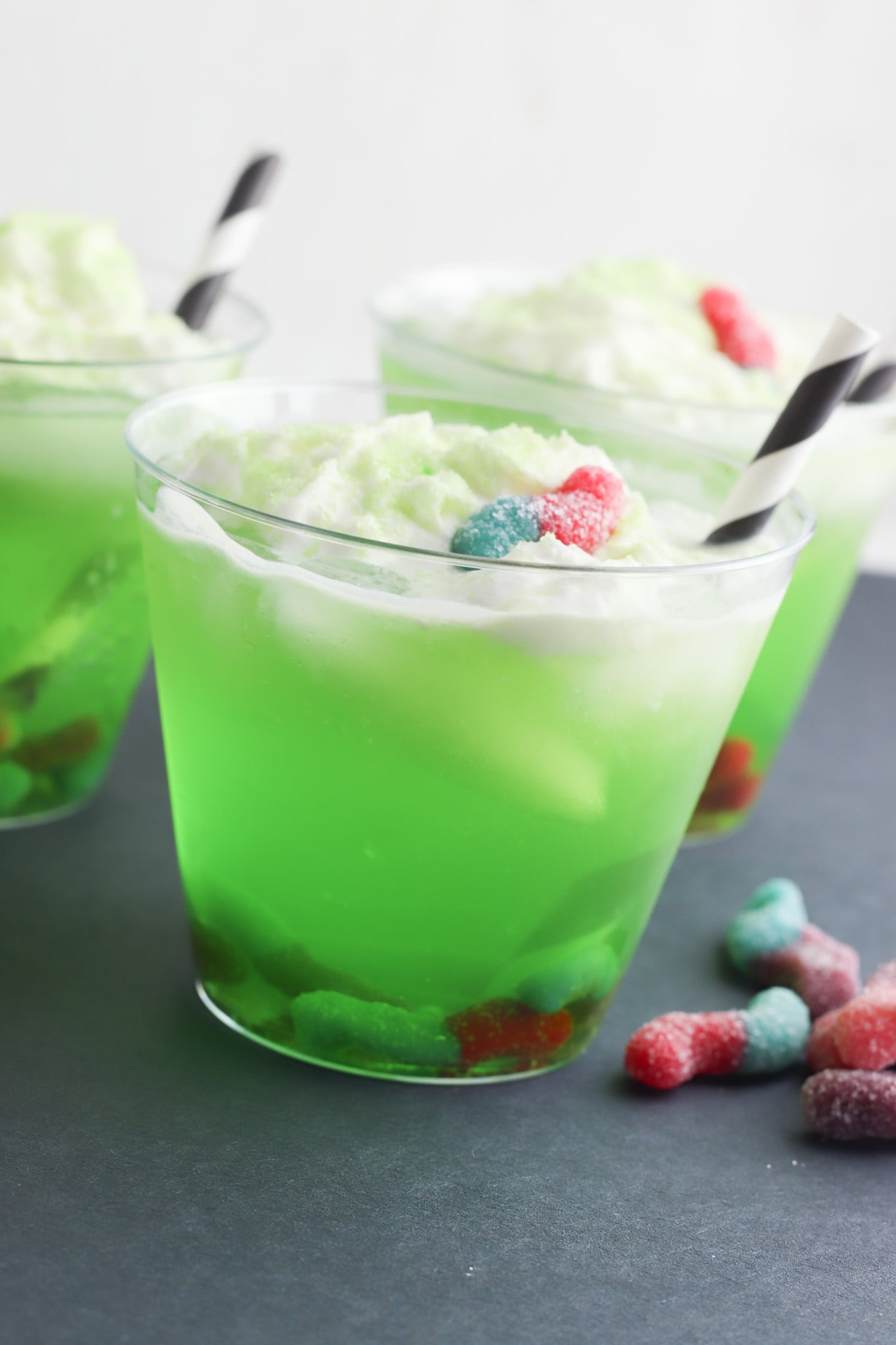 When the kids want a drink after school? Bug punch. When the kids want a drink after trick or treating? Bug punch. Because in the land of all things Halloween, one time per year for this wormy punch recipe means that you have to go all out!
Keep the gummy worms flowing and the whipped cream on hand with this tasty and simple punch. It's a fun way to combine sweet and spooky on one of the silliest nights of the year!
What are some other fun Halloween mocktails to try?
Enjoy!
Yield:

1 glass
Bug Punch Halloween Mocktail Drink
A Halloween Mocktail with green juice, gummy worms for bugs, and whipped cream. The kids will enjoy this fun and spooky treat!
Ingredients
4 ounces green Hawaiian punch
4 ounces lemon lime soda
Sour gummy worms
Whipped cream
Green sanding sugar
Ice
Instructions
Place a few sour gummy worms in the bottom of a glass.
Fill the glass with ice.
Pour the green punch in the glass.
Top with lemon lime soda.
Top with a small amount of whipped cream and garnish with green sanding sugar and more sour gummy worms.
If you loved this Halloween Bug Punch Mocktail be sure to try these awesome No Bake Mummy Oreo Halloween Cookies!
If you enjoyed this recipe be sure to check out my Instagram Page for the latest posts!
Before you go, check out these great posts!
Easy Halloween Jungle Juice Punch
Easy Halloween Spider Oreo Bites Recipe
Free Printable Family Friendly Halloween Movie List and Bingo Game
Hi! I'm Nellie. I am a busy mama of three, wife to my high school sweetheart who loves to cook, workout and stay organized! I love to share helpful printables, the best recipes and fitness tips for the modern mom. I strongly believe that every mom can feed their family well, take proper care of themselves and have fun along the way! Read my story.
Get comfortable and be sure to come hang out with me on social. Don't grab your free fitness journal before you go!