Just because summer is just about over doesn't mean that our need and want for a refreshing and tasty drink has to come to an end. This is why I love this simple Peach Pineapple Mojito mocktail. With just 5 simple (and tasty!) ingredients, it really does offer up a flavor and taste that you just can't get anywhere else.
I love creating drinks in our house that are family-friendly. I'm a big believer that we should all be able to sit down together at the end of a long day and "cheers" to the topics that we want to talk about.
No matter our ages or status in our family, we all work hard. The kids have school and I know that I run my booty off all day doing the "mom thing", so it just makes sense that we have a lot of conversations to have together when we all take time to slow down and enjoy the moment.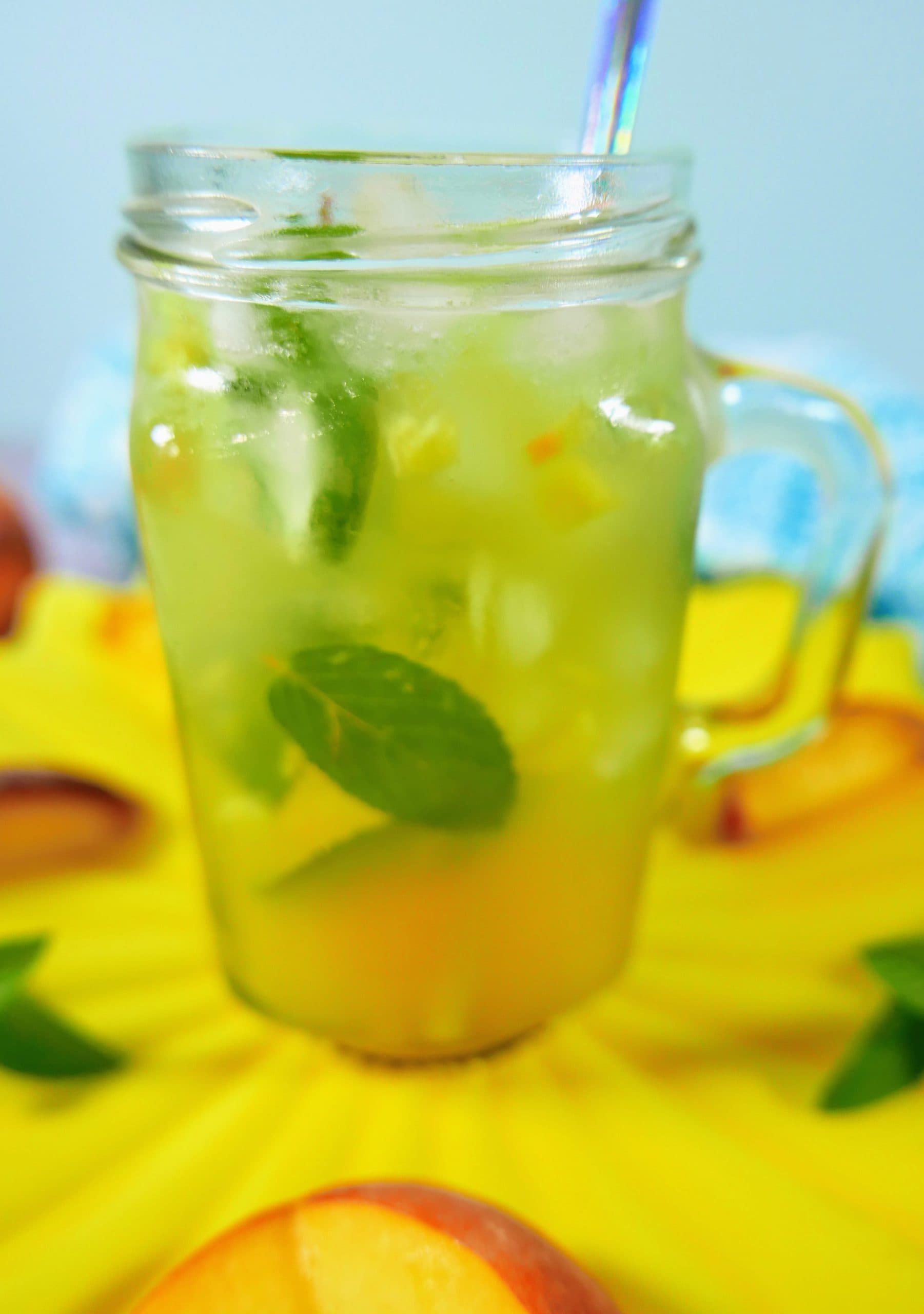 During lockdown I even re did my patio space to make it more inviting and the perfect place to enjoy a treat or two.
Filling our glasses with this minty mojito drink is a simple way to slow down, sip, and enjoy each other's company. This drink is meant to be served cold and it really is quite refreshing, too.
Can you use canned peaches for this simple drink recipe?
Yes, you can. Fresh peaches are going to taste better but if you have canned peaches, those are going to be just fine, too. They'll add that same peach flavor that really elevates the overall taste and flavor of this drink.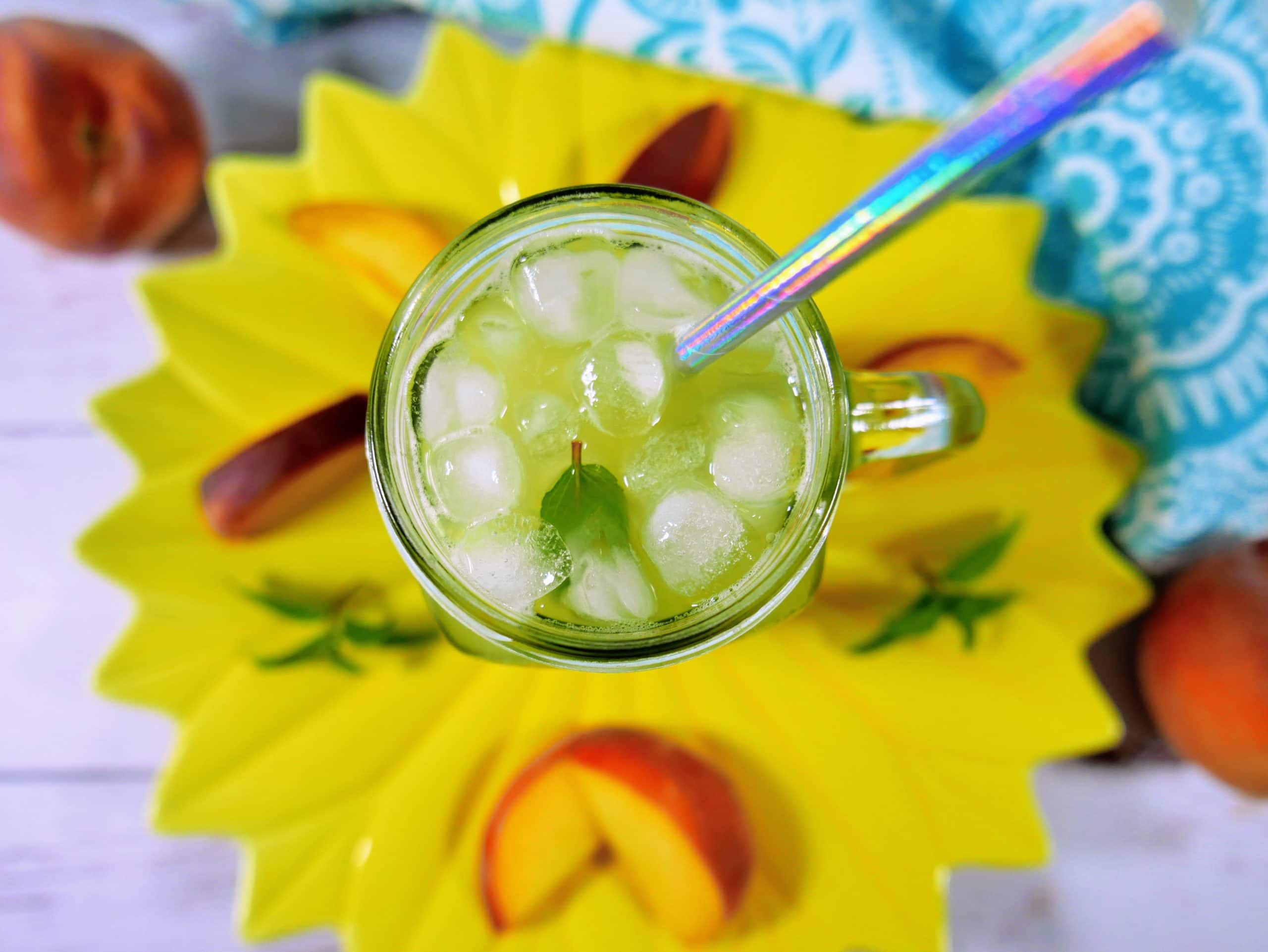 Can you freeze this into popsicle form?
You bet! While this is a totally fun mocktail to make for the family you can totally take this to a whole other level and freeze it for the kids! Just mix it up and make it and add it to your ice cube trays. Pop it in the freezer for a few hours and you've just made some super delicious homemade popsicles as well!
Quench your thirst with this refreshing Peach Pineapple Mojito Drink. The combination of the peach, pineapple, and mint flavors are truly going to be a sweet treat for your tastebuds. (and also quench your thirst at the same time!).
Yield: 1 Drink
Peach Pineapple Mojito Mocktail For The Whole Family
This simple Peach Pineapple Mojito Mocktail is so fun to make! With just 5 simple ingredients, the whole family will enjoy this refreshing drink!
Ingredients
¼ c fresh diced peaches
15 fresh mint leaves
2 tbsp lime juice
1 17oz. Sparkling Ice Water, Coconut Pineapple flavor (approximately half the bottle)
½ c pineapple juice
Instructions
In a 2 c glass bowl, or 2 c mortar, add the peaches, mint leaves, and lime juice.
Using a pestle, or the end of a wooden spoon, muddle all ingredients until the peach is semi-pureed, and the mint leaves are dark green.
Add the muddled mixture to a 16oz glass.
Pour approximately half of the Sparkling Ice Water (Coconut Pineapple flavor) to the glass.
Pour the pineapple juice on top of the Sparkling Ice Water until the glass is almost full.
Fill the glass with ice cubes, stir well, and serve.
Hi! I'm Nellie. I am a busy mama of three, wife to my high school sweetheart who loves to cook, workout and stay organized! I love to share helpful printables, the best recipes and fitness tips for the modern mom. I strongly believe that every mom can feed their family well, take proper care of themselves and have fun along the way! Read my story.
Get comfortable and be sure to come hang out with me on social. Don't grab your free fitness journal before you go!