This Halloween season is a great time to try a new drink! You have to try this Vampire Sunset Halloween Cocktail Or Mocktail because it is so good!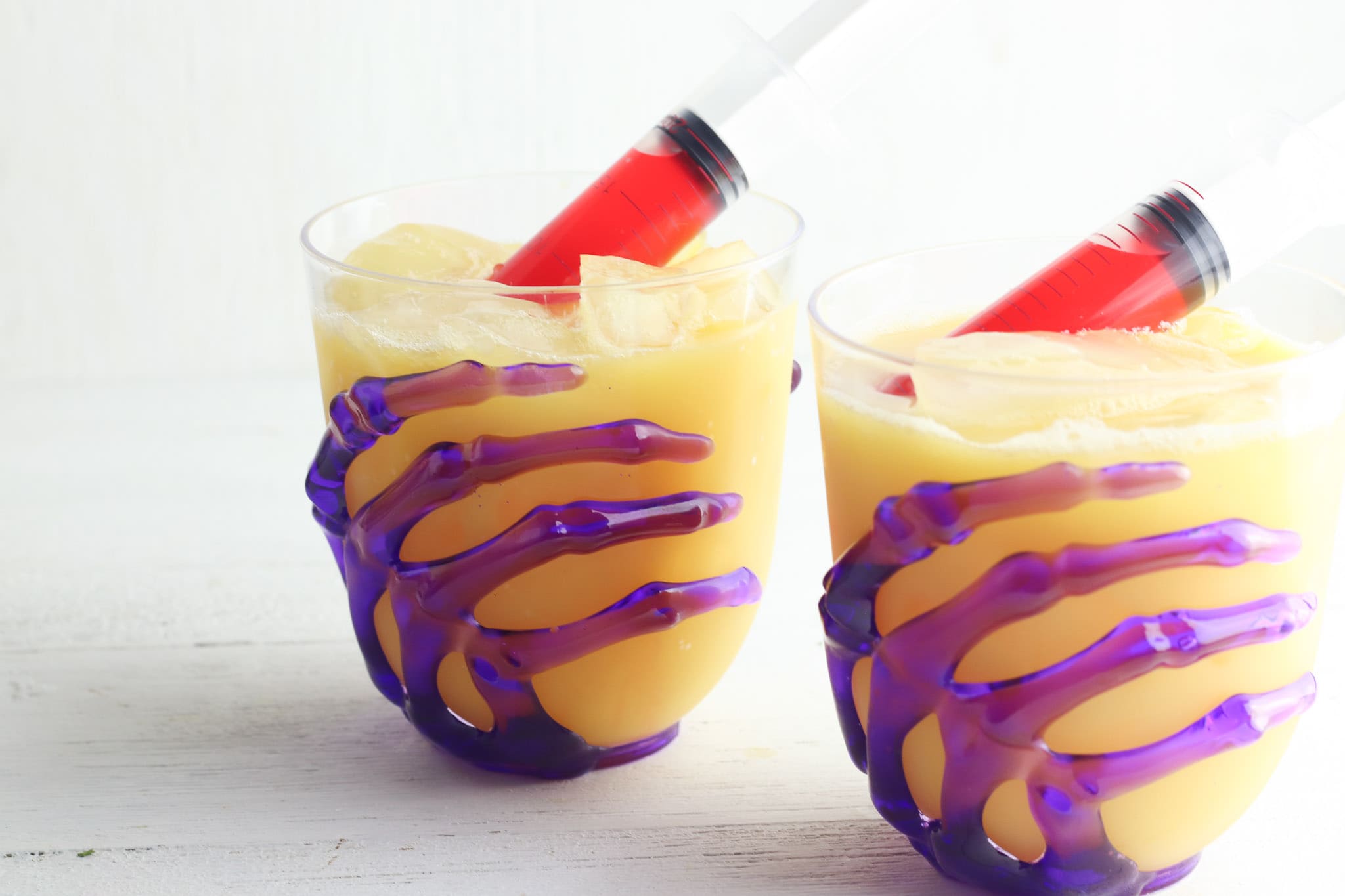 With Halloween quickly approaching, we all need a little something to help us relax. This year's Halloween is going to be different than any other year and I'm here for it. This drink is sure to be a hit this year.
Vampire Sunset Cocktail
You may be wondering what this Vampire Sunset Cocktail is made out of. First of all, you can make it into a cocktail, but you can also make it into a mocktail. This means you can make it for the little ones too, sans alcohol. It's always fun for kids to feel as though they are included. You can make Halloween a whole lot more fun with this vampire drink.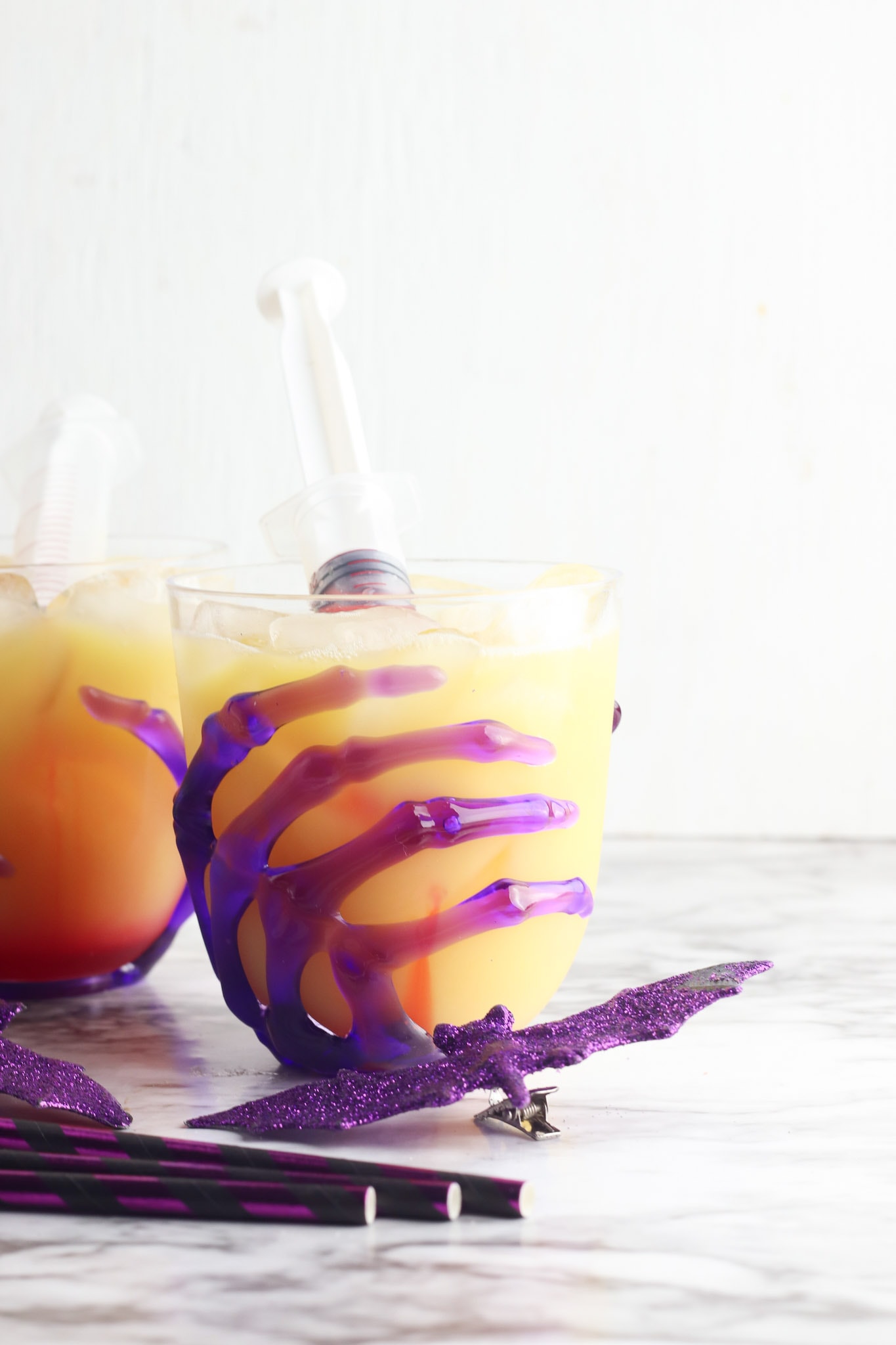 Vampire Sunset Halloween Drink Recipe
Sink your teeth into the haunting allure of the Vampire Sunset drink this Halloween! Bathed in the golden hues of orange juice with a blood-red descent of grenadine, this drink offers both a visual and tasteful delight. And if you're in the mood to make it a cocktail, a touch of tequila might just awaken the spirits! The plastic syringe, filled with grenadine, adds a thrilling touch to the mix, perfect for vampire-themed festivities.
FAQs:
Can I make this drink kid-friendly?

Absolutely! Simply skip the tequila for a non-alcoholic version that's just as delightful.

Where can I find plastic syringes?

Party supply stores, online retailers, or sometimes even pharmacy sections in stores sell plastic syringes intended for culinary uses or medications.

Is the plastic syringe essential?

While not essential for taste, the syringe adds a spooky, thematic touch, emphasizing the 'vampire' element.
Tips and Tricks:
Use freshly squeezed orange juice for a more natural and robust flavor.
To create a beautiful sunset effect, pour the grenadine slowly down the side of the glass, allowing it to settle at the bottom.
If using tequila, consider chilling it beforehand for a refreshing taste.
Variations:
Tropical Terror: Add a splash of pineapple juice.
Bloody Fizz: Top off with some club soda for a bubbly sensation.
Moonlight Glow: Add a touch of edible shimmer powder to give a mystical glow.
Where to Serve:
Halloween parties as a themed drink.
Evening gatherings to set a mystical, spooky vibe.
Themed movie nights, especially vampire-related ones.
Storage:
The Vampire Sunset is best enjoyed immediately for maximum flavor and presentation. However, if needed:
Store the orange juice separately in the fridge.
Add the grenadine and tequila (if using) just before serving.
Common Problems and How to Avoid Them:
Layering Issues: To maintain distinct layers, always pour the grenadine slowly and after the orange juice.
Overpowering Tequila: If using tequila, ensure to measure it correctly to avoid overpowering the drink's fruity flavor.
Syringe Leakage: Make sure the syringe is closed securely to avoid leaks. Always test with water first.
Why This Recipe Works:
Visual Appeal: The gradient from orange to red mirrors the colors of a sunset, but with a haunting twist.
Balanced Flavors: The sweetness of the orange juice contrasts beautifully with the tartness of the grenadine.
Versatility: Suitable for both adults (with tequila) and kids (without alcohol).
Thematic Brilliance: The syringe adds a fun, interactive element, perfect for Halloween.
So, as the darkness descends this Halloween, let the Vampire Sunset be your bewitching companion. Cheers to spine-chilling sips!
Ingredients for the Vampire Sunset Cocktail & Mocktail
This drink uses basic ingredients, but it's so good. I think the ingredients aren't something you may have thought of before. However, these ingredients make the perfect mocktail and cocktail.
Orange Juice – Who doesn't love orange juice? Now you will love it even more because it's going to make this drink fabulous.
Grenadine – I didn't realize how much power grenadine could have until I started making mocktails. It can truly make this drink a ton of fun. I'm actually quite the Shirley Temple fan myself.
Ice – Don't forget the ice because this is truly what makes it look like a yummy drink. Coldness matters!
Syringe – I seriously love how the string goes inside the drink. It makes it so much more Halloweenish. The grenadine is going to go inside of the syringe. When the drink is ready to be consumed, the grenadine can be squirted inside of the drink. It looks so cool!
Tequila – For the adult twist, add the Tequila. So good!
The next time you're looking for a drink to make during Halloween season. This Vampire Sunset Cocktail or Mocktail Drink is perfect. Once you try it, let me know what you think!
What are some more fun Halloween Drinks to try?
Yield:

2-4 drink
Easy Vampire Sunset Halloween Mocktail or Cocktail
This fun and spooky orange juice halloween mocktail can be easily turned into a cocktail with just a little tequila!
Ingredients
8 ounces orange juice
1 ounce grenadine
Ice
Plastic syringe
1 ounce tequila (optional for cocktail)
Instructions
Fill the plastic syringe with grenadine.
Fill the cup with ice.
Pour in the orange juice.
Place the syringe inside the drink.
When ready to drink, squirt the grenadine into the orange juice.
Nutrition Information
Yield
2
Serving Size
1
Amount Per Serving
Calories

126
Total Fat

0g
Saturated Fat

0g
Trans Fat

0g
Unsaturated Fat

0g
Cholesterol

0mg
Sodium

6mg
Carbohydrates

22g
Fiber

0g
Sugar

17g
Protein

1g
Hi! I'm Nellie. I am a busy mama of three, wife to my high school sweetheart who loves to cook, workout and stay organized! I love to share helpful printables, the best recipes and fitness tips for the modern mom. I strongly believe that every mom can feed their family well, take proper care of themselves and have fun along the way! Read my story.
Get comfortable and be sure to come hang out with me on social. Don't grab your free fitness journal before you go!