Are you tired of drinking the same thing over and over again? It's time to treat yourself to something delicious! I have created this Vampire Sunset Halloween Cocktail Or Mocktail and it is so good.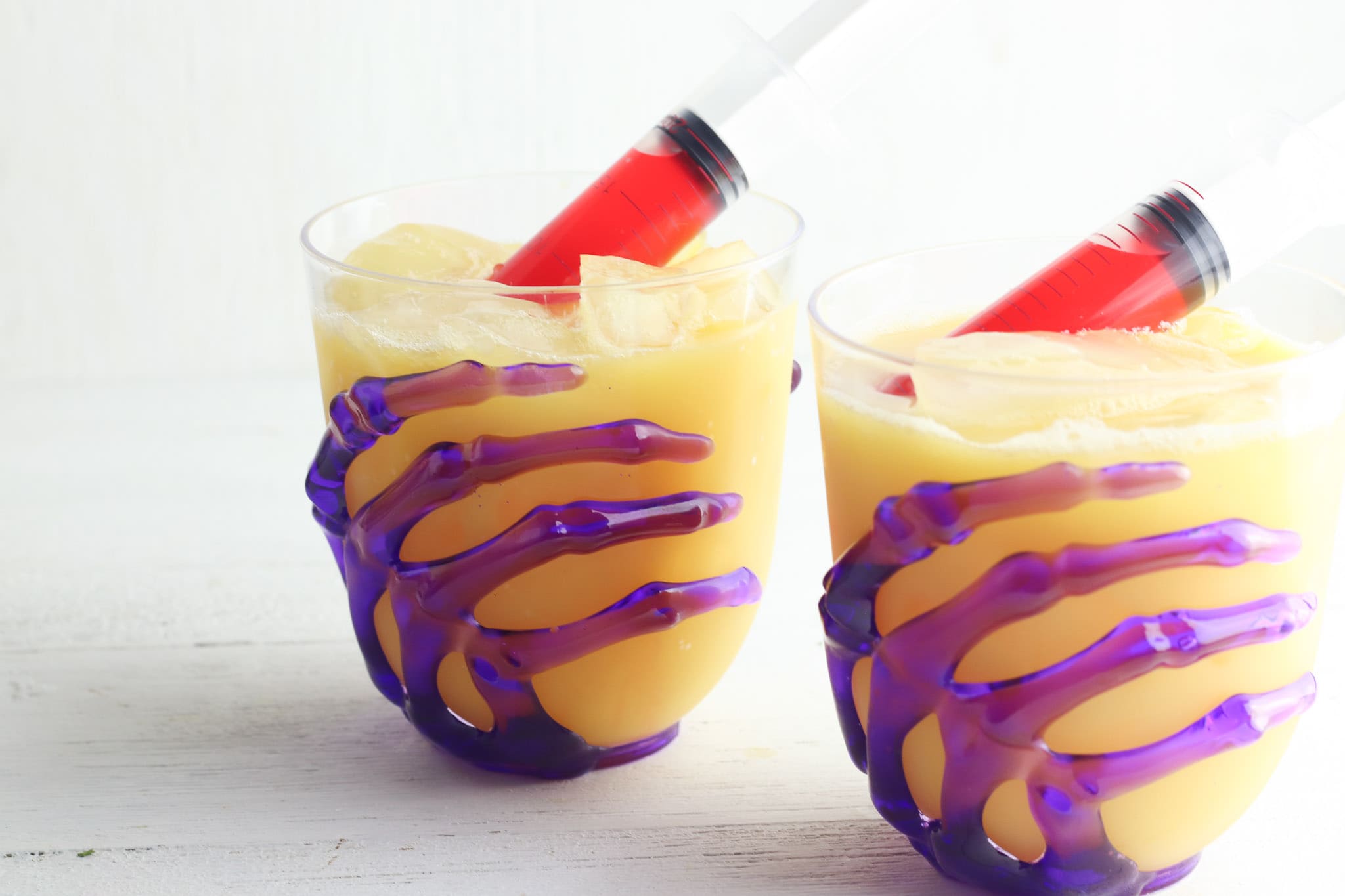 With Halloween quickly approaching, we all need a little something to help us relax. This year's Halloween is going to be different than any other year and I'm here for it. This drink is sure to be a hit this year.
Vampire Sunset Cocktail
You may be wondering what this Vampire Sunset Cocktail is made out of. First of all, you can make it into a cocktail, but you can also make it into a mocktail. This means you can make it for the little ones too, sans alcohol. It's always fun for kids to feel as though they are included. You can make Halloween a whole lot more fun with this vampire drink.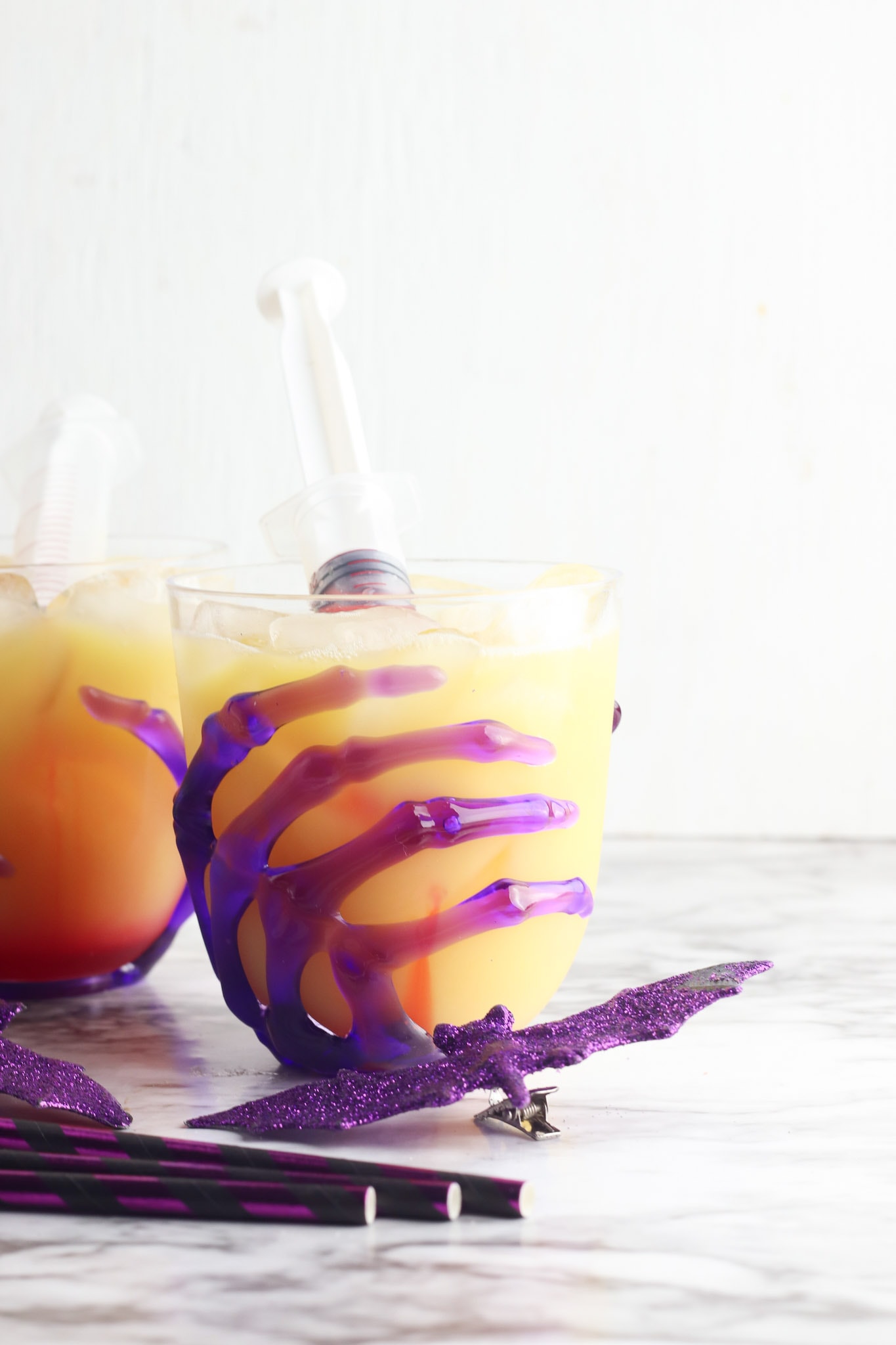 Ingredients for the Vampire Sunset Cocktail & Mocktail
This drink uses basic ingredients, but it's so good. I think the ingredients aren't something you may have thought of before. However, these ingredients make the perfect mocktail and cocktail.
Orange Juice – Who doesn't love orange juice? Now you will love it even more because it's going to make this drink fabulous.
Grenadine – I didn't realize how much power grenadine could have until I started making mocktails. It can truly make this drink a ton of fun. I'm actually quite the Shirley Temple fan myself.
Ice – Don't forget the ice because this is truly what makes it look like a yummy drink. Coldness matters!
Syringe – I seriously love how the string goes inside the drink. It makes it so much more Halloweenish. The grenadine is going to go inside of the syringe. When the drink is ready to be consumed, the grenadine can be squirted inside of the drink. It looks so cool!
Tequila – For the adult twist, add the Tequila. So good!
The next time you're looking for a drink to make during Halloween season. This Vampire Sunset Cocktail or Mocktail Drink is perfect. Once you try it, let me know what you think!
Yield: 2-4 drink
Easy Vampire Sunset Halloween Mocktail or Cocktail
This fun and spooky orange juice halloween mocktail can be easily turned into a cocktail with just a little tequila!
Ingredients
8 ounces orange juice
1 ounce grenadine
Ice
Plastic syringe
1 ounce tequila (optional for cocktail)
Instructions
Fill the plastic syringe with grenadine.
Fill the cup with ice.
Pour in the orange juice.
Place the syringe inside the drink.
When ready to drink, squirt the grenadine into the orange juice.
Hi! I'm Nellie. I am a busy mama of three, wife to my high school sweetheart who loves to cook, workout and stay organized! I love to share helpful printables, the best recipes and fitness tips for the modern mom. I strongly believe that every mom can feed their family well, take proper care of themselves and have fun along the way! Read my story.
Get comfortable and be sure to come hang out with me on social. Don't grab your free fitness journal before you go!